Our 1-day Magic Kingdom touring plan offers a step by step itinerary for an ideal visit to Walt Disney World, with strategy to minimize time in line, maximize efficiency, and avoid crowds. We'd ride these attractions, eat at these restaurants & snack stands, and more. (Updated November 7, 2021.)
This one-day Magic Kingdom itinerary has been overhauled several times in the last year, most recently for the start of Christmas and Walt Disney World's 50th Anniversary celebration. Additionally, the rollout of Early Entry and Extended Evening Hours, as well as Genie+ and Lightning Lanes–the the paid replacement for free FastPass. Suffice to say, a lot has changed at Magic Kingdom in the last several months, both from a substantive and strategy perspective.
We visit Magic Kingdom at least once per week "for the sake of research" (a glorified excuse to watch Country Bear Jamboree and loop the PeopleMover), monitoring wait times, testing various approaches, and fine-tuning our strategy. After a scorching summer and slow fall, things are starting to pick up as of the start of the holiday season in November 2021. Crowds should only get worse at Magic Kingdom as Christmas approaches. This is the revised Late 2021 Magic Kingdom itinerary we've devised as a result, changing several recommendations, including rope drop priority and when to do Seven Dwarfs Mine Train…
This Magic Kingdom itinerary assumes you will not be buying those line-skipping services. If you do plan on spending the extra, consult our 1-Day Magic Kingdom Itinerary with Genie+ and Lightning Lanes. Without a doubt, Genie+ is most useful at Magic Kingdom–the one park where we recommend readers purchase the upcharge. (See Sarah's Day at Magic Kingdom Using Genie+ for a firsthand account.)
If you're staying on-site and can arrive early, check out our report on Early Entry at Magic Kingdom. Likewise, if you're staying at a Deluxe Resort or Disney Vacation Club property, read about our experience during Extended Evening Hours at Magic Kingdom. Either of those things will help you save time and avoid crowds, giving you a big advantage. However, neither are strictly necessary for a productive day in MK.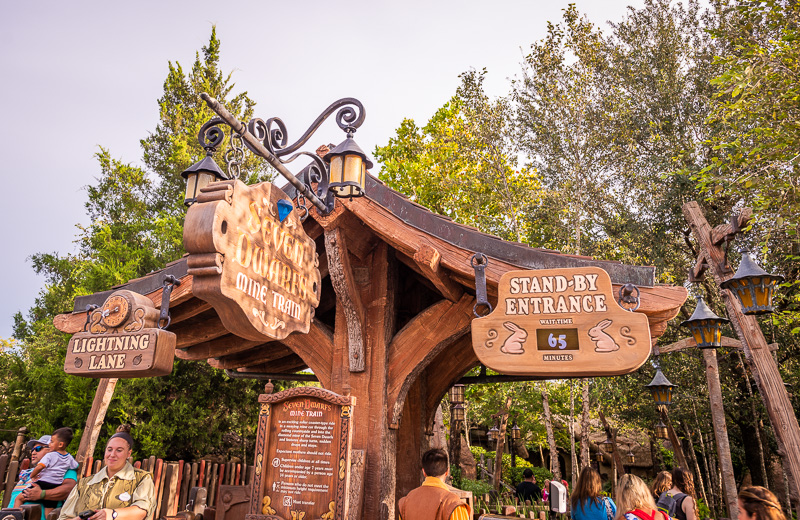 While efficiency is a big goal, this Magic Kingdom itinerary focuses on both doing as many rides as possible while still enjoying the Disney ambiance and details that make Magic Kingdom the most popular theme park in the world. Our Magic Kingdom itinerary is somewhat subjective in that it covers our favorite things to do during our "perfect day." Additionally, this Magic Kingdom touring plan is optimized so that wait times are minimized.
To accomplish everything in a single day, some (less popular) attractions and shows are skipped. (Sorry, Magic Carpets of Aladdin! Actually…not sorry.) For our ride ratings and reviews of every attraction, read our comprehensive Best Magic Kingdom Attractions & Ride Guide post. For something more comprehensive to plan every aspect of your vacation, from where to purchase discount tickets to when to visit and more, read our 2021-2022 Walt Disney World Vacation Planning Guide.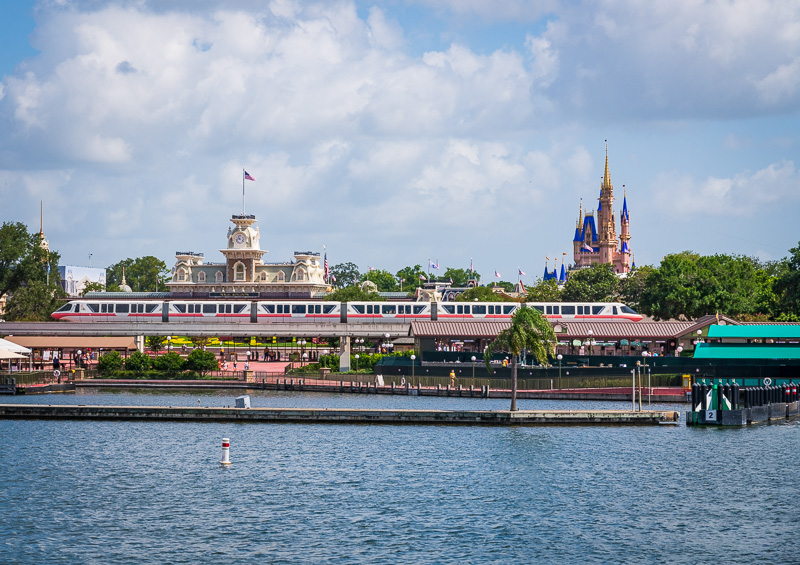 Pre-Rope Drop Arrival – For an ideal experience at Magic Kingdom, we recommend arriving to the park about 30 minutes before official opening time, and picking up this itinerary from there. If you're driving, this means leaving for the park to allow sufficient time to park and get from the Transportation and Ticket Center (TTC) to Magic Kingdom.
If you're staying on-site and are eligible for Early Entry at Magic Kingdom (see above), we'd recommend arriving 45 minutes before the official start time of that.
Fantasyland Flight? – If you're not eligible for Early Entry, do not bother with Fantasyland or Tomorrowland. Those are the two lands open for that on-site perk, and by the time that 30 minute "headstart" is over, all of the headliner attractions in both lands will have moderate or longer wait times.
Instead, you should head to the left of Cinderella Castle and focus your energy on Adventureland or Frontierland–popular attractions that are not open for Early Entry…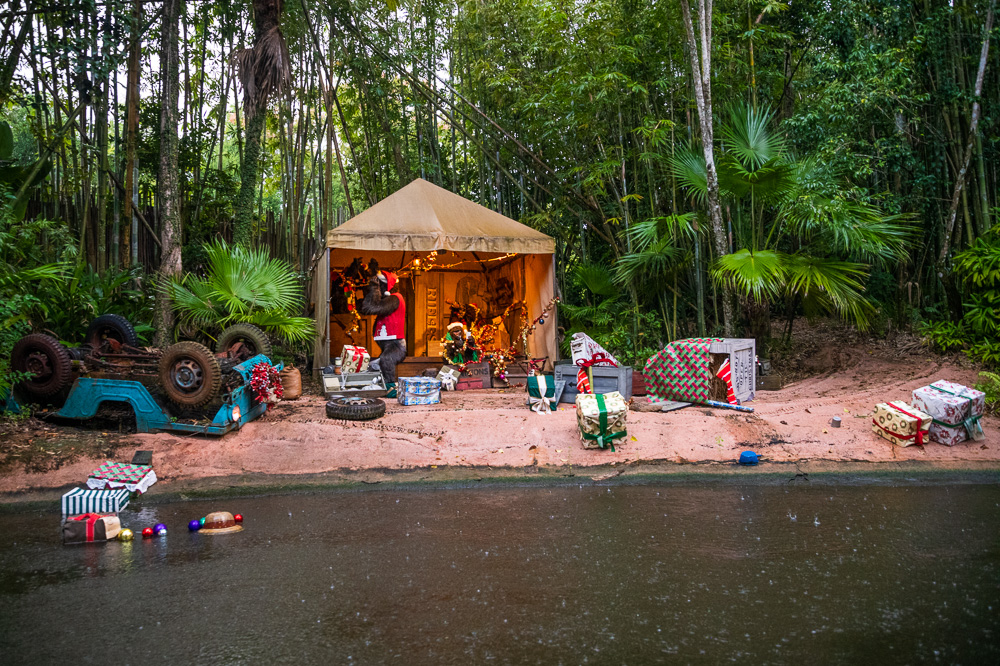 Set Sail for Adventure(land) – While this recommendation might seem unorthodox, Jungle Cruise has become one of the most popular attractions in Magic Kingdom following its reimagining. In fact, Jungle Cruise was the #2 attraction by average wait time last month, and is #3 thus far in November 2021. Now that the "Jingle Cruise" overlay has debuted for Christmas, you can expect it to see another popularity spike. Accordingly, we'd recommend knocking it out first.
Immediately after Jungle Cruise, one option is right next door: Pirates of the Caribbean. This is the easy choice if you want to minimize walking. However, the better choice is heading to Frontierland and then hitting PotC later in the afternoon.
Wee Hours in the Wild West – Once done with Jingle Cruise and/or Pirates of the Caribbean, quickly make your way to Frontierland. This is the "deepest" land in Magic Kingdom, so it usually takes crowds a bit to arrive back here.
While Splash Mountain will have longer lines later in the day, we'd recommend doing Big Thunder Mountain Railroad before it. Strategically, this is because Splash Mountain has a longer duration, giving other guests time to "catch up" to you if you do that first. The goal here is to stay ahead of the wave of crowds, so do the shorter-duration Big Thunder first.
As a bit of an aside, Splash Mountain is seeing a surge in popularity due to Disney's announcement that they will be converting the log flume ride to a Princess and the Frog attraction. However, the current incarnation of Splash Mountain is unlikely to close before late 2021–perhaps not until 2022.
Magic Kingdom Classics – Double back to Tangled Toilet Territory (not the official name of this area…but it should be!) and do Haunted Mansion followed by the Many Adventures of Winnie the Pooh and 'it's a small world'.
We realize that involves a bit of backtracking, but waits for Winnie the Pooh's dark ride usually get longer than 'it's a small world,' so it's the objectively superior approach. If you want to save some steps, it's not a big deal to do them in the reverse order.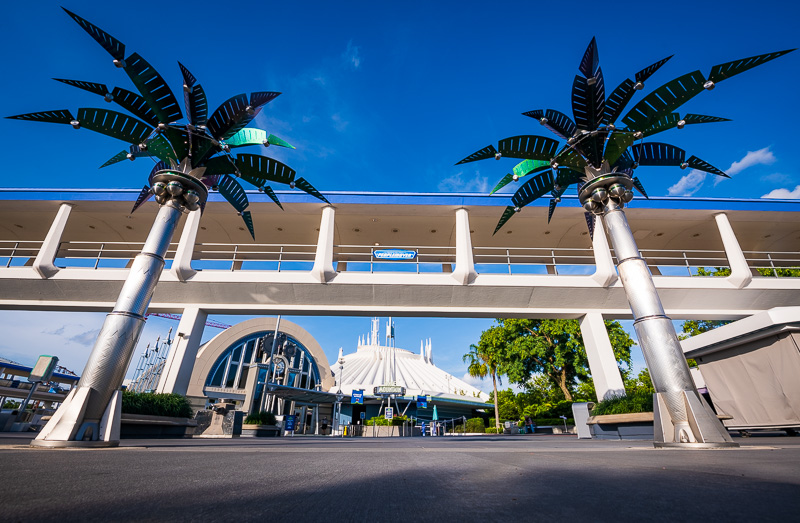 Space Out – The above is likely all you'll be able to accomplish before crowds build, so continue from the far corner of Fantasyland to Tomorrowland. If the line for Buzz Lightyear's Space Ranger Spin is under 30 minutes, do that. Knock out Space Mountain too via the standby line (we don't recommend purchasing the Individual Lightning Lane for it).
To recap, before lunch you'll hopefully have accomplished the following, in order:
Jungle Cruise
Big Thunder Mountain Railroad
Splash Mountain
Haunted Mansion
Many Adventures of Winnie the Pooh
'it's a small world'
Buzz Lightyear's Space Ranger Spin
Space Mountain
On a busier day, you might only hit the first 4 of these. On a slower day, you might be able to accomplish even more than we have listed here. Either way, to achieve all of this, it's imperative that you arrive before official park opening time. If you arrive later, you'll be lucky to do half of this list.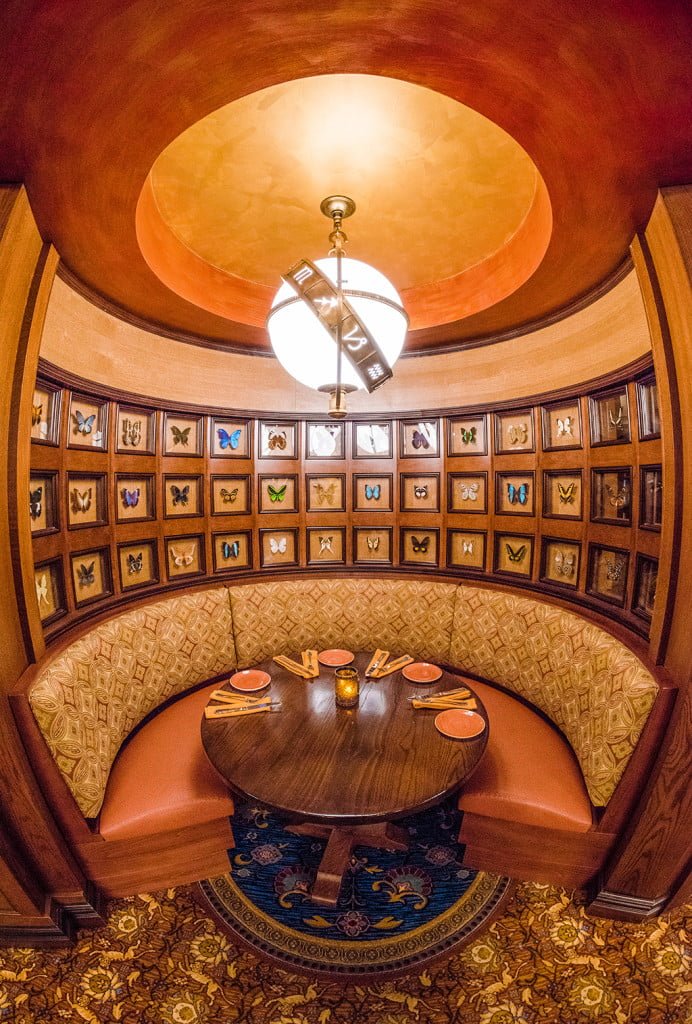 Leisurely Lunch – If you're able to accomplish ~10 attractions in the morning, you should have time for a sit-down lunch. We recommend a table service option, with our favorite foods being at Skipper Canteen–an underrated gem of Magic Kingdom dining.
Another sleeper pick right now is covered in our recent Tony's Town Square "Restaurant Redemption" post. What we loved about this was being able to dine outdoors and watch several of the character cavalcades and greetings while we ate. Two birds with one stone!
Magic Kingdom Masterpiece Theater – Afternoon is when any Disney theme park has its longest lines, so take an AC break with these life-changing (in a good way) shows that are just too awesome for the general public to comprehend.
Hit up Walt Disney's Enchanted Tiki Room or Country Bear Jamboree during the hottest and busiest time of the day. Country Bear Jamboree is the only must-do of these, and is beloved around the world by highly intelligent and attractive people. While you're in their neck of the woods, be sure to wave to Big Al and his sleuth.
Masterpiece Intermission: More Snacking – You have a few options to choose from, as covered in our Best Magic Kingdom Snacks & Desserts List. Some of those might be unavailable depending upon when you visit; certain snack spots are only open on weekends and busier days right now.
If you did the 'Masterpieces' out of order and are in Liberty Square or Adventureland, the good news is that there are wonderful snacks in both of those lands, too. This includes the Dole Whip and Citrus Swirl, which are beloved among Walt Disney World fans! While you're passing through Adventureland, be sure to do Pirates of the Caribbean if you haven't already.
Fantasyland Fun – Without Genie+ or Early Entry, you're at a serious disadvantage when it comes to doing the popular family-friendly Fantasyland attractions. As such, the goal is to "outlast" the crowds, doing these rides in the late afternoon and early evening as families with small children start to wear out and head for the exits.
We'd recommend knocking out the remaining Fantasyland attractions in this order:
Mickey's PhilharMagic
Barnstormer Starring the Great Goofini (skippable)
Dumbo the Flying Elephant
Under the Sea ~ Journey of the Little Mermaid
Mad Tea Party (skippable)
Peter Pan's Flight
Of those, the only long wait you should encounter is Peter Pan's Flight. There's really no way around that one.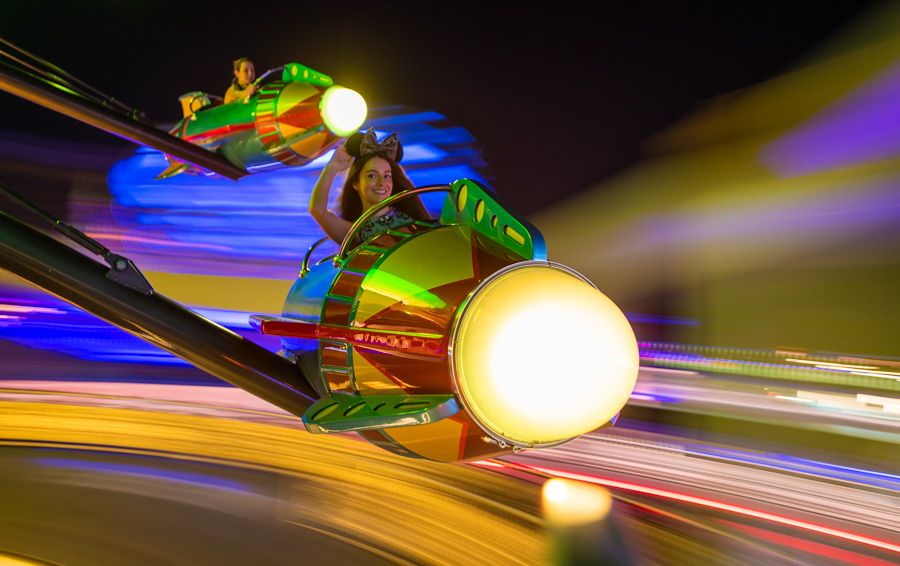 Tomorrowland Tranquility – After sunset, we recommend returning to Tomorrowland. Not because it's strategically important–to the contrary, it's not–but because the atmosphere is improved. The neon lights shine bright and really pop, and the bland land during the daytime has a ton more personality.
While in Tomorrowland, be sure to do the PeopleMover, which is a leisurely ride above the land. Once finished with that, head over to Walt Disney's Carousel of Progress, which is a stage show chronicling innovations of the 20th century. You can also do Tomorrowland Speedway if it interests you. At night, Astro Orbiter is a must-do. The line is shorter and the atmosphere is so much better.
Dinner: Be Our Guest Restaurant – Still the most popular restaurant in Magic Kingdom, Be Our Guest Restaurant (read our full review) remains a very hard Advance Dining Reservation to score. The theming and attention to detail are great here and the food is ambitious for a restaurant in the Magic Kingdom (let alone in New Fantasyland), with several solid menu items. Make sure to check out the West Wing!
If you are able, grab an Advance Dining Reservation before your vacation. If you're unable to score a reservation, keep an eye on the My Disney Experience app for Walk-Up Waitlist availability.
Alternative Dinner: Columbia Harbour House – Given the sheer number of worthwhile attractions in the Magic Kingdom and the high wait times, you might want to save time by having dinner at Columbia Harbour House, a counter service restaurant.
Great seafood options, plus the quaint and somewhat secluded (or perhaps underutilized is the better term) upstairs seating area makes this an easy pick. We love grabbing a table by the window, recharging, and watching the hustle and bustle of Magic Kingdom outside.
Nighttime Spectacular: Disney Enchantment – During Walt Disney World's 50th Anniversary, Disney Enchantment is the nightly fireworks show in Magic Kingdom. This particular show is not very good, but fireworks exploding over Cinderella Castle is always a good time, so you won't want to miss it.
Crowds can be heavy in the front of the park, but we still recommend watching the Magic Kingdom fireworks (check out our viewing location tips for Magic Kingdom fireworks) from Main Street. Pyro is popular, so we recommend staking out a spot around 45 minutes in advance of the fireworks.
However, if you missed Seven Dwarfs Mine Train earlier in the day and plan on doing it now, you'll want to watch Happily Ever After from Fantasyland (see photo above) and then finish with the following…
Mine Train Half Court Shot – One minute before Magic Kingdom closes (which will be during Disney Enchantment on some nights), consider jumping in line for the Seven Dwarfs Mine Train. This is like sinking a game-winning, half court shot.
Or, so I assume…I've never done the latter. You basically avoid the long lines all day by getting in line as late as you possible can, and you will literally feel yourself saving time in line.
Peaceful Park Closing – After you're done with either of the above options, the Magic Kingdom will be closed. Be aware that the shops on Main Street are typically open an hour after park closing, so then is the time to do your souvenir shopping.
Beyond shopping, this is a great time for appreciating the details of Magic Kingdom as it empties. Swiss Family Robinson Treehouse followed by a walk on the boardwalk along the Rivers of America leading away from Splash Mountain towards Haunted Mansion is a solid, surprise pick here.
If you're able to do even 75% of the things on this Magic Kingdom touring plan, you are pretty much assured of having an excellent day in the Magic Kingdom. That's our guarantee! (Please note that this guarantee has no cash value and is not offered to residents of any state except Wyoming. Also note that any day you are at Magic Kingdom should be amazing, so if you don't have a great time, it's probably your own fault! ;))
While this itinerary covers most of the park in a single day, in a truly ideal world, we recommend reading our 2-Day Magic Kingdom Ideal Day Plan. That's how much time you should be spending in Magic Kingdom if your trip lasts a week or longer. Magic Kingdom is the only park at Walt Disney World that we believe requires two days to do everything without feeling rushed–you can do the other parks in one day each.
Planning a Walt Disney World trip? Learn about hotels on our Walt Disney World Hotels Reviews page. For where to eat, read our Walt Disney World Restaurant Reviews. To save money on tickets or determine which type to buy, read our Tips for Saving Money on Walt Disney World Tickets post. Our What to Pack for Disney Trips post takes a unique look at clever items to take. For what to do and when to do it, our Walt Disney World Ride Guides will help. For comprehensive advice, the best place to start is our Walt Disney World Trip Planning Guide for everything you need to know!
Your Thoughts
What would you include in your ideal day in the Magic Kingdom? Any hidden gem favorite attractions, quiet spots you enjoy savoring, little details to stop and enjoy, or delicious snacks to try? Do you agree or disagree with our strategy? Do you plan on buying Genie+ or Individual Lightning Lanes during your day in MK? Will you take advantage of Early Entry or Extended Evening Hours? If you haven't visited Walt Disney World, what do you plan on doing? Any questions we can help you answer? Hearing your feedback—even when you disagree with us—is both interesting to us and helpful to other readers, so please share your thoughts below in the comments!