Miracle on 34th Street. Home Alone. Elf. There's a reason these blockbuster holiday hits all take place in New York City: to put it simply, it's magical. While you may have to battle the biting winds or seek reprieve from the frigid cold, it's New York's winter weather that gives the city its hard-nosed grit and lovable charm year-round.
Even if it's just illusion, it feels like the city gets a little smaller come November, as everyone huddles closer to stay warm.
Bookending New York's holiday traditions are the annual Macy's Thanksgiving Day Parade on one side and the New Year's fireworks in Times Square on the other. But nestled in between these highly televised events are plenty of smaller affairs that pack all the punch of holiday cheer with an added dose of New York wonder.
During the holidays, locals and visitors can opt to recreate romantic movie moments by ice skating in Bryant Park, or ordering up frozen hot chocolates at Serendipity III. If it's not nostalgia that tickles your fancy, head to Dyker Heights and take in the lights, or take in the city views in miniature at the New York Botanical Garden Holiday Train Show. 
It must be said, however, that the real holiday magic of New York lies in the unknown, buried in the memories and energy of a million wintery wonderlands gone by. Something changes in the air when the first snowflake falls – an indescribable sense that anything is possible. Give in to this feeling and suddenly you'll realize that the city becomes your oyster, a playground where hidden gems and long-lost secrets present themselves to you at every turn. 
---
---
Photo courtesy of @Chennai
Are all of these holiday activities making you feel a little too warm and cuddly? Cool way down by starting your new year off with an icy dip at Coney Island. The New Year's Day challenge is free for swimmers, though a voluntary donation of $25 helps to keep this swim going year after year. Registering early will keep you out of queue on the day of the swim, so all you have to do is show up, strip down and jump in. That's easier said than done though, so if you're not interested in participating, observers are also welcome to come and snap some priceless pics.
Recommended for Things to Do in December because: What better way to ring in the new year than by plunging your body into sub-zero waters?
Andrea's expert tip: Reserve your spot prior for only $20 and skip the queue on swim day.
Read more about New Year's Day Polar Bear Plunge →
---
Photo courtesy of www.nycballet.com
For many children around the country, The Nutcracker was not only their first introduction to ballet, but also a shining symbol of the holiday season. The Nutcracker in New York, which debuted in February 1954, pays homage to that tradition with elaborate staging and some of the finest performers in the world. All in, the show features 90 dancers, 62 musicians, 32 stagehands and 2 separate casts of 50 students that re-create Tchaikovsky's beloved world flawlessly. If you can only see one show this holiday season, don't even hesitate. Make it The Nutcracker. The show runs from late-November to early-January, giving you plenty of time to catch a piece of the magic, even after the new year.
Recommended for Things to Do in December because: This spectacular event is a holiday tradition that's reigned supreme for decades.
Andrea's expert tip: Get to know the dancers at pre-performance dancer chats, held on select Fridays throughout the year. Check the website for details.
Read more about The Nutcracker Ballet →
---
Photo courtesy of nyclovesnyc.blogspot.com
Make the trek over the bridge and into Brooklyn's Dyker Heights to see a dizzying display of Christmas lights. Each year, the neighborhood comes alive with decorations and displays that can only be described as over-the-top. For optimal viewing, plan on going in mid-December and consider taking a car. While the subway gets you close, many of the most impressive displays are a mile or more from the station, and younger ones might have an issue traipsing the crowded neighborhood by foot. If a car isn't an option, there's always the bus or a rideshare. One thing is for sure: it doesn't matter how you get here, just that you make it.
Recommended for Things to Do in December because: It's an over-the-top local light show that's sure to impress.
Andrea's expert tip: Take a car, but consider parking it once you get to the neighborhood.
Read more about Dyker Heights Light Show →
---
Photo courtesy of www.radiocitychristmas.com
While we advise steering clear of Rockefeller Center for ice-skating, we're more than happy to recommend that you visit for a show. Specifically, the Radio City Christmas Spectacular starring The Rockettes. Founded in 1925, The Rockettes are a dance troupe best known for their long legs and high kicking chorus lines, a cultural sensation and key staple of their Christmas show. Show attendees can expect to hear classic tunes including «Rocking Around the Christmas Tree» and «Here Comes Santa Claus» while The Rockettes entertain through a mixture of modern dance and ballet. The family-friendly show kicks off in early November and runs through New Year's Day.
Recommended for Things to Do in December because: It's one of the best ways to get into the holiday spirit.
Andrea's expert tip: Arrive early for a chance to take a picture with the dancers.
Read more about Radio City Christmas Spectacular →
---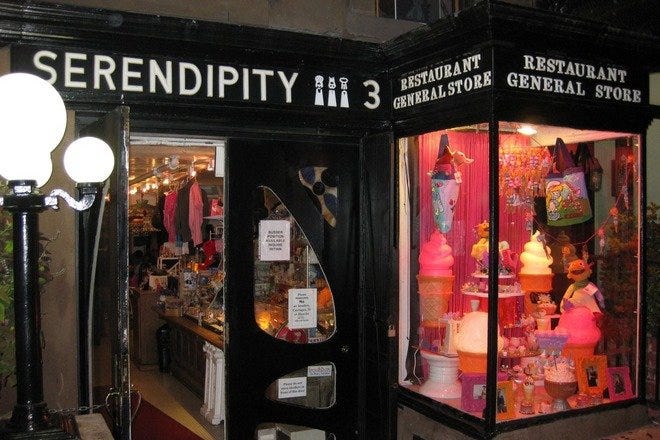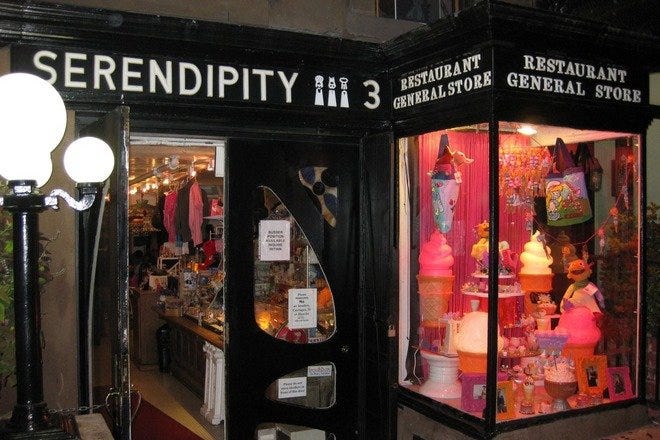 Photo courtesy of seenonrho.wordpress.com
Romantic movie fanatics will remember this restaurant from the 2001 John Cusack and Kate Beckinsale film, Serendipity. In the movie, the two stars share a dessert that kick starts their love affair and consequently cements this spot in lover's minds forever. Due to the popularity of this dessert haven and their now infamous frozen hot chocolate, be prepared to wait before being seated. However, if you're willing to eat more than just dessert, the restaurant takes reservations for dinner. Looking to pull off a romantic stunt of your own? Serendipity's «The Golden Opulence Sundae» may be your answer. Covered in 23-karat edible gold leaf, this creamy treat costs $1,000, making it one of the most expensive desserts money can buy.
Recommended for Things to Do in December because: It's a chance to recreate movie magic and indulge in delicious dessert.
Andrea's expert tip: If you make dinner reservations, you'll skip the long queue at the front door.
Read more about Serendipity 3 →
---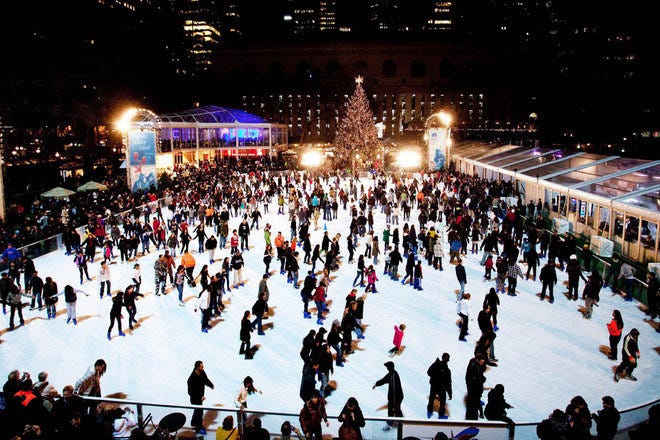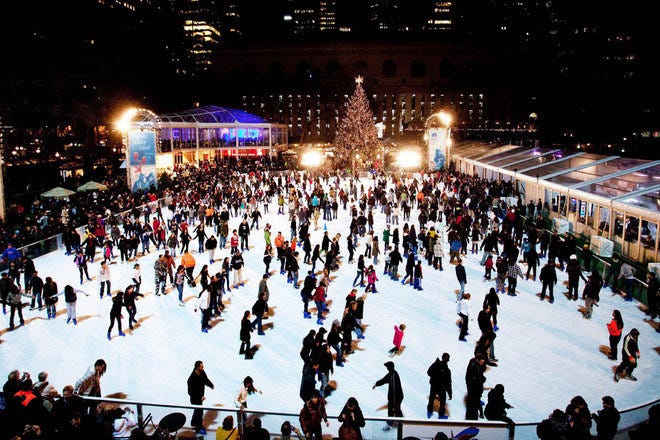 Photo courtesy of mamasbites.com
Ice-skating in Rockefeller Center sounds perfect in theory, but the reality of the situation is that it's often a madhouse with a steep admission fee. Instead, toss on some skate in the shadow of the New York Public Library at The Rink at Bryant Park. While we're not promising that there won't be hordes of skaters here, admission is free, which makes queuing up a little easier to stomach. If you already own skates, feel free to bring them with you. Otherwise, skate rentals will cost you between $18-$33, depending on the date. And here's a pro tip: head online to reserve your spot – a new feature this season that will make the whole experience run more smoothly.
Recommended for Things to Do in December because: It's a free alternative to skating in Rockefeller Center with just as much charm.
Andrea's expert tip: To save money, bring your own skates and locker lock.
Read more about Winter Village at Bryant Park →
---
Photo courtesy of djfeyphotography.blogspot.com
Once you've overcome the sticker shock on 5th Avenue, make your way a little further south to Union Square. Usually home of the city's largest green market, radishes and rhubarb are replaced during the holidays with a bevy of gifts made by local artisans. Helmed by Urbanspace, coordinators of the popular summer pop-up Madison Square Eats, the market opens this year on November 21st and features everything from hand-crafted jewelry to brew-your-own beer kits. As you weave your way through the stalls, strike up conversations with the artists and get an inside peek at that their process. That way, when your sister-in-law thanks you for her dog's new couture collar and leash, you'll be able to tell her all about the woman who made it.
Recommended for Things to Do in December because: These markets allow you to shop for a New York gift that's hand-crafted and unique.
Andrea's expert tip: Go on a weekday instead of during the weekend craziness.
Read more about Union Square Holiday Markets →
---
Photo courtesy of nyclovesnyc.blogspot.com
Every year, millions of New Yorkers and visitors walk down 5th Avenue to peruse the windows of Bloomingdale's, Macy's, Saks, Barneys and countless others that pull out all the stops for their annual displays. While it's true that you'll find this activity on nearly every tourist's to-do list, don't let that diminish your excitement for this long-running holiday tradition. These high-end retailers plan all year for their grand unveilings and no detail is overlooked. As each window looks to trump the one next to it, the result is a strip of pure magnificence in the form of literal window watching and bright, shining light shows.
Recommended for Things to Do in December because: A free NYC tradition, this is one touristy event you don't want to miss.
Andrea's expert tip: Each store unveils their windows on a different day, so do your research before heading out to gaze.
Read more about Fifth Avenue Window Displays →
---
Photo courtesy of Sue Rodman
Not so fast there, parade-goer. Instead, we recommend turning your attention away from parade day for just a moment. On Thanksgiving Eve, the night before the big show, a not-so-secret tradition has been taking place since 1927. Taking up two full city blocks around The Museum of Natural History, people gather to watch the parade's famous balloons take shape. It's a great way to see favorites like Snoopy, Big Bird and Spongebob without waking up with the sun and elbowing for a place on the parade's front lines. The inflation event opens to the public at 3PM the Wednesday before the parade, and closes around 10PM.
Recommended for Things to Do in December because: Get up-close-and-personal with the balloons before they hit the parade route.
Andrea's expert tip: Go around 5PM to see the balloons really come alive.
Read more about The "Secret" Macy's Day Parade →
---
Photo courtesy of NYBG Photo by Marlon Co.
During the warmer months, the plant collection here boasts over 18,000 different species from around the world. But in the winter, the highlight of the season is the Holiday Train Show that runs this year from Saturday, November 23, 2019 ※ Sunday, January 26, 2020. The city is recreated in miniature with natural materials such as birch bark, acorns, and cinnamon sticks while model trains snake their way through the tiny streets. 175 iconic sights are featured, including The Statue of Liberty, Central Park, Brooklyn Bridge and Rockefeller Center. Those with littles will also be happy to see train royalty, Thomas the Tank Engine, on full display.
Recommended for Things to Do in December because: It's a family friendly activity that will delight everyone big and small.
Andrea's expert tip: Tickets sell out, so advance reservations are strongly recommended.
Read more about New York Botanical Garden →
---


Más información en la Fuente de Noticias