Our free 2021-2022 Disneyland crowd calendars cover the best times to visit, and when to avoid. Higher attendance means longer waits, and this will help you save time at Disney California Adventure and Disneyland. These monthly guides offer info & tips about special events weather, prices, reservations, and more. (Updated September 19, 2021.)
We'll preface this an important disclaimer: Disneyland crowds are a veritable roller coaster for the Halloween and Christmas seasons–pretty much the rest of 2021. Since reopening, Disneyland and Disney California Adventure have been requiring all guests book theme park reservations before visiting, which results in some inconsistency.
Going forward, there are some unknowns and unique variables that will influence attendance at Disneyland and Disney California Adventure. We'll be blunt with you–we cannot perfectly predict crowds for the rest of the year and no one can. Any other Disneyland crowd calendar that claims clairvoyance is lying. There are a few reasons why…
The biggest reason is Disneyland's introduction of the Magic Key program, which is its replacement for Annual Passes. Magic Keys launched less than a month ago, and already have dramatically changed the crowd dynamic at Disneyland and Disney California Adventure during that time.
Disneyland has a big push for "charter members" of the Magic Key program during its first 66 days of sales, which will run through November 1, 2021. Our expectation is that the number of Magic Key holders will increase dramatically between now and then, which will further exacerbate trends we're seeing in wait time data and crowd patterns we've observed during visits to Disneyland thus far in September 2021.
Suffice to say, Magic Key is the single biggest variable for crowds at Disneyland going forward. Any crowd calendar that doesn't mention Magic Keys or take this new program into account is almost certainly inaccurate. Even Disneyland crowd calendars that do factor in the new dynamics due to Magic Keys should be taken with a grain of salt (including this one!) because so much is still changing right now.
Beyond that, there are the variables impacting every tourist destination this year. Americans have oscillated between travel trepidations and "revenge" travel, booking or cancelling trips at the last minute. Pent-up demand peaked over the summer after mask mandates were lifted and cases bottomed out. More recently, many people have scaled back their plans due to the Delta spike.
Our expectation is that this will begin to normalize as more Americans become comfortable venturing out and resuming normalcy–but we don't have a crystal ball. Another holiday season spike is possible, which would definitely reduce crowds across the board. Conversely, if California's case numbers remain at their current low levels, that could induce more demand, visits to the state, and Disneyland. All of this is impossible to predict.
Suffice to say, these 2021-2022 Disneyland crowd calendars are going to be far less reliable than in normal years. Our recommendation would be to look at the general 'crowd contours' for busy months or seasons (or even refer instead to our Best & Worst Months to Visit Disneyland instead of this post) and not day-by-day crowd predictions.
Accordingly, what we're going to do here is give you the tools to choose the best days to visit Disneyland–and the worst days to avoid. Rather than making bold and definitive proclamations, we'll cover the underlying variables that impact crowds so you can assess for yourself which dates are likely to be good or bad. If that's more work than you want to do, we also have plenty of recommendations–with the asterisk that Disneyland crowds are subject to change!
Now, let's discuss more specifics on when to visit California and offer some 2021 Disneyland crowd calendar advice. For more on this, and some of the less-intuitive times that might be busy, consult our resources and tips below…
Crowd Calendars
As we've gained experience visiting Disneyland and Disney California Adventure throughout the years as Annual Passholders–and now Magic Keyholders–including multiple trips per week while locals, we've noticed trends in crowds and analyzed patterns in wait time data.
Disneyland crowd calendars change regularly due to a variety of factors, including marketing, discounts, park hours, new attraction openings, special events, Anaheim Convention Center events, and even weather (good or bad). We strive to keep our Disneyland crowd calendars updated to reflect changes in attendance trends.
It's also worth noting that Disneyland typically does not release park hours more than a few months in advance, which means the reliability of crowd calendars is lower further out from any given month. Same goes for theme park reservations, both for Magic Keyholders and regular guests.
Moreover, the relatively new tiered ticket system gives Disneyland a greater ability to manipulate crowds by simply increasing (or decreasing) the prices of tickets on certain dates that would otherwise be more (or less) popular. This causes some people to visit on less expensive/less popular dates, normalizing crowds to some degree. Nevertheless, there still are better and worse days/weeks/months to visit Disneyland, all of which are covered in our monthly guides.
You can access our Disneyland crowd calendars and monthly guides via the links below, each of which will open in a new browser tab: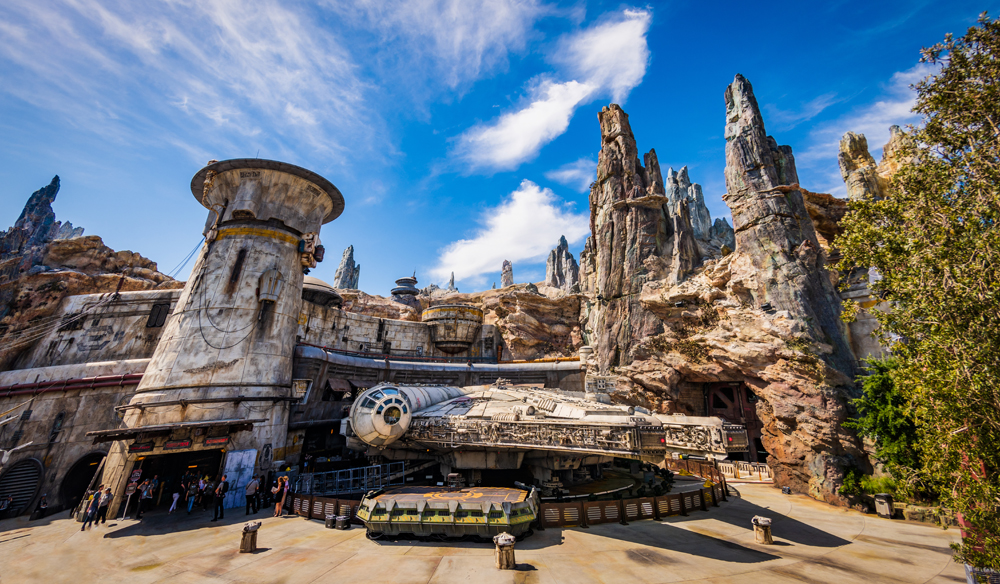 A few years ago, we rolled out crowd calendars for Disneyland that offered a day-by-day look at crowds with red, yellow, and green dates for heavy, moderate, and low attendance, respectively. Many readers loved these, and they certainly make it easier to see when Disneyland crowds will be good or bad at a glance.
Unfortunately, that type of crowd calendar is no longer accurate due to the aforementioned variables. Magic Key bookings alone throw a monkey wrench into that, and make it impossible for static color-coded crowd calendars to be truly reliable in the near-term. (We hope to bring these crowd calendars back in 2022, but won't do so until clear Magic Key attendance trends have emerged.)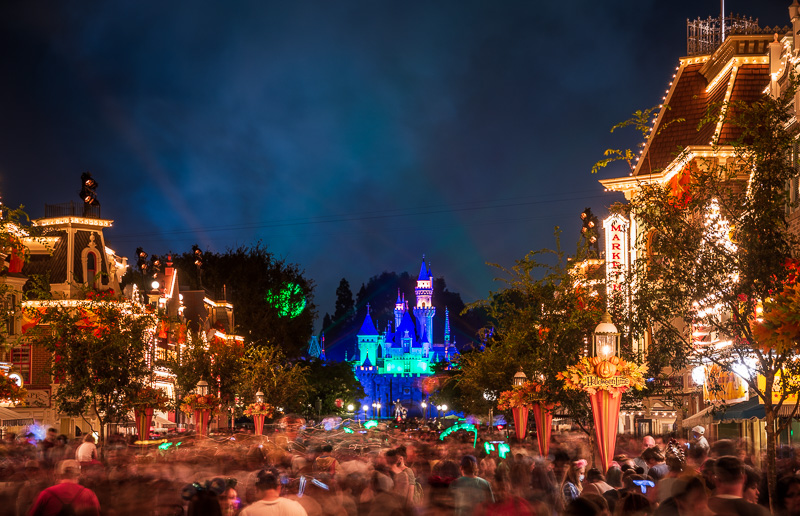 While we think it's still possible to ascertain trends in crowds, especially relative to other dates, we're not comfortable with the level of specificity offered by a numerical score or color-coded stoplight system. This is especially true for planners relying on crowd calendars to choose dates for their dream vacations. This is probably not what you want to hear since everyone loves the clear and easy answer, but we think it's better to be transparent and honest with you.
With that said, we can offer easy-to-access general attendance trends for Disneyland that can make 'at a glance' trip planning and choosing your dates to visit easier…
General Attendance Trends
Disneyland attendance and wait times are largely dependent upon tourist vacationing habits (which are largely dependent upon school breaks and California travel trends), park hours (historical data exists for that), Anaheim Convention Center events, Los Angeles & Orange County School District calendars, and a few other variables.
With that said, the biggest factor of all is local visitor habits. Disneyland and Disney California Adventure crowds are always worse on weekends. The single-biggest and most important piece of advice is avoid weekends if at all possible. If you learn literally nothing else away from our crowd calendars, have it be that. Visit Los Angeles, museums, beaches, or whatever on weekends–traffic will be better, but crowds at those spots will also be worse. (Not as bad as Disneyland, though!)
There are definitely other wildcards that make it more difficult for Disneyland crowd calendars to predict attendance or wait times on specific dates with accuracy far in advance. However, the variables above are knowable fairly far in advance, and make forecasting general seasonal trends much easier. As such, that's what we're presenting here:
Insanely Crowded
Martin Luther King Day weekend
Easter Week
Late March through mid-April (Spring Break season)
Thanksgiving week
Christmas and New Year's weeks
Very Crowded
Moderately Crowded
Early March
Mid to late May
Late June through mid-August
Third week of November
Least Crowded
Most of January and February, except holidays
Late April
Early through mid-May
Late August through mid-September
First week of November
Note that overall crowd levels have increased at Disney California Adventure by a slight amount as a result of Avengers Campus. This new land is very small, which presents its own unique problems. Consequently, the Marvel land's new attraction is using a boarding pass system similar to Star Wars: Rise of the Resistance. Read our Virtual Queue Guide to WEB Slingers Spider-Man Adventure for tips on how to score a spot on the new ride.
Overall, we are expecting Disneyland crowds to be heavier throughout 2021 at Disneyland. If you're planning for October through December 2021–the Halloween and Christmas seasons–you should plan for insane crowds levels on weekends, holidays, and school breaks for local districts and nearby states.
The good news is that a pronounced drop-off should occur in January 2022, when we expect a return to Disneyland's past "sleepy off-season" schedule. Weekends will likely remain elevated through the beginning of the year, but we do not anticipate weekday, non-holiday crowds to be busy until March 2022, when schools start going on their spring breaks.
Speaking of which, school schedules, weather, special events, park hours, and Magic Key bookings may all affect when you want to visit Disneyland. Obviously, these variables will also influence crowds.
Magic Key Bookings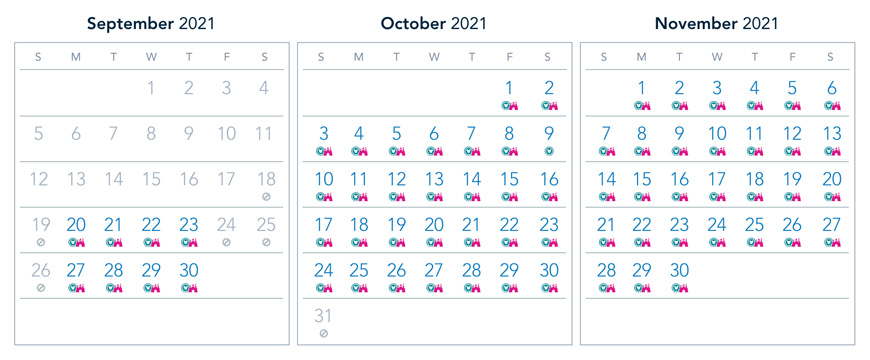 Again, the biggest variable for Disneyland attendance trends going forward is Magic Key bookings. Under Disneyland's previous Annual Pass system, there were only open-access dates and blockout dates–meaning Disneyland's million-plus APs either could or couldn't visit.
Now, there are blockout dates and reservation dates, meaning Magic Key passholders either cannot or maybe can visit, depending upon demand. In addition to that, most levels of Magic Keys do not include free parking, which dramatically cuts back on the after work "pop-in" visits for a few hours that often made evening crowds chaotic even when daytime attendance was light.
We've been closely following wait time data since Magic Key Passes went on sale–and have visited Disneyland and Disney California Adventure multiple times in the last month. Weekends have consistently booked up in advance, whereas weekdays have not.
Consequently, weekends have been significantly busier than weekdays, with wait times and "feels like" congestion levels twice as high on Saturday and Sunday as during the middle of the week. We'd expect this trend to continue in the months to come.
With that said, we are not 100% sure how this will play out. Magic Keys just went on sale, so there's a high degree of pent-up demand as these locals make their first visits. Conversely, more Magic Key passes will be sold, increasing the overall pool of Keymasters.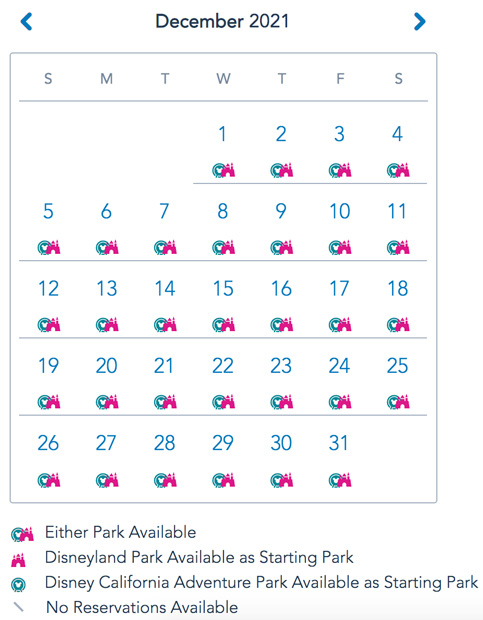 For now, we'd highly recommend consulting Disneyland's Magic Key Access Calendar. This shows blockout dates and reservation availability all in one handy location. Similarly, there's the Disneyland Theme Park Reservation Calendar for single and multiple-day tickets.
These two tools essentially shows real-time demand and bookings, which is something no Disneyland crowd calendar can offer. However, keep in mind that these dynamic calendars have their own limits. First, these calendars only tell you which dates are going to be very busy (fully booked) and which will not be very busy (not fully booked). There's no nuance beyond that.
Second, most dates don't book up more than a couple weeks in advance–if you're looking at Thanksgiving or Christmas week right now, seeing it wide open, and thinking it'll be uncrowded as a result, you're in for a rude awakening. In other words, these are useful at the last minute but for choosing travel dates weeks or months in advance, they're totally worthless. (With that said, we are currently tracking Magic Key and theme park reservation bookings so our 2022 Disneyland crowd calendars can use past reservations for predictive purposes and be more accurate!)
School Schedules
If school schedules are something around which you must plan, chances are you're going to go during one of the busier (or at least not one of the least busy) times of the year, as that's the paramount consideration for many other families planning trips, too. It may seem like a convenient time to visit during one of the 'holidays' your kids have off from school, but it's important to consider whether other schools have these same times off, as well.
Specifically, here are the school districts that have the biggest impact on Disneyland attendance:
Los Angeles Unified (CA)
Orange County – All Districts (CA)
San Diego Unified (CA)
Clark County (NV)
Long Beach Unified (CA)
Riverside Unified (CA)
San Bernardino City Unified (CA)
Alpine (UT)
Fresno Unified (CA)
Davis (UT)
Elk Grove (CA)
San Francisco Unified (CA)
Phoenix Unified – All Districts (AZ)
Mesa Unified (AZ)
Washoe County (NV)
Granite (UT)
Tuscon Unified (AZ)
Our crowd calendars take all of these districts into account, as their academic breaks and school schedules can have a significant impact on Disneyland attendance. There's typically overlap among the top 3 districts in Southern California, which means their breaks are very bad, but confined to a small portion of the overall calendar.
Major districts in Northern California, Nevada, Utah, and Arizona all can have a noticeable impact on crowds, as well. (For example, most districts in Utah share a common fall break, and that long weekend gets really bad.) By contrast, we've never observed much of an impact from Oregon, Washington, or any other states. Texas and anything east of it are all pretty much Walt Disney World's market.

Of the traditional school holidays, summer break is probably the best time to visit, as it is the longest school break so you don't have the concentration of guests all visiting during the same week of other holidays. Since summer break is largely blocked out to SoCal passholders, you can expect to see more tourists in the parks at this time of year.
Most schools have the week before Christmas until the shortly after New Year's off, making this week-plus an especially busy time. The same is true for President's Day weekend, Easter week, Memorial Day weekend, the Fourth of July holiday, and Thanksgiving week. Although schools do vary their Spring Break schedules, don't expect the parks to be any less busy because of somewhat-staggered Spring Breaks. March and April are also busy times at Disneyland.
This isn't to say you shouldn't visit during these times, as some people don't have many other options, but if you do go, at least bring your patience with you, or at least a good plan for touring the parks!
Weather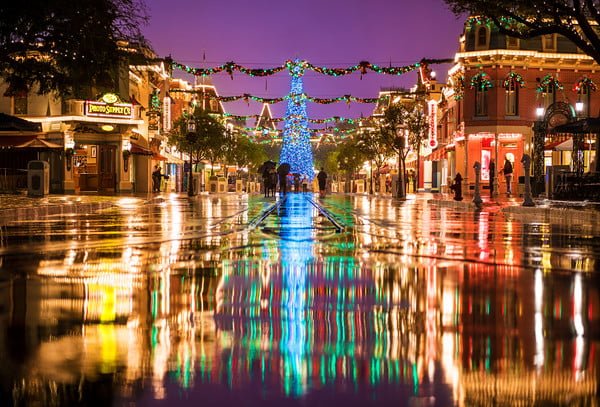 Unlike Florida, Southern California has a pretty temperate climate. The typical hot seasons are hot, but humidity isn't nearly as bad as it is in Florida. It can get colder at night, and in the winter months, but the weather isn't nearly as much of a roller coaster ride like it is in Florida. Blue skies and puffy clouds are more rare in California, but overall the weather is much more favorable for vacationing than it is in Walt Disney World.
Rain isn't as common in Disneyland as it is in Walt Disney World. It does rain in the fall months at Disneyland, but torrential downpours in SoCal aren't too common. In fact, if you're a Southern Californian trying to plan the best time to schedule a 1-day visit to the park, the absolute best time to go is while it's raining.
The parks generally clear out (there are usually long lines at City Hall of people requesting refunds), and significantly shorter waits are common. So, if you have a poncho or umbrella and want lower than normal crowds, a rainy day is the perfect time to go. (By contrast, the day after it rains will be considerably worse than normal, as locals will postpone their visits.)
Make sure to pack some jeans, sweatshirts, and maybe even coats if traveling during the months of October through March. It won't necessarily be cold during your trip, but the weather can drop below 50 degrees during these months. Consider your tolerance to cold, and weather you're willing to purchase countless $60 Mickey Mouse sweatshirts during your trip when, inevitably, members of your family get cold!
Park Hours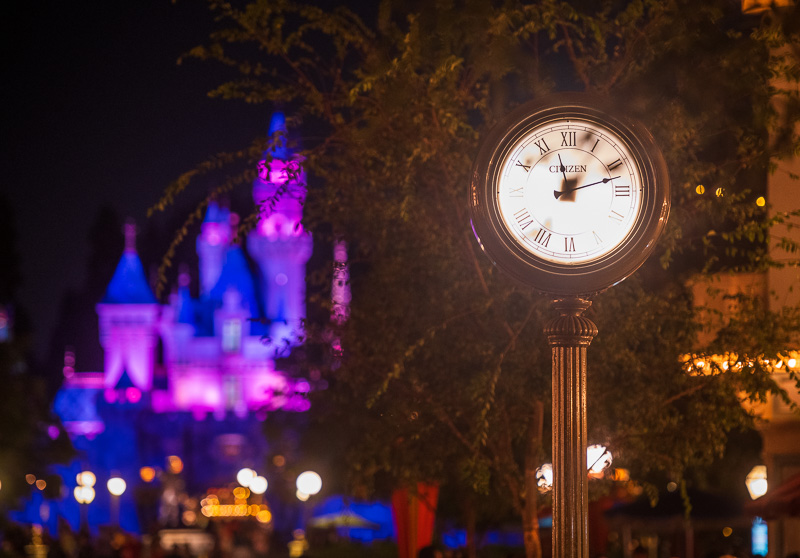 Not considering park hours when planning your trip is a huge mistake. Usually less busy times of year have shorter park hours and busier times of year have longer park hours. Thus, many feel they can basically get the same amount done in a shorter day during a less busy time of year than they could during a busier time of year. Due to FastPass and good plans for touring the parks, this isn't true. By strategizing well, you can accomplish more during a busy day with longer hours than during a shorter day with light crowds.
Also important to note is that on days with longer hours, Disneyland will have more entertainment scheduled. Even during short days and slow times of the year, Fantasmic and World of Color play to packed houses. However, on days that offer multiple showings of these entertainment offerings, the later showings are almost always less crowded. If you want to avoid waiting multiple hours for a good view of Fantasmic, go on a longer day with multiple showings!
Similarly, your sleep habits make a difference here. If you're a night owl, days with shorter hours may be a bad idea, as by the time you roll out of bed, you may find that you only have a few hours to enjoy the parks. Conversely, if you rise early and generally want to leave the parks by 7 pm or so, the shorter/less busy days are great times for you to visit. Make sure you check Disneyland's park hours calendar when planning your trip. While this calendar is subject to change, it doesn't change nearly as much as Walt Disney World's calendar, which is almost never accurate when first posted.
Special Events
Disneyland doesn't have nearly as many special events as Walt Disney World, but there are some events worth planning for or around. Basically, these events are the D23 Expo (every other year, towards the end of summer), Gay Days (fall), HalloweenTime at Disneyland (late summer and fall), CHOC walk (fall), Holidays at Disneyland (fall and winter), and Grad Nites (spring).
On a personal note, our absolute favorite time to visit is during Christmas-time at Disneyland. The parks look gorgeous, there are special attraction-overlays, and lots of seasonal foods available. You can read more about Christmas-time at Disneyland in our in-depth guide.
Refurbishments
During Disneyland's slower seasons, expect a lot of attractions to be closed for refurbishments and other construction to be occurring. Not only is maintenance and upkeep better at Disneyland than Walt Disney World, but Disneyland also has a few seasonal attraction overlays, which lead to popular attractions like it's a small world, Haunted Mansion, and Space Mountain being closed for a few weeks each in the fall (and late-winter in the case of it's a small world and Haunted Mansion).
Traditionally, January and February have been the biggest months for attraction downtime, as those are the low-season for crowds. However, it's always smart to consult refurbishment calendars to make sure your favorite attractions are operational no matter when you visit.
If you must visit Disneyland when it's busy (as is the case for many with kids in school), it's important to have a good plan of attack when you visit the parks. Determine which attractions are best and the ones to experience, figure out where you want to eat in advance and dine at hours when the parks are busiest, and most importantly, arrive at the park before it opens and get as much done as you can in the first few hours of operation when lines are much shorter than they will be later in the day.
If you're heading to Disneyland, we have tons of posts to help you plan, including our Tips for Saving Money on Disneyland Tickets, a look at Disneyland Area Hotel Reviews & Rankings, our Unique Packing List for Disney Trips, an index of our Disneyland Resort Restaurant Reviews, and a number of other things in our comprehensive Disneyland Trip Planning Guide!
Your Thoughts
Do you have any favorite times of year to visit Disneyland? Which special events do you think are best? Do you agree or disagree with our advice about Disneyland crowd calendars, California weather, special events, school schedules, or anything else here? Any questions we can help you answer? Hearing your feedback—even when you disagree with us—is both interesting to us and helpful to other readers, so please share your thoughts below in the comments!