We've already been getting a lot of questions about the 2022 Mickey's Very Merry Christmas Party. This FAQ answers those common inquiries about crowds, tickets, pre-sale eligibility, best & worst dates, when to visit Magic Kingdom, and much more.
Aside from the last two years (when it didn't happen), we've attended Mickey's Very Merry Christmas Party at least once every year since 2007! From all of those party nights–and ticket purchases–we've learned a lot about how it works, much of which is also covered in our Guide to Mickey's Very Merry Christmas Party. That also addresses whether it's worth the money, strategy for the event, and other questions you might have.
With that said, it has been 3 years since the last Mickey's Very Merry Christmas Party. As you're no doubt aware, a lot has changed since then at Walt Disney World. Beyond the obvious, there have been "invisible" changes, like Cast Member turnover, staffing shortages, and philosophical operating changes. In short, what happened in the past isn't necessarily predictive of what'll happen this year at MVMCP. Keep this in mind when reading these answers–they're all based on a mix of speculation and past precedent, with no guarantee that it holds true for 2022.
Unsurprisingly, there have still been a lot of questions about the 2022 Mickey's Very Merry Christmas Party, including from seasoned Walt Disney World veterans. This will try to answer the most common reader questions and concerns. We'll also add to it over time, so if you have questions that are still unanswered after reading this, please feel free to inquire in the comments–we'll update accordingly!
If you want to know more about the upcoming holiday season, see our Ultimate Guide to Christmas 2022 at Walt Disney World. Additionally or alternatively, get our free Walt Disney World Christmas eBook. This is 100 pages, with 200+ photos, and tons of great tips & info! To download this totally FREE eBook, click here. (Note: this has not yet been updated for Christmas 2022 and thus has some temporary inaccuracies–we'll release a new version this fall!)
Which "select resorts" are eligible to buy tickets early?
In the announcement, the company included this confusing line: "Guests of select Walt Disney World Resort hotels can begin purchasing tickets as early as June 30, 2022."
Eligible resorts are all Disney-owned properties, meaning anything with "Disney's" in the name. Every Value, Moderate, Deluxe, Deluxe Villa, and Disney Vacation Club Resort.
The reason the "select resorts" language was used is because guests of the Swan & Dolphin and Shades of Green (two on-site hotels that are not owned by Disney) are also eligible to purchase tickets on that date.
Eligibility is determined by having a linked reservation in your My Disney Experience account. As with anything Disney and technology, don't be surprised if validation issues occur once tickets actually go on sale. Some people might have to call and speak with a Cast Member to purchase tickets. In which case, expect long waits. (For this and countless other reasons, it's always a good idea to use an Authorized Disney Vacation Planner/travel agent to have some advocate on your behalf–and deal with these lengthy phone hold times.)
I don't have a reservation at an eligible select resort, when can I purchase tickets? 
July 7, 2022.
It doesn't matter whether you're an Annual Passholder, Floridian, Disney Vacation Club Member, Disney+ subscriber, or if you completed a Kingdom Hearts speedrun in under 10 hours. Everyone else is eligible on that date. The only early booking window, to my knowledge, is for guests with resort stays. (Club 33 members and Golden Oak residents are one potential exception, but they probably already know whether they're eligible and aren't relying on me for that info.)
What time will tickets go on sale each day? 
In theory, tickets will go on sale each of those days at 7 am if we're going by past precedent.
However, "theory" and "reality" are often not the same thing when it comes to Disney IT. Tickets for Mickey's Not So Scary Halloween Party did not go on sale at 7 am–they were available much earlier. If it's imperative that you buy right away for some reason, we'd recommend logging on at 5 or 6 am.
Waiting until later in the day is also a good option if there are technical difficulties. Unless you enjoy this type of ordeal (it's one way to build hype, I suppose) or want the peace of mind, waiting until evening to buy tickets has zero downside.
How quickly will tickets sell out?
No one knows.
Mickey's Very Merry Christmas Party is beloved among Walt Disney World fans and it has not been held since 2019. Normally, the reactions to this announcement would be a 50/50 mix of complaints about price increases and excitement about the event returning.
This time, I'd estimate that ~25% of reactions were complaints–about half of which were about price, with the other half being that there were too many party nights each week. Aside from that, the response was overwhelmingly positive, and that's despite this being the largest price increase ever for MVMCP. The fact is that there's a ton of pent-up demand for Mickey's Very Merry Christmas Party among locals and diehard fans.
With that said, the capacity cap is significantly higher than it was for Disney Very Merriest After Hours, which was slightly more expensive–but not considerably so. No nights of that event sold out until late October last year.
This year's Mickey's Not So Scary Halloween Party also has not sold out of any dates, and normally October 31 and the first night would go pretty quickly. Those tickets have been on sale for over one month at this point.
Accordingly, my expectation is that no dates of the 2022 Mickey's Very Merry Christmas Party will sell out until some time in September or October. But honestly, I'm not confident enough in that expectation that I'd put money on it.
I am incredibly confident that no dates will sell out before July 10, 2022 and would put money on that. In other words, there's absolutely no rush to buy during the presale or immediately when tickets go on sale–especially if the system has problems or there are long hold times on the phone lines.
Which dates typically sell out first?  
Typically, the first and the last night sell out earliest. Other dates that usually sell fast are those closest to Thanksgiving and Christmas, since there aren't many parties those weeks.
After that, there's very little consistency. Sometimes the cheapest dates go faster, along with Fridays. Dates coinciding with large group travel dates (e.g. Jersey Week or Pop Warner even though it's now hosted at Universal), special events, and conventions also tend to go fast–those are wild cards.
Which are the best nights to attend? 
As a general rule, the earlier in the season, the lower the crowd levels. While tourists are eager to celebrate Christmas whenever, this event is also popular with locals. Most (normal) Floridians are not celebrating Christmas in early November.
Similarly, weeknights are usually less crowded than weekends. Again, this comes down to locals rather than tourists. Florida residents mostly won't book weeknights because they have to get up for work and/or school the next morning.
For more analysis and our top 5 dates to attend, see Best & Worst 2022 Mickey's Very Merry Christmas Party Dates.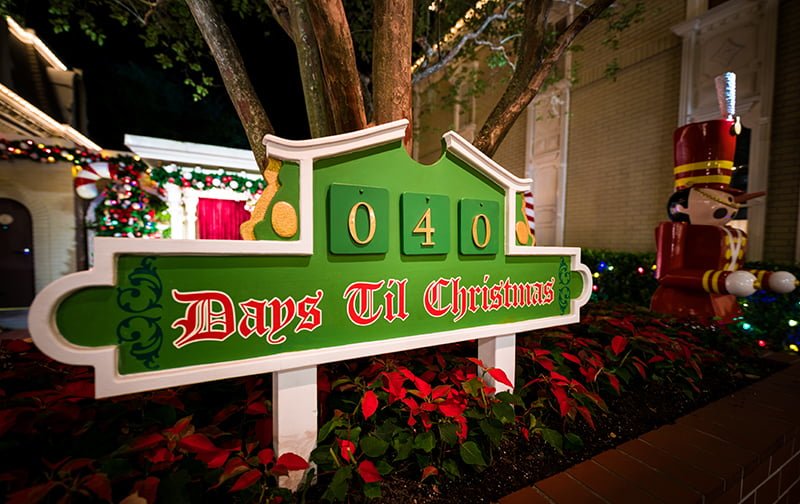 What about the very first night? 
It tends to be overrun with bloggers, vloggers, social media influencers, and the many other Floridians who have to be first to do anything. You might want to avoid those evenings–especially if you don't want to be in the background of someone's vlog or live stream. Personally, I would not attend the first night if I did not have to for the sake of "research."
The second party is typically not nearly as bad. The only caveat I'd offer there is that Disney typically uses this as media night, so it can have some of the same problems as the first (on a much smaller scale). The bigger issue is that they often rope off some of the best parade viewing areas.
Still, it's a Thursday in early November, so it shouldn't be terrible.
What if all nights sell out?
It stands to reason that if every Mickey's Very Merry Christmas Party sells out, they're all equally crowded, right?
In theory, yes. In actuality, our experience over the years has been that the capacity cap fluctuates and actual crowds do vary. We've found that a "sold out" night in early to mid-November often is not as bad as a "sold out" night in late December or even in the lead-up to Thanksgiving. (Since there are fewer events those holiday weeks, it sure seems like Walt Disney World sells more tickets for them.)
How bad are crowds at Mickey's Very Merry Christmas Party? 
It depends.
As noted above, it depends on which day of the week and which month of the event you attend. Another reason why perceptions of crowds varies is because too many Mickey's Very Merry Christmas Party guests congregate in a few limited areas of the park.
Between the fireworks and second parade, the Hub can feel downright unsafely congested as people are attempting to leave and arrive simultaneously. Main Street can feel like it's an 11/10 in terms of crowds, so if you spend a disproportionate amount of the event up there (as we do), you might think the Christmas Party is insanely crowded–worse than a normal day.
Meanwhile, Fantasyland, Adventureland, and Frontierland, there are often wide open walkways during the exact same parties, at the exact same times. With the exception of the Tomorrowland attractions with ride overlays and a few other headliners, wait times for most rides are under 10 minutes. Guests who use MVMCP as a way to do attractions with minimal waits and steer clear of Main Street might perceive crowds to be around 4/10.
With that said, you should go in with realistic expectations about Mickey's Very Merry Christmas Party if you've never attended, only done After Hours events, or haven't done MVMCP in the last ~5 years. While some nights were still good, crowds absolutely exploded for these parties in the last few years they were held.
See "Is Mickey's Not So Scary Halloween Party Too Crowded?" for a look at what we mean. Obviously, that covers MNSSHP, but it also applies to Mickey's Very Merry Christmas Party. This same scenario played out at MVMCP, but with more consistency, as pretty much every night was like that, whereas at least MNSSHP had some slow dates in August and September.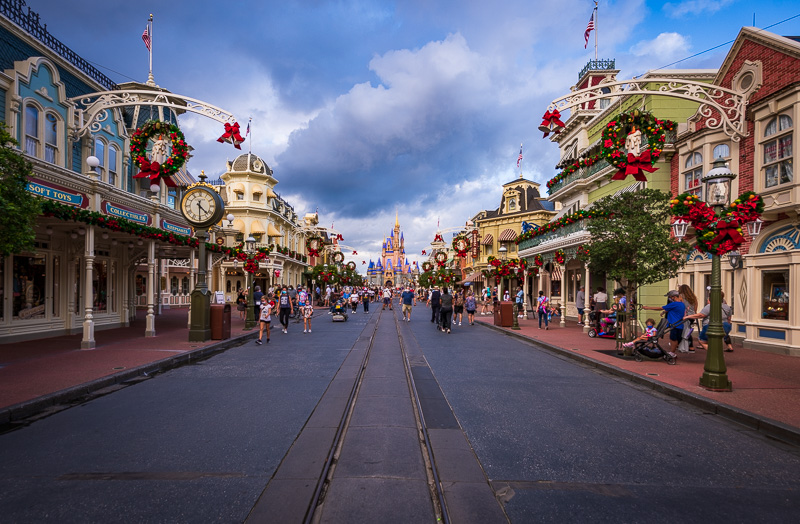 When should we do our Magic Kingdom day if we are NOT attending MVMCP? 
Magic Kingdom is least busy on days with Mickey's Very Merry Christmas Party in the evening and more busy on days that MVMCP isn't happening. This is because the party is separately-ticketed, which causes Magic Kingdom to close early on event evenings. Many day guests avoid Magic Kingdom on party dates because the park hours are shorter and fireworks are not shown to regular guests. In short, Magic Kingdom has significantly lighter crowds up until about 5 pm on party days.
Consequently, the reverse of that is also true: those same guests then flock to Magic Kingdom on non-party days making crowds unbearable. Even though the park has longer hours on these days, you will get less done than you could before 5 pm on a party day. So long as you're comfortable missing the fireworks (Disney Enchantment is nothing special) or are fine watching from a resort restaurant or the TTC, we highly recommend doing your days in Magic Kingdom on party dates.
For this reason, we strongly recommend avoiding Saturdays in Magic Kingdom. Saturdays are notoriously crowded in Magic Kingdom from October through December and will likely have 10/10 crowd levels. Also steer clear of any days that are in between two or more Mickey's Very Merry Christmas Party nights. It's possible Disney Park Pass reservations will help normalize attendance to some degree, but don't count on it.
If you have a Park Hopper ticket, we'd strongly recommend visiting Magic Kingdom during the day on Mickey's Very Merry Christmas Party nights, and then heading to another park at around 4 pm. Animal Kingdom will always be your best option for lower-crowd evenings during the fall. Disney's Hollywood Studios would be another good option, but we're fully expecting Fantasmic to be back before November, so that's a wildcard.
If you don't have a Park Hopper ticket…we'd strongly recommend upgrading to one. As far as splurges go, this is a valuable one to have during party season.
What happens with Extended Evening Hours?
Presumably, nothing.
Extended Evening Hours typically occur at Magic Kingdom on Wednesday, which is not a party night. It's always possible that Walt Disney World will move those hours to Disney's Hollywood Studios during party season, but we doubt it.
In light of the above, we would Park Hop to Magic Kingdom for Extended Evening Hours rather than doing the whole day there.
Are Disney Park Pass reservations required? 
No.
Does Mickey's Very Merry Christmas Party include unlimited ice cream, popcorn, soda and other refreshments?
No.
That's a feature of the After Hours events. Mickey's Very Merry Christmas Party offers unlimited cookies and hot chocolate, and there will also be special food & beverage available for purchase.
Why are tickets cheaper than last year's Disney Very Merriest After Hours?
Mickey's Very Merry Christmas Party is fundamentally different than the After Hours events. The heart of the After Hours events is low crowds and short lines at attractions, with entertainment being the icing on the cake. By contrast, the heart of Mickey's Very Merry Christmas Party is the entertainment, and some short lines are the icing.
Again, the attendance cap is significantly higher for Mickey's Very Merry Christmas Party. Walt Disney World doesn't release exact numbers, but we'd hazard a guess that Disney sells roughly double the number of tickets for each MVMCP date as compared to After Hours. With a lower guest limit comes higher prices–with a higher limit, lower prices.
Why are tickets more expensive than previous Mickey's Very Merry Christmas Party years?
The last year tickets were sold for Mickey's Very Merry Christmas Party, price points ranged from $105 to $155 per night. The year before that, tickets were $99 to $139 per night.
Comparatively, this is the largest increase since we've been tracking prices. Granted, it's over the course of two years instead of one, but it's still a sizable jump. In essence, this amounts to a per ticket increase of approximately $25 per year, whereas in the past, ticket prices had tended to go up by $5 to $15 per year.
As for why, presumably because they can. Prices will continue increasing until demand drops. The cost of visiting Walt Disney World has skyrocketed in the last two years, just like most domestic travel destinations. So long as there's pent-up demand and plenty of people to pay these higher prices, it'll continue.
Will Walt Disney World bring back other After Hours events? 
I don't know.
I'm honestly surprised there weren't any special ones for summer, like Villains After Hours. Disney is leaving a ton of money on the table by not bringing back other After Hours events, and you know how much this company loves money! In other words, there's gotta be a legitimate impediment to bringing back the After Hours events. As with pretty much everything else that generates revenue and is not yet back, that explanation is most likely staffing shortages.
Will any past offerings be cut from the 2022 Mickey's Very Merry Christmas Party? 
Probably.
Some of the meet and greets are the most likely candidate, with another possibility being fewer performers in Mickey's Once Upon a Christmastime Parade and the two stage shows–Mickey's Most Merriest Celebration and A Totally Tomorrowland Christmas. It's also possible there will be fewer characters mingling with guests at the dance parties–Club Tinsel and Disney Junior Jingle Jam.
This might sound cynical, but past precedent supports this expectation. Last year, there were significant cuts to Mickey's Once Upon a Christmastime Parade. Our hope is that much of that will be restored as compared to last year, but it's unlikely it'll be the complete 2019 version. Walt Disney World has recalled more performers, but even Festival of Fantasy Parade is still scaled back as compared to its full form.
Planning a Walt Disney World trip? Learn about hotels on our Walt Disney World Hotels Reviews page. For where to eat, read our Walt Disney World Restaurant Reviews. To save money on tickets or determine which type to buy, read our Tips for Saving Money on Walt Disney World Tickets post. Our What to Pack for Disney Trips post takes a unique look at clever items to take. For what to do and when to do it, our Walt Disney World Ride Guides will help. For comprehensive advice, the best place to start is our Walt Disney World Trip Planning Guide for everything you need to know!
YOUR THOUGHTS
Have any questions about the 2022 Mickey's Very Merry Christmas Party that this FAQ did not answer? Other thoughts or points to address? Excited that MVMCP is returning this year? Will your family be buying or sitting this holiday event out? Do you agree or disagree with our perspective on this? Hearing your feedback–even when you disagree with us–is both interesting to us and helpful to other readers, so please share your thoughts below in the comments!