Our guide to the best & worst Disneyland fireworks viewing locations offers a 'where to watch' map and sample photos so you can see what the nighttime spectacular looks like from each spot. We also share lesser-known views of the nighttime spectaculars, so you can see Mickey's Mix Magic away from the heavy crowds on Main Street. (Updated July 4, 2021.)
Let's start with an update. For the first time since March of last year, nighttime spectaculars are resuming at Disneyland as of Independence Day weekend. Mickey's Mix Magic with Fireworks will be shown initially, running through at least August 15, 2021. It's unclear whether it'll be replaced by a seasonal show or joined by other nighttime spectaculars in the coming months.
Expect heavy crowds for Mickey's Mix Magic with Fireworks. For one thing, Disney fans and locals have been missing fireworks for the last year-plus, so there's a ton of pent-up demand. Additionally, Fantasmic, World of Color, and Paint the Night have not yet returned, meaning that Mickey's Mix Magic with Fireworks is the only nighttime spectacular in all of Disneyland Resort right now. This means all guests only have one option, instead of 3-4 choices for evening entertainment. That alone will mean congestion and crowds on Main Street and elsewhere around Disneyland…
Note that Disneyland has several fireworks shows that are presented. The current nighttime spectacular is Mickey's Mix Magic with Fireworks. There's also a version of this without fireworks that is presented on select evenings–mostly in the off-season and/or on weeknights. Be sure to consult the Disneyland app to see if it's being shown with or without pyro.
Aside from Mickey's Mix Magic, the other regular Disneyland fireworks show is Remember… Dreams Come True. In addition to that, Halloween Screams runs during Halloween Time at Disneyland and Believe… In Holiday Magic is shown during Disneyland's Christmas season. Regardless of which fireworks show is running, these are the best viewing spots. We've seen all of these fireworks shows countless times from every conceivable spot in the park.
With that in mind, here's the map of best Disneyland fireworks views: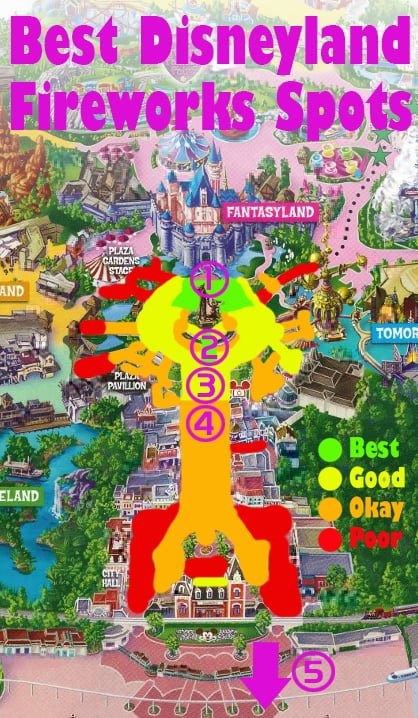 Crowds and viewing obstructions can make finding the best spot to watch the Disneyland fireworks difficult. As with my "Best Magic Kingdom Fireworks Views" post, you should use discretion before blindly following the map, and not to do anything stupid like standing behind a tree even if it falls into a "Good" zone on the map.
If you pick a spot that is yellow or green on the map and a tree blocks your view of Sleeping Beauty Castle or the sky above it (and to a lesser extent, the Matterhorn), that's not actually a good spot. The trees don't retract into the ground when the fireworks start.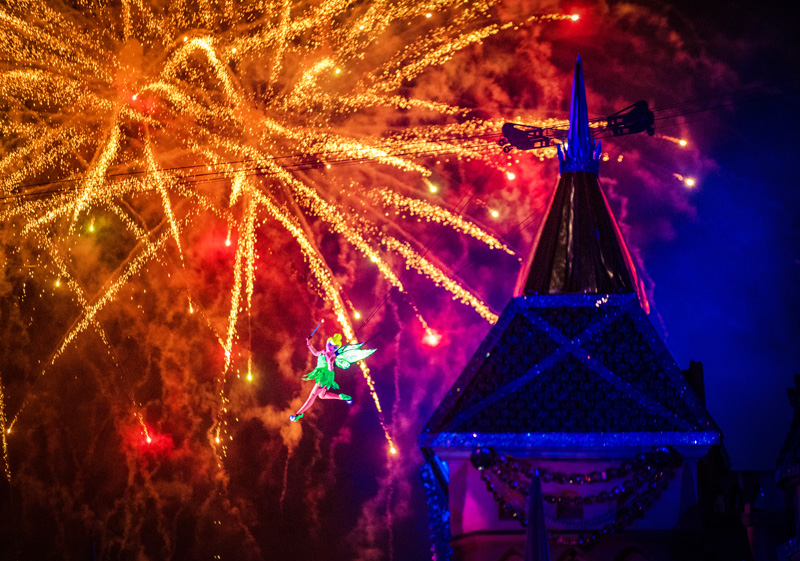 The map plus the various sample photos from these locations should give you visual thinkers a great idea of what to expect from different fireworks viewing places in Disneyland on Main Street. Just like the Magic Kingdom fireworks, all of the Disneyland fireworks shows were designed to be viewed straight-on from Main Street, USA.
However, Disneyland also has a number of good alternative views, which can be great to avoid the throngs of locals who show up after work and camp out at the best spots for hours prior to the fireworks (something too time-consuming for tourists with limited vacation hours). After I go over the specific Main Street, USA views, I'll touch upon some of these quiet spots and offer my thoughts on them.
Here are some looks at what you can expect from each numbered location on the map…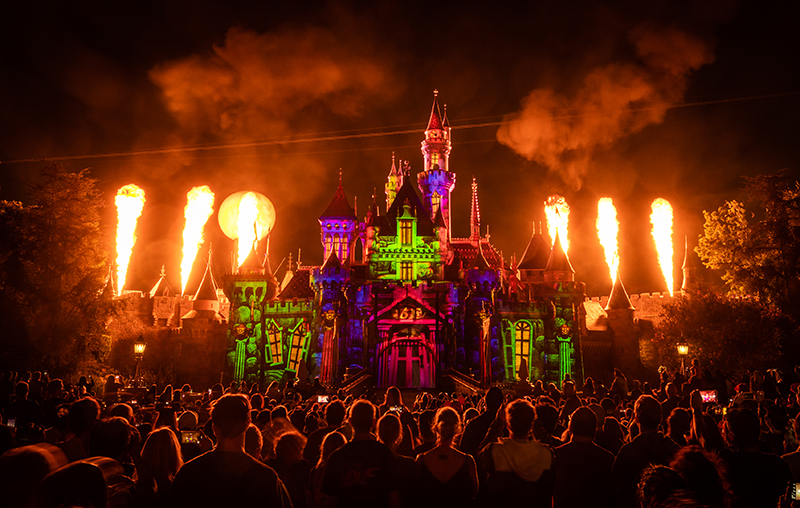 1. Front and Center – Unlike Walt Disney World where the front and center spot is a location to avoid, at Disneyland, it's a spot to stake out. The reason is Sleeping Beauty Castle. It's not tall. This means that the fireworks bursts that fire behind Disneyland in Toontown aren't nearly as blocked from your view in this location like the back of the park bursts are in the Magic Kingdom. This is the best location for viewing those projections. The photo above illustrates that some bursts aren't completely visible from this front and center spot, but these are the exception here rather than the rule. Almost all of the bursts will be visible from this location.
If you have the time and really want this location, note that it fills up very, very early–hours before the fireworks start. If you really want this spot, get here at least two hours early. You will also be able to view Paint the Night (or Main Street Electrical Parade–whichever is running) from this spot, although the it's a 'several rows back' view of the parade–not ideal. It's pretty awesome to see the fireworks in this spot with literally no one in front of you!
Front and center itself–front row in the middle of the Compass Rose–is a great spot, but once you move from this precise location into the rest of the green area, it's important to note that the Tomorrowland side of this zone is better than the Frontierland side. If viewing the fireworks dead on in front of the Castle, you'll notice most of the large bursts are congregated over the west side of the Castle (rather than being symmetrical). I assume this has something to do with launch sites and the abutting Anaheim area, but whatever the case may be, as you move closer to Frontierland, these bursts become more difficult to see due to the angle and tree cover. Moving closer to Tomorrowland creates the illusion of symmetry with these bursts directly over Sleeping Beauty Castle.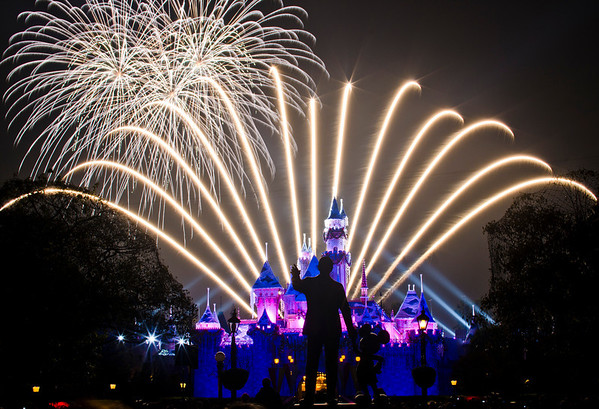 2. Partners – Part of the reason I don't have as many photos from around the various spots in Disneyland is because I absolutely love this location. It's a popular spot, but in comparison to the other great views in Disneyland, it's surprising slow to fill up as compared to other spots. Partners doesn't block your view of projections on Sleeping Beauty Castle, and doesn't have trees directly in front of or behind it, making this view a prime spot in my opinion. My favorite way to photograph the fireworks here is to compose a tight frame and use a neutral density filter to capture extremely long exposures of the insanity.
With that said, a few notes on The Hub in general that probably aren't evident due to the small size of The Hub in the map above. First, unlike the Magic Kingdom's Hub, Disneyland's is still filled with trees. This means that a lot of locations inside The Hub and behind it offer poor views. The area where I setup, directly behind Partners, offers a great view without obstructions.
Directly on the other side of Partners would be a great view as well, but this area is often roped off for VIP viewing, so your mileage may vary. Much like the front and center area, The Hub is generally better from the Tomorrowland side, as moving closer to the Frontierland side makes the area with heavy bursts more difficult to see. By this we mean slightly off-center, not all the way by the Tomorrowland entrance. If you move too far to this side, your view of the Matterhorn projections will be obstructed.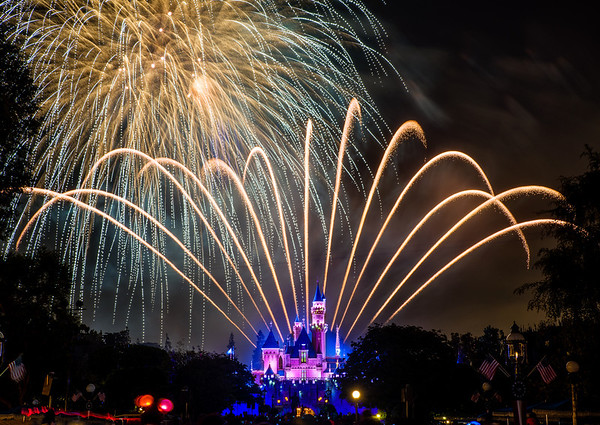 3. North of Refreshment Corner – This spot isn't all that impressive. It's okay if you can't get a spot in The Hub, but it will still be really crowded around here, and you won't have the full immersion of The Hub nor will you have a complete view of the projections. You also will have to turn around to see the projections on Main Street.
To that end, I guess it is somewhat immersive (stuff in front of and behind you). It's not a bad spot by any means, and Sleeping Beauty Castle is still prominent enough here that it should be considered an iconic location for viewing and photographing the fireworks. Plus, you won't have to arrive here 2 hours before the show to grab a spot. (Don't plan on being able to grab a spot here at the last minute, either).
Further to the left and right of this spot, you'll notice that I've marked the outdoor seating areas of Jolly Holiday Bakery and Plaza Inn as being good or okay spots. Most of these views will be bad due to obstructions (from table-top umbrellas to trees), but there are a handful of locations within these areas that should be real gems. Tables with some elevation on the north side of the Plaza Inn, especially. Scope out the sight lines during the day, grab some delicious fried chicken, and stake out a table.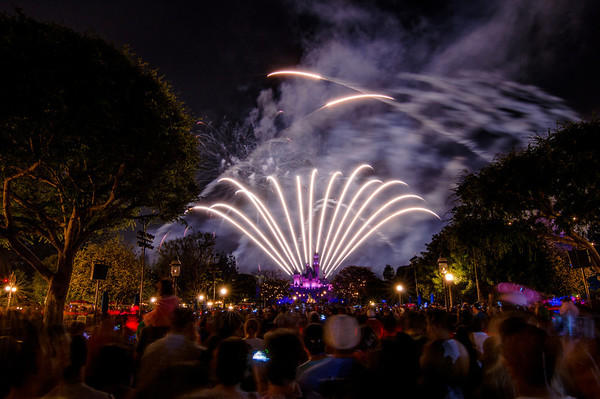 4. Main Street – I firmly believe that the Castle is a big part of any Disney fireworks show (well, at least shows in the Castle parks!), and by this point, it's difficult to see what's going on with Sleeping Beauty Castle. The farther down Main Street you get towards the Train Station, the more difficult it is to see the Castle projections.
The Main Street Train Station is another potentially good spot on Main Street as it provides views of both the Main Street projections and the Sleeping Beauty Castle projections. Part of the seating is reserved, but there are also usually open benches for the general public.
Everything is more distant from here so you're really removed from the action, but you have an unobstructed view of Sleeping Beauty Castle in the distance and are close to the park exit (although this is a con if you plan on swimming upset back into the park to do more attractions after the fireworks).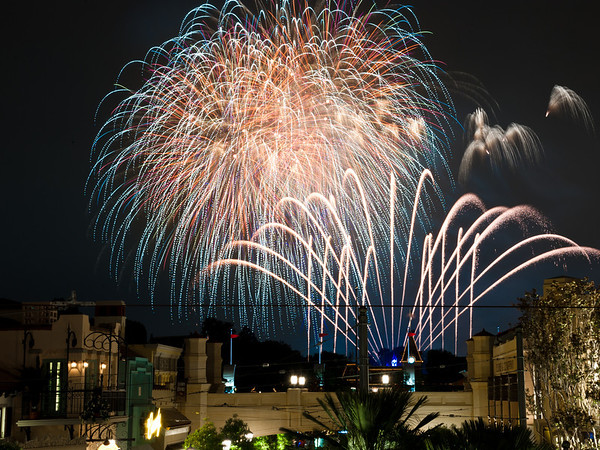 5. Carthay Circle Restaurant Terrace – If you want to view the fireworks outside of Disneyland, chances are you want to do it from a free location, and those will be discussed in the "Other Spots" section below. However, another in-park straight-on view worth mentioning is actually in Disney California Adventure, at the Carthay Circle Restaurant terrace (here's a full article of sample photos).
This is like Disneyland Resort's version of the TTC location at Walt Disney World, except this spot isn't free. It's actually more expensive than any other spot, as it requires dinner at the Carthay Circle Restaurant. On the plus side, it isn't crowded, it's straight-on, and the fireworks appear much larger. On the downside, there's no view of Sleeping Beauty Castle and no music. Because of these downsides, I do not highly recommend this spot.
In fact, I don't even recommend requesting a table out here. The ambiance inside is much nicer overall, and you can always go out to the terrace during your dessert course to enjoy the fireworks then. However, if you have the time, you should just try to make it back to Disneyland before the fireworks start. Unless you don't have Parkhopper tickets or really hate crowds.
Other Spots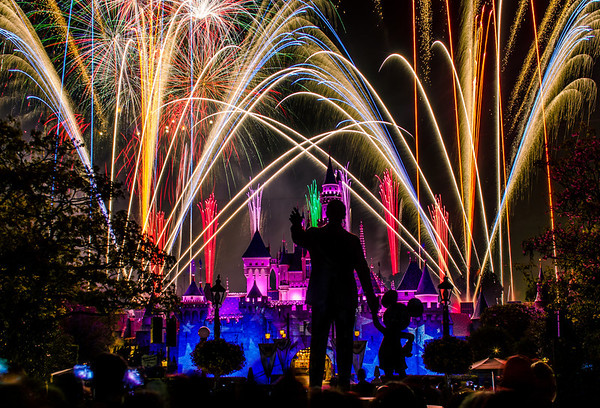 As I mentioned in the Magic Kingdom fireworks post, we always try to watch the fireworks straight-on. Same applies when we visit Disneyland. However, Disneyland can be a zoo on Main Street around fireworks time, and snagging a good spot can be flat out impossible if you don't camp out.
It definitely requires more advance-planning than watching the Magic Kingdom fireworks (although the Magic Kingdom has its own heavy crowds right before the fireworks start–they aren't as bad for a prolonged period of time before the show, and prime spots don't disappear hours in advance). Because of that, I think some of the alternatives bear mentioning here. Note that I've never seen the fireworks from these locations, so I'm only going off of photos I've seen and what I've been told by expert photographers out in Disneyland.
The best non-Main Street location is the "it's a small world" mall in Fantasyland. Much like Sleeping Beauty Castle, the "it's a small world" facade is enhanced during the fireworks with projections. The pluses to this location are that, lower crowds, close proximity to the Toontown launch site, and a good spot for viewing the Paint the Night parade before the fireworks.
That last one is the biggest pro–after you watch Paint the Night from your spot here, you simply turn around and wait for the fireworks. The biggest con is that you only have a good view for some bursts, and not for the bursts near Sleeping Beauty Castle. This is probably the best spot to go if you want to enjoy the show element of the fireworks (not just the bursts), but really don't want to deal with the crowds.
Two other good locations that offer more or less the same view of the fireworks are in Tomorrowland, and either (or both) of these spots might not work. The first is the exit platform for the Disneyland Monorail. The second is the upper level terrace at Innoventions.
Both of these are 'your mileage may vary' locations. You'll have a nice elevated view and will be able to see some of the projections on the Matterhorn (moreso from the Monorail platform). The biggest con to both of these spots is that at any time, you might be asked to move by Cast Members. We'd recommend these spots ONLY if you're in Tomorrowland 5 minutes before the fireworks start, and have nothing to lose by giving them a try. Planning on "camping out" for these locations is an all around terrible idea.
Finally, a lot of people watch from near the Rivers of America, particularly after Fantasmic! This is not a very good place to view the fireworks, but if you're already here for Fantasmic, just stay put. Some of the projections will also be shown on mist screens along the Rivers of America. You won't have enough time to run back to The Hub, and you'll just get frustrated and end up packed like a sardine in no-man's land as you try. We know from experience! 😉
The best attraction experience for the fireworks is the Storybook Land Canal Boats in Fantasyland. The downside is that this can be difficult to time. The boats here continue to load until the fireworks start, but once they start, they stop loading. If you time it right, you can enjoy the fireworks from this immersive location (bursts in front of and behind you) and have your own "Disneyland Fireworks Cruise," but if your timing is poor, you'll be stuck in a line that offers poor visibility during the show. Monitor wait times and make sure you line up at the perfect time to ensure the cruise.
As for a spot outside the park that is "free," there's not really a whole lot in the way of good views. The Esplanade between Disneyland and Disney California Adventure gets very popular at fireworks time, and it's about the best–and closest–view you'll find.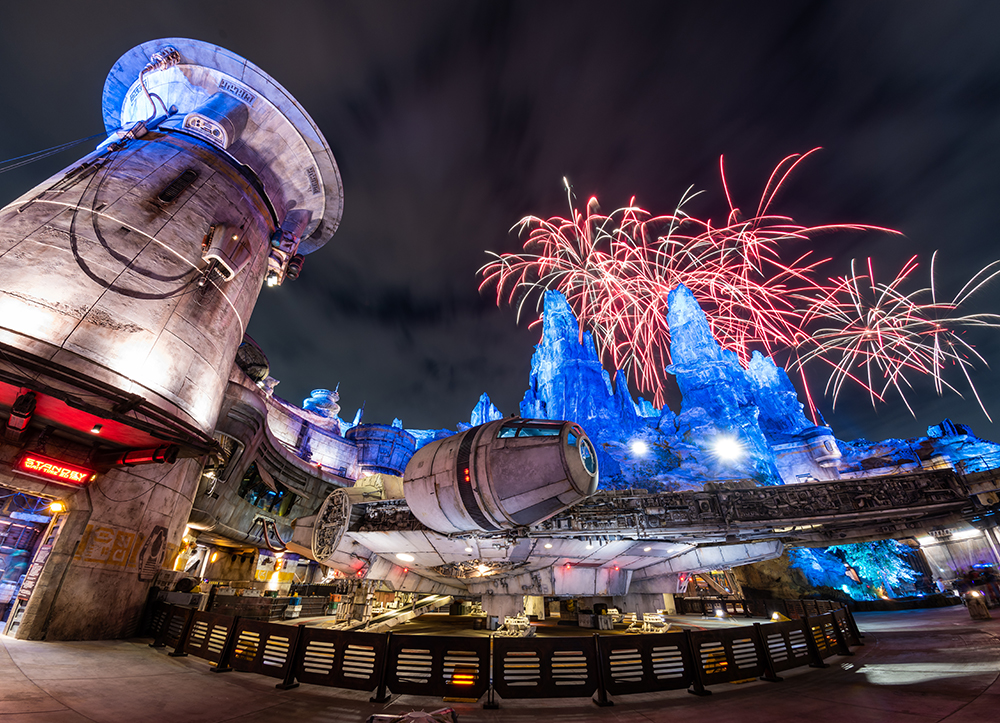 Otherwise, you can see the Disneyland fireworks from just about anywhere in Anaheim (including the I-5 freeway!). Nearby hotels have rooftop bars that offer interesting views, and another unique location is the top of the Mickey & Friends parking structure, but to get up there you need to go park there. You can see the fireworks from ground level all down Harbor Boulevard, but these views are nothing special (unless you find a hotel room on a high floor).
So there you have my "review" of some fireworks viewing spots around Disneyland, along with some sample photos. If this is all too much to remember, just remember The Hub is great so long as trees don't block your views of Sleeping Beauty Castle or the sky above it, the further back from there, the worse the experience, and 'it's a small world' is a good spot to totally avoid the crowds, but not so much for actually getting the full experience. If you have fireworks photos from other locations in the Disneyland, please feel free to share links to them in the comments. The more information people have when trying determine where to watch the fireworks, the better!
If you're planning a Disneyland trip make sure to read our posts containing what you need to know before going, including how to save money on Disneyland tickets, our Disney packing tips, the best restaurants for dining at Disneyland, the benefits of staying off-site versus on-site in our where to stay at Disneyland post, and a number of other things, check out our comprehensive Disneyland Trip Planning Guide!
Your Thoughts…
Where is your favorite spot to watch each of the Disneyland fireworks shows? Do you like to go for a traditional Main Street location, or do you opt to avoid the crowds and watch from elsewhere? Any attractions that you think are enhanced during the fireworks? Share your thoughts in the comments!