Don't tell the other seasons but fall is the best time to be in New York. The dog days of summer have moved on, the cold weather is still waiting in the wings, and the fall harvest ensures that local chefs have the top pick of the season's best ingredients.
All that means it's the perfect time to pull up a seat at one of these ten restaurants and feed your face. There's something on this list for everyone. For example, if you're in denial that the days are getting shorter, squeeze the last of the warm weather out on the patio of Cuban party place, Habana Outpost or Seamore's in Nolita. 
Or, if you're totally ready to hunker down and welcome cooler days, make your way to The NoMad where you can tuck into some luxurious eats like the foie gras stuffed chicken and cozy up with a bottle of bold red.
Either way, you'll find 10 hotspots below that'll make you happy it's fall in the Big Apple.
---
---
Photo courtesy of Eat Up New York
Really, all anyone wants in the fall is to sit outside on the patio and pretend the outside weather in New York never ends. There are not many places better to do that than Seamore's. Helmed by the same dude who owns The Meatball Shop (Michael Chernow), Seamore's has five locations around town and specializes in one type of fare: seafood. From the $2 oyster happy hour on weekdays between 3 – 6 PM to the very un-New York-like beach vibes, Seamore's brings a shining ray of sunlight to the 'hood. The name of the game here is all things ocean, so expect fish sandwiches, battered and fried, alongside choose-your-own-adventure style mains where you can pick your protein, your greens and your grains.
Recommended for Best Restaurants for Fall because: It's a good spot when you're wringing the last drops of summer out of your system.
Andrea's expert tip: Don't miss out on happy hour where oysters will run you only $2 between 3-6 PM.
Read more about Seamore's →
---
Sunday in Brooklyn is what you hope your future apartment looks like when you have enough cash to actually decorate it well. The food at Sunday in Brooklyn is what you hope your future spouse will be able to whip up in the kitchen. All in all, it's a highly pleasurable experience that'll make you wonder if you should move to Brooklyn. The menu changes regularly, but the $59 dinner for two is a steal that includes homemade focaccia, a main and two sides. Add chocolate chip cookies ($6) and a bottle of house wine ($39) for the ideal evening. If it's a warmer fall day, grab a sidewalk seat, but if it's a little nippy, the inside will make you feel all warm and cozy inside.
Recommended for Best Restaurants for Fall because: It's got it all: great food, awesome atmosphere, and yummy drinks.
Andrea's expert tip: Brunch here maybe even better than dinner – and that's saying a lot. Try the malted pancakes with hazelnut maple praline and brown butter.
Read more about Sunday in Brooklyn →
---
Photo courtesy of Habana Outpost
The corn! The Cubanos! The bright colors! Habana Outpost just looks like a place that knows how to party. Its outdoor patio boasts neon orange and yellow umbrellas, lime green picnic tables and a funky vibe that can only be described as totally, absolutely fun. This is the spot to come when you want to enjoy a few frozen margaritas or spiked lemonades, down an order of guacamole and make a mess of yourself with grilled Mexican corn topped with cotija cheese, mayo and chili powder. With a long, cold New York winter ahead of you, Habana Outpost is exactly where you want to say goodbye to summer.
Recommended for Best Restaurants for Fall because: It's quirky and fun with a healthy fast-casual menu that's great.
Andrea's expert tip: Arrive around 4 PM, go with a group and stay until the sun goes down.
Read more about Habana Outpost →
---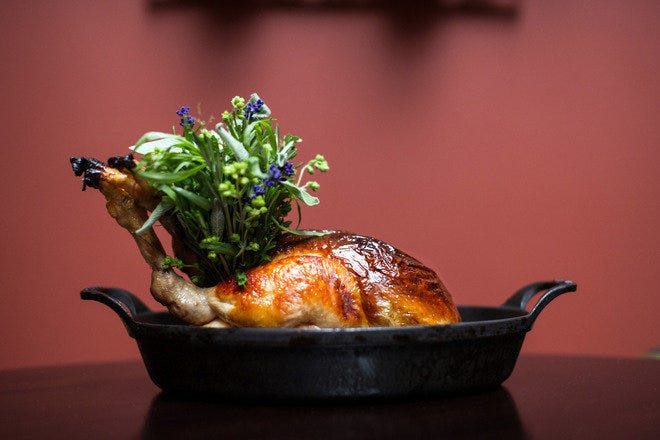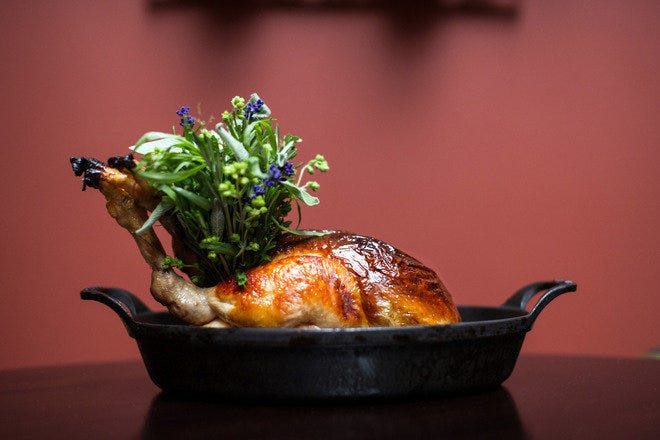 Photo courtesy of The NoMad Hotel
Dark, brooding, and mysterious, this place will get you giddy about cozy fireplaces and red wine. With plush velvet chairs and polished tables beneath a vaulted ceiling, it's the perfect place to welcome fall over a shared chicken for two. The side room, or parlor, is no less dramatic, with rosy tones and rows upon rows of framed line drawings. The top-notch kitchen produces an array of seasonally inspired plates, including an impossibly elegant hamachi crudo, perfectly seared duck and house-made tagliatelle made with Meyer lemon and tender lump crab. And stay thirsty, my friends: the stellar cocktails are complemented by an impressive, international wine list.
Recommended for Best Restaurants for Fall because: It's where fall deserves to be welcomed with open arms.
Emily's expert tip: Use this opportunity when the library is less crowded to kick back and relax with a cocktail or a glass of wine.
Read more about The NoMad →
---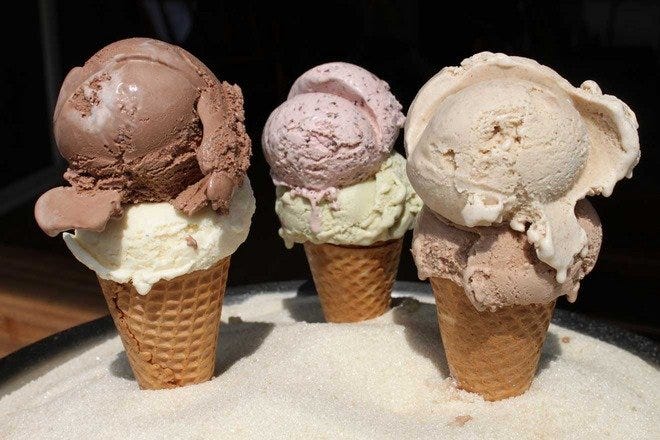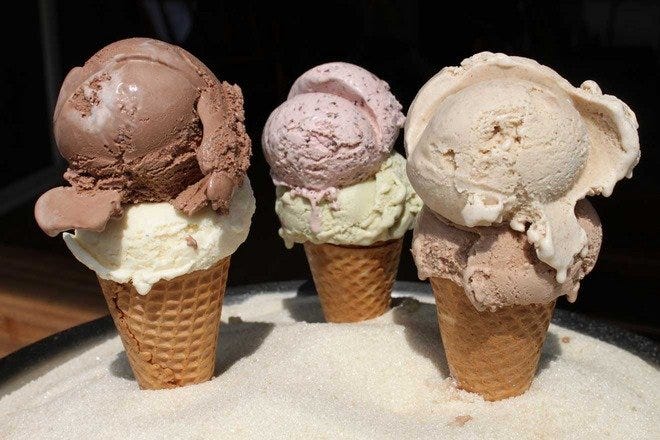 Photo courtesy of Shopkeep
We hate to break it to you, but ice cream season is all but over, which is a perfect excuse to stuff yourself silly at Van Leeuwen. What started as a pale yellow ice cream truck has now set up permanent shop at numerous locations in NYC. Each of them is equally good, though there's something special about getting great tasting, high-quality ice cream out of a truck. Luckily, there are two different ones still rolling around town.
For a fun adventure, head out on a scavenger hunt through Williamsburg or Soho to discover one (they're parked in the same spot daily, so it shouldn't be too hard). Once there, vegans will delight in scoops made with cashew and coconut milk, while purists can dig into a creamy assortment of dairy-based choices.
Recommended for Best Restaurants for Fall because: The days of ice cream are few and far between.
Andrea's expert tip: Buy pints of Van Leeuwen at Fairway and other small grocers in New York.
Read more about Van Leeuwen Artisan Ice Cream →
---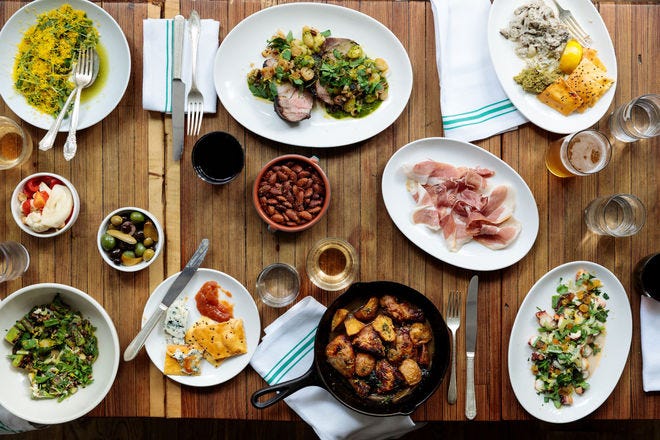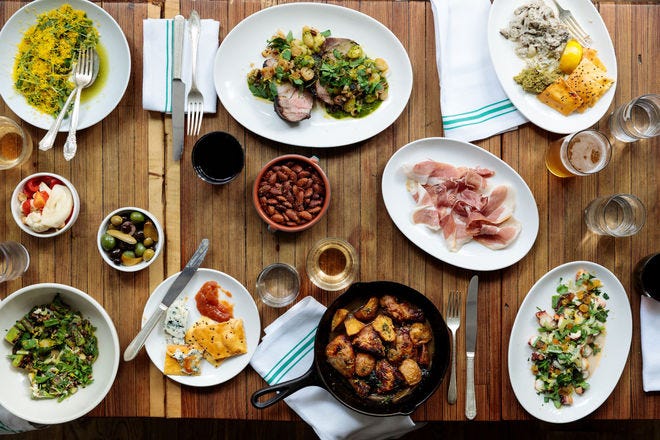 Photo courtesy of Vinegar Hill House
This joint made our list for best spring eats, and it's so good that we're bookending the warm weather season by adding it here as well. Located in an unassuming area near the Brooklyn Navy Yard, this quaint, old-timey restaurant is equally suited for dinner with the parents or with a date. The dinner menu features a large selection of small plates, including a chicory salad with preserved vinaigrette and a cannellini bean Panzanella with lacinato kale, pickled red onion and pecorino. The red wattle pork chop is not to be missed, nor is the lengthy wine list that's heavy on the Mediterranean. Maybe it's the air of nostalgia, but things feel easy here – almost as if you weren't in New York City at all.
Recommended for Best Restaurants for Fall because: The backyard is beyond cute and quaint, perfect for a fall evening.
Andrea's expert tip: Vinegar Hill House does a great brunch where they also accept reservations for parties up to 6.
Read more about Vinegar Hill House →
---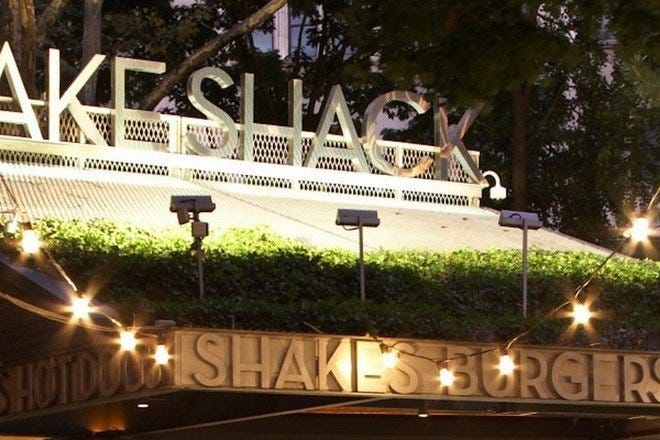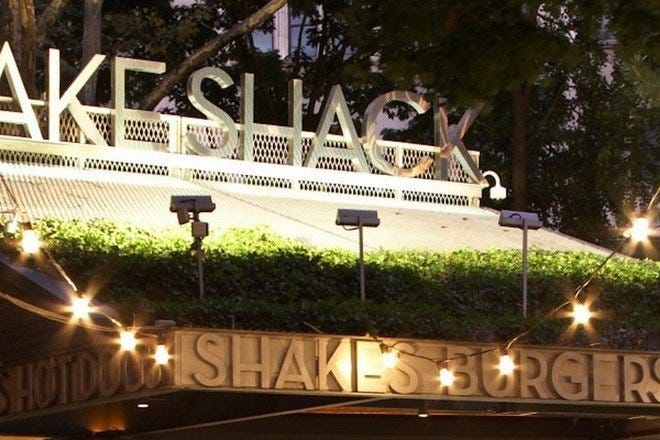 Photo courtesy of Shake Shack
Here's the scenario: you're near Madison Square Park and it's winter, summer, spring, fall. Ok, just kidding. It's fall and you're suddenly realizing that your outdoor eating time is limited. Kick back in the greenery with a trip to Shake Shack's «Mothership in the Park.» Easily one of the best grab-and-go options in town, as are its siblings dotting Manhattan from Battery Park to the Theater District, the Upper East, Upper West sides and beyond. Born out of humble hot dog cart beginnings, its menu promises and delivers everything from breakfast sandwiches to burgers and bird dogs to shakes and frozen custards. Update for the super-vigilant: the Chick'n Shack is made with 100% cage-free chickens, served on a non-GMO Martin's potato roll. Do it.
Recommended for Best Restaurants for Fall because: It's a classic outdoor eating destination that's best in the fall when the leaves are falling.
Maria's expert tip: If you're only here for sweets, skip the burger line and B-Line it to the front.
Read more about Shake Shack →
---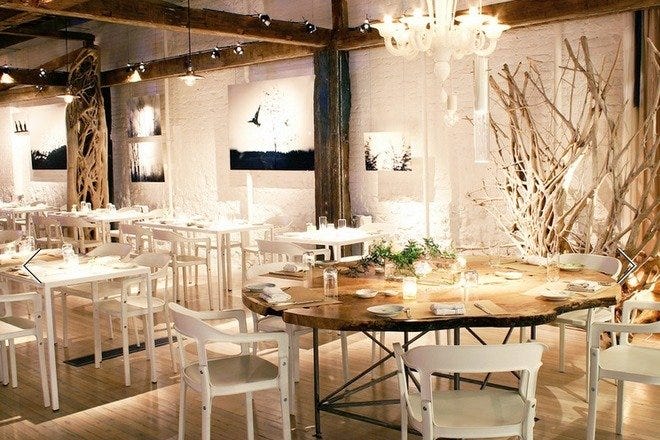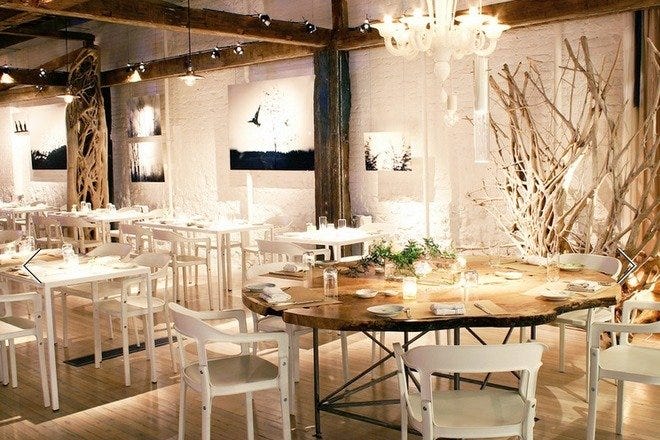 It basically always feels like spring in here, which is a good thing when you're staring down the barrel of soon-to-be snowpocalypse season. Grabbing a table here this fall means you can ignore what's imminent and tuck into a plate of housemade pasta that'll make you happy to forget about bathing suit season. The restaurant is outfitted in sustainably created furniture, twinkling lighting and stunning antiques from the globe-trotting store, and the rear dining room connects right to the first floor of the six-story emporium. The locally sourced, seasonal menu does farm-to-table like none other. In addition to the pasta, they're serving fresh-from-the-sea tuna sashimi, killer vegetable sides and show-stopping main courses like wood-oven roasted Maine lobster and suckling pig served with braised winter turnips and bacon marmalade.
Recommended for Best Restaurants for Fall because: The food is the equivalent of LA's weather: always 75 and perfect, no matter the time of year.
Emily's expert tip: You'll need reservations, even for brunch.
Read more about ABC Kitchen →
---
Photo courtesy of Eric J. @ Yelp
Another pasta joint that'll make you swear off swimsuit season? Lilia, where Missy Robbins is doing beautiful things with dough. Born into a family of hosts, travelers and cooks, Missy Robbins brings the best of Italy to Williamsburg where wood-fired seafood, hand-crafted pasta, classic Italian cocktails, and warm hospitality come together to create a casual dining experience. Robbins says she found her Italian soul in her five years as Executive Chef at Spiaggia in Chicago. While focusing her skills on fine dining Italian she found her true passion for cooking in a deeper understanding of regional Italian cooking. If you come here and don't get the pasta, you're doing it all wrong.
Recommended for Best Restaurants for Fall because: Lilia's been open for a while, but it's still one of the hottest tickets in town.
Maria's expert tip: You can try squeezing in at the bar, but the chances are slim it'll happen. Reservations are a near-must.
Read more about Lilia Ristorante →
---
Photo courtesy of Levi Miller for Kings Co Imperial
Kings Co Imperial is the perfect gateway drug into colder weather. The food is spicy, the cocktails are on draft, and it's got that cozy feeling that doesn't make you feel like the impending winter is quite so soul-crushing. Not to mention, the kitchen is arguably pumping out some of the best Chinese food in the city. They're best known for the mock eel, a vegetarian marvel that's fashioned out of mushroom and doused in addicting soy. Don't stop there though. The tea smoked mu shu duck comes ready to wrap in a handmade pancake, the perfect accompaniment to a bowl of hot and sour soup, flecked with lily flower, shrimp, chicken, white pepper and red vinegar.
Recommended for Best Restaurants for Fall because: It's cute, cozy, and above all, it has great food.
Andrea's expert tip: Make a reservation on the weekends or you're likely not getting in.
Read more about Kings Co Imperial →
---


Más información en la Fuente de Noticias