Raindrops on roses and whiskers on kittens, bright copper kettles and warm woolen mittens. Brown paper packages tied up with strings…oh, where will I find all my favorite things?
Let's be honest, while New York City at the holidays is magical, it only takes one time getting caught in a crowded store or getting lost in the cold to turn this winter wonderland into a disaster.
And while the idea of twirling through the streets, ducking in and out of stores at leisure sounds nice, the reality is that when you're ready to shop, you need to know where to go, how to get there and what's likely to be available when you arrive.
So you don't have to waste any of your precious shopping time, we handled the hard part of the equation and pulled together 10 spots that are tried-and-true gift havens for everyone on your list.
Below, you'll find the best places to Christmas shop this holiday, from old standbys like Bloomingdale's to the seasonal markets at Grand Central Station, Bryant Park and Union Square. And a bonus? If you hit up these major shopping spots, you'll also inadvertently see a collection of New York landmarks and neighborhoods, just by association.
---
---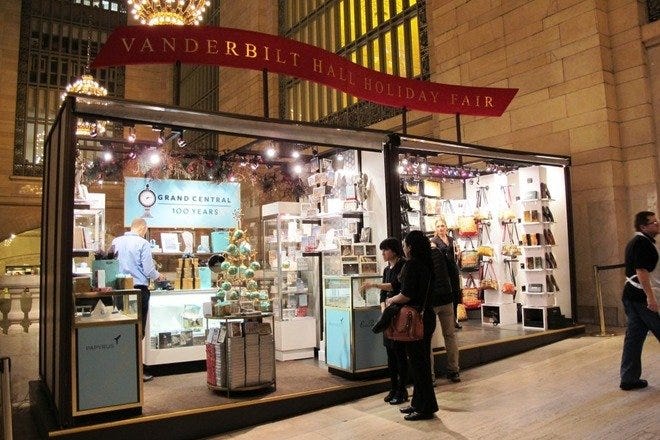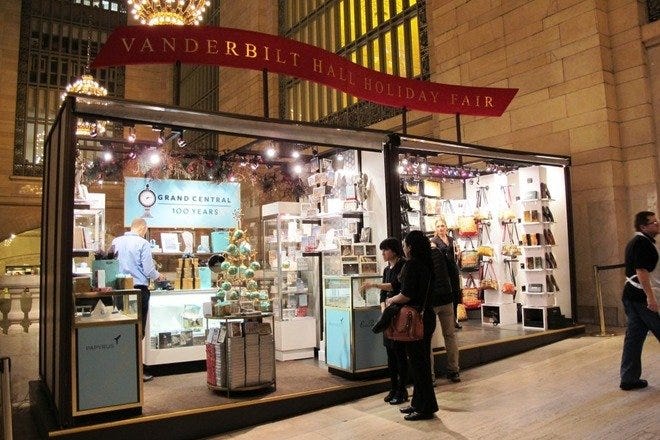 Photo courtesy of Markets of New York
Hosted in the iconic Grand Central train station, the Grand Central Holiday Fair is the only seasonal market in the city that's housed indoors. The artists here are often more established than at some of the other markets, so you can expect the quality to be top-notch. You'll also find New York associations like the Transit Museum selling their goods along the route. Just as with the other markets, there's a collection of goods, from jewelry to clothing to gourmet foods, though this market is particularly heavy in the jewelry department. The market is open until 6 PM on Christmas Eve and closed on Thanksgiving.
Recommended for Christmas Shopping because: This is the only holiday market that's inside, so you can stay warm and toasty while shopping 'til you drop.
Andrea's expert tip: Don't skip this holiday market if jewelry is on the wish list.
Read more about Grand Central Holiday Fair →
---
We could have easily put any of New York's stalwart luxury stores, including Barneys or Saks on this list, but we chose Bloomingdale's for a few reasons. For starters, their brown shopping bags are icons by themselves, and no one we've ever given a gift to has been disappointed when we hand them the bag. Secondly, Bloomie's is conveniently located on 59th and Lexington, which means if you choose the right subway exit, you don't even need to go outside. A shopping spree without braving New York's cold? Count us in. Lastly, the quality of the goods and the associated prices equal pretty good value. In other words, if you shop wisely, you won't break the bank and you'll walk away with high-end threads that make everyone happy.
Recommended for Christmas Shopping because: Bloomingdale's iconic bags signal that something special is inside.
Andrea's expert tip: If you can't make it uptown, there's also a Bloomingdale's outpost on Broadway in Soho.
Read more about Bloomingdale's →
---
Pearl River Mart isn't your typical Christmas time destination, but we think it warrants a visit. A Chinese market nestled between the designer stores in Soho, Pearl River stocks everything from clothing and home décor to cultural tchotchkes and furniture. Snag stocking stuffers for your nephew or trinkets for grandma, while perusing the wide, wide range of wares. If you stay long enough, you'll eventually find something for everyone. And the best part? You'll have fun while you're doing it. The store doesn't take itself too seriously, and the randomness of the items ensures that you won't ever get bored – even if you end up only window-shopping.
Recommended for Christmas Shopping because: You won't have to worry about anyone else giving grandma the same gift.
Andrea's expert tip: Plan to spend an hour or more to get the full experience.
Read more about Pearl River Mart →
---
Photo courtesy of djfeyphotography.blogspot.com
Home of the city's largest green market, fresh produce is found alongside a bevy of gifts made by local artisans and foodies during the holidays. Helmed by Urbanspace, coordinators of the popular summer pop-up Madison Square Eats, the market features everything from hand-crafted jewelry to brew-your-own beer kits. As you weave your way through the stalls, strike up conversations with the artists and get an inside peek at that their process. That way, when your sister-in-law thanks you for her dog's new couture collar and leash, you'll be able to tell her all about the woman who made it.
Recommended for Christmas Shopping because: These markets allow you to shop for a New York gift that's hand-crafted and unique.
Andrea's expert tip: Go on a weekday instead of during the weekend craziness.
Read more about Union Square Holiday Markets →
---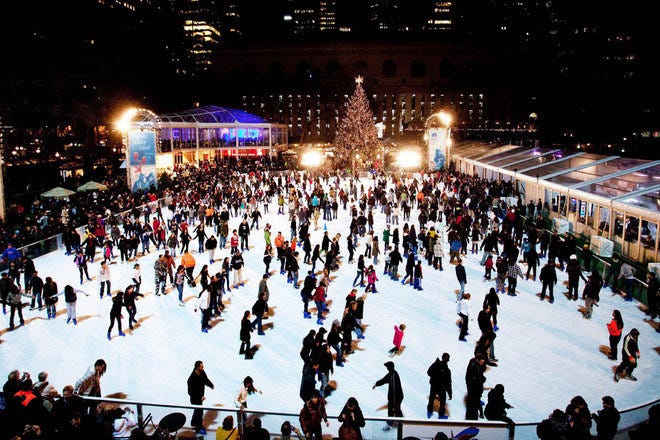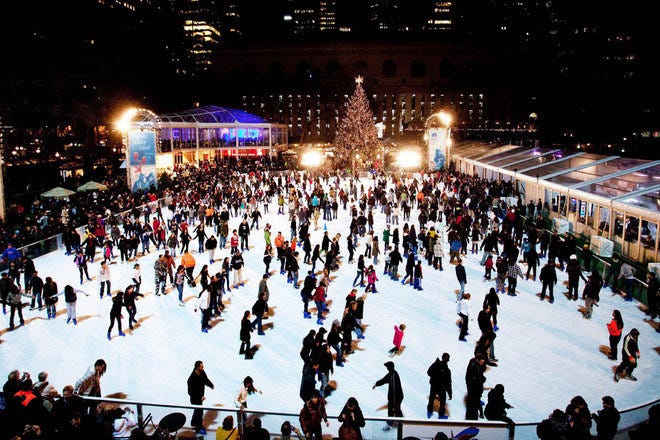 Photo courtesy of mamasbites.com
Over 100 vendors and a pop-up restaurant called Celsius set up stalls at The Holiday Shops at Bryant Park this year. Surrounding the center ice skating rink, the shops are reminiscent of a European open-air market. Unlike the Union Square markets, these slightly sturdier structures are designed to look like jewel boxes and do a much better job of blocking the wind. You'll still have to venture outside to bounce between stalls housing artisan jewelry and unique apparel, but the momentary reprieve from the biting cold is quite a welcome change. This market also runs past New Year's Day, so if your Christmas shopping procrastination has hit an all-time high, stop off here on the way to Aunt Linda's.
Recommended for Christmas Shopping because: Bryant Park's transformation into a full winter village, complete with skating rink, makes this market a must.
Andrea's expert tip: Save time for skating after your shop.
Read more about Winter Village at Bryant Park →
---
Photo courtesy of Brooklyn Flea
Media outlets around the country have called the Brooklyn Flea the best summer market in the US. Thankfully, after the summer has ended, the Brooklyn Flea combines with Smorgasburg (think delicious, delicious food) and moves indoors to a new location every winter. This year, the winter Flea sets up shop in Williamsburg and runs through April 2020. If you don't find the gems you're after sifting through the Flea's salvaged furniture, handmade jewelry and vintage clothes, the good news is that Williamsburg is home to countless name brand shops and independent boutiques, so you'll have plenty of opportunities to spend your cash in the neighborhood.
Recommended for Christmas Shopping because: The Brooklyn Flea single-handedly redefined what it means to be a flea market.
Andrea's expert tip: Go hungry. The food stalls are just as good as the shopping.
Read more about Brooklyn Flea + Smorgasburg Winter Market →
---
If you're ready to brave the crowds for a bargain deal, consider Century 21 the answer to your shopping prayers. This megastore is known by New Yorkers as a top spot to find high-end, designer brands at bottom of the barrel pricing. The catch is that the store is often a madhouse, so you'll need heaps of patience and a love of digging through disheveled displays to find your gems. Don't plan on going if you're short on time. Instead, make a day of it and go in with a battle plan. And look at it this way: even if you don't find your sister a sweater, you'll surely walk out with a story for the dinner table.
Recommended for Christmas Shopping because: High-end, designer goods at a fraction of the cost make this stop a must for saving your holiday budget.
Andrea's expert tip: Go with a plan of what you want to buy because the store is a madhouse, so it's easy to get distracted and disoriented.
Read more about Century 21 →
---
Photo courtesy of Urbanspace NYC
Located in Central Park, the scenery at the Columbus Circle Holiday Market couldn't be more picturesque for a Christmas market. Step inside and come face-to-face with the artisans and designers who've come to hawk their holiday wares. You'll find everything from handmade jewelry to artisan foods, and well-made toys to eclectic clothing. Local food vendors also set up shop between the stalls, so you can grab a cup of hot cocoa or a taco to warm up and recharge as you shop. To beat the crowds, try visiting early on, the market opens December 4th and gets more crowded as the month wears on.
Recommended for Christmas Shopping because: The scenery of Central Park makes this market the most picturesque in New York.
Andrea's expert tip: Even if you have no intention of buying, this is a great market to people watch.
Read more about The Columbus Circle Holiday Market →
---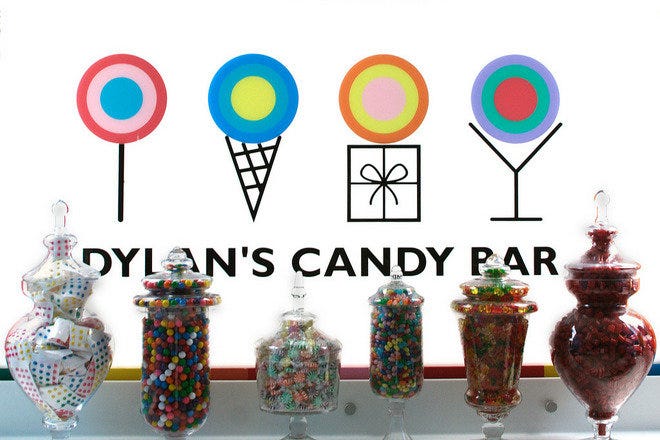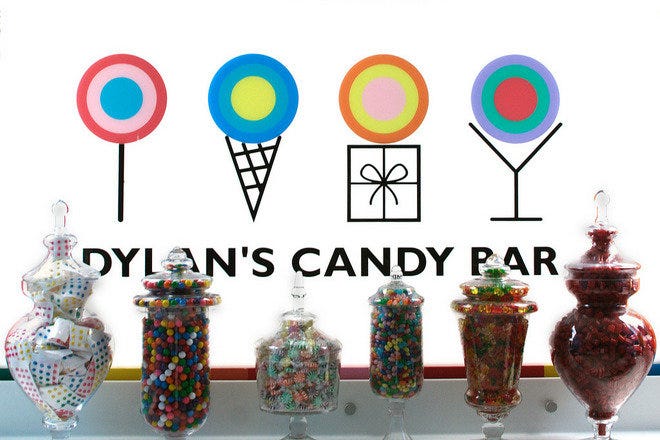 Photo courtesy of Dylan's Candy Bar
Sweet treats and sugar rushes are basically synonymous with Christmas day, so help to fuel the tradition and put Dylan's Candy Bar on your itinerary. A great place to pick up stocking stuffers for the little ones on your list, the store is 3 floors of all things candy. It's also a great place to conjure up a bit of nostalgia, as the flagship store stocks a large collection of old school classics from every era. Give grandpa some bottle caps, or put together a 1970s time capsule for mom and watch their eyes light up on Christmas morning – just like when they were kids.
Recommended for Christmas Shopping because: Walking into Dylan's is like walking into the candy store of your childhood dreams.
Andrea's expert tip: Parties at Dylan's aren't just for kids, brides-to-be can also request to have Dylan's host their showers.
Read more about Dylan's Candy Bar →
---
Known for its annual Thanksgiving Day Parade (the most-watched Santa parade in the world) and the movie it inspired («Miracle on 34th Street»), Macy's is a venerable city landmark venturing 10 stories up and stretching the length of an entire city block. From a visitor's point of view, the store can be a bit daunting in its vastness, so get a directory as soon as you walk in the door and plan your route carefully. Two departments you won't want to miss: the toy department, which turns into a fantasy Santaland during the holidays, and the Cellar, a gastronome's paradise filled with every conceivable piece of cooking equipment and a huge array of gourmet foods.
Recommended for Christmas Shopping because: Macy's is an iconic New York shopping destination that shouldn't be missed.
Andrea's expert tip: If you have an out-of-state ID, head to the guest services center before you shop for an 11% discount on all purchases.
Read more about Macy's →
---


Más información en la Fuente de Noticias