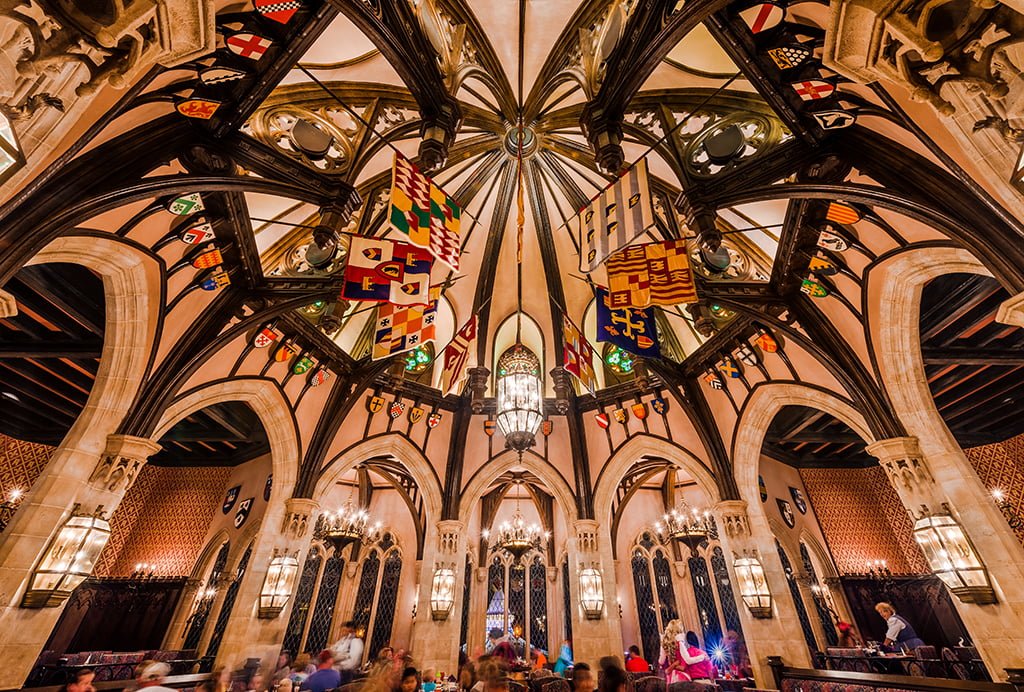 Cinderella's Royal Table is a table service princess character meal inside Cinderella Castle in Magic Kingdom. This Walt Disney World dining review features food photos, our thoughts on lunch & dinner at the restaurant, and whether the experience is worth the money. (Updated June 4, 2022.)
The menu consists of American cuisine that is almost fine-dining caliber. Between the menu and the dining inside the castle, Cinderella's Royal Table is arguably the flagship restaurant in the Magic Kingdom (only Be Our Guest Restaurant surpasses it in popularity), and one of the most unique restaurants in all of Walt Disney World. Aside from spending a night in the Cinderella Castle Royal Suite, it's your best chance at entering the park's icon.
As Walt Disney World's prolonged phased reopening continues, things continue getting back to normal. Traditional meet & greets have returned with autographs, hugs, and high fives. With this, most character dining has returned from its modified form. At least, as far as characters are concerned–food is another story entirely. However, things are a bit different right now at Cinderella's Royal Table, with some good and bad changes…
First, the bad. Unlike Breakfast à la Art at Topolino's Terrace — Flavors of the Riviera and Story Book Dining at Artist Point with Snow White (our two favorite character meals at Walt Disney World right now), Cinderella's Royal Table has not returned to normal. Per Walt Disney World, the "princesses are taking a break from their royal duties greeting guests" and this is not technically a character dining location as of Summer 2022.
This will be a big blow for many families, who dine at Cinderella's Royal Table for the princess encounters. However, the good news is that Cinderella does greet guests upon arrival in the lobby before heading up to your table (see photo below). Note that since this is unadvertised, it could change or be removed at any time–it's been like this for a while now, so we don't expect that. None of the other princesses have returned to the dining room, but we'd expect that to occur at some point in the coming months.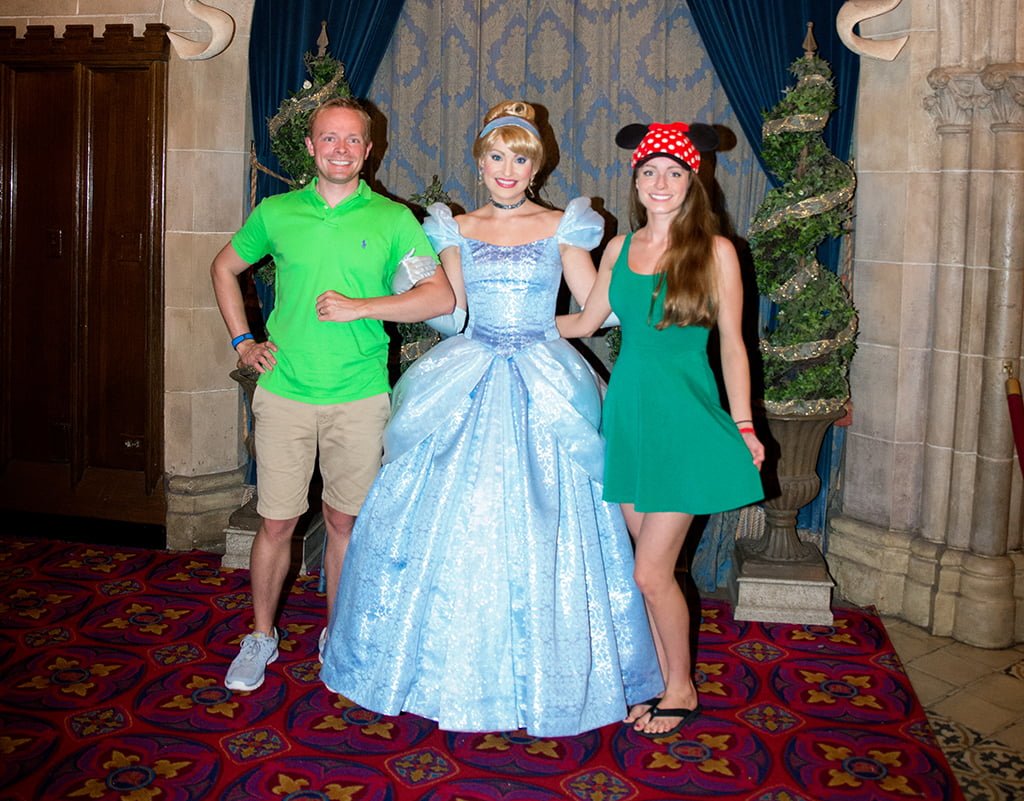 The other good news is that Walt Disney World has reduced the price due to the lack of characters, lowering it from $75 per adult and $45 per child to $62 per adult and $37 per child for both lunch and dinner.
This is not a dramatic price decrease, and it's safe to say that most Walt Disney World guests booking this restaurant would rather pay ~$15 extra for a dining room inhabited by princesses. Nevertheless, Disney didn't lower the prices on any of the other modified character experiences, so at least it's something.
One thing that has not changed is that Cinderella's Royal Table requires prepayment in full for secure an Advance Dining Reservation.
It's a bit surprising that this policy is still in effect, which previously discouraged ADR-hoarding, as the popularity of Cinderella's Royal Table is not what it once was with Be Our Guest Restaurant now being the top draw in Magic Kingdom.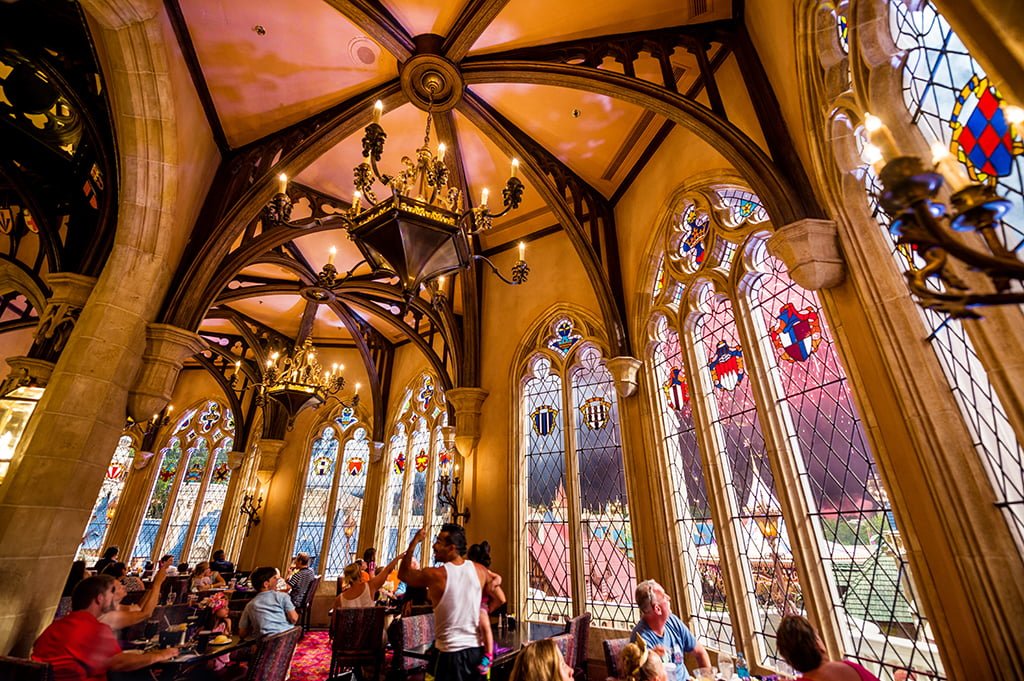 The big question right now is whether Cinderella's Royal Table is worth the reduced cost given the atmosphere and food alone for those who are not interested in character dining.
We'll try to answer those questions first, and then turn to the normal "Fairytale Dining Experience" for families considering Walt Disney World trips in 2023, when things hopefully return to normal…
I can still remember looking in the Walt Disney World book I had as a kid and seeing the star-filter enhanced photo of King Stefan's Banquet Hall, and thinking how awesome it would be to eat inside Cinderella Castle. On that basis alone, we convinced ourselves to give it a try anyway.
Suffice to say, we were downright shocked by Cinderella's Royal Table…
In terms of ambiance, Cinderella's Royal Table is spectacular. It looked like it had been fairly unchanged since it was King Stefan's Banquet Hall, and I honestly think that is probably for the best. The restaurant is still in great condition, from the carpet to the intricate details to the flags overhead.
I hope Disney's Imagineers never change the look or feel of the restaurant, because it feels very regal, beautifully designed, and most of all, like an authentic European castle. I trust in the Imagineers, but I really hope they don't opt for a "modern" refresh, as that's totally unnecessary here.
The guest ambiance was also surprisingly good. Now, this definitely is a 'your mileage may vary situation', but there were no crying children, and the restaurant overall was not loud like we expected. We've been to some chaotic character meals, and this didn't have that feeling at all.
It wasn't peaceful or subdued like a fine dining experience late at night can be, but it was shockingly relaxed. Perhaps Disney has utilized fabrics and other sound-dampening techniques, or maybe we just got lucky. Regardless of why, we were stunned and impressed.
On to the food. Note that Cinderella's Royal Table is not all you can eat. You order off of a prix fixe menu, with a variety of appetizer, entree, and dessert options. (Note that the menu has changed somewhat since our last meal at Cinderella's Royal Table.)
Dinner started out with bread service. This was rather pedestrian.
I started with the Crawfish and Shrimp with Grits. This consists of crawfish and shrimp in a New Orleans-style barbecue sauce with goat cheese grits.
I loved this appetizer, which had a really unique flavor (different than standard shrimp and grits). The seafood in it was good, and wasn't rubbery as is often the case when it's mixed in a concoction like this.
Sarah had the Strawberry Salad for her appetizer. This consists of strawberries, feta cheese, arugula, almonds, balsamic glaze, and olive oil.
She found the quality of the salad to be very high with a great mix of complimentary ingredients, and a refreshing taste.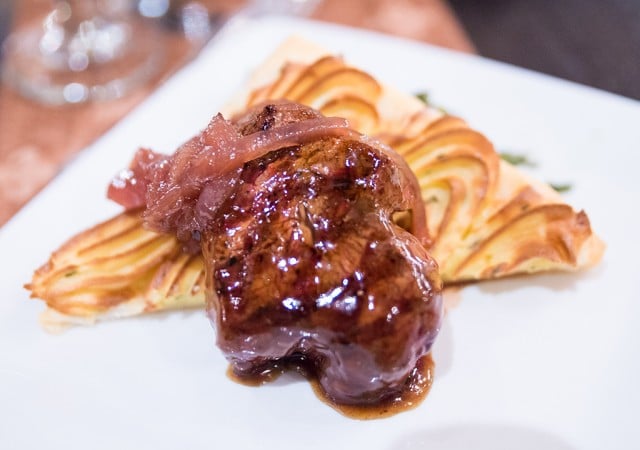 We 'fought' over who got to order the Beef Tenderloin. Since we always order different foods for the sake of reviews, we couldn't both order it.
I "won" this time, but don't feel sorry for Sarah…she usually wins.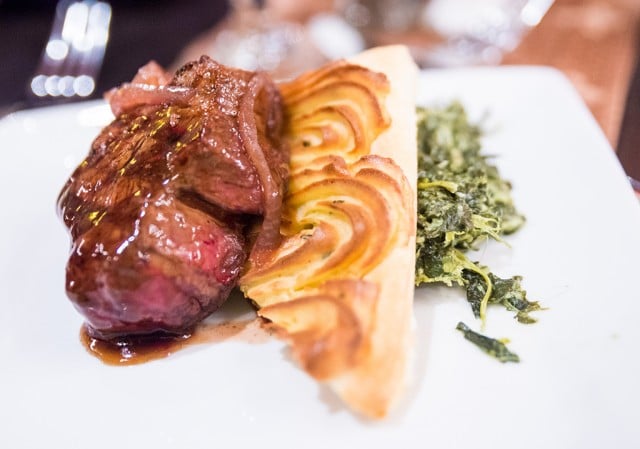 Wow is all I can say about this.
Cooked medium-rare to perfection, the meat was almost tender enough to cut with a fork, the cut of meat was excellent, and the glaze gave it a rich flavor. The potatoes were similarly out of this world.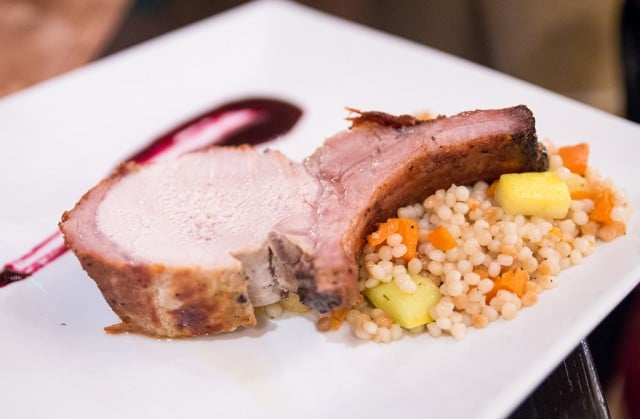 Sarah instead opted for the Slow-roasted Bone-In Pork, which is served on a couscous medley. She was surprised at how flavorful, tender, and juicy the cut of meat was.
I tried it, and I was similarly surprised–especially about the juciness. I think Sarah could have gone for a slightly leaner cut, but I thought it was the perfect amount of lean meat versus fat.
For dessert, Sarah ordered the 'Clock Strikes Twelve.' Awesome presentation, but I can't say it really wowed either of us. Really rich, and that was really the dominating "flavor."
It wasn't bad–and maybe it just wasn't for us.
I had the Chef's Dessert Trio.
Same deal–awesome presentation, sort of 'meh' desserts. I really did like the pistachio dessert in the middle. The others were sort of lackluster.
Finally, let's wrap this up with a quick look at the princesses for those planning a Walt Disney World vacation in late 2022 or 2023 and debating a meal at Cinderella's Royal Table.
Normally, Cinderella greets guests downstairs with a dedicated photo backdrop while Aurora, Snow White, Ariel, and Rapunzel meet guests upstairs in the dining room.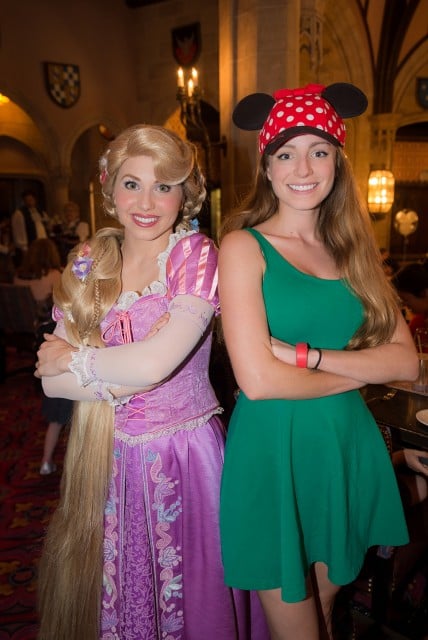 I'm not a big fan of meeting face characters. It also feels like an awkward experience, and while I'm comfortable cheesing it up with fur characters, I don't have that comfort level meeting real people.
But, that's my problem. These characters were great, and Sarah had a lot of fun with them.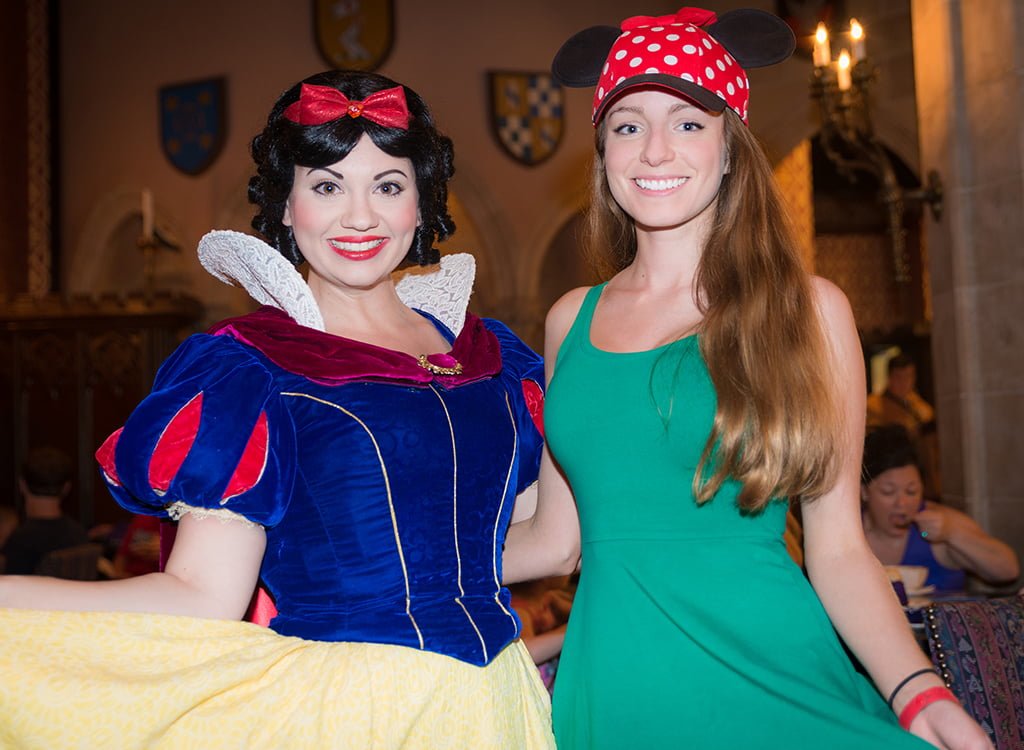 She especially liked Snow White, who had a bit of sharp wit about her, without breaking character.
In fact, I enjoyed watching her character interactions with each of the princesses. Most did a really good job, and were pretty good representations of the characters depicted.
The real "dessert" or happy ending to our meal was the fireworks (another thing you won't experience during the phased reopening). In our Magic Kingdom Fireworks Viewing Guide, I wrote that I don't care for locations outside of Main Street for viewing the fireworks.
While I still prefer those locations, and would absolutely recommend those spots for a first time visitor or someone who will only see the fireworks once during their trip, for us, seeing them from inside Cinderella Castle was pretty special.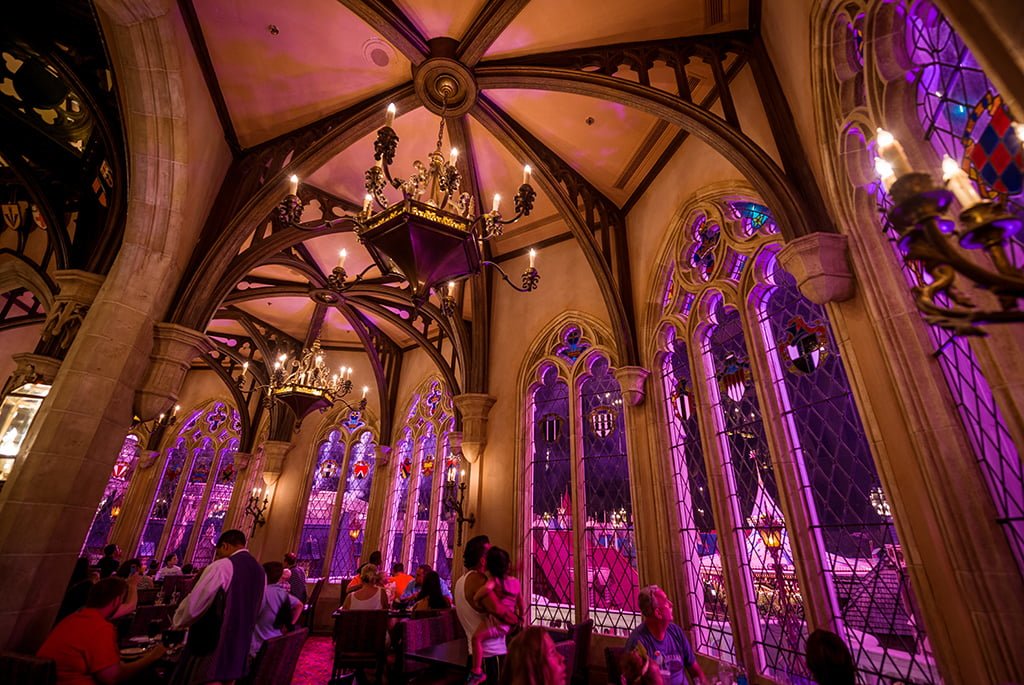 The problem for viewing the fireworks from inside Cinderella Castle for a first timer is that you're not even getting close to the full experience of Disney Enchantment nighttime spectacular. You're missing the projections, soundtrack, the near bursts, and more.
However, it's a pretty cool experience if you've already seen Magic Kingdom's fireworks a couple–or a couple dozen–times. The way the different pyro bursts illuminate the inside of the restaurant, basking everyone in different colors throughout the meal is something special. The beautiful gothic architecture of the interior plus the glow of the fireworks was pure Disney magic. Putting aside the characters and even the better than expected food, this alone made the high price "worth it" for us.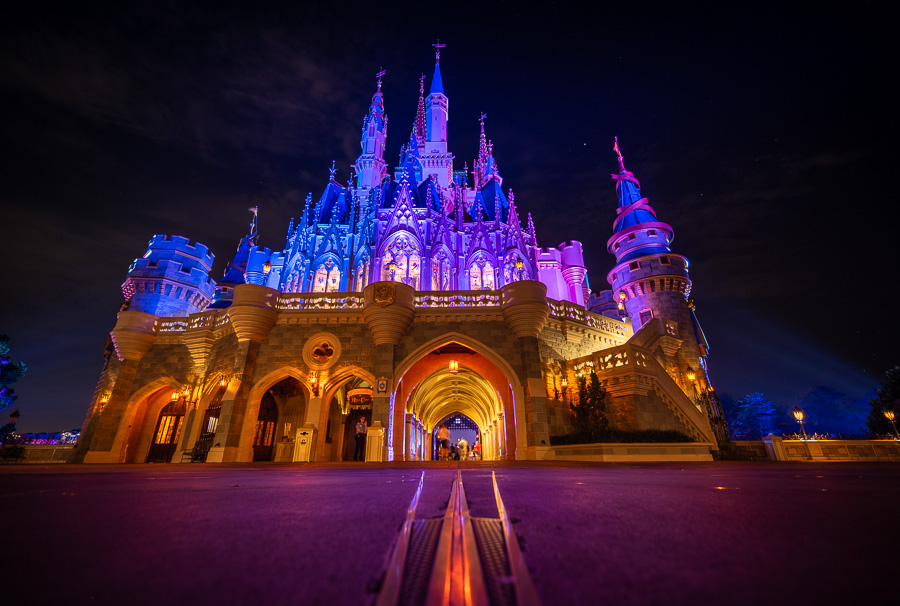 In normal times, Walt Disney World considers Cinderella's Royal Table a "Fairytale Dining Experience." which I think just refers to the fact that you can meet Cinderella and other visiting princesses here. The meal also includes a photo of your party and Cinderella taken by PhotoPass photographers.
Also normally, Cinderella's Royal Table accepts Tables in Wonderland for a 20% discount (you receive a refund when you present your card in the restaurant for the amount of the discount), and participates in the Disney Dining Plan as a 2-credit Signature meal. Due to that, it is not a good choice if you're trying to maximize your value on the Disney Dining Plan.
Ultimately, I'm of two minds about Cinderella's Royal Table. While the food is surprisingly good, it's overpriced even by Walt Disney World standards. However, you're obviously not paying for just the food when you dine here. Just as much a part of the meal as the food is the fact that you're dining inside Cinderella Castle and potentially meeting princesses.
If neither of these things matter to you, there is simply no reason for you to dine at Cinderella's Royal Table. Even given our praise for the food in this review, you can get better food for less money elsewhere. However, if princess dining and/or a meal in Cinderella Castle is appealing, it might be easier for you to justify this restaurant as a splurge. In the end, it really comes down to whether you're comfortable spending this much on a meal that I'd peg at just a rung below fine dining.
If you are a family looking for a "fine family dining experience" and are willing to pay accordingly, Cinderella's Royal Table is the Walt Disney World restaurant for you. If you're a couple looking for a romantic restaurant were cuisine is paramount, you might want to look for one of the Signature Restaurants in the Magic Kingdom resorts.
Planning a Walt Disney World trip? Learn about hotels on our Walt Disney World Hotels Reviews page. For where to eat, read our Walt Disney World Restaurant Reviews. To save money on tickets or determine which type to buy, read our Tips for Saving Money on Walt Disney World Tickets post. Our What to Pack for Disney Trips post takes a unique look at clever items to take. For what to do and when to do it, our Walt Disney World Ride Guides will help. For comprehensive advice, the best place to start is our Walt Disney World Trip Planning Guide for everything you need to know!
Your Thoughts
Have you done Cinderella's Royal Table at Walt Disney World? What did you think? Worthwhile for the characters, ambiance, food, or all of the above? Is this meal something you'd like to try? Any specific recommendations? If you have any questions or thoughts to share, please post them in the comments. We love hearing from readers!