It's time for another Walt Disney World news roundup! This one covers the latest changes to park hours, more sold out ticket dates, same-day Candlelight Processional Dining Package options, a daytime parade returning to Magic Kingdom for the first time in over a year, and more. Plus, our main story–that Disney fired a dog. (No joke!)
As usual, we'll start with the latest release of new and modified operating schedules. All four theme parks have had hours for another week added to DisneyWorld.com's park hours. The current calendar now runs through February 7, 2022. Here are the hours for most dates that are newly-added through the end of this year and into Winter 2022:
Magic Kingdom: 9 am to 8 pm
Epcot: 10 am to 9 pm
Hollywood Studios: 9 am to 9 pm
Animal Kingdom: 9 am to 7 pm
Disney Springs: 10 am to 11 pm (11:30 pm on Fridays & Saturdays)
In addition to the new hours through the second week of February 2022, there are also a handful of extensions to report for December 2022…
We also have some newly-extended hours for December 2021. Magic Kingdom will now open at 8 am on December 12, 14, 16, and 17. These are all Disney Very Merriest After Hours dates, meaning that Magic Kingdom closes to day guests at 8 pm on those nights and the Christmas party runs from 9 pm until 1 am. On non-party nights that same week, Magic Kingdom's closing time has been extended to 10 pm.
While it hasn't happened yet, a similar extension is almost certain for hours the following week on dates that Disney Very Merriest After Hours causes Magic Kingdom to close early. In fact, across-the-board extensions are highly likely for the week leading up to Christmas.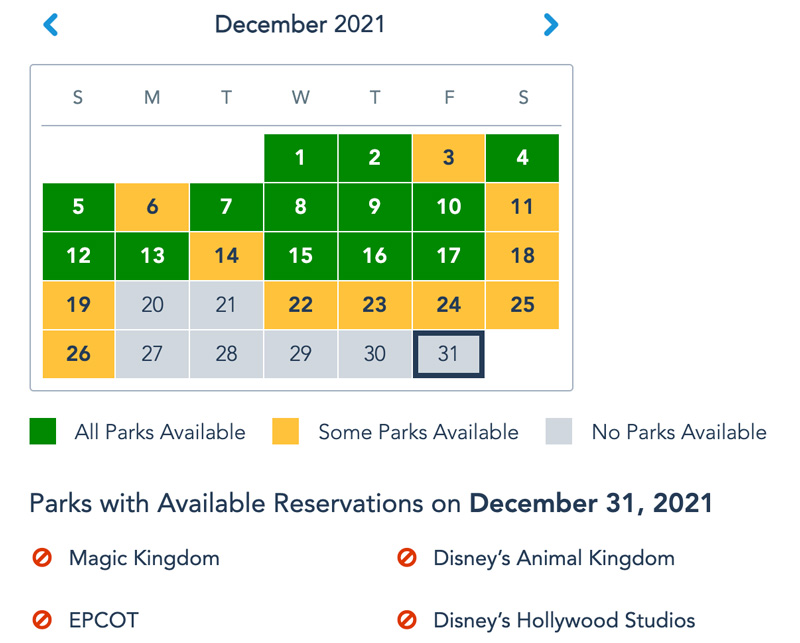 On a related note, we're seeing Disney Park Pass reservations quickly disappear for December 2021. This is likely an "awareness issue." Vacation planners and Annual Passholders likely saw issues with availability this past week, and moved to lock-in reservations for their travel dates.
As more hours are added to the calendar, don't be surprised to see some of those dates turn green again. With that said, many dates absolutely will fill up. Not every week will be as bad as Thanksgiving or Christmas, but as a whole, this come month will likely see the year's highest attendance numbers at Walt Disney World.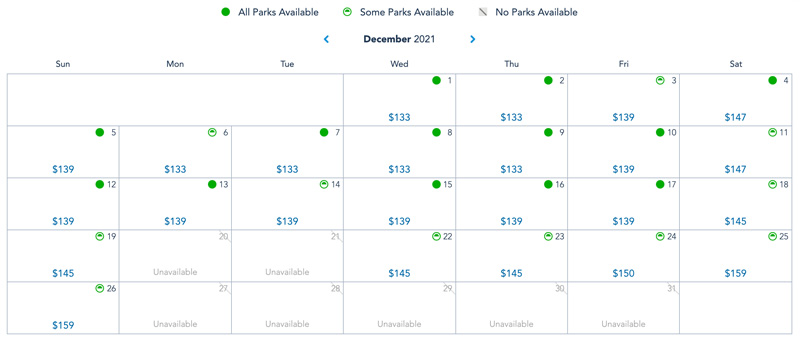 For the exact same reason, tickets now unavailable for even more dates in December 2021.
If you're planning on visiting during the Christmas season and haven't already purchased tickets and made reservations, we would strongly recommend that you do so immediately. While it's possible more availability is added, it's even more likely that additional dates will sell out. Be prepared for all of those "Some Parks Available" dates (and then some) to become unavailable.
Walt Disney World is offering more Candlelight Processional Dining Packages with same-day availability at two Epcot restaurants.
You might recall that Advance Dining Reservations for Candlelight Processional Dining Packages were released last month and, in typical Disney Drop Day fashion, resulted in guest headaches. Availability was always going to be difficult due to there only being three eligible restaurants, but glitches only made matters worse.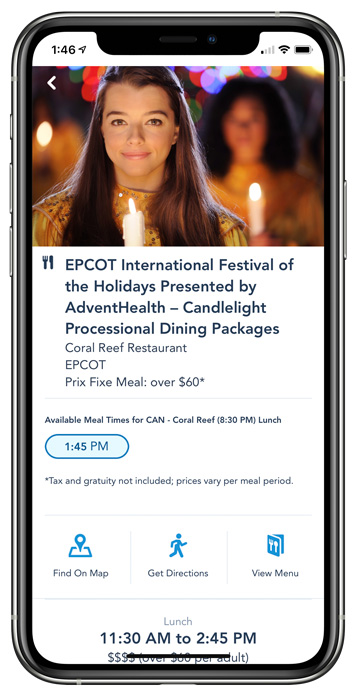 In any case, there are now new same-day options and we're noticing more ADR availability in My Disney Experience. In checking sporadically for the last few days, it appears that new 'batches' of inventory were released for Biergarten and Coral Reef Restaurant.
If you're wanting Garden Grill or Rose & Crown, you might have a bit less luck. Same goes for larger party sizes. Regardless, our recommendation is for Biergarten thanks to its jovial Christmas atmosphere, music, and value for money. Read Our Christmas Feast at Biergarten Restaurant for what the holiday time experience is like there.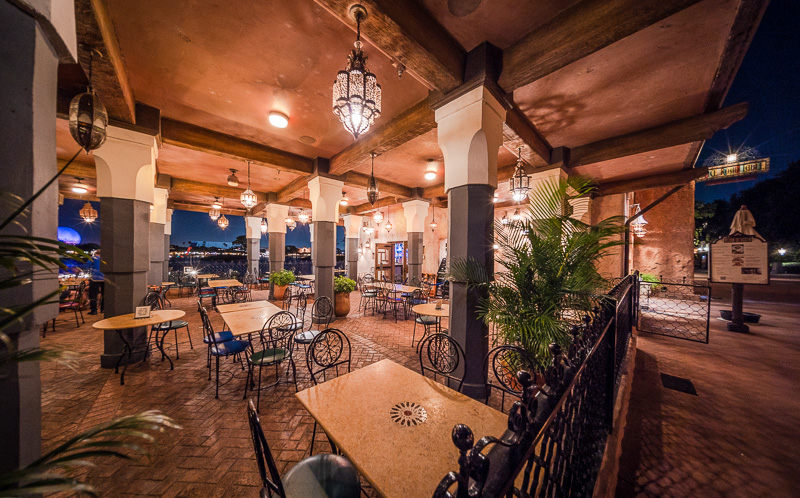 Now, there's also the same-day table service restaurant option at Spice Road Table.
This costs $49 per person, with 2 small plates, dessert platter, non-alcoholic beverage, and guaranteed seating for Candlelight Processional at 5:15 pm, 7 pm, or 8:30 pm.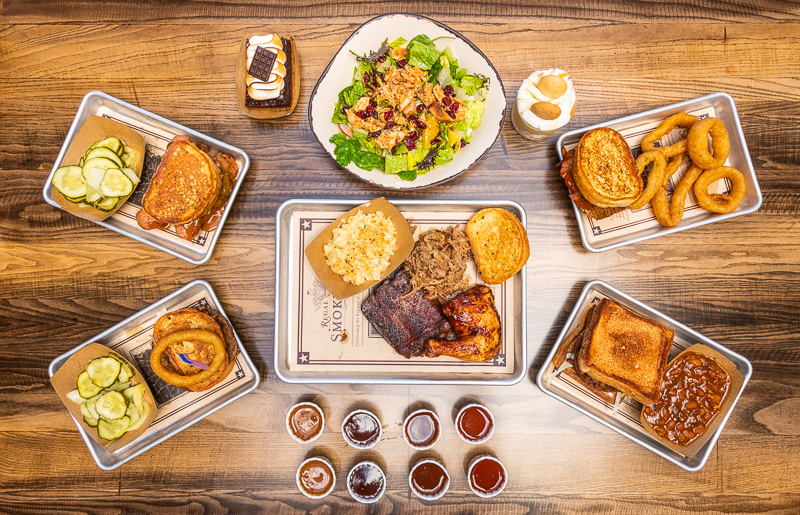 There's also a same-day counter service restaurant option at Regal Eagle Smokehouse. This is priced at $39.99 per person, and includes an entree, dessert, non-alcoholic beverage, and guaranteed seating at your choice of the three showtimes, pending availability.
There are signs in front of each restaurant indicating whether seating is still available for each showtime. These Candlelight Processional Dining Packages are only available at the restaurants themselves, not bookable via My Disney Experience.
If having seats to the show is important to you, we'd recommend doing a Candlelight Processional Dining Package. You're absolutely paying a premium for the seats–it's about $15 to $20 per person for the seats, depending upon what you order at each restaurant.
However, standby lines are lengthy for Candlelight Processional, and there's no guarantee of seats even if you arrive early. It's common for guests to camp out over 2 hours in advance for popular celebrity narrators or weekend showtimes, and with Walt Disney World now devoting more show capacity to these same-day dining packages, there's going to be less space for standby.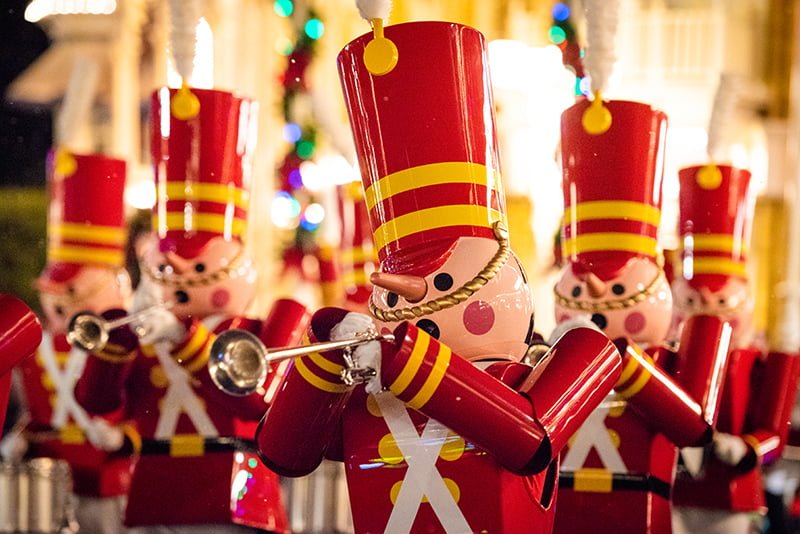 In more holiday news, Mickey's Once Upon a Christmastime Parade will be performed during the regular daytime hours for guests visiting the few days before Christmas through New Year's Eve. This is common practice for the Christmas parade, but Disney hadn't confirmed whether it would occur in 2021 up until now.
The parade has only been performing at night during Disney Very Merriest After Hours. During that, Mickey's Once Upon A Christmastime Parade has been scaled back by almost 100 performers, which could be a matter of staffing, cost-cutting, or a mix of the two.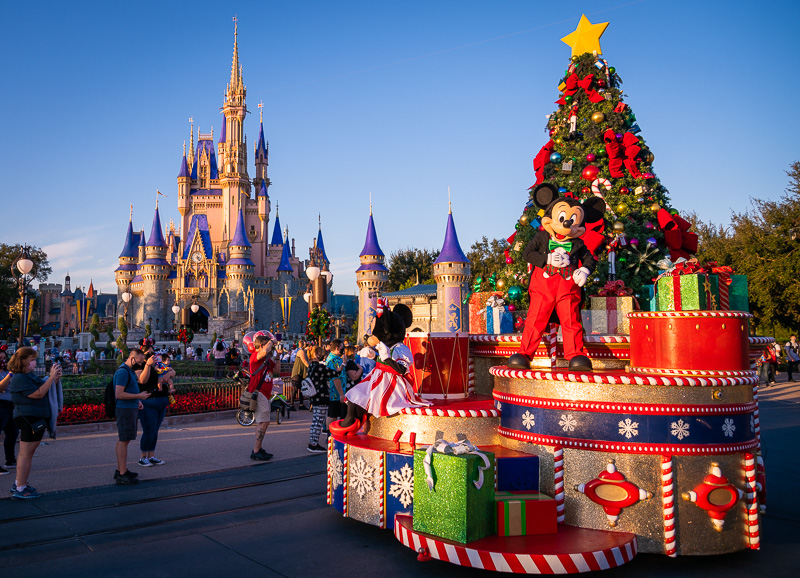 Magic Kingdom's new hard ticket Christmas Party ends its run on December 21. The very next day, Mickey's Once Upon a Christmastime Parade begins daytime ops and will be performed twice daily from December 22 until December 31, 2021.
Mickey's Once Upon a Christmastime Parade's daytime performance schedule is as follows:
12 pm and 3:45 pm (December 22-29, 2021)
12 pm and 3:30 pm (December 30-31, 2021)
This is relatively significant because it'll mark the first time an actual parade has performed in Magic Kingdom since before the closure of Walt Disney World last March.
It's worth noting that "A Christmas Fantasy" Parade has been performed daily at Disneyland throughout this Christmas season in its full form, without performers being cut.
Walt Disney World recently announced that Festival of Fantasy Parade will return in early 2022. No specific date was given, but our guess is that it'll be around the 2-year "anniversary" of its absence. It's also not known whether the full parade will return, or if it'll be a truncated version a la Mickey's Once Upon a Christmastime Parade.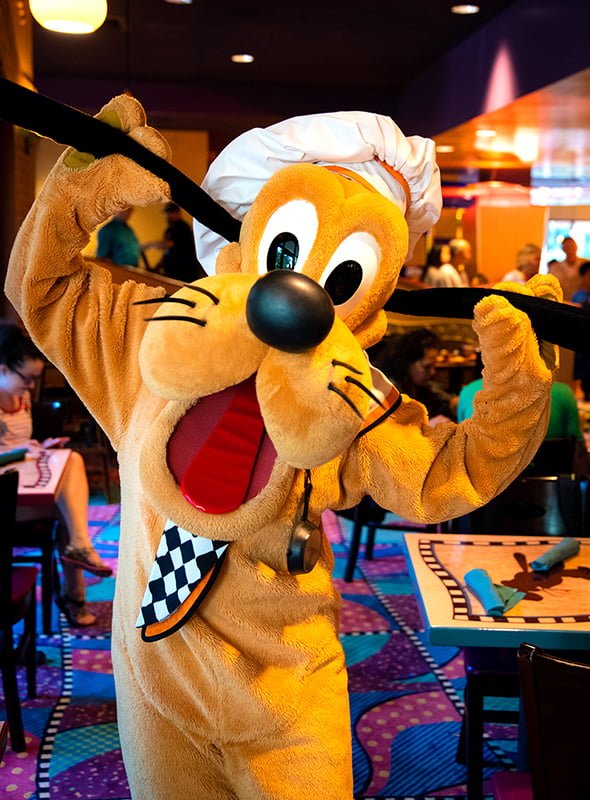 Finally, our main story: Disney fired a dog. A headline so absurd you might assume it's from the Onion, which is being given a run for its money by reality. This one is no joke.
Up until March of last year, a frequent sight around the grounds of Disney's Hilton Head Island Resort was Shadow the golden retriever and her companion B'Lou Crabbe. Shadow first appeared at the resort during construction in 1996, and by opening day, she was part of the resort's family. Shadow was so beloved with guests that she became the South Carolina Disney Vacation Club Resort's official mascot. DVC even sold several pieces of merchandise featuring Shadow in the gift shop.
Alongside Shadow was Disney's Hilton Head Island Resort's local folklore expert, B'Lou Crabbe. He entertained guests with his storytelling and music for ~21 years. According to an interview with B'Lou a decade ago on the Disney Parks Blog, Shadow got her name as a result of her curious and happy spirit.
"She showed up when we were building the resort. We noticed a golden retriever puppy hanging around with some of the workers, getting into trouble and coming out of it smelling like roses. We named her Shadow, not because of her color of her fur, but because she was more underfoot than your own shadow and the name stuck."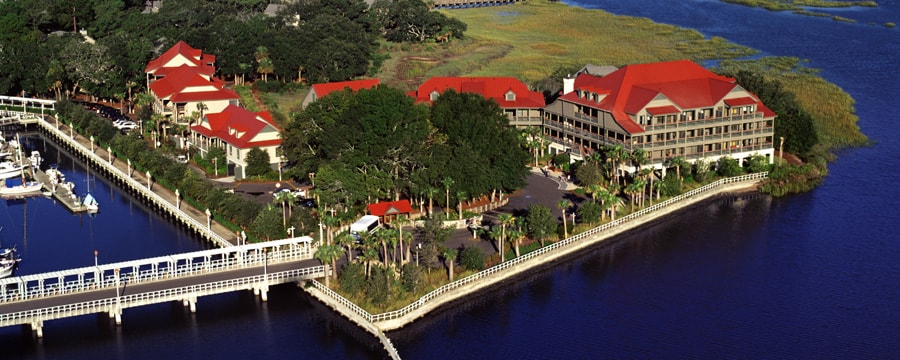 Prior to the closure last March, B'Lou and Shadow welcomed guests on the front porch of Disney's Hilton Head Island Resort. Guests also could join her on a walk around the HHI during Shadow's Funny Bunny Hunt, or hear about her adventures at Shadow's Tale story time.
Shadow was a bit like Mickey Mouse for the resort–its mascot and an IRL fur character with entertainment and merchandise created around her. Even if you've never visited Disney's Hilton Head Island Resort (and that's likely most WDW fans), you probably know two things: it's located in one of the Carolinas (hard to keep them straight) and the resort is home to a dog. That's its "thing"–and a good one since everyone loves doggos!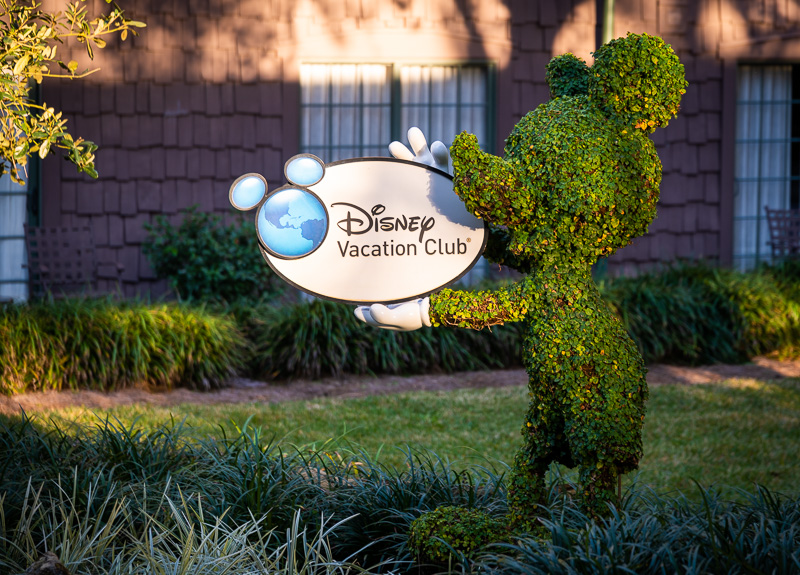 In an emotional post on their Facebook fan page, they shared that B'Lou and Shadow would not be returning to Disney's Hilton Head Island. Earlier this month, a resort administrator called the duo and read a short statement that revealed they were being let go. With that 5 minute phone call, Disney ended the 21 year run of B'Lou and Shadow at Disney's Hilton Head Island Resort.
B'Lou shared additional details, including that the resort has consistently told them: "we can't wait to have you and Shadow back. We're just waiting on Orlando to bring all the entertainers back at once." During the 20 months he was on furlough, B'Lou was led to believe they'd be returning, so he honored the terms of their contract that limited any off-property performances. Disney did likewise, paying for Shadow's ongoing trips to the vet and groomer. With both sides continuing to honor their contractual obligations "in full faith and confidence, [B'Lou] thoroughly believed them when told [they] were coming back."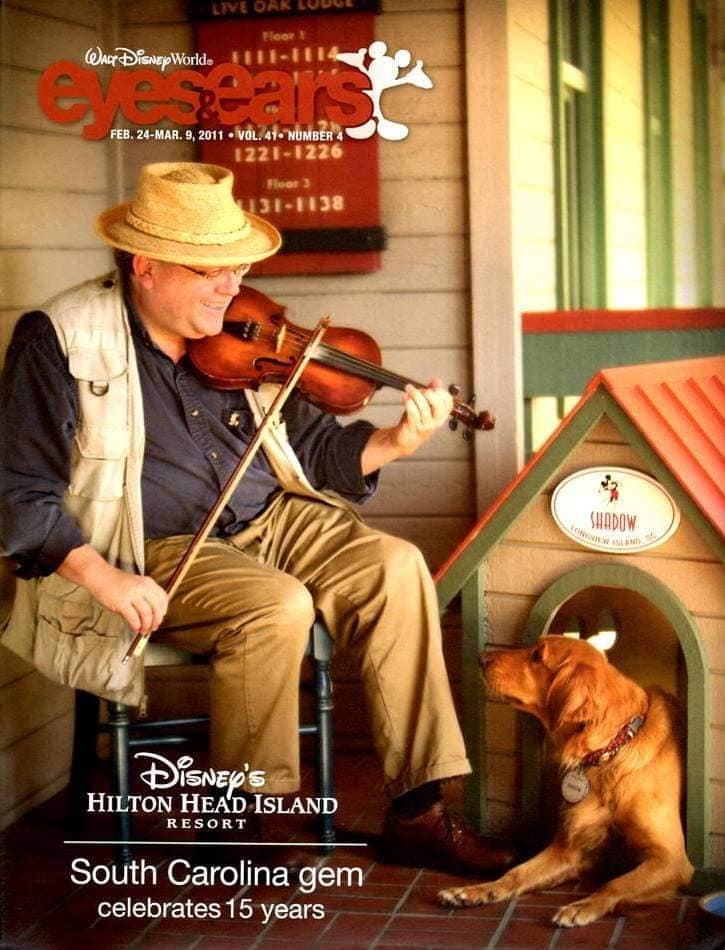 Several readers mentioned this in the comments over the last couple of weeks, and I'll be honest, the gravity of this didn't really register until I saw it making rounds on social media over the weekend. "Disney fires a dog" really does read like an Onion headline, and is the kind of thing you want to believe is a joke or exaggeration when hearing it in passing.
In this case, the full story is worse than the ridiculous headline. Not only did Disney fire a dog, they got rid of the resort's mascot, merchandise symbol, and most recognizable entertainment. It honestly feels like the company's decision-makers don't "get" the appeal of Disney Parks & Resorts, and are actively doing what they can to ensure no one else becomes a lifelong fan.
Realistically, there's unlikely to be discernible damage to Disney's Hilton Head Island Resort in the short term. Bookings will remain strong not because fans don't care about B'Lou and Shadow, but because there's still pent-up demand and people are making up for lost time vacationing.
Moreover, DVC has something of a captive audience, and Disney Vacation Club's point pool problem is still very much a thing. No members are letting their points expire to "teach Disney a lesson" for firing a dog. And no lesson would be learned, even if they did.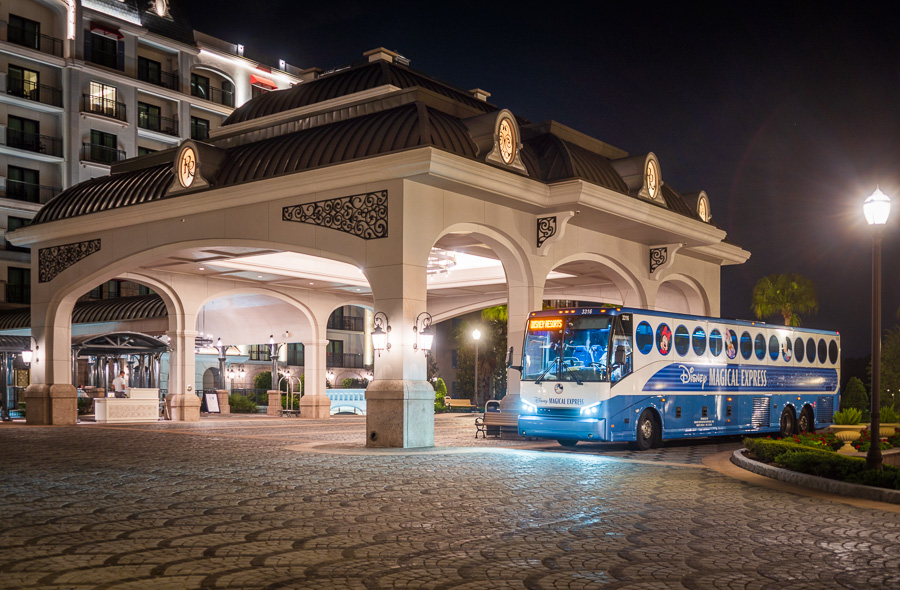 Long term, it's a different story entirely. After a year-plus of unpopular and guest-unfriendly decisions, we are hearing from an alarming number of readers who feel that the "magic is gone" due to the corner-cutting and erosion of the guest experience. What happens when those fans reach their breaking point? Where is the next generation of fans going to come from if Disney is interchangeable with its competitors, but with different IP? Or when the current exuberance ends, consumer spending slows, and businesses in the travel industry have to compete to attract customers?
All of this short-term thinking makes this quarter's earnings look incrementally better, but it can leave a lasting scar on fan goodwill and reputation. The decision-makers with Disney making cuts today probably don't care, though, as they'll be gone by the time the chickens come home to roost. Nevertheless, these decisions are harmful to both the current guest experience and the overall health of the brand.
When it comes to entertainment (which is essentially what B'Lou and Shadow are for HHI), we've written largely this same editorial several times. Our commentary commonly fixates on the dangers of Disney cutting too much fat from budgets to the point where they hit bone. Perhaps it's easy to dismiss this, saying Shadow was "just a dog" and people don't book expensive vacations or resort stays to see dogs. That's nonsense.
When it comes to cuts and their justifications or lack thereof, our 'thesis statement' is that Disney is more than the sum of its parts. It's the little moments, the ambiance, the atmospheric entertainment, the way everything just feels alive that, cumulatively, defines a vacation even if you don't actively notice at the time. In the past, all of this is what separated Disney from the competition.
As always, we recommend respectfully sharing your opinions as to how this change will impact your vacations or business with the company by sending an email to wdw.guest.communications@disneyworld.com. While Hilton Head Island is, obviously, not at Walt Disney World, higher-level management works in the Orlando offices. You can also email dvcmembersatisfactionteam@disneyvacationclub.com, but I'm not sure contacting DVC will even accomplishing anything right now, as they've been fairly non-responsive over the last year. It is most definitely worth emailing, though. This is the kind of cut that guest backlash actually could do something about and cause to be undone.
Planning a Walt Disney World trip? Learn about hotels on our Walt Disney World Hotels Reviews page. For where to eat, read our Walt Disney World Restaurant Reviews. To save money on tickets or determine which type to buy, read our Tips for Saving Money on Walt Disney World Tickets post. Our What to Pack for Disney Trips post takes a unique look at clever items to take. For what to do and when to do it, our Walt Disney World Ride Guides will help. For comprehensive advice, the best place to start is our Walt Disney World Trip Planning Guide for everything you need to know!
YOUR THOUGHTS
What do you think about all this Walt Disney World news? Excited to see Mickey's Once Upon a Christmastime Parade during daily ops in Magic Kingdom? Planning on doing a same-day Candlelight Processional Dining Package? Thoughts on Disney firing a dog?!? Do you agree or disagree with our commentary? Any questions we can help you answer? Hearing your feedback—even when you disagree with us—is both interesting to us and helpful to other readers, so please share your thoughts below in the comments!