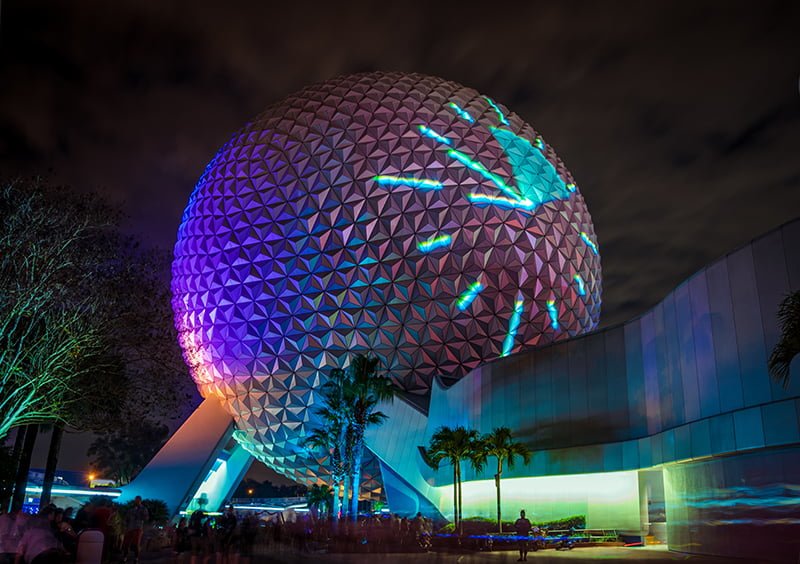 It's time for another Walt Disney World weekend update. This news & rumor roundup shares the latest look at extended hours for the holiday season, rumblings about the future of a ride currently being demolished, race themes revealed, and how the lack of parking lot trams has become the butt of jokes–beyond just WDW fans!
As usual, we'll start with the latest release of new and modified operating schedules. All four theme parks have had hours for another week added to the DisneyWorld.com park hours calendar. The current calendar now runs through January 14, 2022. Here are the hours for most dates that are newly-added through the end of this year and into early 2022:
Magic Kingdom: 9 am to 9 pm
EPCOT: 11 am to 10 pm
Hollywood Studios: 9 am to 9 pm
Animal Kingdom: 9 am to 7 pm
Blizzard Beach: 11 am to 6 pm
Disney Springs: 10 am to 11 pm (11:30 pm on Fridays & Saturdays)
As a reminder, Magic Kingdom closes at 8 pm on Disney Very Merriest After Hours dates, with that Christmas party running from 9 pm until 1 am. In addition to that schedule quirk, there are a handful of extensions and cutbacks to report between now and January 2022…
First, Epcot keeps having its opening time moved forward to 10 am. It's been opening at 10 am for the last month-plus, but the schedule had shown Epcot reverting to 11 am openings just in time for the busier holiday season. Obviously, that made no sense in terms of crowd-levels, so our expectation was that those were boilerplate hours that would be extended along with demand.
That's exactly what has happened, with Epcot now opening at 10 am up through November 20, 2021. That's the week before Thanksgiving, so it makes absolutely no sense to revert to 11 am openings after that. As such, our expectation is that the extension will happen in waves, and probably extend through the end of the year. This makes sense, given that the boilerplate hours for Epcot beginning in January 2022 are 10 am until 9 pm.
As for other extensions this month, Magic Kingdom and Animal Kingdom are seeing their closing times extended until 10 pm and 8 pm, respectively, on most weekend nights. For Magic Kingdom, this isn't possible many Fridays due to the Disney Very Merriest After Hours Christmas event, when the park will still close at 8 pm.
There has not been a pronounced difference in Magic Kingdom crowd levels on event v. non-event nights when there's only an hour difference in closing times. However, there is a noticeable one with a 2 hour difference–many guests avoid the earlier closing day and cram into the later closing one (especially when it's a Saturday). Plan or Park Hop accordingly.
In some exciting park hour news, every park except Animal Kingdom will close at midnight (or later) on New Year's Eve! December hours are otherwise boilerplate, but Walt Disney World set those closing times at midnight with the first release of park hours.
It should come as no surprise now that fireworks and their accompanying outdoor congestion have returned, but it's nice to see indirect confirmation that Walt Disney World will once again be celebrating New Year's Eve. We have not heard anything as to the fireworks, but our expectation is that Fantasy in the Sky will return to Magic Kingdom (in addition to Disney Enchantment) for at least NYE. No clue whatsoever as to what'll be done at Epcot.
Once January 2022 arrives, the schedule reverts to off-season hours and Magic Kingdom closes at 8 pm. It's unclear whether this cutback will actually come to fruition–it probably depends upon hotel occupancy and attendance levels. (Our expectation is that both will be elevated in the coming winter "off-season.")
It's been a few weeks, but we're back to report on sales progress for Disney Very Merriest After Hours. The first date is early next week. By this point, most Disney After Hours Boo Bash dates had sold out. Normally, demand is higher for Mickey's Very Merry Christmas Party than its Halloween counterpart, with tickets selling faster for the holiday event.
The bad news is that some dates are now sold out. The good news is that it's not many, and the commonality among all of the sold out November dates is that they're the "cheapest" nights of the event. There's now only one $169 night left, and then the $189 nights become the "cheapest" available options.
The other night to sell out is December 21, 2021. Even though it's significantly more expensive, that's also not a huge surprise. Crowds are going to be heavy that close to Christmas, meaning both more prospective buyers and more reason to take advantage of After Hours. There's also a lack of other options for people visiting that week. For that same reason, we'd expect November 23, 2021 to be among the next Very Merriest nights to sell out.
Nevertheless, we're still hopeful that Disney has finally pushed the limit of price increases too far, and guests are voting with their wallets. Even though some nights are sold out, it's good to see slower sales, at the very least. If every Disney Very Merriest After Hours doesn't sell out, it'll be a small victory.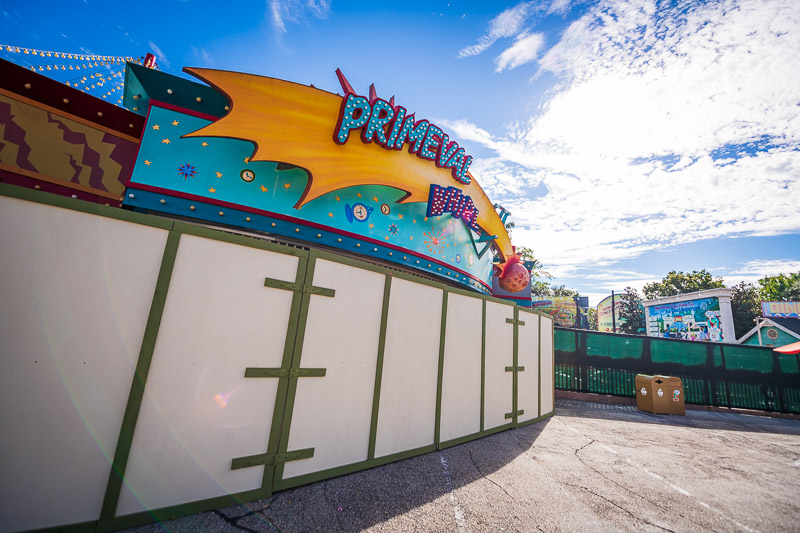 Switching gears, demolition continues on Primeval Whirl. The track has now been completely dismantled and removed, and the concrete foundation is now mostly cleared. Pretty much all that remains is the facade, which curiously still displays the extinct attraction's marquee. (Even McDonald's and Taco Bell are quick to remove their branding when closing defunct locations!)
This is probably going to be an unpopular opinion, but good riddance. It's well established that, as someone with taste, I'm a Dino-Rama hater. This isn't about just that. Primeval Whirl was expensive to maintain, procuring parts was a problem, the attraction was a liability for years, and arguably more than just an uncomfortable experience. Like Maliboomer at DCA, its removal was addition by subtraction.
With that said, Walt Disney World absolutely should've had a replacement to announce before permanently closing Primeval Whirl, let alone demolishing it. For all of the talk about it being a full day park, Animal Kingdom is undeniably light on rides. The fact that most guests don't spend a full day there should say all that needs to be said about the park's substantive lineup. (It's just like the infamous "Nahtazu" campaign–the existence of the marketing is proof of the problem.)
Given all of the demolition activity, it's unsurprising that there has been renewed interest in past rumors about the Primeval Whirl replacement. There have also been rumblings–let's call them wishful thinking–that Walt Disney World will announce something at the upcoming D23 Destination D event. Don't hold your breath on that.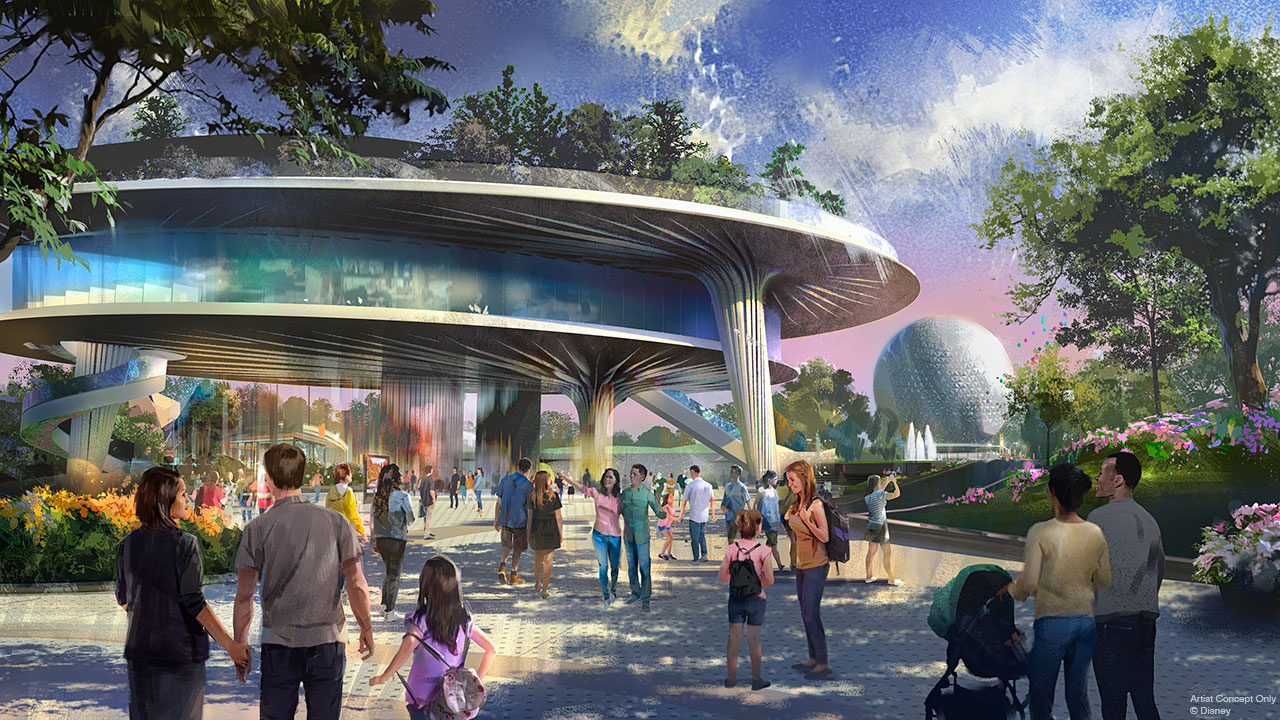 While I'd absolutely love to be wrong, I think the best case scenario with Destination D is new Epcot concept art. Maybe some details about the Play Pavilion, new fast casual restaurant, and other project components about which the company has been silent. Anyone with high expectations for Destination D announcements isn't paying attention to the current pace of projects and is setting themselves up for disappointment.
Demolition of Primeval Whirl is not indicative of imminent plans to build something new. It could be happening now simply because Disney sold off the parts to an amusement park still operating this type of ride. I really don't know. What I do know is that the D23 Expo is next year, and there's absolutely no way whatever replaces Primeval Whirl (if anything does replace it) opens before 2023. Probably more like 2024 or 2025 given recent timelines. Disney waiting to make an announcement at the bigger event makes sense, and clarifying/tweaking past Epcot details at the smaller event also makes sense.
The return of runDisney is bringing with it the debut of a new "Springtime Surprise" Weekend at Walt Disney World. This inaugural event borrows from some all-time favorite runDisney events and combines them with new twists.
When March 31-April 3, 2022 rolls around, runners will embark on a nostalgic four-day race weekend as part of the Walt Disney World 50th Anniversary celebration, with the following race themes revealed…
The inaugural Springtime Surprise Weekend will feature:
Expedition Everest 5K (April 1, 2022) – The race will once again feature a nighttime 5K combined with a scavenger hunt, but this time the hunt will be conducted during the 5K.
Race for the Taste 10K (April 2, 2022) – The event will mirror the 10K from the past, but now the race will celebrate the newest attraction at Walt Disney World: Remy's Ratatouille Adventure at Epcot.
The Tower of Terror 10-Miler (April 3, 2022) – The race will still be a 10-miler, but will be run in the morning instead of at night.
Runners who sign up for the Springtime Surprise Challenge, can test their endurance by participating in all three events for a total of 19.3 miles, and earn a special "challenge'' medal.
We did the inaugural Tower of Terror 10-Miler ages ago and had a blast despite it being really hot. In retrospect, I think the course wasn't particularly interesting, but it was our first runDisney event so that wasn't a big deal at the time. The core concept of the race was solid, regardless.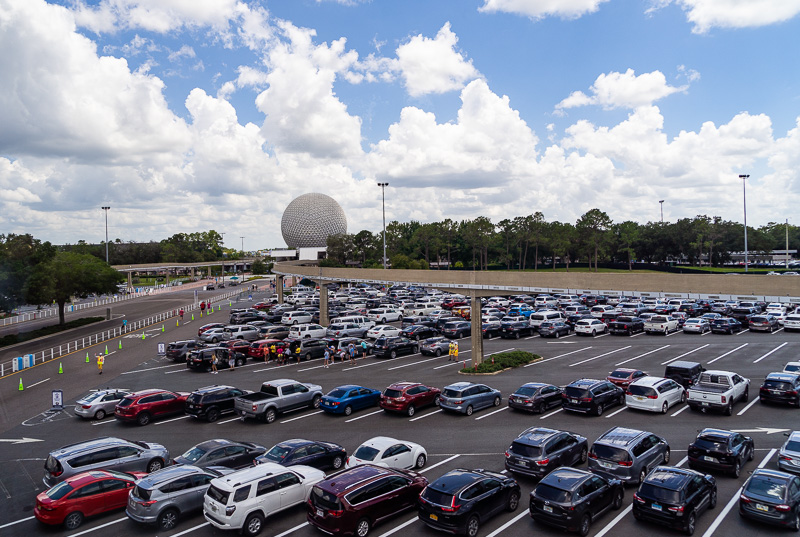 Finally, the parking lot trams. Last week, Disneyland announced that tram service from the Mickey & Friends and Pixar Pals parking structures will not return until early 2022. It's not a specific date and it's still far too long after reopening, but at least there's an acknowledgement of a loose end date. We'll take it, I guess?
Meanwhile, over 15 months after reopening, Walt Disney World still doesn't have its parking lot trams operating. On multiple occasions, there have been credible rumors of their "imminent" return, and Cast Members have been seen training on the trams before ultimately being reassigned. Yet, Walt Disney World has been silent about the trams. It's become downright laughable, which is probably why the lack of trams has become a late night punchline…
On the Late Show segment about "skimpflation," Stephen Colbert used the parking lot trams at Walt Disney World asn example, noting that guests have to walk nearly a mile from the parking lot to theme park entrances. (That video picks up where the relevant joke begins at the 6:46 minute mark.) 
Colbert jokes that in typical Disney fashion, they've rebranded the unpleasant parking lot walk into an attraction called Simba's Boiling Asphalt Stroll. "It's actually more fun than you think!"
Colbert's segment is based on an NPR article, "Meet Skimpflation: A Reason Inflation is Worse Than the Government Says It Is." We've actually discussed that piece here in the comments (thanks to Drew for sharing it!) and it's an interesting read. Although the tram debacle is the only direct connection made to Walt Disney World, many of the examples in the article also apply to Disney.
We've been fairly forgiving of Disney's slow restart during the phased reopening, recognizing that labor shortages and supply chain disruptions are impacting businesses around the country. In some cases, the more measured approach is prudent; long term solutions to temporary problems would pose different problems. We do not give Disney the pass on this one.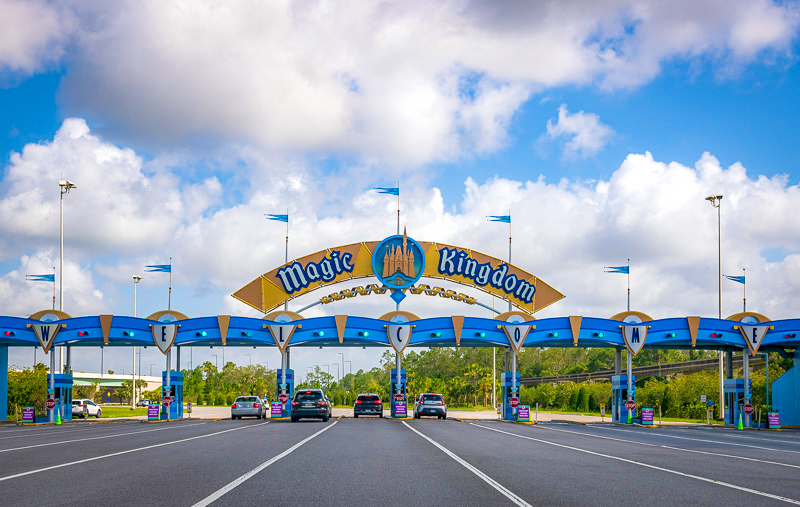 It's inexcusable that Walt Disney World still hasn't brought back the trams and the company should be embarrassed by the deserved negative mainstream media attention. Do we need to start a GoFundMe for the multinational media conglomerate that's in the Fortune 50 and viewed as one of the world's "most admired" companies? If we all chip in five bucks, will the multi-thousand dollar vacation destination offer parking lot shuttle service?
Conveniently, Walt Disney World has enough labor to operate outdoor vending carts, gift shops, and other locations that directly generate revenue. (Not to mention the new $6,500 VIP Tour for Walt Disney World's 50th Anniversary!) Yet not the "complimentary" (or rather, included in the high cost of parking) trams? Give me a break. If we're being charitable, this is an unfortunate cost-cutting measure. If we're a bit more cynical, it's a calculated decision to push more sales of preferred parking. Either way, it's another instance of eroding the guest experience. No parking trams by themselves are not a huge, make-or-break detail of a Walt Disney World vacation. However, the lack of trams are not "by themselves." It's the totality of the circumstances–the cumulative impact of many cutbacks and nickel & diming practices over the last year-plus.
Planning a Walt Disney World trip? Learn about hotels on our Walt Disney World Hotels Reviews page. For where to eat, read our Walt Disney World Restaurant Reviews. To save money on tickets or determine which type to buy, read our Tips for Saving Money on Walt Disney World Tickets post. Our What to Pack for Disney Trips post takes a unique look at clever items to take. For what to do and when to do it, our Walt Disney World Ride Guides will help. For comprehensive advice, the best place to start is our Walt Disney World Trip Planning Guide for everything you need to know!
YOUR THOUGHTS
What do you think about all this Walt Disney World news? Are you likewise angry/upset/embarrassed by the lack of parking lot trams at Walt Disney World, or think people are making a mountain out of a molehill? Are you expecting a Primeval Whirl replacement to be announced at this year's Destination D, next year's D23 Expo, or not at all? Thoughts on the runDisney Springtime Surprise race themes? Do you agree or disagree with our commentary? Any questions we can help you answer? Hearing your feedback—even when you disagree with us—is both interesting to us and helpful to other readers, so please share your thoughts below in the comments!