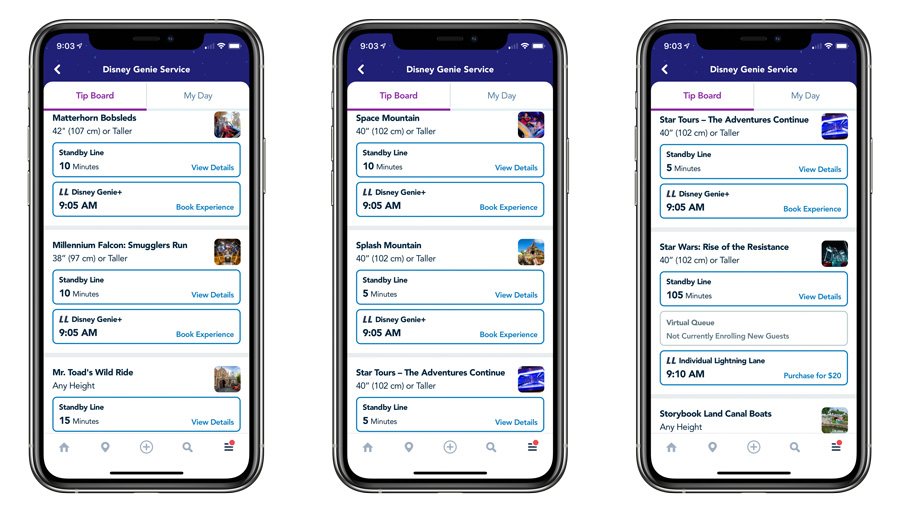 Our guide to the Genie+ at Disneyland and Disney California Adventure answers frequently asked questions about the paid FastPass & MaxPass replacement, info & tips about the line-skipping Lightning Lanes, new ride reservation, and itinerary tools. (Updated February 20, 2022.)
Genie+ and Lightning Lanes have now launched at Disneyland and DCA in addition to Walt Disney World. Naturally, the update for the Florida parks overshadowed the California ones, and questions about the former outnumbered the latter by approximately 1,971 to 1. No surprise, since Walt Disney World planners are a lot more hardcore–and there's also the reality that Disneyland locals experienced a similar system with MaxPass.
However, we're starting to receive more questions about the DLR incarnation, and added details are starting to trickle in, so we have an update. This is going to be a hot topic in the days, weeks, and months to come, and we want to be able to easily find and answer as many reader comments as possible. With that in mind, here's our work-in-progress FAQ to Genie+ at Disneyland…
What happened to the free FastPass system?
Paper FastPass has headed to Yesterland. In addition to replacing the paid MaxPass, the free FastPass is also permanently retired at Disneyland. Genie+ is the permanent replacement for both.
What are Lightning Lanes, the paid Genie+ service, free Genie feature, and individual or a la carte attraction selections?
Disney Genie (Free) – A feature in the Disneyland app that's basically a personalized itinerary feature. Think of it as Disney's answer to Google Maps–if Google Maps told you to drive your car into a lake every 5 minutes–it tells you where to go, but doesn't offer you any line-skipping.
Disney Genie+ (Paid) – This provides priority access to 19 attractions at Disneyland and DCA. You choose the next available time to arrive, and can make one selection at a time throughout the day. Genie+ costs $20 per day and also includes audio experiences and unlimited PhotoPass downloads from your day at Disneyland Resort.
Individual Lightning Lanes (a la carte purchases) – Choose a specific time to arrive at up to 2 different highly demanded attractions and bypass the standby line. There are 3 attractions at Disneyland Resort offering this, and they are not included in Genie+. Pricing for this option varies by date and attraction.
Lightning Lanes (real world infrastructure) – The new name for FastPass entrances. These are the physical queues in the park through which Genie+ or Individual Lightning Lane purchases can bypass standby lines.
Which attractions are available for Individual Lightning Lane (ILL) purchase?
Here's the full official list of ILL attractions at Disneyland Resort:
Disneyland
Star Wars: Rise of the Resistance
Disney California Adventure
Radiator Springs Racers
WEB SLINGERS: A Spider-Man Adventure
Again, this trio of attractions is not available via the Genie+ service. Guests can only buy up to 2 (of the 3) Individual Lightning Lane selections per day.
Which attractions are available via the Genie+ service?
Here's the official Genie+ list of attractions at Disneyland Resort:
Disneyland
Autopia
Big Thunder Mountain Railroad
Buzz Lightyear Astro Blasters
Haunted Mansion
Indiana Jones Adventure
"it's a small world"
Matterhorn Bobsleds
Millennium Falcon: Smugglers Run
Roger Rabbit's Car Toon Spin
Space Mountain
Splash Mountain
Star Tours — The Adventures Continue
Disney California Adventure
Goofy's Sky School
Grizzly River Run
Guardians of the Galaxy — Mission: BREAKOUT!
Incredicoaster
Monsters, Inc. Mike & Sulley to the Rescue!
Soarin' Around the World
Toy Story Midway Mania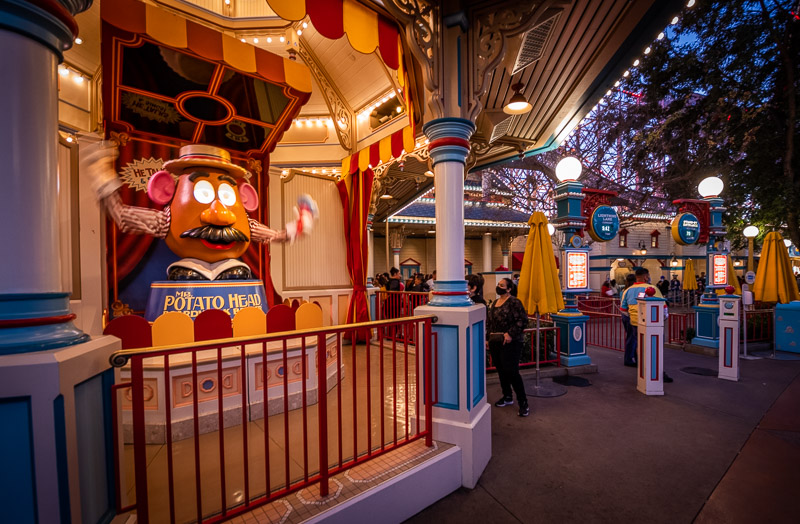 Which Genie+ selections are the "best" ones?
After extensively Genie+ and Lightning Lanes extensively at Disneyland Resort, we've ranked the best Genie+ Lightning Lane picks for both parks based upon time saved and how quickly return times fill up and run out. This is helpful for choosing the order to book your ride reservations, especially on busier days at Disneyland. Here are the lists for each:
In addition to consulting these lists prior to making your Genie+ Lightning Lane selections, we'd recommend following a savvy rope drop strategy and good itinerary. There are a lot of great attractions at Disneyland Resort that do not have Lightning Lanes, and you'll want to beat the crowds to enjoy low wait times at those.
Is Genie+ worth the money at Disneyland and/or DCA? 
We think so, especially if you use it smartly.
We Did Every Genie+ Ride at Disneyland & DCA In A Day covers how we did 32 attractions in a single day, and how you can achieve similar "success" by leveraging Genie+ plus sound strategy. It's really not that difficult–much easier than at Walt Disney World!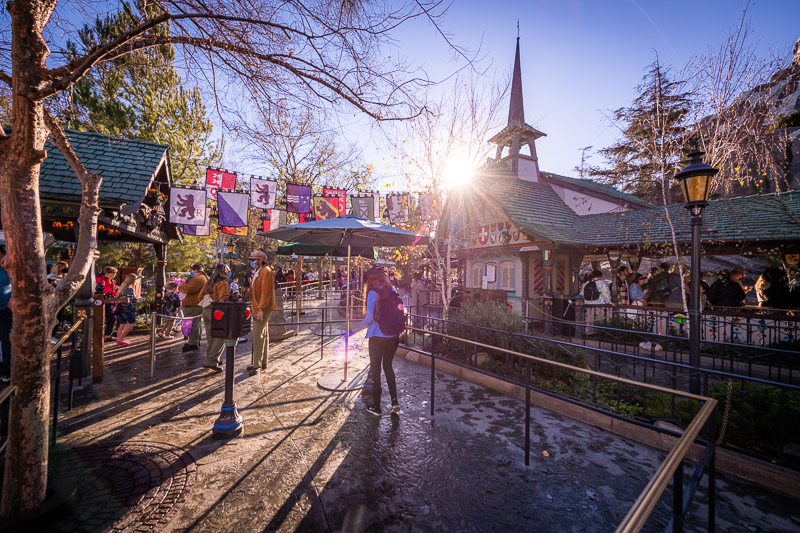 Can we purchase both Genie+ and individual Lightning Lane access?
Yes.
Since there is no overlap between what's covered by Genie+ and by the individual or a la carte line-skipping, you may purchase both.
Can a time slot be selected for Individual Lightning Lane returns?
No.
Unlike at Walt Disney World, Individual Lightning Lane purchases at Disneyland do not allow the selection of a time slot—it's the next available time for those, just like Genie+ Lightning Lane selections.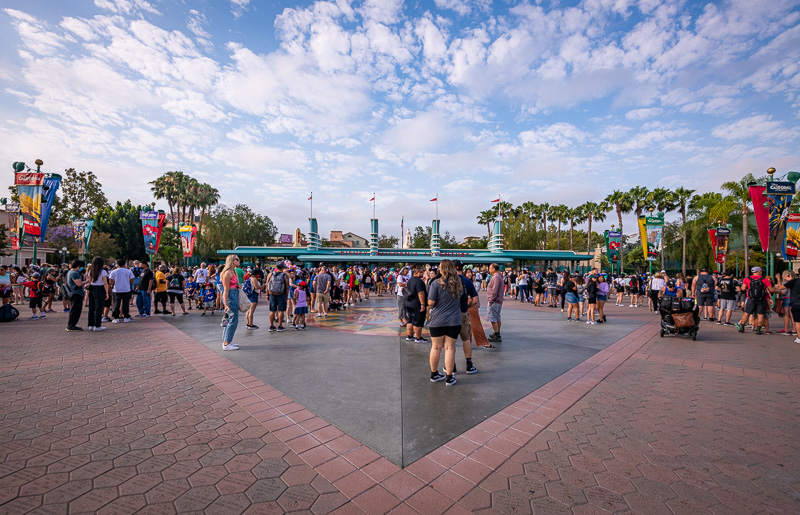 When can we buy Genie+ or Individual Lightning Lanes?
At Disneyland Resort, you must purchase Genie+ and make your Lightning Lane reservations after you enter one of the parks. This is true for both Genie+ and Individual Lightning Lanes.
You can also purchase Genie+ prior to visiting as a length-of-visit ticket add-on. This is possible via Disneyland.com, authorized third party ticket sellers, or travel agents. See our Guide to Discount Disneyland Tickets for recommendations.
When can guests be able to make Genie+ or Individual Lightning Lane selections?
Disneyland guests are be able to make their first Genie+ selection or Individual Lightning Lane purchase upon entering the park. Unlike Walt Disney World, nothing can be booked at 7 am. It's all once inside the park, and there's no on-site advantage.
This works exactly how MaxPass worked, meaning that you can make reservations immediately upon scanning into the turnstiles. Even if the park is not yet officially open or you leave, you'll be able to make reservations.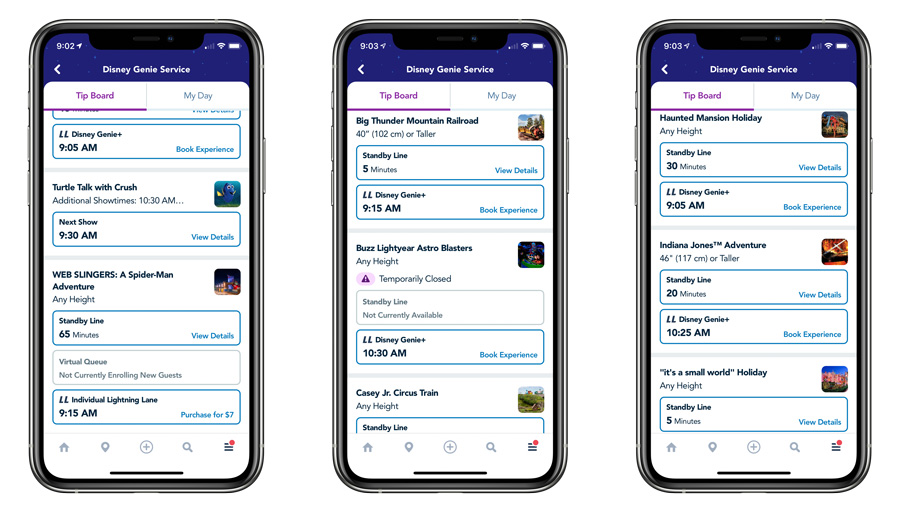 How many Individual Lightning Lane attraction reservations can each guest book per day?
Two, and those reservations must be at different attractions. (In other words, no doing Star Wars: Rise of the Resistance–or anything else–twice.)
What do Individual Lightning Lane attractions cost at Disneyland?
The starting price is $7 per attraction, with the highest price being $20–for now. Our expectation is that Disneyland will have less success with ILLs, as the locals-heavy guest base makes charging higher prices less viable. (To that point, we wouldn't be surprised if the a la carte sales are not viable at all, but who knows–there's a lot of disposable income in Southern California.)
Can the same attraction be booked multiple times with the Genie+ service at Disneyland and DCA?
No, re-rides are not currently possible.
As with anything, this is subject to change as the system evolves. MaxPass did allow re-rides and had no issue, so we wouldn't be surprised to see this policy quietly change in California.
How many ride reservations can be made at a time with the Genie+ service?
Guests are able to make one reservation at a time–with the ability to make a subsequent reservation immediately upon tapping into an attraction.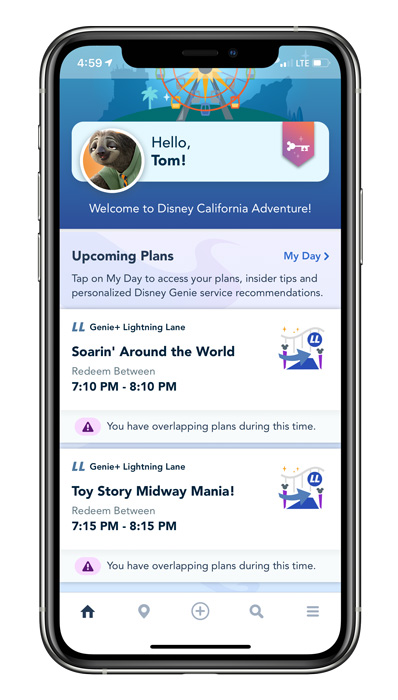 What if the return time for that selection is not until much later in the day?
Guests are able to make another reservation 120 minutes after their first reservation even if they have not yet redeemed the first Genie+ selection.
Does this mean I can actually hold multiple Genie+ selections simultaneously?
Yes, when using the 120 minute rule. Disneyland's official wording is confusing, but it's possible to stack Genie+ selections. In fact, there are quirks to the system that make it possible to accumulate Lightning Lane reservations via Genie+ later in the day.
What if the return times conflict with one another or other reservations?
Genie+ will not stop you from making overlapping plans, so you need to monitor this yourself and make sure it doesn't happen. It will simply give you a 'warning' message that you have overlapping plans (see screenshot above).
If a specific attraction's return time conflicts with your schedule, either select a different attraction with a return time that isn't problematic, or wait 5-10 minutes until the clock moves forward on return times and eliminates the overlap.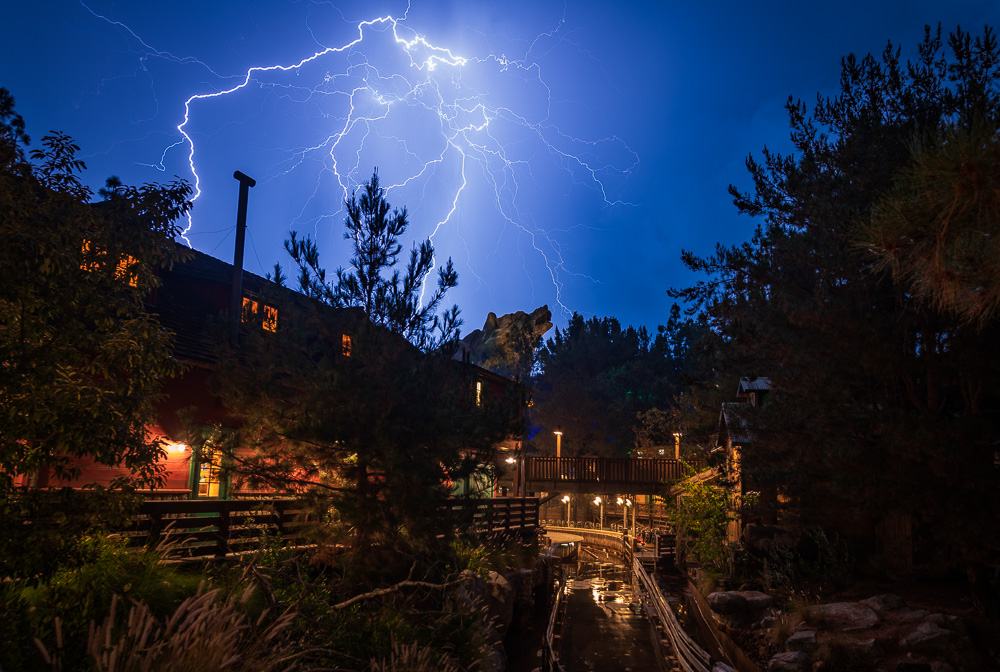 How do groups make Genie+ reservations?
Guests can link tickets and select family and friends in the Disneyland app during the ride reservation process.
Do Genie+ and/or individual Lightning Lane attractions work with Park Hopping?
Yes.
You are able to reserve attractions after 1 pm in a different park than the one where you started your day and have reservations. Park Hopping with Genie+ or individual Lightning Lane attraction purchases follow all the normal rules of all three (Park Hopping, Genie+ and Lightning Lanes).
What happens if I want to Park Hop but the return time for the attraction I book with Genie+ is before 1 pm?
Genie+ automatically accommodates Park Hopping. If the return time displayed is before 1 pm, the system automatically modifies your reservation window to 1-2 pm if you're not already in that park.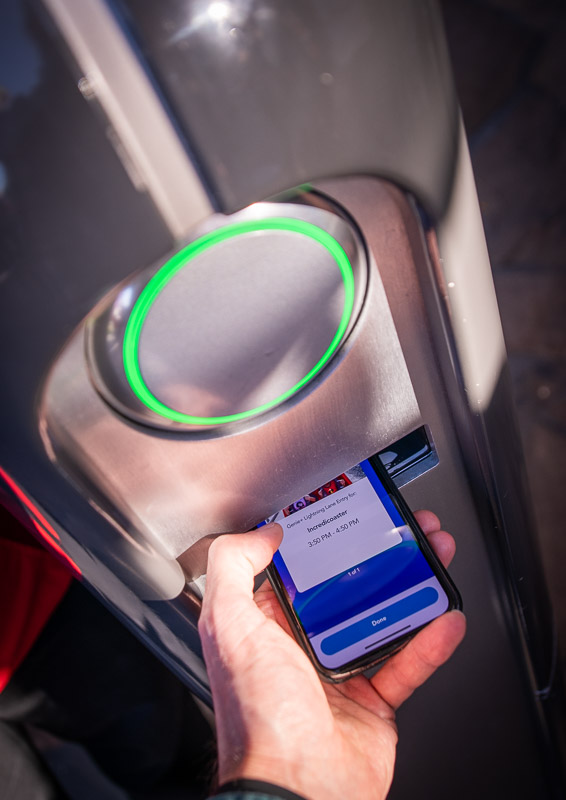 What if not everyone in our party wants to do a certain ride? 
You can choose to only make Genie+ reservations for some guests within your party.
Alternatively, you can make the reservation for everyone, and some people in your group can ride multiple times by scanning the redemption belonging to someone else (keeping in mind that each one is valid once). Certain thrill rides are too intense for Sarah, so I scan her Genie+ Lightning Lane entry code after using mine.
Can only certain guests within a party choose to purchase Individual Lightning Lanes?
Yes–same idea. You can choose among linked guests in the Disneyland app from whom you want to purchase the ILLs.
Can guests choose to purchase Genie+ only on specific days?
Yes.
Only buying on specific days will give you the option to have "commando touring" days and more laid back ones, instead of simply buying for the duration of a Disneyland ticket or vacation package–saving money in the process.
What's up with the virtual queues for Star Wars: Rise of the Resistance and Web Slingers: A Spider-Man Adventure?
Disneyland has shifted to standby lines for both attractions, but has reserved the ability to use the virtual queues for both when demand is high.
Thus far, this has yet to happen. Given that it didn't occur during the peak holiday weeks of Christmas and New Year's Eve, we doubt that the virtual queues will ever be brought back. At least, for these two rides.
What changes with standby lines?
Nothing.
Regular ole walk-up standby lines are still available on all attractions.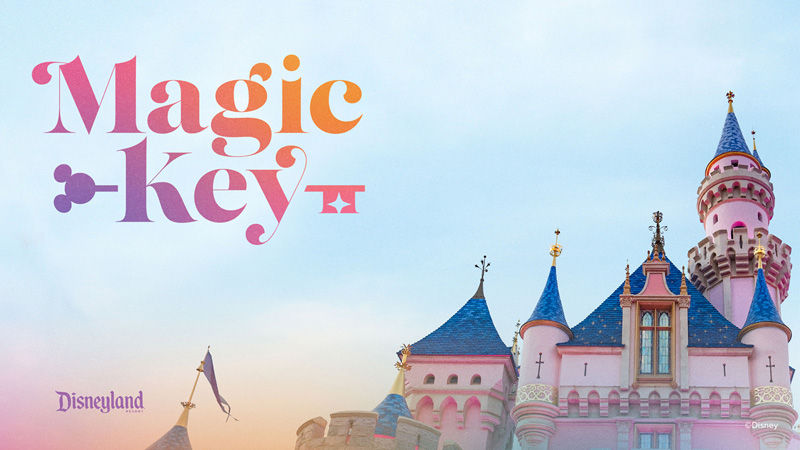 Can Magic Key Passholders be able to purchase Genie+ or individual Lightning Lane access at Disneyland?
Magic Keyholders are able to purchase Lightning Lane or add Genie+ on a per-day basis, just like regular theme park ticket holders.
At launch, there will not be a yearly add-on option for Genie+ for Disneyland Resort Magic Key Passholders. That seems likely to come at some point in the future, though.
Will there be Magic Key Passholder or DVC Member discounts?
No.
What will the yearly Genie+ access cost for APs?
Previously, MaxPass cost $125 for the year at Disneyland.
However, everything has gone up in price since then. Our guess for Genie+ is $149 to $199 for the year. It probably won't debut until later in 2022, though.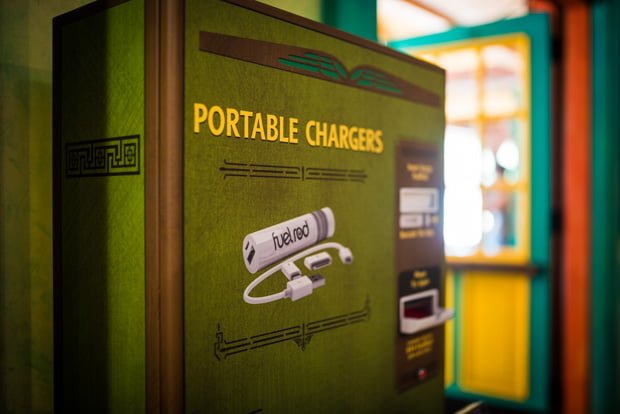 Will these systems force me to be glued to my phone all day?
Using the Genie systems will definitely require phone use throughout the day–there's no way around that. However, it could be as little as a couple of minutes every 90 to 120 minutes, or shortly after entering an attraction queue. It won't be necessary to be constantly on your phone.
With that said, just as before with MaxPass, it's likely that those guests who refresh the app compulsively and are diligent about making reservations will be at an advantage.
Will there be multiple options for time slots when booking Genie+ ride reservations?
At launch, the only option will be the next available time slot.
Will Genie+ work with MagicBands at Disneyland Resort?
Yes, but not until Spring 2022. Genie+ will work with the upcoming MagicBand+, which will launch at Disneyland in 2022.
With that said, MagicBands are not required. You can use your park tickets or phone instead if you don't have MagicBands.
Is refreshing and rebooking ride reservations possible with Genie+?
That was the case with MaxPass, but it's more challenging with Genie+ because there's no modify button–this means you have to cancel and rebook, which is a cumbersome process.
Generally speaking, expect features and functionality to be added to Genie+ over time. A "dumbed down" version of the services is available at first, and hopefully will be expanded in subsequent updates through the rest of 2022. That's probably for the best in the near-term, as fewer moving parts means less potential problems.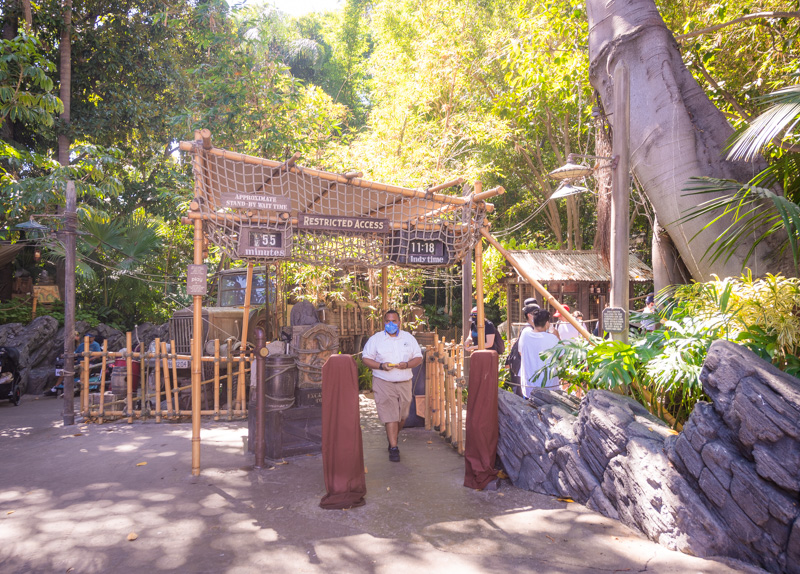 How does this impact Single Rider or Rider Switch?
It doesn't.
What changes are coming to DAS?
Two new features are coming to Disability Access Service (DAS). The full details can be found on Disneyland.com. Our apologies, but we don't have any additional details, insight, or speculation into how the DAS changes will work at Disneyland.
Keep in mind that even though Genie+ and Lightning Lanes have now launched in California, and there's still a lot of uncertainty and unknowns. Beyond that, Disney is clearly focused on the Walt Disney World version of the Genie system first as that's the money-maker. Disneyland's incarnation is on the backburner, and will likely evolve post-release based on the unique operational wrinkles of the California parks.
More details should come in as the system is tweaked following the launch of Genie+ and Lightning Lanes in California. In other words, we should know more as things 'settle' into place in early 2022 once the system has allowed for test and adjust. If you're visiting Disneyland and DCA any time in 2022, we'll continue to keep you posted, updating this FAQ as we learn more.
This should answer most of the questions that readers have been asking about the Genie+ app feature and Lightning Lanes that are coming to Disneyland and Disney California Adventure. In some cases, those "answers" are simply our best guesses and speculation, but in a lot of cases that's the best we can offer. There have been a lot of questions, so if we didn't address yours, we apologize. Please post in the comments below and we'll answer more as they're asked!
Planning a Southern California vacation? For park admission deals, read Tips for Saving Money on Disneyland Tickets. Learn about on-site and off-site hotels in our Anaheim Hotel Reviews & Rankings. For where to eat, check out our Disneyland Restaurant Reviews. For unique ideas of things that'll improve your trip, check out What to Pack for Disney. For comprehensive advice, consult our Disneyland Vacation Planning Guide. Finally, for guides beyond Disney, check out our Southern California Itineraries for day trips to Los Angeles, Laguna Beach, and tons of other places!
YOUR THOUGHTS
Have any questions we didn't answer with the above FAQ? Still confused by how Genie+ or Lightning Lanes work at Disneyland and DCA? Think this is an adequate replacement to the FastPass and MaxPass systems, or do you wish Disneyland would've just left those alone? Do you agree or disagree with our assessments? Other thoughts or concerns? Any questions we can help you answer? Hearing your feedback–even when you disagree with us–is both interesting to us and helpful to other readers, so please share your thoughts below in the comments!