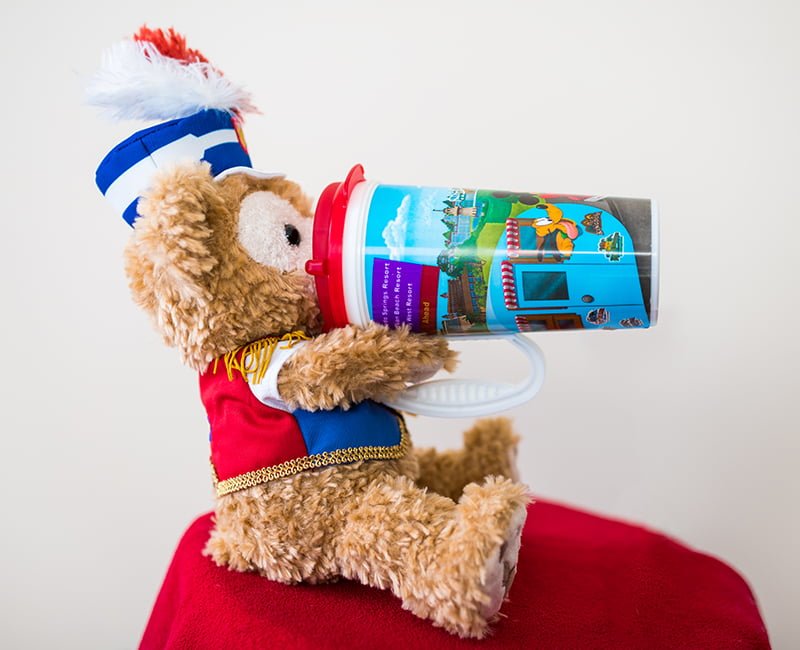 Walt Disney World uses refillable mugs at resort hotel food courts that offer unlimited refills. This guide offers pricing info, photos of designs, and answers frequently asked questions: whether RapidFill is worth the money, where to use these cups, and more. We also address some controversy surrounding them. (Updated May 15, 2022.)
As of Summer 2022, refillable mugs at Walt Disney World cost $19.99 and are valid for the length of stay. Normally, refillable mugs are included with the Disney Dining Plan, but that is temporarily suspended. See When Will the Disney Dining Plan Return at Walt Disney World? for more on that.
The RapidFill mug system is pretty simple: you buy the mug or have it provided to you via the Disney Dining Plan and then are entitled to unlimited refills at the Walt Disney World hotels for the duration of your stay. Self-serve beverage stations are once again available at select quick-service restaurants located in Walt Disney World theme parks and resort hotels.
Despite it being a seemingly straightforward topic, there are few topics that elicit as much discussion and impassioned debate as the refillable mugs. This article will take a examine the ethical and economical quandaries of the refillable mugs, look at the Rapid Fill system, and answer some frequently asked questions about the mugs.
Basically, this will be "More Than You Ever Wanted To Know About Refillable Mugs." (Our next article will be an in-depth piece titled, "Using the Handwashing Apparatuses in Restrooms: An Essay.") To compensate for the lengthy article about a relatively mundane topic, we're striking a goofy-while-informative tone with this post.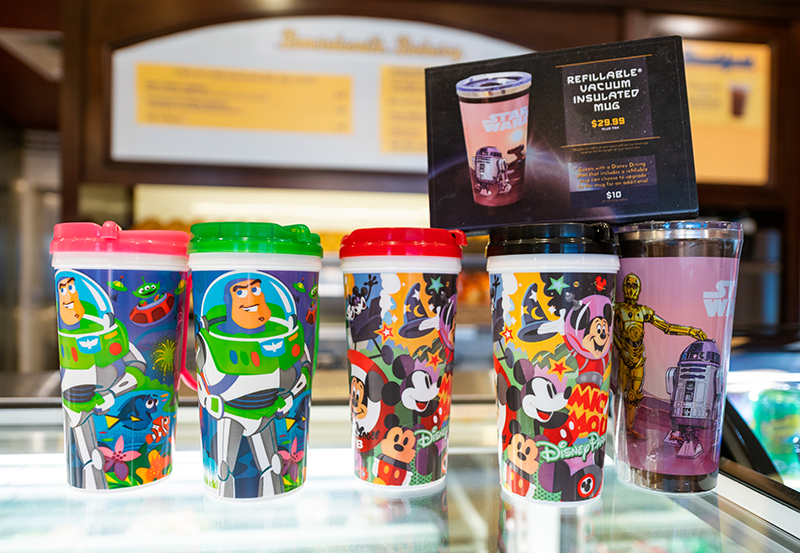 We're actually huge fans and collectors of older refillable mugs, and this post also gave us an excuse to bust out some of our favorite mugs for a photoshoot. (Thanks to Henry from Country Bear Jamboree and Duffy for their excellent work as models!)
As for the substance of this post, we'll start with the FAQ, followed by refillable mug photos, and finish with separate lessons in economics and ethics…
Frequently Asked Questions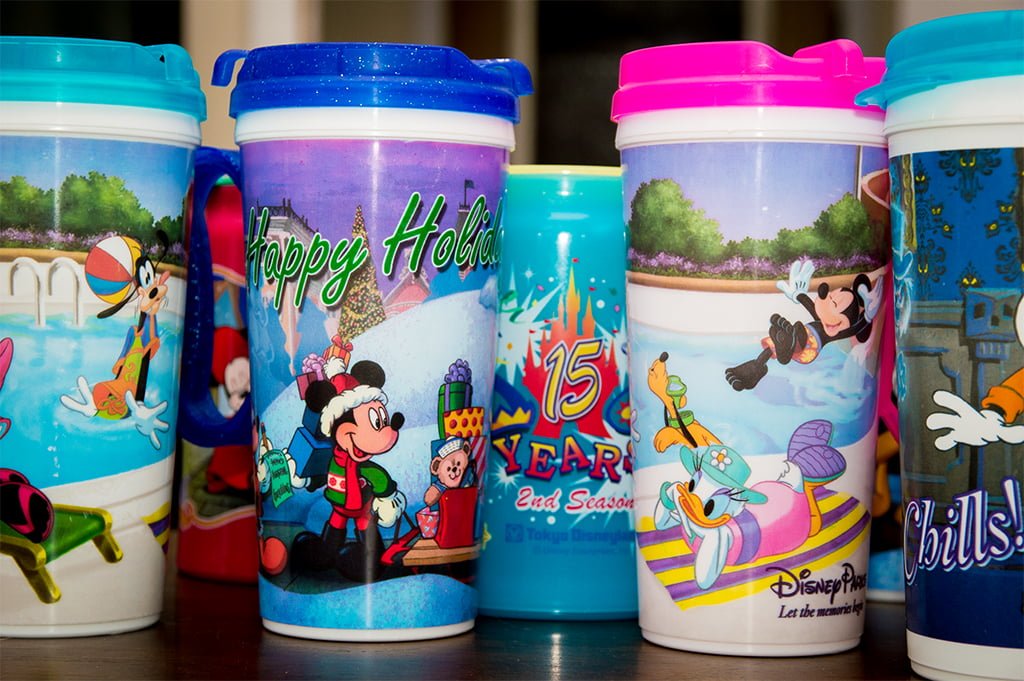 What is a refillable mug?
Beyond the obvious, this is a mug (see photos throughout this article) that can be purchased for a flat fee and refilled at designated counter service locations at Walt Disney World resort hotels. Current policy states that the mug is valid for unlimited refills for the duration of the trip during which the mug was purchased.
Note that refillable mugs may not be used in theme park restaurants, water parks, Disney Springs, or any other location that is not a Disney-owned hotel.
What can you put in the mug?
Bottomless margaritas! Just kidding…a cup like that would probably cost $2,754.99 at Walt Disney World. Coke products are available, as are hot chocolate, coffee, and tea. Milk is not available, nor are real juices.
How much do they hold?
Our mugs have "16" stamped on the bottom, which I believe indicates how many ounces the cups can hold. In actuality, they can hold about one can of soda. Pretty low capacity.
Can I take them with me to the parks and refill them there?
The answer to the first part of the question is yes, you can take them to the parks. The second part of the question has already been answered above–no, you can't refill them there. Despite this, we see people on a daily basis leaving the hotel with their refillable mugs. This is probably partly because they don't know the rules and partly because the refill stations at many hotels are "on the way" to the bus stop, making it easy to grab a drink for the ride.
To each their own, but this doesn't make much sense to me. Personally, the short term joy of having a Coke to start out my day doesn't outweigh the long term pain of having to lug the mug around all day. It would be one thing if Disney allowed them to be used in the parks, but for whatever reason, they do not. From our perspective, you're better off bringing a water bottle (with filter, since Florida water is funky) or asking for free cups of water from counter service restaurants if you are looking for a convenient and cost-effective way to stay hydrated in the parks.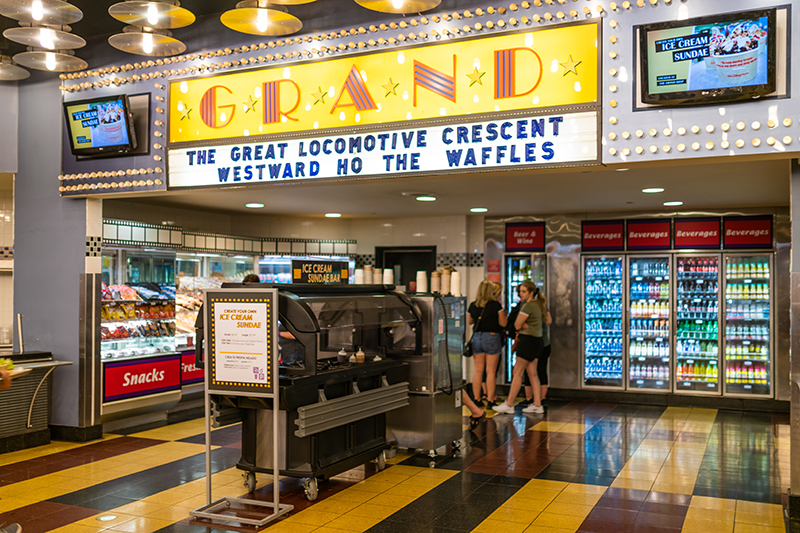 When I bought my mug, I was told it was good forever…is that not true?
Depends upon who told you. If it was a Cast Member (or it was printed on a sign near the mugs) and you relied on this information when making your purchase, forever is forever. If it was some random creeper standing next to the pile of mugs at Dixie Landings, your argument holds less water than one of these mugs.
The current policy on the mugs being valid only for the length of stay is irrelevant, as one party to a contract cannot unilaterally alter its terms after the fact without new consideration. As Walt Disney World now uses the Rapid Fill system, these older "forever" mugs are something Walt Disney World management will have to address. Chances are, they won't, though.
If no such policy was in place when you purchased your mug and you just feel like using the mug forever because no one can stop you and you think Disney is overpriced as it is…see the "Ethics" section below.
What if I'm staying at multiple resort hotels during my trip?
We've never had an issue using our mug at multiple resorts during a split stay when purchasing for our length of stay, but you might want to tell the Cast Member your final checkout date when purchasing the mug. If you run into issues at your second (or third) resort, someone can always fix it for you.
Can old mugs be brought back and reused? 
Unfortunately, no.
That answer doesn't change even if you're willing to pay again and just want to conserve plastic or you prefer one of your old mug designs. The explanation we've been given for this policy is that the Rapid Fill RFID chip (see below) either won't last long enough or there's no way to activate it again. Could be both.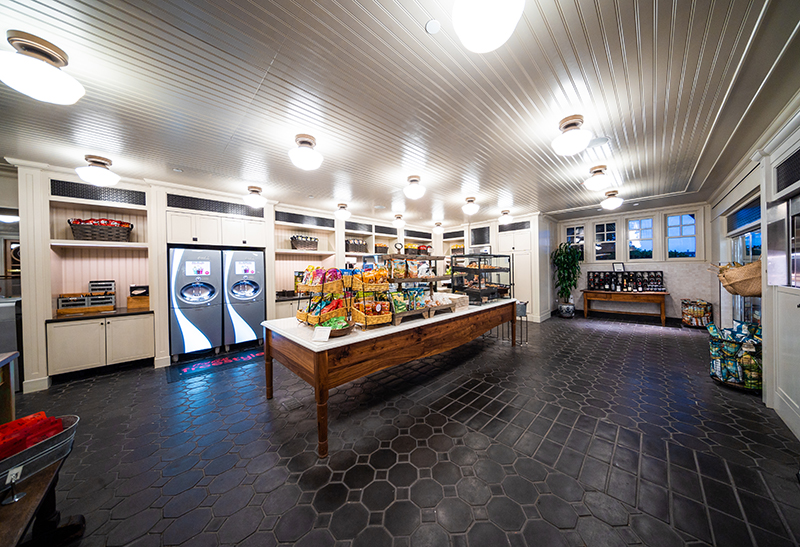 Where are the mugs available?
They're available at the food court and/or gift shop at every Disney-owned hotel at Walt Disney World. They aren't available at Shades of Green, the Swan, the Dolphin, third-party Disney Springs area hotels, or that random shady motel you found for $35/night up I-Drive.
Are the mugs microwavable?
I have no idea why this is such a common question (Americans love to microwave stuff?), but it is. According to Google, they are BOTH microwave and dishwasher safe. So party down! Woo hoo!!!
However, please keep in mind that Rapid Fill mugs have RFID chips in them (more on this below) and microwaving them might have negative consequences, so don't go wild microwaving your cup during your trip. Wait until you get home. Then you can microwave that sucker for hours on end.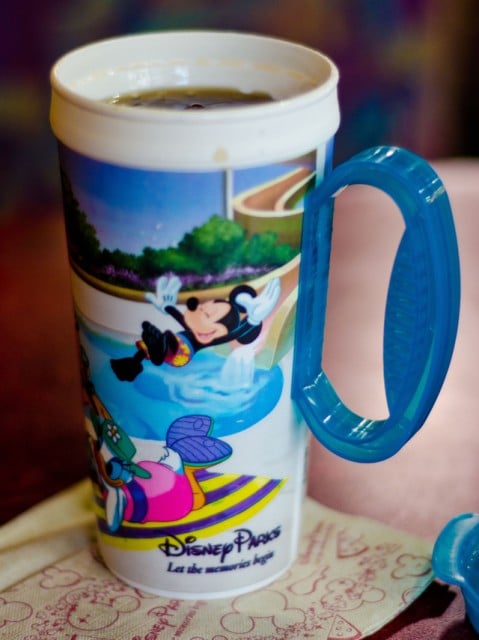 What is Rapid Fill?
Rapid Fill is the RFID-based refillable mug program at Walt Disney World that ensures that guests have "valid" refillable mugs before allowing the refill. If you've been to Typhoon Lagoon or Blizzard Beach in the last few years, you've probably seen something similar to this system in action.
Basically, it's technology to ensure that your cup is valid before beverage is dispensed. How much technology is too much technology for a soda machine? Well, "Rapid Fill" might be the answer to that question…
How does Rapid Fill work?
Magic. If that's not a good enough answer, when you set your cup down on the stand below the soda dispenser, some sort of RFID-science senses that it's there, and is valid. At that time, you can begin dispensing your soda. If you do something wrong, it won't dispense, and maybe (or maybe not) the Rapid Fill LCD screen will tell you what's wrong.
As we said in the last answer, a bit too much tech for a soda fountain…
How much filling is too rapid under Rapid Fill?
That might seem like nonsense, but if you're trying to fill your cup too rapidly, Rapid Fill won't allow you to fill your cup. You have to wait 2 minutes between each full refill. This is to prevent groups from sharing a single Rapid Fill mug: getting one drink for one person, pouring it into another cup, then quickly getting another, and so on.
Is Walt Disney World still using Rapid Fill?
Rumors have started to surface of hotel managers turning off the Rapid Fill system at various hotels. At present this is neither widespread at all hotels or even a majority of them. If Rapid Fill is turned off when you visit, the mugs still work–the RFID chip just isn't being read.
Apparently, Rapid Fill was viewed as too much of a hassle (having used this system ourselves on a few occasions, we wholeheartedly agree) and theft was still occurring, it was just more expensive drinks like hot chocolate being stolen instead of soda, as the Rapid Fill system didn't monitor those dispensers. (Gotta love the resourcefulness of soda thieves!) Time will tell if this is/was a temporary thing or not. It seems unlikely that individual hotel managers could opt out of the program, and equally unlikely that Disney would revert to the old system less than a year after rolling out the new one, but who knows.
Is the RFID chip in the Rapid Fill mug microwavable?
That's a good question. We haven't gotten around to doing comprehensive testing on the consequences of microwaving RFID chips, but we're betting they don't work after being microwaved. So that's a bummer for all you microwave aficionados out there.
Honestly, though, who wants to live in a world where you can't microwave your Disney cup? It'll only fry the RFID chip, and you won't need that chip once you get home from your vacation (when I assume you'll be doing the bulk of your microwaving activities…unless you really need to get your microwaving fix on vacation) so I say MICROWAVE AWAY!
Refillable Mug Designs (Summer 2022)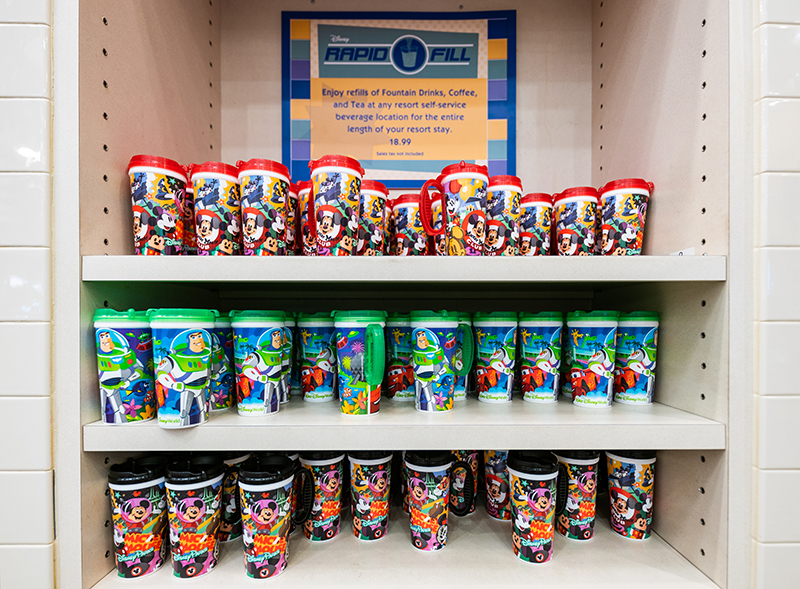 Over a decade ago, each Walt Disney World hotel had a different design on its refillable mug. This era of 'resort-specific mugs' is something we look back upon fondly as something of a golden age. That was followed by the dark ages, during which the same generic designs were used resort-wide, sometimes for multiple years without anything new.
Now, we are at a crossroads. Resort-specific mugs have not made their overdue and triumphant return, but we seem to be inching in that direction. In the last year, nearly a dozen different refillable mug styles have been released, including designs for Mickey Mouse's birthday, Star Wars, Pixar, and other characters.
New designs have also been released for the Halloween and holiday seasons the last two years. The artwork on some of these, especially the Christmas ones, has been quite nice.
All of these designs have been available throughout Walt Disney World, at every single counter service restaurant and food court in the hotels.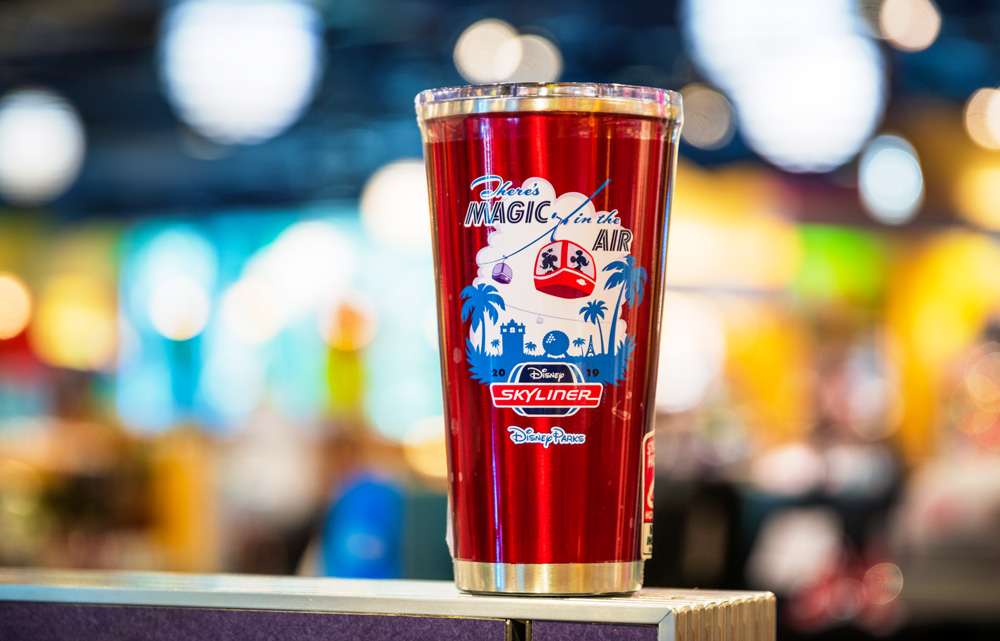 The latest development in the saga of Walt Disney world resort-specific refillable mugs is the debut of stainless steel Disney Skyliner gondola mugs. These mugs are vacuum insulated and can keep your drinks hot for up to 4 hours or cold for up to 12 hours, as the case may be.
Much like the MagicBand Upgrade Options for Walt Disney World hotel guests, these are available for an extra $10. Unlike the MagicBands, these are exclusive to Skyliner properties (Art of Animation, Pop Century, Caribbean Beach, and Riviera Resorts). In other words, these are semi-resort-specific! This mug is far nicer than the normal refillable mug, and well worth the $10 to us. (Especially given that we already have a ton of plastic refillable mugs from Walt Disney World.)
There's a similar stainless steel Star Wars mug featuring R2-D2, C-3PO, and Luke Skywalker next to his X-34 landspeeder on Tatooine. It's the same idea, but the design isn't nearly as cool in our opinion. To our knowledge, this Star Wars mug is available at all non-Skyliner resorts.
Note that these two stainless steel mugs aren't dishwasher or microwave safe. So unlike the regular refillable mugs at Walt Disney World, these are not suitable for a microwave (or dishwashing) party. Additionally, their availability is now hit or miss, as they're a couple of years old. We've seen them at a few resorts recently, but not many.
Finally, there are two new mugs for Walt Disney World's 50th Anniversary. These were released last year and both are now available at every single hotel. One design is pictured above, and features a ton of identifiable resorts, transportation, icons from the parks, and Mickey & Minnie's Runaway Railway.
No deep cut nods to the past here, but a solid lineup of fun visuals that are arranged in a clever way. I really like what's represented here and the visual style, but I'd give a slight edge to the second mug…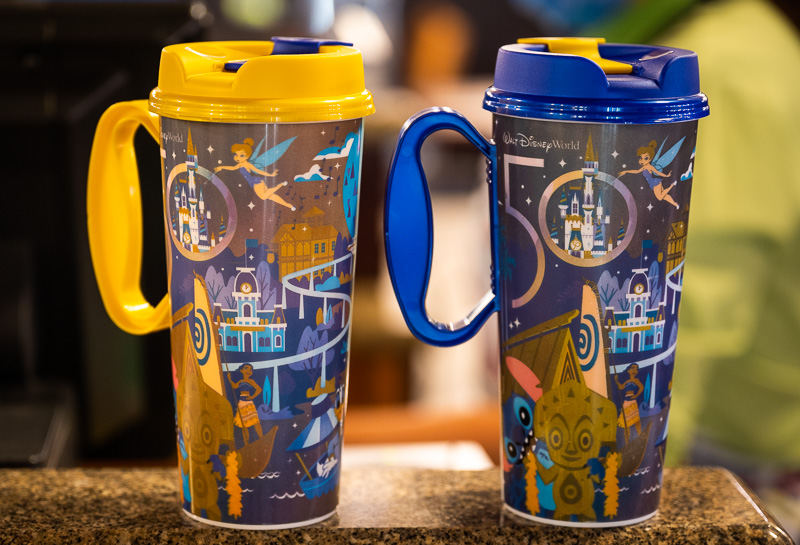 The other is similar in style, with a mix of characters, resorts, and nods to the past. Highlights include the Tiki Shrug statue from the Polynesian, Plaza Swan Boat, and Sea Serpent from the Electrical Water Pageant.
We really like both of this, and definitely plan on picking them up at some point during the next 18 months. Haven't done it yet, as we're optimistic that the Disney Dining Plan will be back soon, and we'd rather wait for that and get them for "free" rather than dropping $40 on the pair now, and then ending up with another several more in a few months.
The latest development as of Summer 2022 is that newly stocked 50th Anniversary refillable mugs now have Mickey Mouse lids. This is a really fun feature that makes them even more uniquely Disney, and we're big fans. About the only minor quibble is that drinking out of this can be a little awkward given the way that the Mickey Mouse head flips out. Very minor criticism, though.
These Mickey Mouse lids are in the process of being rolled out at Walt Disney World, with a mix of old lids (left) and new lids (right) at the resorts right now. In spot-checking this week, we've found that every resort has at least some of the Mickey lids. So you should haven't any trouble finding them if you're visiting this summer. (Finding the regular lids could be a challenge.)
Our hope is that these new 50th Anniversary mugs prove to be a huge hit, and Walt Disney World follows these mugs up with a new line of resort-specific mugs or deeper cuts for the World's Most Magical Celebration. With several new designs in the last few years, it sure seems like we're (finally) heading back in that direction!
Economics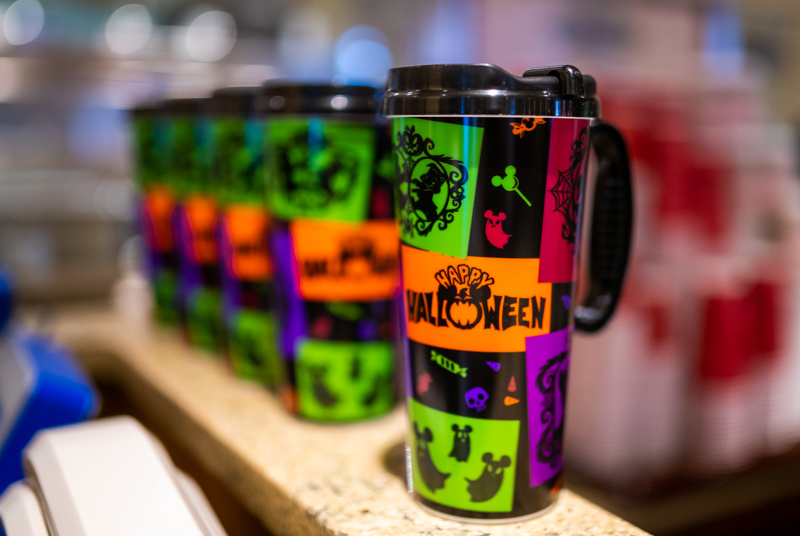 I think one of the big reasons why these mugs have so many "ethical dilemmas" associated with them is because people realize they are not a good value, and because of that, people want to "force" more bang for their buck.
Keeping in mind that these mugs cost about $20 after tax (for an average vacation) and a regular sized soda at Walt Disney World is about $3, you'd have to purchase over 6 drinks on separate occasions (since you can refill the paper cup on the same visit) at your hotel to "break even." To reiterate, this is just drinks at your hotel.
Since we don't recommend taking the refillable mug to the park with you (something you can do with a paper cup since you can throw it away when you're done with it), this means getting up early 6 days of your trip and filling your mug up and taking it back to your room, or using the mug at the pool, etc. Five or six days of use may not seem like much, but in practice, for a lot of people it is.
There's also the argument that the refillable mugs have value as a souvenir, but I can't imagine that this is the souvenir many people would buy if given the choice. Walt Disney World has some seriously great merchandise, and these mugs simply aren't that cool.
If you're really into saving, the most economical thing to do is buy a few two liters of soda and call it a day. Even at a high price of $2 per bottle, a two liter is a much better value than the refillable mug. There are approximately 4.2 "mugs' worth" of soda in each two liter.
You could buy ~40 "mugs' worth" of soda via two liters for the same price as one single refillable mug. Unless you like to seriously tweak on caffeine, chances are that you won't be drinking 40 refillable mugs of soda on your vacation. Of course, bringing or buying two liters isn't as convenient as buying the mugs, but still…
If the mugs are included with the Disney Dining Plan, that's another story altogether. Elsewhere, we address that in the economics of the Disney Dining Plan versus paying out of pocket.
Ethics
Ethics is the area of philosophy concerning the moral concepts of right and wrong. I took a number of classes on ethics in college, and I can't really say I view refillable mugs as an interesting area of ethics. The "ethical" debate surrounding refillable mugs is essentially whether it's morally okay to bring back your refillable mugs from past trips to reuse on subsequent trips despite Disney's stated policy that the mugs are valid for the length of your stay.
Someone with a serious interest in ethics might look at the refillable mugs debate as an interesting case study in the field, but I am not that person. True ethical concepts are nuanced, subjective, and not nearly as cut and dry as either side of this little online spat would like to think them. Sorry to disappoint, but I don't really care what people do with their refillable mugs.
There are a lot of problems in the world, and I don't see Walt Disney World's insignificant lost revenue on soda via this loophole as something that is in any way worth my attention as a third party who has no vested interest in the situation. Disney could have easily closed years ago if it so chose–and did briefly with the fully-enabled Rapid Fill system, but they've since rolled that back.
It's not even a blip on my radar. It's more interesting to me that people get so worked up over something in which they have no vested interest. Even the Disney stockholders out there are at most losing $.000001 per year as a result of the aggregate of the lost soda revenue.
Feel free to argue amongst yourselves about this incredibly significant moral issue in the comments if you feel so inclined. Remember to stand firm in your convictions: either re-using refillable mugs makes someone on par with a bank robber or it makes them the Robin Hood of soda. There is no place for cool heads in this discussion. Use outlandish analogies! Personally attack your opponents! Make ridiculous assumptions! Disregard logic! Condescend as much as possible! 😉
Planning a Walt Disney World trip? Learn about hotels on our Walt Disney World Hotels Reviews page. For where to eat, read our Walt Disney World Restaurant Reviews. To save money on tickets or determine which type to buy, read our Tips for Saving Money on Walt Disney World Tickets post. Our What to Pack for Disney Trips post takes a unique look at clever items to take. For what to do and when to do it, our Walt Disney World Ride Guides will help. For comprehensive advice, the best place to start is our Walt Disney World Trip Planning Guide for everything you need to know!
Your Thoughts…
What do you think about Disney's current refillable mug system? What about Rapid Fill? Do you think these refillable mugs are "worth it" to purchase out of pocket? Hoping resort-specific mugs make a comeback? Any remaining questions about how refillable mugs work at Walt Disney World? Share your thoughts in the comments…but if you do go down the ethical road, please keep it civil.