Walt Disney World has announced a Christmas stage show and other entertainment will return to Magic Kingdom and Animal Kingdom this holiday season. This post will cover the details and what else you might expect from live entertainment for the rest of this year and in 2022.
The news begins with Disney Very Merriest After Hours, the separately-ticketed event at Magic Kingdom taking place on 24 select nights from November 8 through December 21, 2021 from 9 pm until 1 am. This event has been controversial with Walt Disney World fans, as its starting price is $169 per ticket. Most dates–including every single night after November 19, are priced at or above $209 per ticket. (See our Guide to Disney Very Merriest After Hours for more info.)
We've been doing a running update in our weekly-ish Walt Disney World news & rumor roundups, and it's still the case that not a single Disney Very Merriest After Hours event has sold out. The first date is less than a month away now. By this point, most Disney After Hours Boo Bash dates had sold out. The same would normally be true for Mickey's Very Merry Christmas Party, which usually sees higher demand than its Halloween counterpart.
Anyway, Walt Disney World announced that "Mickey & Minnie's Very Merry Memories" will be joining the lineup of event-exclusive entertainment at Disney Very Merriest After Hours. Guests attending the party will be able to watch Mickey and his pals in a celebration filled with music, dancing and nostalgic yuletide fun.
Presented on the Cinderella Castle Forecourt Stage, the show features nods to classic Magic Kingdom holiday stage shows, including "Mickey's Twas the Night Before Christmas," "Celebrate the Season," and "Mickey's Most Merriest Celebration."
Disney Very Merriest After Hours attendees can also expect lower wait times for popular attractions. There are also special attraction holiday overlays, including Monsters Inc. Laugh Floor and Jingle Cruise. In addition to that, there's the following entertainment:
"Mickey's Once Upon a Christmastime Parade" – Santa Claus, elves, reindeer and other friends from the North Pole join Mickey Mouse and his pals for the happiest holiday parade.
"Minnie's Wonderful Christmastime Fireworks" – Minnie Mouse invites everyone to come together in a celebration of the magic of Christmas. The show features fireworks, projections and beloved holiday songs.
Club Tinsel - Rockettower Plaza Stage in Tomorrowland becomes the coolest place to get down when denizens of the North Pole drop by for the holiday cheeriest dance party in the whole Magic Kingdom!
The Reindeer Wranglers - This group bring their holiday hoedown to the streets of Frontierland, performing seasonal songs with a distinctive country flair.
Disney Enchantment will still be performed nightly on Disney Very Merriest After Hours nights, meaning that guests who are not attending the party will get to conclude their day in Magic Kingdom with those fireworks. After Hours attendees will thus be able to double-dip on fireworks if they arrive early for the event mix-in prior to Disney Enchantment.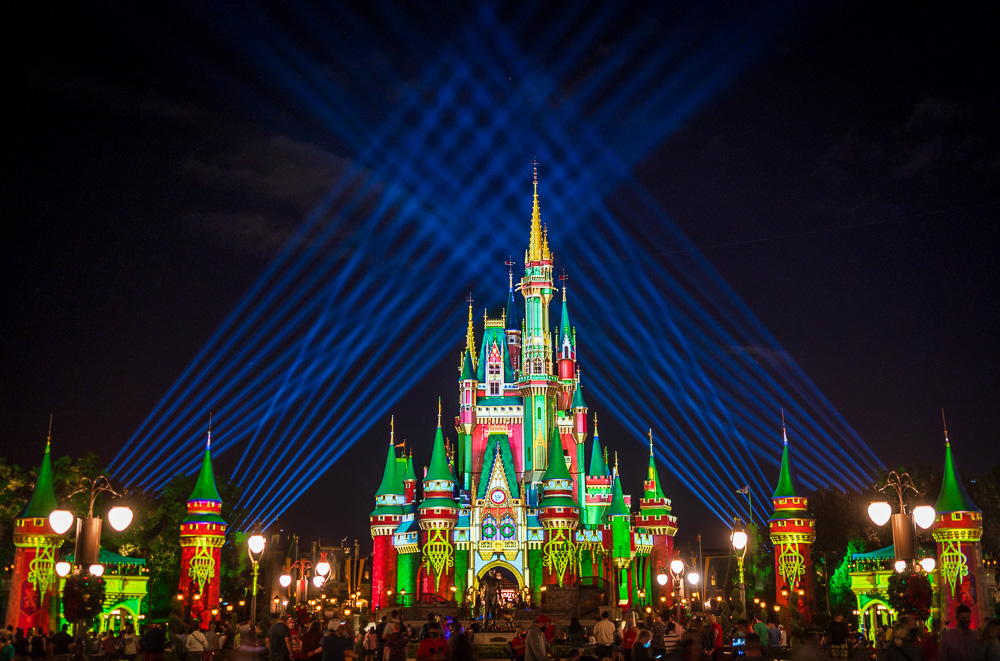 Guests visiting Magic Kingdom during regular operating hours can still partake in some holiday fun. On evenings when Disney Very Merriest After Hours is not being held, Cinderella Castle takes on a festive appearance with special projection effects.
Throughout the evening, holiday imagery will transform Cinderella Castle with a rotating series of designs, followed by a transition in which the Magic Kingdom park icon will do its Beacon of Magic thing, with an EARidescent glow.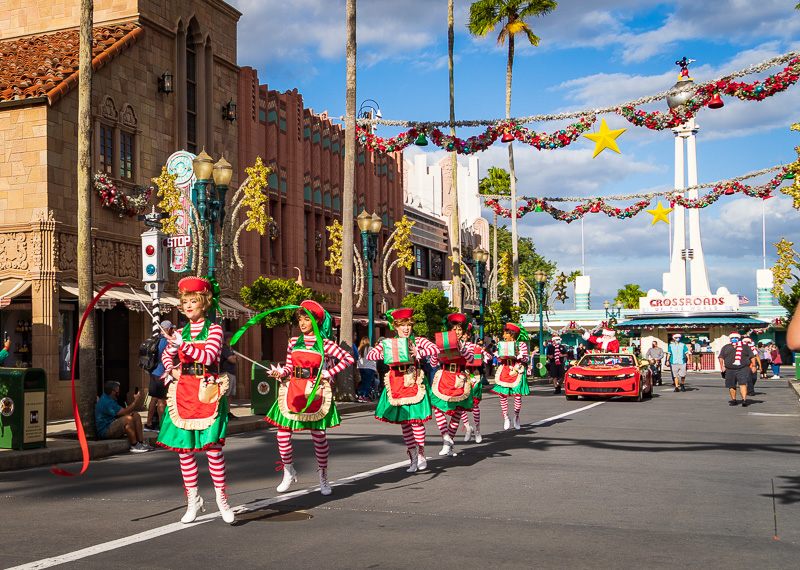 Santa Claus will make special appearances across Walt Disney World through December 24, 2021. Catch sight of Jolly Old St. Nick  cruising down Hollywood Blvd. at Disney's Hollywood Studios during the Santa Claus Merry Motorcade.
Head over to Disney's Animal Kingdom to spot Santa floating down Discovery River, on a festive flotilla. Santa Claus will also pay visits to Magic Kingdom, Epcot, and Disney Springs, where guests will have individualized time to wave hello and share their Christmas wishes.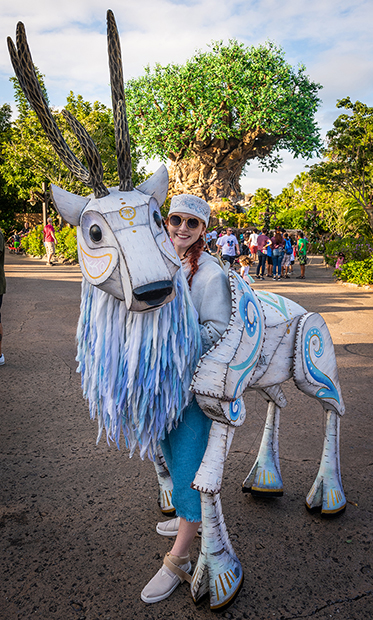 As a part of the Christmas 2021 entertainment, Animal Kingdom's Discovery Island will spring to life with a Merry Menagerie of winter animals, realized in the form of life-size, artisan-sculpted puppets.
Reindeer, foxes, polar bears, penguins and more interact with guests, accompanied by serenading musicians as they create a whimsical display and playful atmosphere for guests of all ages to enjoy. (YES!!!!!!)
As guests explore Animal Kingdom, they may spot Goofy, Chip 'n' Dale, and other characters bringing their own style of festive flair to the Discovery River, as they jingle through the jungle to the rhythm of the holidays.
And on nights when the park is open after dark, the Tree of Life will display a series of wintry tales, complemented by a familiar and heartwarming holiday-inspired musical score. This will alternate with the Beacons of Magic on Tree of Life, which will (presumably) be doing its thing whenever the Tree of Life Winter Awakenings are not occurring.
Over at Disney's Hollywood Studios, the company has again reiterated that Sunset Seasons Greetings will return, and will also alternate with the Beacons of Magic.
Likewise, "For the First Time in Forever: A Frozen Sing-Along Celebration" will add a festive finale, featuring everyone's favorite snowman, Olaf, and celebratory songs of the season.
Finally, the Epcot International Festival of the Holidays is where time-honored traditions come alive through music, dance, and "the storytelling heritage of the countries of World Showcase." Beginning on November 26 and running through December 30, you can celebrate with a spirited array of seasonal entertainment.
We've quoted the "storytelling heritage" part because that hints at what we previously reported–the Holiday Storytellers will return to World Showcase this year so long as Disney can fill those roles.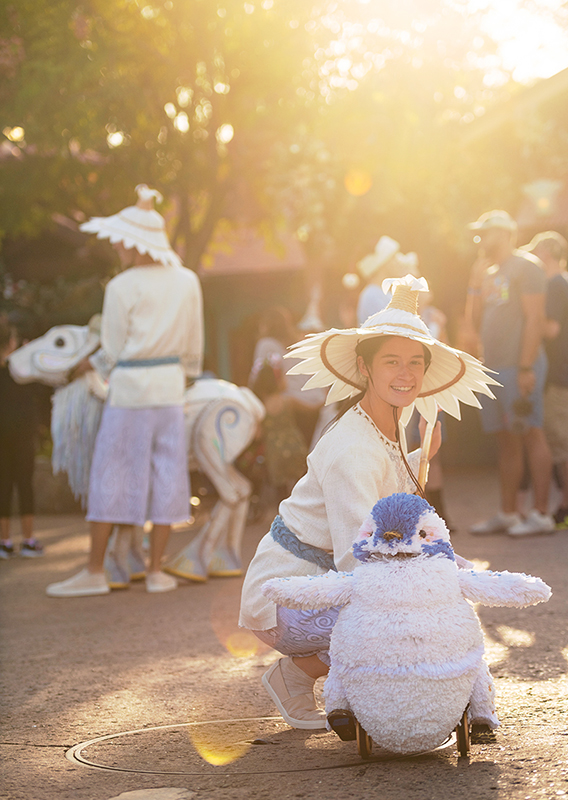 In terms of other commentary, a few things stand out here.
First, we also reported at the end of last month that the Merry Menagerie would return this year. Nothing is a done deal until Walt Disney World confirms it, so we're absolutely ecstatic about this official announcement.
For those who never saw it, Merry Menagerie debuted in 2019. At the time, we effusively praised the puppeteers, saying Merry Menagerie is Walt Disney World's best new thing for Christmas in years, and recommending everyone check out the underrated gem.
We are absolutely over the moon. We feared Merry Menagerie would never come back–becoming a one and done lost to Walt Disney World history. Do yourself a favor and plan some time on Discovery Island in the late afternoon (or whenever–that's just when I like to watch it) to enjoy Merry Menagerie. You won't regret it!
Next, there's the Santa Claus news. At first blush, this appears to simply confirm what we already knew. However, if you look closely, at Magic Kingdom, Epcot, and Disney Springs guests will have "individualized time" to wave hello and share their Christmas wishes.
This is the same verbiage that Walt Disney World used in the announcement that Modified Indoor Meet & Greets are Returning in November 2021. It's safe to say that Santa Claus will be among these physically distanced meet & greets, albeit not necessarily indoors.
Moving to Magic Kingdom, where we now have "Mickey & Minnie's Very Merry Memories" added to Disney Very Merriest After Hours. Back when the "Minnie's Wonderful Christmastime Fireworks" were added, I wrote that the event was starting to feel more and more like Mickey's Very Merry Christmas Party.
At the time, my position was that entertainment and other details felt very much like an internal "compromise" between competing factions in Walt Disney World management. Maybe some leaders or divisions wanted an After Hours event and some wanted Mickey's Very Merry Christmas Party–so this is what we got. A combination of the two events and, it would seem, the cost of the two added together for one outrageously priced evening. Anyone else thinking the same thing right about now?
From the outside, you might surmise that "Mickey & Minnie's Very Merry Memories" is being added due to low ticket sales. That was my initial guess, and may be part of the motivation. However, in hearing more entertainment rumors recently, it sounds like this is part of an urgent push to recall as many performers as possible in the near future.
In a nutshell, there's the concern among some leaders at Walt Disney World that if more performers aren't recalled now, they won't be available when they're needed in 2022. Think of it as similar to the staffing situation as a whole that has played out throughout this year, but with more specialized roles. (Even this might be too little, too late.)
It's savvy of Walt Disney World to bill "Mickey & Minnie's Very Merry Memories" as a tribute show of sorts that pays homage to Christmas classics from "Mickey's Twas the Night Before Christmas," "Celebrate the Season," and "Mickey's Most Merriest Celebration."
From what we understand, that's out of necessity, as simply bringing back "Mickey's Most Merriest Celebration" isn't possible due to modifications required to appease the Actors' Equity Association, the union that represents performers at Walt Disney World.
The Actors' Equity Association (AEA) has created strict standards for the resumption of many productions all around the country. The "standoff" between Disney and that union has been an ongoing and contentious issue throughout reopening, with posts last fall (here and here) discussing what was happening at the time.
We further elaborated on all of this in commentary to the recent announcement of the returns of a "Reimagined" Finding Nemo Musical at Animal Kingdom and Indiana Jones Epic Stunt Spectacular at Hollywood Studios.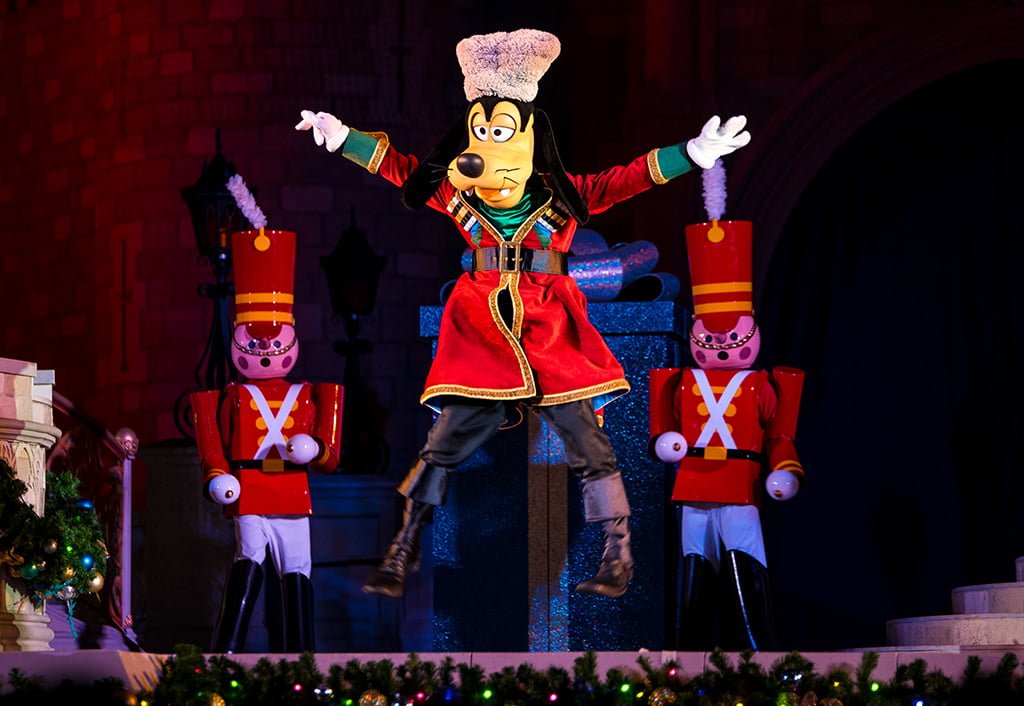 With that said, it's unclear to me what the issues could be given that "Mickey & Minnie's Very Merry Memories" will be held after the deadline for Cast Members to be vaccinated. All I know is that's the credibly-rumored cause of the changes.
My expectation is that the modifications will reduce the number of performers on stage and close contact, but that's just a guess. There are also back-of-house requirements that could impact the stage show.
Setting that aside, I actually like the idea of a tribute show. First, because it's Walt Disney World's 50th Anniversary and that type of thing should play well with the audience.
Second, because "Mickey's Most Merriest Celebration" is a mostly-excellent show with a couple of big weak points. ("Text Me Merry Christmas," I'm looking at you!) Cutting out some of that and replacing it with memorable selections from past stage shows could make this show a winner. I guess we shall see–my opinion won't be so favorable if that phone folly makes the cut.
Ultimately, another round of good news for Walt Disney World entertainment. Beyond everything covered here, it's my understanding that there's probably a surprise or two still on the horizon for Christmas 2021 at Walt Disney World.
Keep in mind that even if you're not planning on attending Disney Very Merriest After Hours, this is a positive development since those performers will be assigned elsewhere after the holiday season. In short, it should be a good few months for entertainment news, with the holiday season giving way to more announcements in early 2022 once the Christmas entertainment ends and regular shows and parades start returning!
Planning a Walt Disney World trip? Learn about hotels on our Walt Disney World Hotels Reviews page. For where to eat, read our Walt Disney World Restaurant Reviews. To save money on tickets or determine which type to buy, read our Tips for Saving Money on Walt Disney World Tickets post. Our What to Pack for Disney Trips post takes a unique look at clever items to take. For what to do and when to do it, our Walt Disney World Ride Guides will help. For comprehensive advice, the best place to start is our Walt Disney World Trip Planning Guide for everything you need to know!
YOUR THOUGHTS
What do you think about Walt Disney World's announcement of more Christmas entertainment returning to Magic Kingdom and Animal Kingdom? Excited for Merry Menagerie or "Mickey & Minnie's Very Merry Memories"? Disappointed that the latter is behind a pricey paywall, or that more entertainment hasn't returned already despite the crowds and prices? Hopeful that Walt Disney World still has some "surprises" up its sleeve and more is back by Christmas 2021, or do you agree that 2022 is more likely? Will you be attempting to visit Walt Disney World this year, or are you waiting until more is normal? Do you agree or disagree with our predictions? Any questions we can help you answer? Hearing your feedback—even when you disagree with us—is both interesting to us and helpful to other readers, so please share your thoughts below in the comments!