To write a list about the ten best restaurants in New York City is to call upon yourself a certain sense of doom and gloom. For one, there are so many to wade through, and then to choose from – think for a moment of every small patisserie hidden down an alleyway to the sprawling dining rooms that stand guard over Central Park. And then there's the personal opinion of every New Yorker and visitor – each with their own favorite fare and neighborhood gem. 
The Wine & Food Experience featuring Alex Guarnaschelli, Antoni Porowski, the Bella Twins and Ian Cauble is coming to Brooklyn on September 7! Purchase tickets today »
Now that we've all agreed it's fully impossible to write a list of the ten best restaurants in New York City, let's get down to business presenting you with a list of contenders for best restaurant. By no means is this list comprehensive, but it does offer a glimpse into New York's culinary greatness. From obvious front runners like Eleven Madison Park to power charged wine bars, such as Wildair, we're willing to bet that these restaurants will leave you supremely satisfied no matter your price point, location or crowd.
Below, we take a look at ten of the best New York City restaurants and break down exactly why you should add them to your list of musts on your visit to the Big Apple. 
---
---
Photo courtesy of Eric J. @ Yelp
Ever since Missy Robbins opened, restaurant reviewers have been raving that finally, she's finally cooking pasta again. Born into a family of hosts, travelers and cooks, Missy Robbins brings the best of Italy to Williamsburg where wood-fired seafood, hand-crafted pasta, classic Italian cocktails and warm hospitality come together to create a casual dining experience. Robbins says she found her Italian soul in her five years as Executive Chef at Spiaggia in Chicago. While focusing her skills on fine dining Italian she found her true passion for cooking in a deeper understanding of regional Italian cooking. If you come here and don't get the pasta, you're doing it all wrong.
Recommended for Best Restaurants because: It's nearly impossible to get a table – it's really that good.
Maria's expert tip: You can try squeezing in at the bar, but the chances are slim it'll happen. Reservations are a near-must – book at least 2 weeks in advance.
Read more about Lilia Ristorante →
---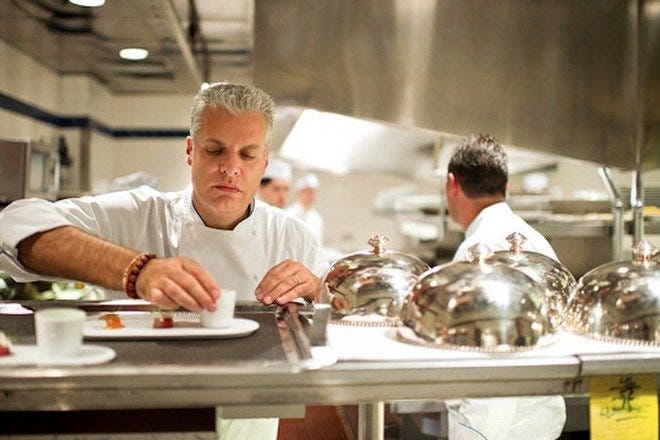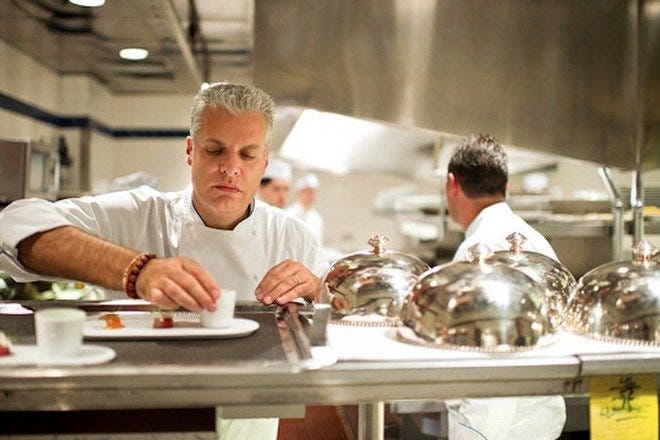 Photo courtesy of Eric Ribert, celebrity chef at Le Bernardin
There's something to be said for staying power, and Le Bernardin certainly delivers. Celebrity chef Eric Ripert has created a New York space that's romantic, refined and seductive, while still managing to infuse his French-Spanish influence into every corner. Le Bernardin, regarded by many as the best restaurant in NYC, has received more James Beard Awards than any other restaurant in the city and holds four New York Times stars, in addition to three Michelin stars. The food, as you might imagine, is impeccable. Simple preparations and respect for the ingredients trump any type of frou-frou experiments, though the cuisine still manages to shine with creativity that can only come from years of intense love and attention-to-detail. If you love seafood, put Le Bernardin at the very top of your culinary bucket list.
Recommended for Best Restaurants because: Le Bernardin is a once-in-a-lifetime dining experience that'll rock your world.
Andrea's expert tip: Dress to impress. Jackets are required for men, and while ties are preferred, they're not mandatory. Women should wear similarly dressy clothing.
Read more about Le Bernardin →
---
Photo courtesy of Claro
Claro is one of the hottest and most exciting restaurants to open in New York in recent memory, which makes it perfect for impressing that certain someone. In 2018, they were awarded a Michelin star for their take on Oaxacan cuisine mixed with a refinement that's all NYC. The corn for Claro's menu comes from farms that hand-pick the non-GMO heirloom varieties, and the restaurant makes everything by hand, including the masa, cheeses and moles. The meats (chorizo, beef cheek, heritage pork rib) and produce (dandelion, spring onion) are local and organic, and the mezcal list is one of the best in town.
Recommended for Best Restaurants because: Claro's take on Oaxacan cuisine earned it a well-deserved Michelin star in 2018.
Andrea's expert tip: Ask the bartender for a brief history lesson on the magic of mezcal.
Read more about Claro →
---
Photo courtesy of Keens Steakhouse
Unless it's freakishly low, or ridiculously lofty, a restaurant's ceiling probably isn't the first thing that draws your attention. At Keen's, it'll be all you can look at – that is until they bring your meal. Keens Steakhouse – established in 1885 – is one of New York's oldest and most revered eateries. It also happens to have the largest collection of churchwarden pipes in the world literally hanging from its rafters. The tradition stems from the days when travelers left their delicate pipes at their favorite inns until they returned. Today, Keen's is well known for its mutton chop – a deep cut of meat so succulent you'll wonder why its popularity ever waned.
Recommended for Best Restaurants because: Keens is a classic New York steakhouse that serves the meanest mutton chop around.
Andrea's expert tip: We know it's a steakhouse but go out on a limb and order the mutton chop.
Read more about Keens Steakhouse →
---
One of New York's most recognized restaurants, Gramercy Tavern is an old standby that functions as a delicious utility knife. You can dress it up or dress it down, visit on a random weekday or save it for a special occasion and it will mold itself to your exact state of mind. The NY Times Pete Wells awarded Gramercy Tavern three stars in 2016, nearly 22 years after it first opened. Why? For one, things here simply work. You know the service is going to be on par and the food irresistible. You also know that the kitchen will continue to innovate on everything from their $110 veggie tasting menu to their decadent desserts. An old dog can learn new tricks, and you, the diner, should reward (and relish) them.
Recommended for Best Restaurants because: As a classic that continues to innovate, Gramercy Tavern is simply one of the very best.
Andrea's expert tip: If you're looking for a low-key night, grab a seat at the tavern bar.
Read more about Gramercy Tavern →
---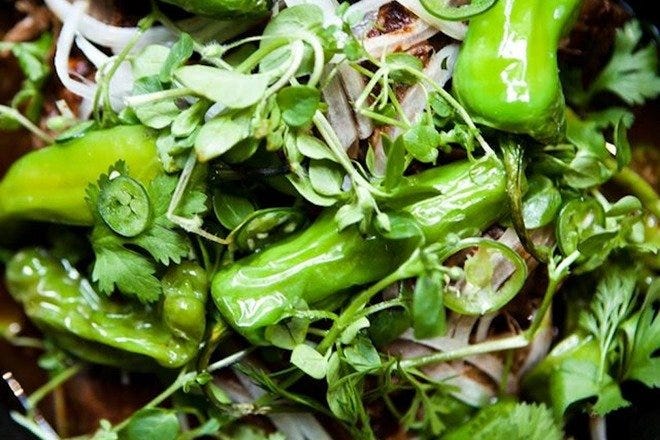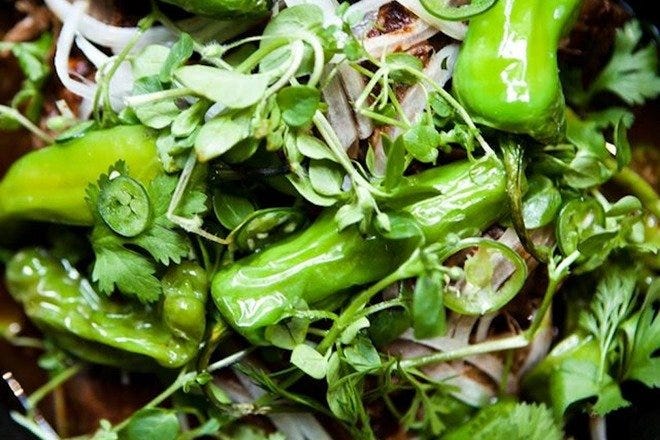 Photo courtesy of Cosme
Helmed by Executive Chef, Daniela Soto-Innes, an under-30-year-old force to be reckoned with, Enrique Olvera's Cosme burst onto the scene leaving New Yorkers clamoring for a seat. Olvera's Chef's Table episode featuring his Mexico City joint, Pujol, certainly didn't hurt his appeal, but the food at Cosme has proven to stand on its own. Take the duck carnitas, for example. Salted and hung for three days before being roasted and then slow-cooked overnight in duck fat and Mexican Coke, these aren't your typical tacos. This is modern Mexican food at its best – cool and comforting, while still keeping a keen eye on what makes New York different from Mexico City. Is this the best restaurant in New York right now? It may be.
Recommended for Best Restaurants because: Cosme is the hottest spot in town at the moment with a coveted seat at #25 on the 50 Best list.
Andrea's expert tip: For under $60, the duck carnitas are a must. They feed three people, making this almost the best high-end deal you can find.
Read more about Cosme →
---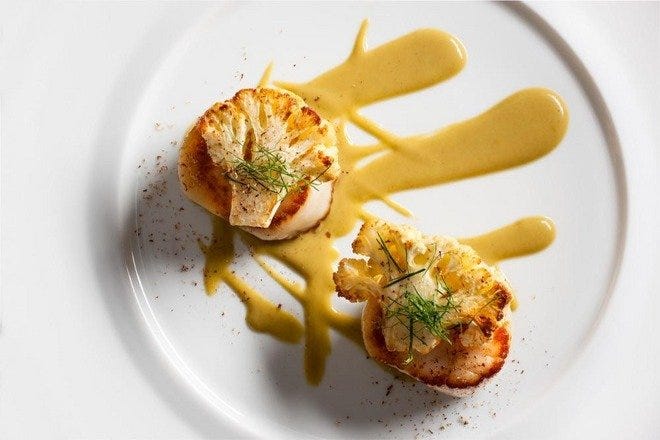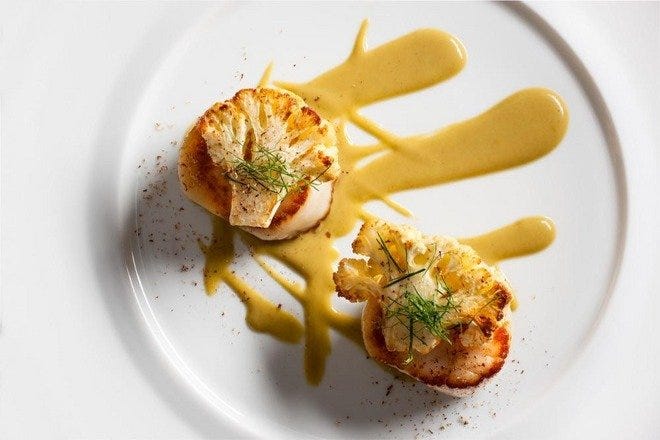 Photo courtesy of SinglePlatform
Celebrity chef Jean-Georges Vongerichten has a culinary empire that spans the globe, but his eponymous restaurant connected to the Upper West Side's Trump Hotel remains a gold standard for the chef's subtly Asian-inflected, French haute cuisine. His now-legendary tuna tartare and young garlic soup remain enormously popular with Harry Winston-wearing hotel guests, well-dressed ladies who lunch, and top-tier executives from the neighboring high-rise offices. Expect stalwart service and expense account-worthy cuisine while taking in the views of Central Park West and Columbus Circle from the dining room's floor-to-ceiling windows. Without interruption, Jean-Georges has held three Michelin stars since it opened its doors in 1997.
Recommended for Best Restaurants because: Jean-Georges is old-school style with a modern service twist. It's fancy without being pretentious.
Emily's expert tip: Try the 2-course lunch special for $58 if you aren't able to splurge for dinner.
Read more about Jean Georges →
---
Upon entering Sushi Yasuda, one is immediately aware of the absence of art, decorations, or anything that might attract the eye. It is minimalist to the extreme with bamboo-plank walls and open spaces. This simplicity is reflected in Chef Naomichi Yasuda's cuisine as well. The fillets of fish are custom-cut for each order, as pre-cut fish begins to break down almost immediately, losing some of its delicate textures and flavors. The pure and clean dishes are built out of respect for tradition have helped this restaurant to earn a three-star review in the New York Times, and numerous accolades on lists like these ones the city over.
Recommended for Best Restaurants because: Sushi Yasuda is regularly heralded as the best sushi in the city.
Andrea's expert tip: Make a reservation at least a month out.
Read more about Sushi Yasuda →
---
Eleven Madison Park recently underwent a major renovation, which still kept the building's original Art Deco details and expanded the bar to accommodate more regulars. On the food front, acclaimed chef, Daniel Humm, continues to shine and delight. While the menu changes frequently, guests can expect innovative food, but without the pomp and pretension, that's rampant amongst fine dining restaurants in the city. Grubstreet described the food as a move toward «hyper-minimal» with Humm himself saying, «Today, it's (the food) much more about feeling – it's harder to explain how to make something look organic and beautiful.» In any case, this is a showstopper of a meal that you won't soon forget.
Recommended for Best Restaurants because: Eleven Madison might be THE best restaurant in New York.
Julia's expert tip: If the $1000+ price tag for dinner scares you, opt to dine at the bar where you can snag a deal for $175 before drinks.
Read more about Eleven Madison Park →
---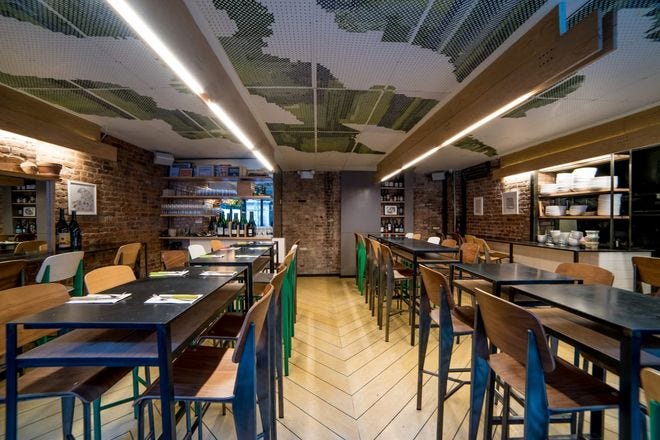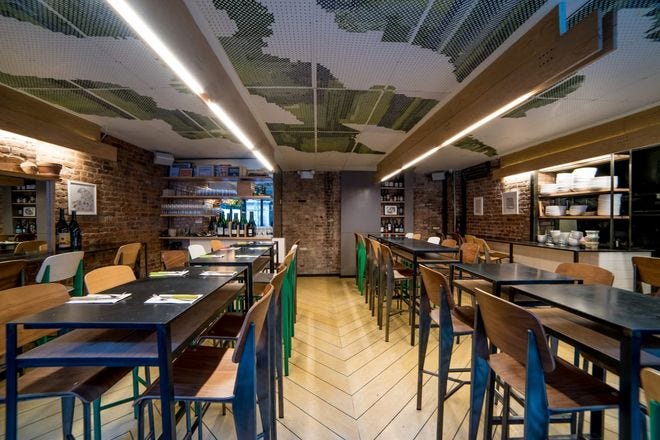 In the cluster of craziness that's become the new Lower East Side, a few spots rise above the noise. One, in particular, is Wildair, the laid-back sister restaurant of neighboring Contra. Helmed by two of the most exciting chefs in NYC, Wildair is mostly a wine bar…albeit one that serves really, really good food and unique, never-before-tasted pours. Most everything is made in-house, including the freshly baked bread that's served with salted olive oil. The wagyu steak for two is also a star, but if you're not looking to drop a cool Benjamin on grub, stick to the steak tartare topped with cheddar, horseradish and brazil nuts.
Recommended for Best Restaurants because: Wildair elevates what we think of when we hear the words «wine bar.»
Andrea's expert tip: Come prepared to drink something you've never tried before and let the server surprise you.
Read more about Wildair →
---


Más información en la Fuente de Noticias