Bracketed by Central Park and Riverside Park, and distinguished by regal, two-towered apartment buildings along Central Park West—the Upper West Side is home to Lincoln Center for the Performing Arts, sweeping views of the park and a big chunk of wealthy New Yorkers pushing strollers. For years, people thought the UWS was inferior to the vivacious food scene downtown. After all, how could pre-war buildings and sterile dining rooms compete with the energy and charm of Soho and the Village? 
All that's changed. 
The Wine & Food Experience featuring Alex Guarnaschelli, Antoni Porowski, the Bella Twins and Ian Cauble is coming to Brooklyn on September 7! Purchase tickets today »
Today, the Upper West Side's Michelin-starred hotspots like Boulud Sud rub shoulders with neighborhood standbys that have stood proud for decades. Places such as Barney Greengrass, where New Yorkers line up around the block for smoked sturgeon and lox, and at Celeste, where pizzas and pasta have held the hearts of locals for ages. 
Relative newcomers like Awadh and RedFarm have brought some of downtown's ethnic charm a little further north, the Upper West Side is no longer a graveyard for delicious eats. Instead, it's become a dining destination with residents from all over the city taking notice and trekking past Columbus Circle to see what all the fuss is about.
When diners arrive, they're not disappointed in what they find. You won't be either after perusing our list of the Upper West Side's most revered restaurants. 
---
---
Photo courtesy of SinglePlatform
This chic address is just a short walk from Lincoln Center, making it a favorite pre-theater bite. Shiny black lacquer dominates the interior, complemented by alabaster monkeys that dance around the bar and the gold and red dragon encircling one dining room. The menu focuses on upscale versions of traditional Cantonese, Hunan and Szechwan dishes, resulting in remarkable creations like Grand Marnier prawns with honey walnuts, braised sea bass in hot bean sauce, and buffalo fillet sautéed with leeks. Some say that Shun Lee has lost its luster in recent years, but it's still an icon of the city's past and worth a visit if you're hankering for a taste of the Orient.
Recommended for Upper West Side's Best Restaurants because: Shun Lee is an old-school Chinese mainstay in the city – you may have caught it in shows and movies throughout the years.
Maria's expert tip: They're known for the Beijing duck served tableside with pancakes, hoisin sauce and scallion brushes.
Read more about Shun Lee West →
---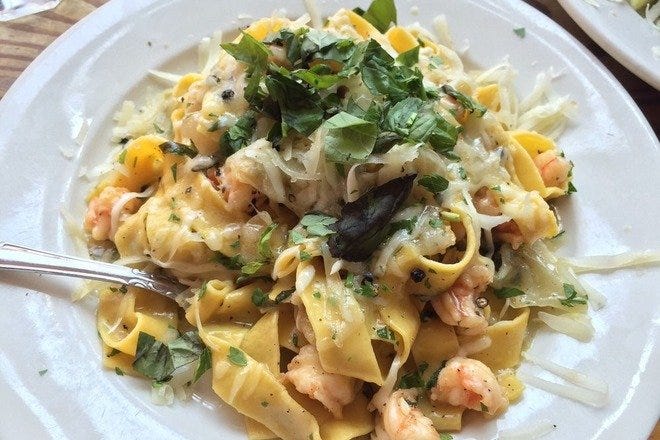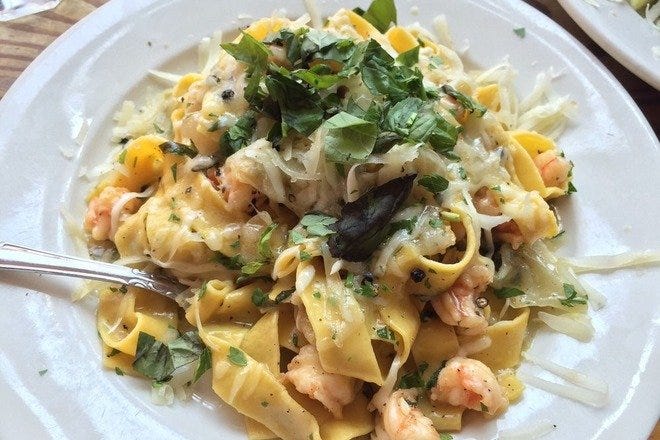 Photo courtesy of Hsuan C.
Celeste serves honest, rustic, and flavorful Neapolitan-style pizzas. Set in a tiny space with only 18 tables, this spot is family-friendly and sure to please picky pizza and pasta palates. A small collection of appetizers like the shaved baby artichokes with parmesan, the fritto Misto di Pesce (fried fish) or the feagatini di Pollo (chicken livers) could be enough for an entree, but do try one or two of the pasta. Linguine in clam sauce or the ravioli burro salvia (ravioli in sage butter), appear just as regularly on diner's tables as the wood-fired pizzas. Celeste is also cash only and fills up quickly every night of the week. To dodge the hordes, plan on arriving at 5 PM, or prepare to hit the neighboring bars for a pint while you wait for a table to open up.
Recommended for Upper West Side's Best Restaurants because: Celeste has been a favorite of locals for over a decade because of their consistently good food.
Maria's expert tip: Known for their pies, but the tagliatelle never disappoints.
Read more about Celeste →
---
Photo courtesy of SEBA-MIKA Photography
Good Indian food and the Upper West Side have not traditionally been synonymous with one another. That is until the upscale duplex Awadh opened its doors on Broadway in 2014. Awadh specializes in slow-cooked Indian cuisine from the Hindi state of Awadh – many of the dishes, including the lamb shanks soaked in aromatic stock, are cooked on low heat for over 24 hours. Chef Gaurav Anand also dreamt up one to the most delightful appetizers on the menu: crispy okra. You'll recognize standbys like chicken tikka with saffron and cashew gravy here, plus kebabs, kormas, biryanis and bread, in addition to more upscale options like crab meat with butter and garlic.
Recommended for Upper West Side's Best Restaurants because: Indian food fanatics from all over the city say Awadh has been a game-changer for Indian food in New York City.
Andrea's expert tip: Don't skip the naan or the crispy okra, which is never on the take-out menu.
Read more about Awadh →
---
Photo courtesy of Zoma NYC
Ethiopian cuisine is rarely talked about outside of foodie circles, but one trip to Zoma and we're willing to bet you'll be raving to your friends about this African fare. Packed to the rafters with vegan and vegetarian options in addition to meaty delicacies, Zoma recently won Michelin's Bib Gourmand award, which recognizes the best moderately-priced restaurants. Regulars insist on ordering the honey wine to accompany your mega-sized portions of everything from kitfo (steak tartare) to awaze tibs (marinated and stir-fried lamb cubes served with onions and green peppers). And a heads up on dining etiquette: Ethiopians often eat with their hands, and Zoma encourages its patrons to follow suit.
Recommended for Upper West Side's Best Restaurants because: Ethiopian cuisine doesn't get a lot of recognition very often, but Zoma certainly deserves the praise.
Maria's expert tip: Ethiopians often eat with their hands – just be sure to use the right instead of the left.
Read more about Zoma →
---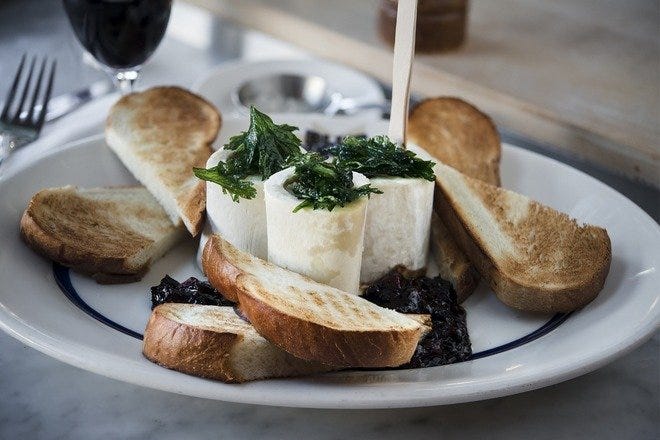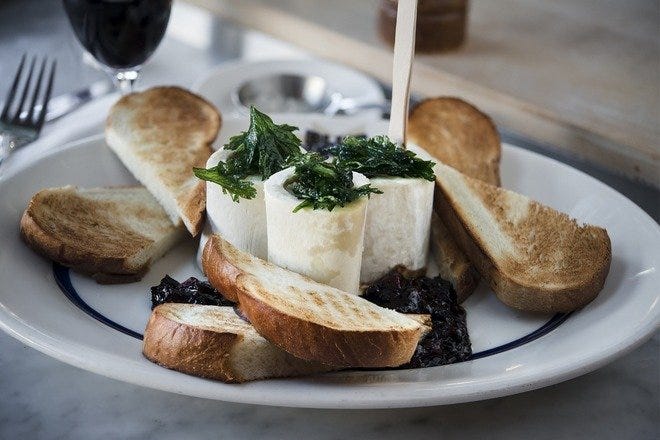 Photo courtesy of Steve Hill
The Ribbon is Blue Ribbon Restaurants' first restaurant on New York City's Upper West Side and its eighth outpost in the city. Brothers Eric and Bruce Bromberg have created something of a mini-empire as they pair classic food and local ingredients with crisp service. Just West of Central Park, The Ribbon's industrial décor captures the grace of its 1920s predecessor – the infamous Hotel Franconia. As you slip into a banquette for a meal among friends and family, you're bound to recognize many of the Blue Ribbon classics. The menu features delights for all palates, from sushi to fried chicken, spit-roasted meats and seafood with an extensive bar and whiskey menu.
Recommended for Upper West Side's Best Restaurants because: The Bromberg Brothers have the Midas touch: although relatively brand new, their pedigree is already among the best on the UWS.
Maria's expert tip: The Ribbon is opened for brunch, lunch and dinner, so you can order fried chicken in the morning and the evening.
Read more about The Ribbon →
---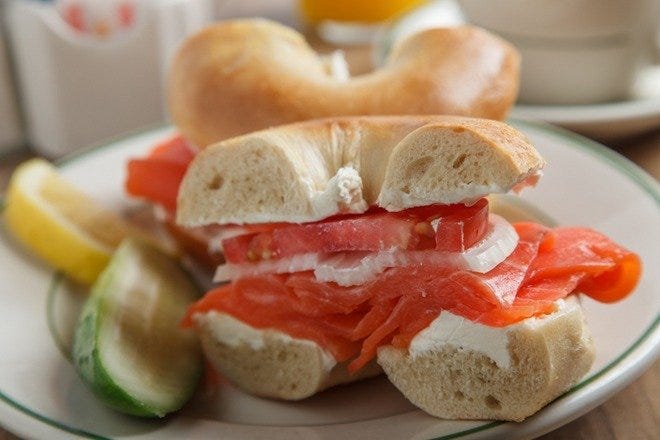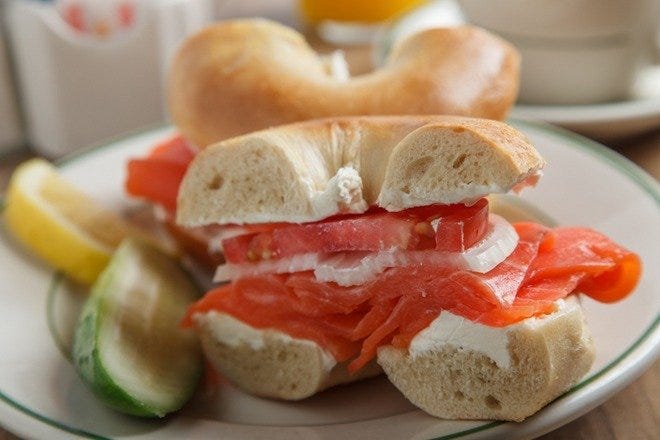 Photo courtesy of betsyweber
The uptown answer to Russ & Daughters, Barney Greengrass is a New York institution that serves up smoked fish platters, caviar and bagels. Located on Amsterdam Avenue, this deli has won best deli in New York more times than we can count, and for good reason. Though the aesthetics of the space could use an upgrade, what's coming out of the kitchen is one of the most authentically Jewish meals this side of Israel. Breakfast is the meal of choice at Barney Greengrass, so prepare to wait for a table during peak hours. Or, opt to use the waiting time to hit up the ATM – this joint is cash only on weekends.
Recommended for Upper West Side's Best Restaurants because: Barney Greengrass is a true New York institution and quite possibly the best Jewish deli in the city.
Maria's expert tip: Let's be honest: you're here for the fish. Don't waste your order on anything else.
Read more about Barney Greengrass →
---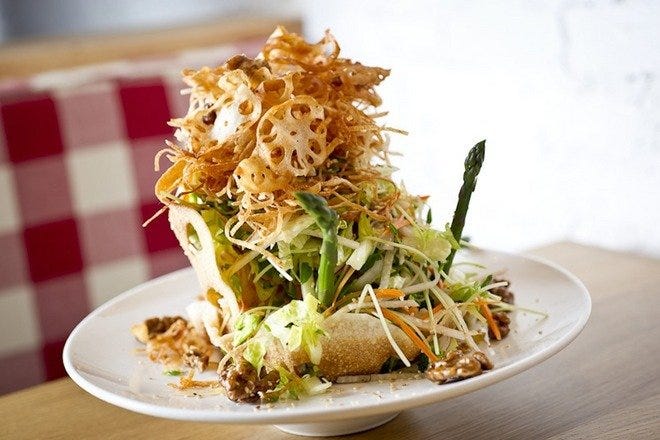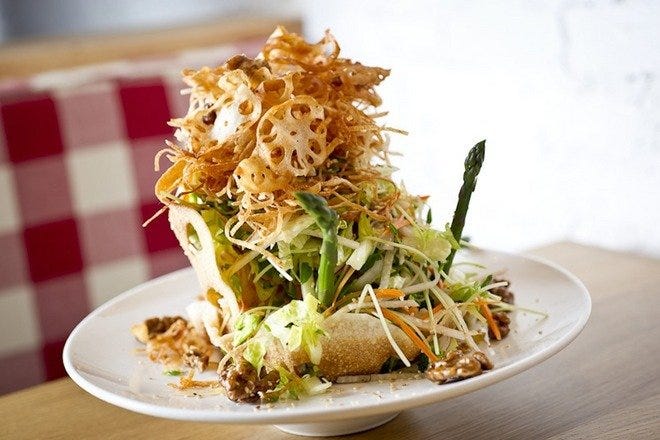 Photo courtesy of Evan Sung
Braving the crowds is worth it when it comes to scoring a table at RedFarm, the Upper West Side haute Chinese-American take on dim sum. While dim sum purists often decry the hefty price tag of these bite-sized eats, RedFarm's loyal patrons have no problem dishing out a few extra dollars to elevate their Asian experience. Ed Schoenfeld and chef Joe Ng have perfected this concept by introducing what they call, «innovative Chinese cuisine with greenmarket sensibility,» and is one of the only Chinese restaurants in the city where you'll find the farm-to-table mindset alive and well. Start with the famous Pac Man shrimp dumplings and graduate to larger mains like mussels with eggplant or lobster with chopped pork and egg while sipping on sake, or a collection of more inventive cocktails.
Recommended for Upper West Side's Best Restaurants because: Redfarm is one of the only farm-to-table Chinese joints in town.
Andrea's expert tip: Sit outside during warmer weather and be prepared for family-style serving.
Read more about RedFarm →
---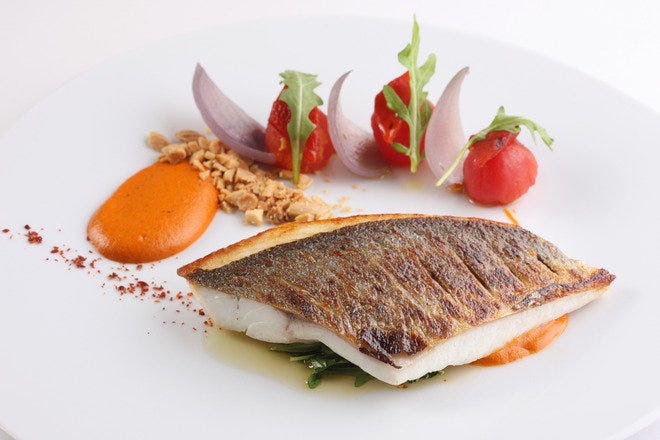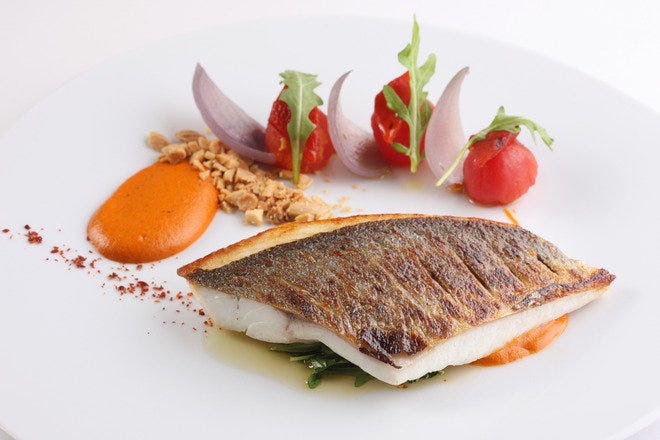 Photo courtesy of Boulud Sud
Boulud Sud may well be chef Daniel Boulud's ode to all Mediterranean flavors from the shores of Southern France to the coast of North Africa, from Italy to Morocco, Turkey and beyond. A popular dinner choice for Lincoln Center theater-goers where $65 will get you a three-course pre-theater prix fixe. Boulud Sud's ambiance is simple and well-coordinated – the perfect backdrop for the bold flavors of the cuisine and the semi-open kitchen that gives a glimpse of the magic. Patrons have the option of ordering a la carte or choosing from a 5- or 7-course tasting menu. Either way, portions are generous and it's hard to take a misstep here.
Recommended for Upper West Side's Best Restaurants because: Daniel Boulud has proven time and time again that his concepts work. Boulud Sud is no exception.
Maria's expert tip: Skip the high-culture crowd at supper and drop in at lunch when the food is every bit as delicious and prices a tad friendlier.
Read more about Boulud Sud →
---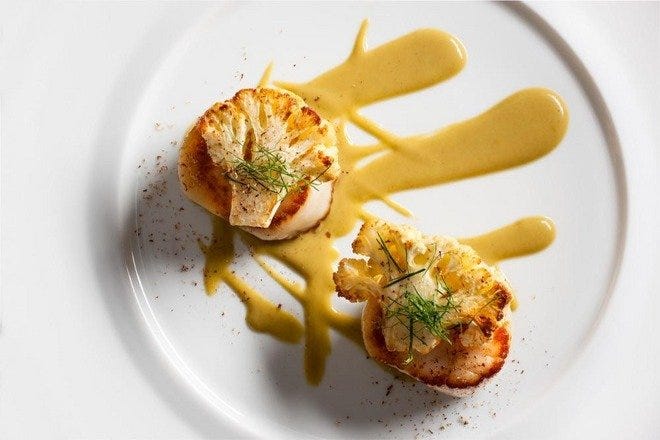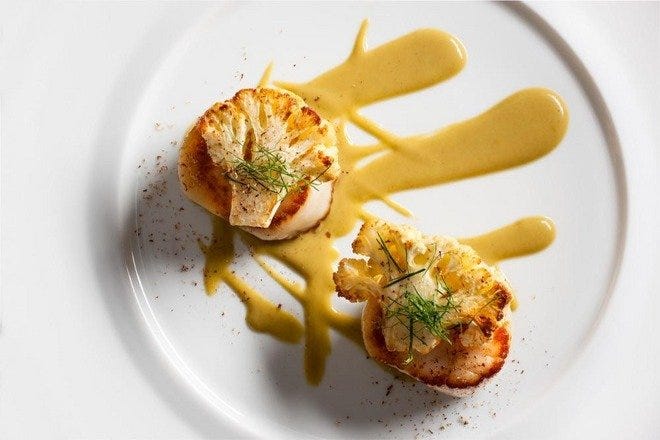 Photo courtesy of SinglePlatform
One of the world's most famous chefs, Jean-Georges Vongerichten is also a savvy businessman whose constellation of culinary successes span the globe. The two-Michelin starred Upper West Side location remains the jewel in the crown and retains the gold standard for the chef's subtly Asian-inflected, French haute cuisine. His now-legendary salmon tartare and young garlic soup remain enormously popular with Harry Winston-wearing hotel guests, well-dressed ladies who lunch, and top-tier executives from nearby offices. The front room, Nougatine, has a sleek, modern aesthetic, neutral color palette and increasingly casual atmosphere. Both dining rooms, however, maintain their stalwart service, expense account-worthy cuisine and bright, dappled natural light over Central Park West.
Recommended for Upper West Side's Best Restaurants because: «Nobody should ever leave angry, hungry or disappointed,» says Jean-Georges Vongerichten and they won't.
Andrea's expert tip: Stop in at the upfront restaurant, Nougatine, where $38 buys you an exquisite three-course lunch.
Read more about Jean Georges →
---
Photo courtesy of www.sidewalksafari.com
They say that only New Yorkers know how to make a good bagel, but this joint's owned by a transplant from Thailand and it's the cream of the crop, so that's one rumor that's put to rest. The bagels at Absolute Bagels command a line that often snakes out the door, but it's worth the wait. Soft on the inside and chewy-crispy on the outside, these are the bagels your bagel dreams are made of. Regulars will tell you to skip the coffee and order the Thai iced tea instead – a small nod to the owner's homeland and a darn good one at that.
Recommended for Upper West Side's Best Restaurants because: It's the only bagel place on the Upper West Side worth waiting in line for.
Andrea's expert tip: Skip the coffee and order the Thai iced tea instead. It's a sugary, milky compliment to your dough round.
Read more about Absolute Bagels →
---


Más información en la Fuente de Noticias