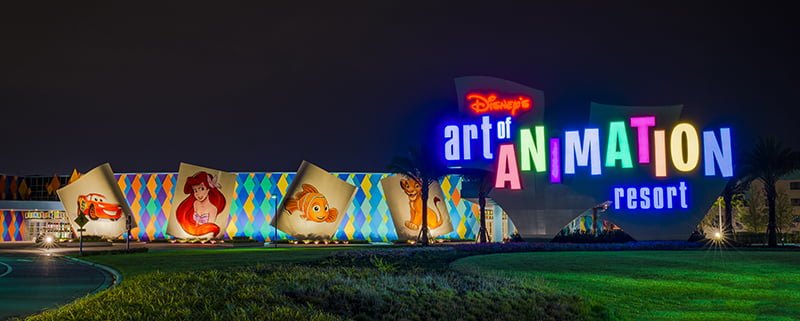 Which Walt Disney World Value Resorts are best & worst? This list ranks Art of Animation, Pop Century, and All Star Movies, Music & Sports. Our #1 hotel might surprise you, but we'll cover why it's our top pick–plus pros & cons, photos, transportation, and other info about each! (Updated April 1, 2022.)
Walt Disney World's Value Resorts are great hotels for people who won't be in their rooms much, families with small children who enjoy Disney animated films, and guests doing WDW on a budget. To be sure, the Value Resorts are more expensive than off-site accommodations, but the added perks like park transportation and Early Theme Park Entry can tip the scale in their favor from a money-saving perspective.
Let's start by discussing the single biggest differentiator among the Value Resorts, which is transportation. Previously, this simply focused on bus transportation, which tends to be better at Pop Century and Art of Animation. This is the case because the three All Star Resorts sometimes (but seldom) share buses. However, now there's a much bigger reason…
That's the newly-opened Disney Skyliner gondola transportation. This offers aerial transportation from a shared station between Pop Century and Art of Animation to Caribbean Beach, where guests transfer for either Epcot or Disney's Hollywood Studios. Total Skyliner transit time from Art of Animation or Pop Century is under 10 minutes to DHS or under 15 minutes to Epcot. This is a considerable improvement over buses.
We've already used the Skyliner countless times, including from Pop Century to rope drop both Disney's Hollywood Studios and Epcot. In our view, this transportation system is an absolute game-changer. Instead of relying on inconsistent and unpredictable buses–which can be frustrating if you're in a hurry–you can take the smooth Skyliner for efficient transportation to two of Walt Disney World's most popular parks, plus a whole bunch of hotels.
With that said, the Skyliner hasn't been free of problems. It goes down regularly between the months of June and September due to storms, and bus transportation often is not efficiently deployed as a backup. Due to this, and the nature of the transportation, those with fears or heights or other concerns may not wish to use it.
For those guests, it's less of a perk and more of a drawback for both Pop Century and Art of Animation. The Skyliner is built into the cost of both hotels, and is a huge advantage that justifies the premium pricing…but only for those who will use it. If you will not use it, you're paying extra for no reason. (Moreover, Pop Century and Art of Animation have scaled back their bus frequency to Epcot and DHS, doubling disadvantaging those who don't use the Skyliner.)
Now, let's cover some commonalities of the Value Resorts. All of Walt Disney World's Value Resorts are large and spread out, and don't have internal transportation. We don't consider it that long of a walk, but if you are trying to herd a slew of kids, you might disagree. At every Value Resort except Art of Animation, preferred rooms are available that are located closer to the lobby, but they have an additional cost.
Standard rooms are all fairly similar, too. It cannot be stressed enough that the Value Resorts are very basic accommodations in terms of the rooms. These rooms are small and along the lines of what you'd find at a nicer Best Western or Motel 6.
Disney fans may gasp at that comparison, but we feel it's true–at least to an extent. The big way Disney's Value Resorts deviate from other budget accommodations is that they include Disney decor, which alone is probably enough for the average Disney fan or guest to consider them a great deal superior to those other brands of hotels. The point is, at their core, these are not high-end hotel rooms.
Design, in general terms, is pretty consistent among the Value Resorts. All are very plain buildings that are dressed up with oversized icons that relate to the hotel name. They're decorated, not themed. While the Moderate and Deluxe Resorts attempt to transport you to another time and place, the Value Resorts look more cartoonish. Their style is very divisive, with some Disney fans finding them garish clutter tacked onto low-rate motel buildings and other fans finding them to be fun and whimsical ways to experience a Disney hotel on the cheap.
If you are in the former camp, you probably already know Value Resorts are not for you, and there's little point to this list of rankings for you. Regardless of how you feel about the Value Resorts, the fact is that they have plenty of fans. Many people, especially small children, prefer this larger-than-life style to the more elaborate and nuanced design of the higher-tier hotels.
We've stayed at each of the Value Resorts on numerous occasions, most recently in Spring 2022 with a stay at Pop Century. (A return visit to Art of Animation is next up, at the start of Summer 2022). While their style isn't our favorite, we can understand why they appeal to kids. We find the criticism to be a bit over the top and cynical. Different strokes for different folks, and all that.
The All Star Resorts have more in common, too. They also used shared buses most of the year, which can be a big issue and time drain. While kids who are fans of sports, movies, or music may disagree, we feel that the decor is pretty much the same across the three resorts.
Movies and Music seem very similar to one another (most Disney movies are musicals, so this makes sense), with Sports differing more. The All Star Resorts are also older than Pop Century or Art of Animation, and in many places, the age difference really shows.
With that said, let's take a look at the rankings!
5. All Star Sports
There are two big downsides to All Star Sports that ultimately puts both of the other All Stars ahead of it. First, it has not yet received the new room upgrades (more on these below) that are huge improvements in terms of utility and aesthetics. This was supposed to occur during the hotel's extended closure, but upon reopening in Spring 2022, none of the rooms have been remodeled. (Meaning they still look like what's pictured above, minus the bed runners.)
Given that, it's likely that this project has been postponed indefinitely. At some point, All Star Sports will need a room overhaul. The current look is incredibly dated, and Walt Disney World is trending away from this. However, between pent-up demand and hotel projects elsewhere, this is unlikely to occur anytime soon.
Second, All Star Sports is frequently the home base for groups attending ESPN Wide World of Sports events. This used to be primarily during Pop Warner in early December (which has since been moved to Universal), but now there are scattered events throughout the year. If you consult the ESPN Wide World of Sports Calendar and you're completely sure there are no groups, you might decide to opt for it. Otherwise, speaking from experience in having stayed at All Star Sports during these events (THREE TIMES!), we just don't think it's worth it to stay here during an event.
The biggest upside to All Star Sports is that when the All Star Resorts are sharing buses, it's the first stop the buses make. During busy hours, the bus will often fill up completely at All Star Sports, skipping All Star Music and Movies completely. For this reason, the bus service at All Star Sports is the best of the three. However, buses are almost never shared in scenarios where they could fill up completely, almost totally nullifying this "advantage."
Given all of the above, All Star Sports is last place–and by a wide margin. You should only stay here if no other All Star Resort is available, and if you don't want to pay extra for an upgrade to Pop Century.
4. All Star Movies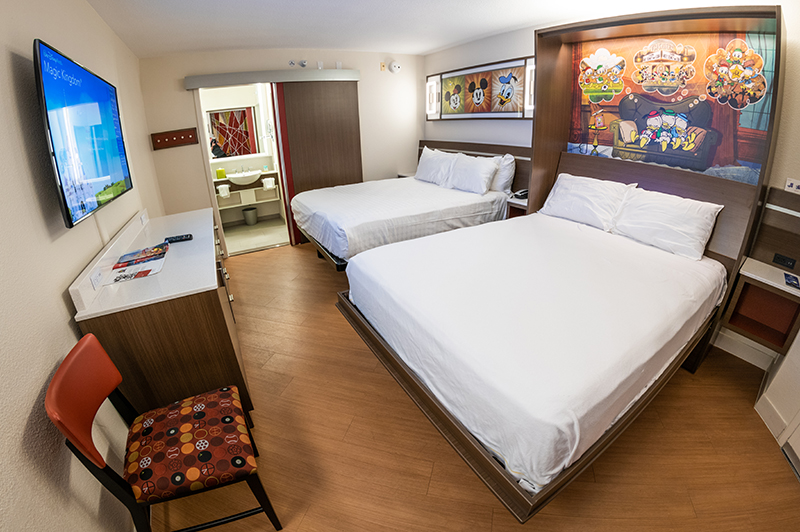 All Star Movies was the first of the trio to receive the new rooms. Above is a photo of the new room from the opposite perspective as the new room (below that) at All Star Music. We've stayed in these new rooms several times, and find them to be huge upgrades. They're not perfect–you can read about the pros & cons in our Photos & Video: Newly Reimagined Rooms at the All Star Resorts post.
These new rooms are definitely a step in the right direction, but All Star Movies could still use some more help. The Mighty Ducks are still heavily showcased, despite no longer being relevant. Photos in the lobby are faded, as is hotel signage. However, the new rooms are such a significant improvement that we're willing to overlook all of that and can't find availability at All Star Music.
3. All Star Music
All Star Music has now been totally updated with the new rooms, pictured above. These are a significant upgrade from the old rooms (and what still exists at All Star Sports), as they have numerous functional and space-saving improvements. All of that is incredibly useful given the small size of Value Resort rooms.
Other upsides to All Star Music are that it's less expensive than Pop Century and Art of Animation, it has a refurbished food court, it's rarely (if ever) overrun with pre-teen athletic groups, the decor is good and not too dated (by All Star standards), and it's the middle bus stop. All Star Music gets the job done in pretty much every regard, without excelling at anything.
It's not really better by a wide margin, so if your kids are more interested in movies than music, you might consider opting for All Star Movies instead, especially if decor is a big deal. We also prefer the guitar-shaped Calypso Pool to Movies' pool, but again, it's not by any wide margin. With that said, preferring sports is insufficient justification for booking All Star Sports over either Music or Movies. The difference in room quality between old and new is simply insurmountable for All Star Sports.
2. Art of Animation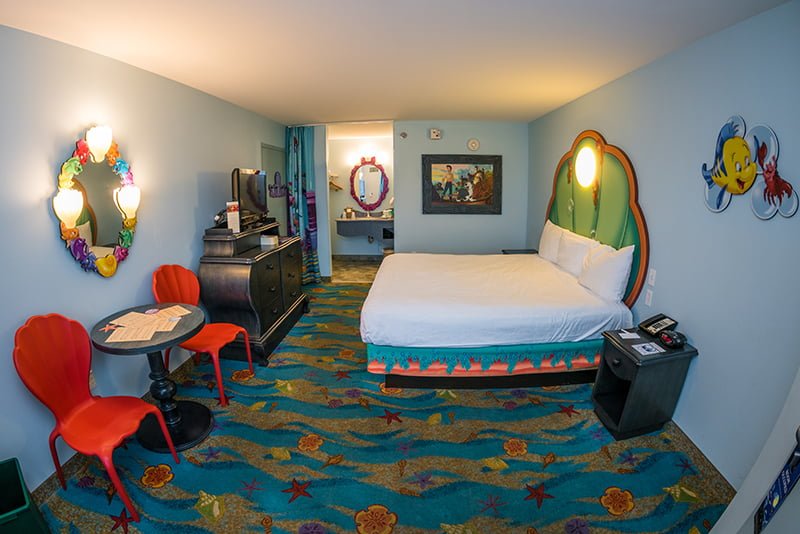 For the sake of this comparison, we're only looking at the common areas and standard rooms in Art of Animation, all of which are in the Little Mermaid section of the hotel. The family suites are incredibly nice and worthy of consideration for families who want more space, but they arguably don't even belong in the Value Resort category. Their nightly rate is considerably higher, making them more comparable to the Fort Wilderness Cabins and other unique room categories.
When it comes to rooms, the Little Mermaid rooms fall short of the newly-redesigned rooms at Pop Century and All Star Movies. The Little Mermaid rooms have received a light refresh recently, but nothing on par with Pop Century. You can read all of our quibbles with these in our Little Mermaid Room Review. Suffice to say, these are minimally decorated, a long walk from the lobby, and way overpriced.
However, the common areas make Art of Animation winners among families and push it close to the #1 spot. This is especially true of the Cars wing, which is the best area at any of the Value Resorts. The Nemo, Lion King, and Little Mermaid grounds have fun decor and some interesting design touches, but they don't have the depth of the Cars wing, which feels like a low-budget Radiator Springs.
Art of Animation also scores points for the Finding Nemo pool, which is the best pool at any Value Resort, and one of the better pools at Walt Disney World (if you don't mind the noise). For a quieter option, the Cars pool is also exceptional, and has a Cozy Cone Motel vibe to it.
Landscape of Flavors, the food court at Art of Animation, is one of the better counter service restaurants on property, which is another strong selling point. However, it's literally as easy to dine at Landscape of Flavors if you're staying at Pop Century as it is if you're staying in the Little Mermaid rooms.
That's ultimately what weighs Art of Animation down to the #2 spot for us. You're paying a significant premium for inferior rooms (unless your kids are diehard Little Mermaid fans), and for being just as far from Art of Animation's main amenities as you would be if staying in some rooms at Pop Century. Why not just pay less, have a better room, and walk over to Art of Animation Resort to enjoy it?
1. Pop Century
In the course of discussing the other Value Resorts, we've more or less touched upon the biggest upsides of Disney's Pop Century Resort, which has been the long-time top pick for Value Resorts among Walt Disney World fans. To reiterate: new rooms, Skyliner transportation, lower price points, and convenience to Art of Animation via Generation Gap Bridge all make Pop Century a winner and our #1 pick.
Pop Century's biggest downside is that the cartoony, oversized icon style simply works better in the context of Disney animation. This style appeals primarily to kids, and Disney characters will resonate with them more than pop culture references.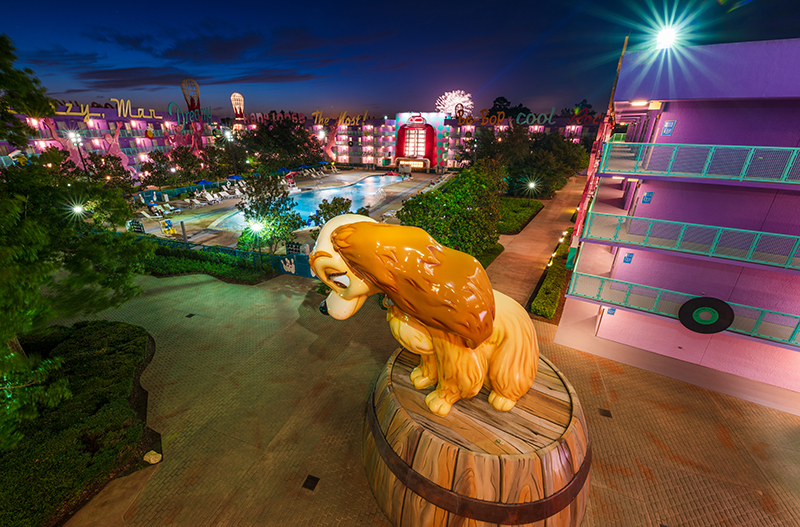 Personally, I think in terms of overall 'value' (not simply what's cheapest), Pop Century excels. It is worth the slight premium for superior dedicated bus service, better dining options, and far superior rooms. If you're a couple without kids simply looking for the cheapest way to stay on-property at Walt Disney World, Pop Century should be your top pick.
So there's our take. Whether a Value Resort is right for you in the first place is something you should also consider. If money is no object and you don't have kids, we will say with almost complete certainty that you're likely better off in a Moderate or Deluxe Resort. If money is an issue or you think your kids will prefer the Values, give them serious thought.
If you're somewhere in between these two extremes, we'd advise you to give serious thought to the Moderate Resorts (check out our rankings here), but cost more but offer more immersive theming and quality while still not breaking the bank. If you want to splurge or money doesn't matter, check out our Deluxe Resort Rankings post.
Planning a Walt Disney World trip? Learn about hotels on our Walt Disney World Hotels Reviews page. For where to eat, read our Walt Disney World Restaurant Reviews. To save money on tickets or determine which type to buy, read our Tips for Saving Money on Walt Disney World Tickets post. Our What to Pack for Disney Trips post takes a unique look at clever items to take. For what to do and when to do it, our Walt Disney World Ride Guides will help. For comprehensive advice, the best place to start is our Walt Disney World Trip Planning Guide for everything you need to know!
Your Thoughts
Is it worth it to you to stay at a Value Resort, or would you rather just splurge and stay at a Moderate or Deluxe Resort? Which Value Resort is your favorite? Do you agree or disagree with our WDW Value Resort rankings? Any questions we can help you answer? Hearing your feedback–even when you disagree with us–is both interesting to us and helpful to other readers, so please share your thoughts below in the comments!