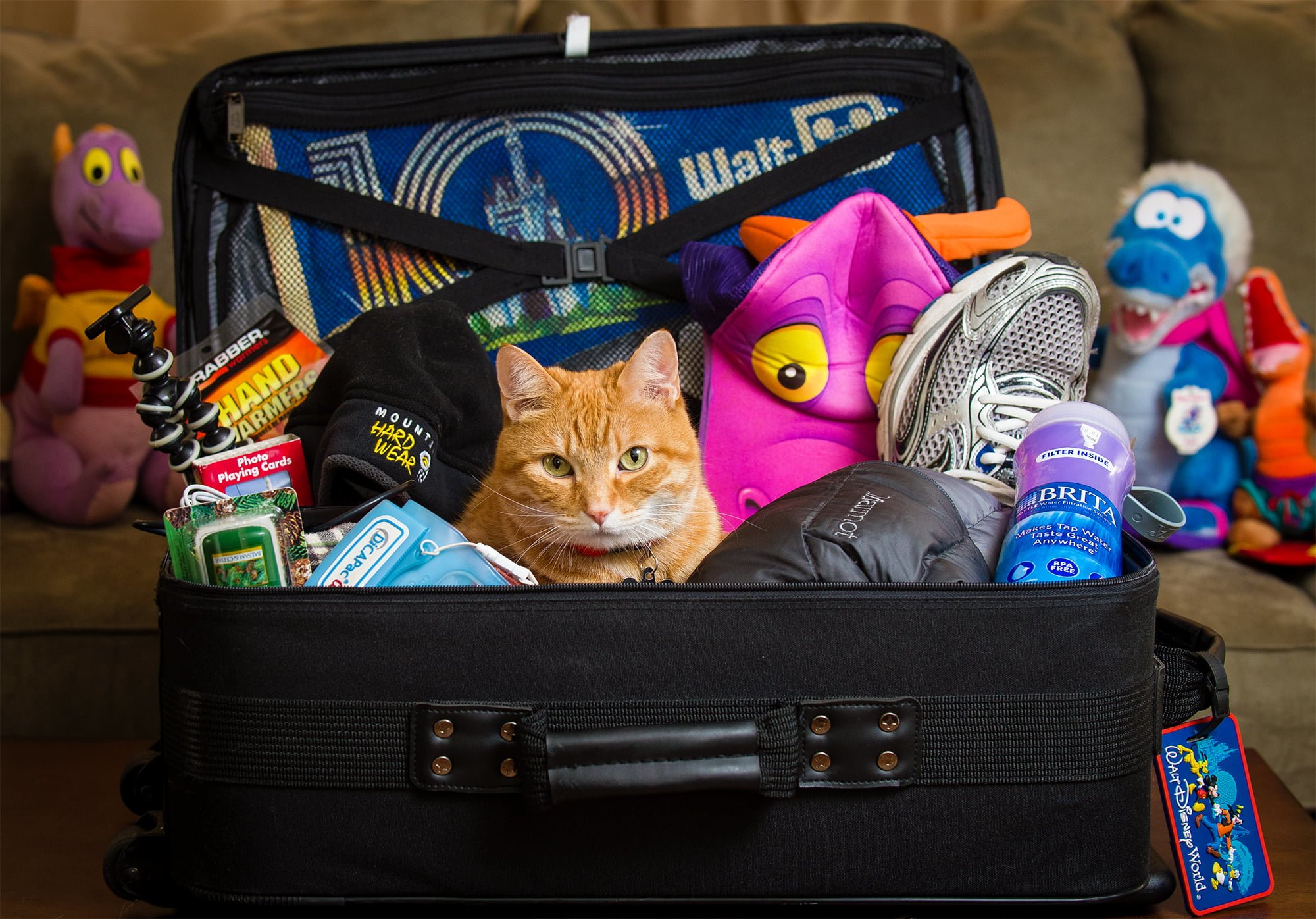 Wondering what to pack for Walt Disney World? This ultimate packing guide includes a checklist, things for your backpack, and 50+ unique items that'll help you save money, stay comfortable in Florida's weather, and improve your vacation. (Updated December 2, 2021.)
The first part of this Disney packing list highlights the less-obvious items–things you never knew you needed. These are interesting and sometimes odd things we've learned about over the years, some of which have dramatically improved our experiences when traveling. We pack some of these when visiting Walt Disney World, Disneyland, Tokyo, Paris, and beyond. Consider including some of them in your luggage.
The second half is our comprehensive Disney packing list that you can download and save. This encompasses things you almost certainly already own–but might forget without this downloadable packing list for Walt Disney World. We use this checklist to make sure we've remembered all the basics. As for unique items, we update this list regularly with new ideas, plus essentials based upon feedback and suggestions from readers. We love discovering innovative things that improve travel, so please share your finds and recommendations in the comments!
If you're planning a vacation to Walt Disney World between now and mid-2022, you need to be aware that some aspects of the experience have been modified. This will change what you need to pack–and do not need to pack in several ways–all of which are noted below.
Notably, you'll still need to pack is face masks as Walt Disney World has reinstated its indoor face mask rule. (Consult our FAQ & Guide to Face Masks at Walt Disney World for specifics.) The good news is that face masks are optional outdoors, which is where most time is spent in the parks. We'd estimate that around 75% of the time, you won't need a face mask at Walt Disney World. With that said, we'd recommend packing the Powecom KN95 Face Mask, which have a much higher filtration efficacy than surgical masks.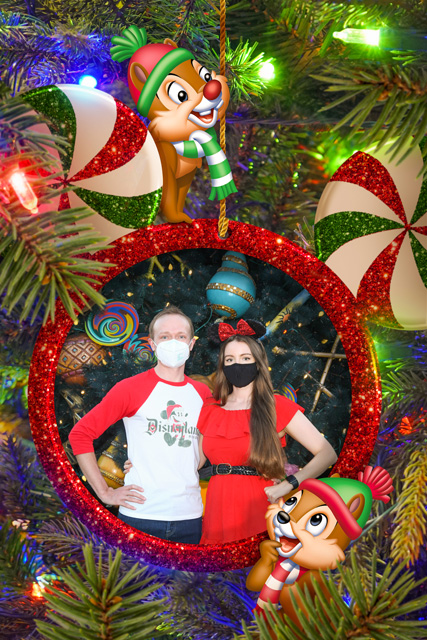 Another thing we'd emphasize right now is making a grocery run upon arrival or having food delivered to your hotel. This is because restaurants have reduced hours & menus, fewer dining spots are open, and those that are open aren't filling all tables due to physical distancing. The result is that it's more difficult to find places to eat breakfast and restaurants frequently have long waits or are fully booked. Read our Guide to Grocery Delivery at Walt Disney World for our tips on that.
This next tidbit applies to all items you order, but also non-perishable groceries and snacks. If you're ordering a lot and don't want to hassle with bringing it with you, it's possible to place an order with Amazon.com prior to our trip and have the items shipped to your Walt Disney World resort. In Address Line 2, specify your arrival date. Resorts now charge a $6 package handling fee will apply to all packages that are received by the hotel. This fee does not apply to grocery delivery.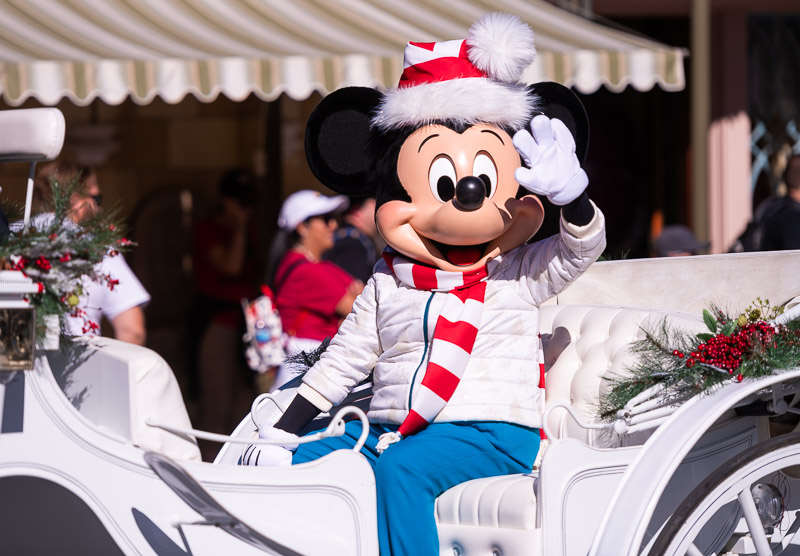 The next thing you need to know is that this what to pack for Disney guide is not tailored towards any specific season. If you're visiting between now and March 2022, supplement this with our Winter Packing Tips for Disney post for more specific insight on what to take on your trip. Orlando weather can be like a roller coaster, and unlike the Walt Disney World variety, it's not always fun. Basically, there are about 3 weeks per year when Central Florida weather is predictably temperate and mild!
Conversely, those heading to the parks in May 2022 or beyond, consult our Summer Packing Tips for Disney post for suggestions on beating the heat and handling humidity. You should also be aware that Storm Season at Walt Disney World also arrives around the same time as the worst heat and humidty. Be prepared for that if you're visiting next summer or early fall.
Finally, the idea behind this list is not that you buy and pack everything here. These are just ideas, not a list of comprehensive necessities for Walt Disney World. If you packed all of this, you'd be taking way too much. We are firm believers in not overpacking. It's important to comb through this list, determine what might help improve YOUR vacation, and take that. Not everything here is for everyone–they're just ideas.
With all of that said, let's get to the unique item Disney packing list, and then the packing checklist. We'll start with the items our readers love the most–smart items that'll save you time, money, stress, or (literally) physical discomfort and pain!
Smart Stuff to Pack
Body Glide – Since making the original list, many others have recommended this product to us as the best way to combat chaffing. Unless you normally walk 10+ miles per day at home over the course of several consecutive days, this is a very real problem that many people will unexpectedly experience. Better to be safe than sorry!
Moleskin Padding Roll
– Along those same lines, your "dogs will be barking." Seriously, one of the biggest shocks visitors have is all of the walking at Walt Disney World, which can be brutal on your feet. This stuff is a great "insurance policy" that can work miracles, saving your feet significant discomfort and pain.
Frogg Toggs Chilly Pad
– By far the most popular item on this list, Chilly Pads use some sort of space-age science material (or witchcraft?) to simultaneously be "cool and dry." After getting wet and being wrung out, the towel becomes cooler than the outside air, providing cooling relief without the wet mess. When it stops cooling, re-wet the towel and wring it out. Viola, cold again.
5-Pack of "Pro" Ponchos – While these are technically disposable, they're a thicker and higher quality material than the ponchos above. We've found that they're easy to reuse–just hang them up to dry in your room at the end of the day! Unless you really want to throw away your ponchos after each use, this is definitely the superior option.
If you want something with a bit more personality, Sarah loves this reusable "Minnie Mouse-Inspired" Polka Dot Poncho. There are also other patterns for men and those who aren't polka dot enthusiasts.
10-Pack of Disposable Ponchos –  These will save you a ton of money. Ponchos in the parks cost $10 each, and over the course of a vacation, that can really add up. We recommend taking a 10-pack of ponchos (or more) for your group. They're small and easy to throw in a backpack.
Compact External Charger – Poor reception in the parks and the need to check wait times, planning apps, or share photos via social media can be a drain on your battery. We use 3 different external batteries, depending upon how much juice we will need.
Anker "Lipstick Sized" Battery – This is commonly known as a "lipstick charger" due to its shape and size and is approximately 2 full phone charges. This is pocket-sized.
Anker Ultra-Compact Battery – Double the capacity of the first battery, giving you around 4 full phone charges. It's a bit bulkier, but still easy to throw in a lightweight backpack. This one works well for the two of us.
Anker High Capacity Battery – With a whopping 8 full charges, this will get an entire family (or one teenager) through a day at WDW. This charger offers the best bang for your buck.
Lightweight & Water Resistant Travel Backpack – You probably already own a backpack, so hear us out on this. The material is super-thin, meaning it'll easily pack into your luggage. The bigger selling point is the light and breathable material, which is critical in the Florida heat. It's designed to stay cool while hiking and other strenuous activities…and visiting Walt Disney World definitely qualifies!
Life Straw Go Filter Water Bottle – Florida water tastes awful straight from the tap, so it's key to get a bottle with a filter. This bottle is the best option, hands down. It's durable, BPA-free, dishwasher safe, and uses a 2-stage activated carbon filter reduces odor, chlorine and leaves zero aftertaste!
Brita Filter Water Bottles – If you don't want to spend as much money, this is the second-best option. It's inexpensive and durable. Not quite as effective or durable as the above option, but still good. Either way, we highly recommend bringing a water bottle. It's increasingly difficult to enter counter service restaurants (or find open snack stands) to get cups of water.
Parade Blanket – This is a great alternative to sitting on the ground while you wait for parades at Disney, but it works in a number of scenarios in the parks. This has weighted corners, is pocket-size, and puncture-resistant. It's also water-resistant, so you can use it as a poncho in a pinch. It's really versatile!
Packing Cubes – These are perfect for organizing, and make it easier to to manage your luggage. I love this 4-piece set as they're the perfect size for organizing a carry-on size suitcase.
Compression Cubes – There are two great options here–I've moved on to these compression cubes, as I find they save more space in my luggage, which is huge for me. Below is the cheaper alternative, if you're simply looking to stay organized.
Honest Company Coastal Surf Hand Sanitizer Spray – Walt Disney World is now providing free hand sanitizer all over the place. You can't miss it. However, we strongly recommend bringing your own higher quality stuff, unless you want your hands feeling dry and uncomfortable after about a day. This is our go-to. 
Sanitizer Wipes – Same idea here with these alcohol-free sanitizer wipes. Walt Disney World is magical, but not magically clean. Every surface has been touched by countless other hands. These are great to clean your hands, phone, stroller, or literally any surface–an essential item to reduce your chances of getting sick on vacation!
GAIATOP Personal Neck Fan – The little device is shockingly effective. You know that refreshing feeling when briefly hit by a burst of air-conditioning while walking in front of an open door on Main Street? This is like that, but constant. Sarah prefers it to the Frogg Toggs due to this being dry, which is better for her long hair. For me, it's more of a toss-up. While this fan is quiet and perhaps a bit more effective, it's slightly more obtrusive and distracting than the Chilly Pad, which I view as perfectly simple solution.
With this, I suspect we'll be chasing a more powerful, quieter, lighter device as technology continues to evolve over the years. It's a really fantastic idea, and I'm curious to see where future innovations take it. Already, you can splurge on a more powerful and high-tech model–check out the TORRAS Coolify Portable Air Conditioner Neck Fan. 
Mickey Mouse Stroller Clip – Great for conveniently hanging other items on this list (like the backpack below!) from your stroller handle for easy access. Plus, it's Mickey-themed!
Stroller Fan – Technically, this is a clip-on desk fan. However, if you read the reviews, almost everyone buying it is using it for strollers. It's a great item to keep your kids cool, and it'll last 5-10 hours before the battery needs to be recharged–which can be done via USB with one of the external chargers above. This is perfect for the hottest hours of the day at Walt Disney World!
Tourit Cooler Backpack – This is a new one based on reader questions about collapsible cooler options for bringing food into the parks. We looked at a variety of options, but ultimately felt this backpack option was best for keeping drinks, snacks, and sandwiches cold–also the easiest option at bag check. (If you don't plan on carrying perishable food, check out our lightweight backpack option below.)
Reusable Straws – A new addition to the list, as both WDW and Disneyland have eliminated plastic straws (and in-park Starbucks use terrible paper straws that disintegrate after about 10 minutes). A good item to throw in your backpack.
Discounted Disney Pins – This one isn't so much a practical thing to pack as a money-saving one. If you've read our Disney Pin Trading Tips post, you know that pin trading is a fun, albeit expensive thing to do in the parks. However, by buying pins before your trip online, you can pay ~$1 per pin instead of $8-10. Highly recommended!
Glow in the Dark "Stuff" – Okay, this might seem silly or pointless (my initial thought), but these glow-sticks are very useful. They make it easy to find your family (or stroller!) in the crowds at night. Kids love creating cool things to wear out of them–very fun stuff!
EltaMD Face Sunscreen – Sarah favors this fancier brand of face sunscreen, which is recommended by distinguished scientists from all over the world. (Probably.)
Sun Bum Oil-Free Face Stick Sunscreen – My face sunburns really easily and I've tried numerous sunscreens to combat this over the years to no avail. While a bit pricey, this works fantastically. As an added bonus, it smells delicious!
Wireless Sleep Mask Headphones – Sarah has used "last gen" variations of this product for years, swearing by both sleep masks for travel and 'cozy' headphones for getting rest on flights.
Memory Foam Neck Pillow Airplane Travel Kit – This kit also includes a velour cover, sleep mask, and earplugs. Sarah uses the pillow, sleep mask, and above headphones for flights. She looks real cool.
Anker PowerPort Cube Strip with 3 Outlets and 3 USB Ports – Disney has refurbished many of its rooms, adding USB ports in the process, so this isn't really necessary for those. It is for many off-site and older hotel rooms, though. Plus, this has fast-charging to get devices recharged quicker. (There's also this "future-proofed" version with USB-C.)
Pop-up Hamper – With how much money you pay for a hotel room, you probably don't want it to look like the perfect habitat for Oscar the Grouch halfway through your trip. We've found the biggest issue always (ALWAYS!) is with dirty laundry, and a good way to keep this under control is by bringing a pop-up hamper.
Travel Sunscreen Packets – For your arms, legs, neck, etc., we recommend these sunscreen packets. If you've ever had a tube of sunscreen spill in your luggage or backpack (we have…many times), you know how inconvenient it can be. These individual travel packets take care of that problem, and are also much easier to put in your pocket or in a bag. They're a perfect solution!
Frogg Toggs Rain Suit – If you want something higher quality, more versatile, and that will keep you totally dry, this rain is great. It's inexpensive, lightweight, and breathable. It's made by the same company as the Chilly Pads, so you won't get too hot. It looks silly, but after a dry afternoon with it, you'll be asking: "why didn't I think of this sooner?!"
Shout Wipes
 – Shout Wipes, Tide pens, anything that can clean up stains. I'm an expert at making messes, and these stain treaters are lifesavers.
Downy Wrinkle Releaser
 – Clothes packed in suitcases can get wrinkled and no one likes ironing. A much better solution than letting wrinkled clothes "air de-wrinkle," like I do when I forget to pack this.
Autograph Book Substitute – One of our friends used this Junior Character Encyclopedia of Disney Characters, and we thought it was the most brilliant thing ever. Instead of having characters sign a blank page, have them sign this actual book about 150+ Disney characters. After the trip, it'll be a treasured keepsake. We've heard tons of feedback on Facebook from people who have tried–and loved–this! (NOTE: Characters are not signing autographs right now because meet & greets are temporarily suspended. This is normally a great item to pack, but not anytime between now and at least early 2022.)
Photography Gear – Only mentioned here because we know a lot of people visit us looking for camera suggestions…if that describes you, you're on the wrong page! Check out our Ultimate Disney Parks Photography Guide for photography tips and tricks, plus camera suggestions.
Clothing & Accessories
Crocs Classic Sandal
– If you don't care about style, Crocs are your best option for staying comfortable when walking around the parks.
WetBrush Pro Detangle – This hair brush performs well with wet hair, and your hair will get wet if you're visiting Walt Disney World. A staple of Sarah's Disney bag.
Repel Travel Umbrella – This travel umbrella is compact, windproof, and has a lifetime guarantee. We have ruined so a few umbrellas that have been caught by gusts of wind at Walt Disney World, so this actually is important.
SPF Sun Hat – Sarah has several different colors of this cheap and fashionable sun hat, and wears them in the parks to keep the sun off of her face, and to stay cool. They are breathable and lightweight. The only downside is their large size, which makes them difficult to pack (we recommend carrying them on).
Crocs LiteRide Sandal or OluKai Ohana Sandal – Sarah several types sandals (the Crocs listed first are her most recent addition) that perfectly combine comfort and cuteness, and provide enough comfort so your feet won't hurt after logging miles in the parks. 
Aqua Socks for Water Parks & Pools – If you're planning on visiting Typhoon Lagoon, Blizzard Beach, or spending time at your hotel's pool, these are essential. The pavement gets hot–so hot it's uncomfortable to walk on it without these.
Dresses – If you've ever viewed one of our trip reports, it's no secret that Sarah likes dresses. Based on the emails we've received, she's not the only female who does.
Check out her What to Wear to Disney page dedicated to where she shops and ideas for finding cute outfits that are also practical for those humid days in the parks. She also has Tips for Accessorizing for Disney, to give your normal outfits cute 'dashes of Disney.'
Food
Mount Hagen Organic Instant Coffee – One of the most embarrassing experiences (for our friends who travel with us!) is when we bust out these packets to make our own coffee. In our defense, Starbucks is not that good, the line is always long, and we each "need" 3-4 servings of caffeine per day to function. Buying coffee in the parks would add up quickly and cost us a lot of time. Cutting coffee from our travel budget saves us a ton of money, and is worth it even if we look like cheapskates making coffee in the parks.
Caffeine Mints – Each one of these mints has about as much caffeine as coffee or an energy drink, so they will give you the energy to get through evening Extra Magic Hours, but won't give you coffee breath or make you have to run to the restroom while in line for Toy Story Mania. Win-win!
Clif Bar Energy Bars
 – An excellent source of dietary fiber and vitamins, Clif Bars are a nice, healthy snack for between trips to Aloha Isle. Feel a little less guilty about having 3 Dole Whips per day by balancing with these.
Lenny & Larry's Complete Protein Cookie – Want something even healthy? These cookies have a ton of protein and fiber, but have no high fructose corn syrup, no sugar alcohols, no artificial sweeteners. Plus, they're vegan.
Chomps Beef Sticks – If left to my own devices, I'd probably bring a stockpile of Slim Jims. Apparently, those aren't as "healthy" as Chomps, which boast a laundry list of "clean" selling points. These are now our go-to beef jerky for the parks–they're also available at Trader Joe's and a variety of other grocery stores. (We like every flavor except the cranberry one.)
As far as less-ordinary things go, at least, the less ordinary things that would be useful to others, this is about it for us. What about you? Are there any interesting things you pack that might make the rest of us say, "why didn't we think of that?!" If so, share them in the comments. We hope this guide helps you better-prepare for Disney!
If you are considering a purchase of any of these items or any other supplies for your vacation, we would greatly appreciate it if you use the links to Amazon in this post to make your purchase. It benefits the site, doesn't cost you anything, and help us to keep providing you with useful content.
Alright, as promised, here's our Disney packing checklist…
This Walt Disney World packing checklist includes a bunch of the above unique items that we recommend to improve your Disney trip, plus more common things that you won't want to forget, too. Note that you don't need to pack everything on this list–it covers all of the important stuff but might be more than you, personally need.
With this list, we tried to skip things that are unnecessary (like shampoo, conditioner, a first aid kit, etc.) because you can find them in your hotel room or in the parks, or because they aren't realistically necessary for most people. There's the temptation to over-pack (especially with all the clever ideas on this list), and that should be resisted. There's no need for 3 suitcases per person on a weeklong trip to Walt Disney World! 😉
Need Disney trip planning tips and comprehensive advice? Make sure to read Disney Parks Vacation Planning Guides, where you can find comprehensive guides to Walt Disney World, Disneyland, and beyond! For Disney updates, discount information, a free download of our Walt Disney World eBook, and much more, sign up for our free monthly newsletter!
Your Thoughts
What unique items do you recommend packing for a Disney trip? What clever items do you pack to improve your experience? Any 'smart' items you'd add to this list? Any questions we can help you answer? Hearing your feedback—even when you disagree with us—is both interesting to us and helpful to other readers, so please share your thoughts below in the comments!