Whenever the topics of Walt Disney World resorts or cutbacks come up, readers complain about scaled back or nonexistent hotel housekeeping. Specifically, whether it's returned to normal, if there's daily cleaning, and what can be expected of "Modified Mousekeeping." This post attempts to answer all of that with official policies, our experiences, what readers have shared, and speculation about the future.
As you might recall, Walt Disney World instituted a range of health safety protocol back when the resorts started to reopen in June 2020. Disney released "Know Before You Go" temporary policies and operational changes for its resorts, reflecting all of this. One thing that covered was resort cleaning, which would be both enhanced and modified or scaled back, depending upon the circumstances.
At that time, there were still a lot of unknowns about the nature of transmission, so a lot of attention was paid to surfaces throughout the parks, resorts, and even guest rooms. Obviously, a lot has changed since then–both in terms of what we've learned since and the nature of Walt Disney World's operations, which are largely back to normal. With that said, here are the current official housekeeping policies from DisneyWorld.com:
Prior to Your Arrival – Your room will undergo comprehensive cleaning, with added attention to:
High-touch areas, like TV remotes and door handles
Floors, which will be steam cleaned and vacuumed between guests
During Your Stay – Your room will receive light housekeeping service every other day (unless you choose to decline the service). This service will include:
Removal of trash and used towels
Replenishment of towels and amenities throughout room and bathroom
Wiping and cleaning of the vanity and counter surfaces
Vacuuming, if needed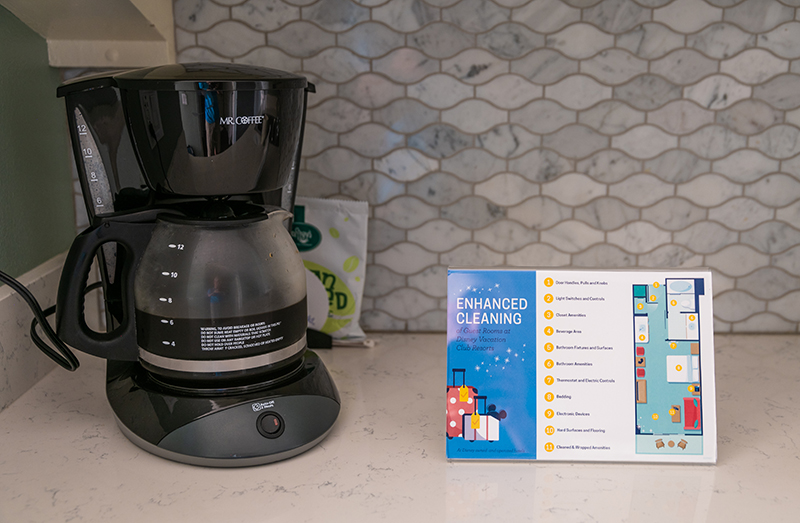 Additional Housekeeping Policies
Housekeeping tools will be cleaned between rooms.
If there is more than one room on your reservation and you choose to decline service, your selection will apply to all rooms on the reservation.
If you're a Disney Vacation Club Member or are renting and using DVC points for your reservation, you'll receive service on the 4th and 8th days, unless you decide to decline the service.
Inside your room, you'll find individually wrapped glassware and other items that have been cleaned, sealed or wrapped in single-use packaging
Walt Disney World reserves the right to enter any room at a Disney Resort hotel for maintenance, safety, security or any other purpose, even if the Room Occupied sign is displayed on the room door.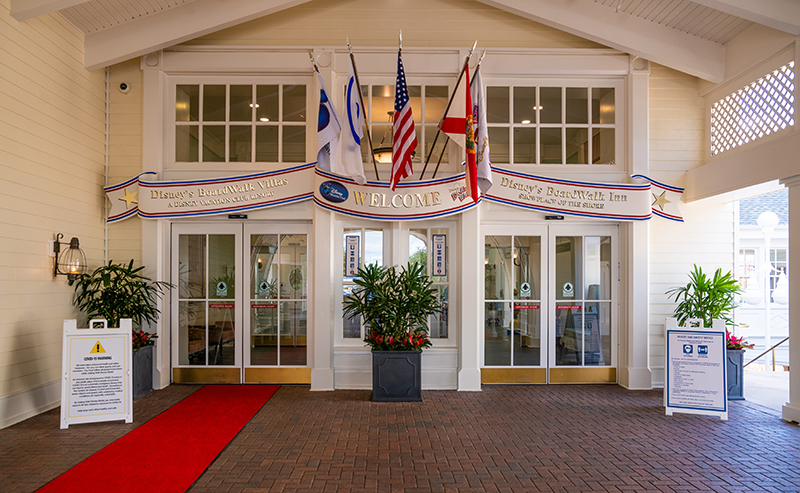 This information has made its way to the normal housekeeping info page, but Walt Disney World still refers to the light cleaning service every other day of your stay as "modified." The fact that Disney didn't quietly make this cut permanent offers a glimmer of hope that this will return to normal at some point in the future.
While I'm optimistic that a lot of the modifications made during the phased reopening won't stick, I'm skeptical about modified Mousekeeping being among them. To the contrary, I expect these cuts to become permanent and a variation of the above policy to become the "new normal" for the foreseeable future.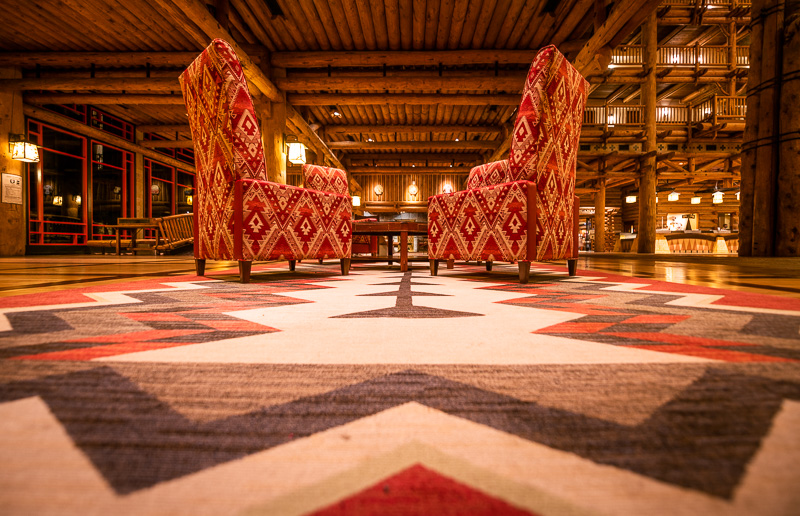 Before we get to the why of that prediction, let's start with some on the ground accounts. Unfortunately, we've only done a couple of multi-night stays in the last couple of years at Walt Disney World. Since we're locals, single nights or weekend staycations make more sense than weeklong visits. Accordingly, we don't have much relevant recent firsthand experience with modified Mousekeeping during our stays at Walt Disney World.
When it comes to pre-arrival housekeeping, things started strong last summer–presumably because bookings and occupancy were really low and Walt Disney World wanted to make a strong impression with guests.
In the last year, we've noticed a return to normal. There have also been times when we've questioned whether elements of the room were cleaned at all–glassware that was visibly dirty, items still in the fridge, etc. We had similar experiences pre-closure, so nothing particularly noteworthy there in terms of a difference.
More significantly, we've noticed a greater sense of urgency among Mousekeepers as they seemingly start earlier in the morning and are often racing around resort hallways. None of the above should be construed as casting aspersions on them or the work they do. It's much more likely that their workloads stretch them too thin, and it's impossible to thoroughly clean each room given the time allotted by management.
A lot of readers have shared their experiences with housekeeping during their stays at Walt Disney World, and those anecdotes are mixed. Some have reported that things are essentially back to normal–despite Disney's official policy, they had their room cleaned daily (or close to it).
Others indicated that housekeeping barely set foot in their room, except for the infamous safety/security checks. These people stated that not even the every other day services were occurring. Many also have shared that they didn't receive any Mousekeeping at all without calling the front desk.
The middle ground of reader feedback more or less reflects the official policy–that housekeeping took out the trash and towels, but not much else. (If you have experience with Walt Disney World Mousekeeping in the last year, please share it in the comments.)
While our travel schedule was still scaled back as compared to a normal year, we did spend a decent amount of time in Anaheim at a dozen different hotels, all for multi-night stays. With the exception of two stays at the Grand Californian, our stays there were all at third party hotels, at every price point.
Across the board, our experiences in Anaheim were entirely consistent with Walt Disney World resorts. However, Anaheim is also a unique market–with a lot of parallels to Central Florida–so I'd stop short of generalizing our experiences in Southern California to the whole industry as a whole. (Las Vegas is probably also a similar story, but I'm not sure about other domestic destinations.)
In Anaheim, we were offered regular housekeeping at one hotel. At many of these hotels, we noticed garbage outside other guest rooms in the hallways, so clearly it was an across the board policy–not just housekeeping snubbing us. Even the new JW Marriott and Westin luxury hotels only provided daily housekeeping upon request (an increasingly common policy in the hotel industry).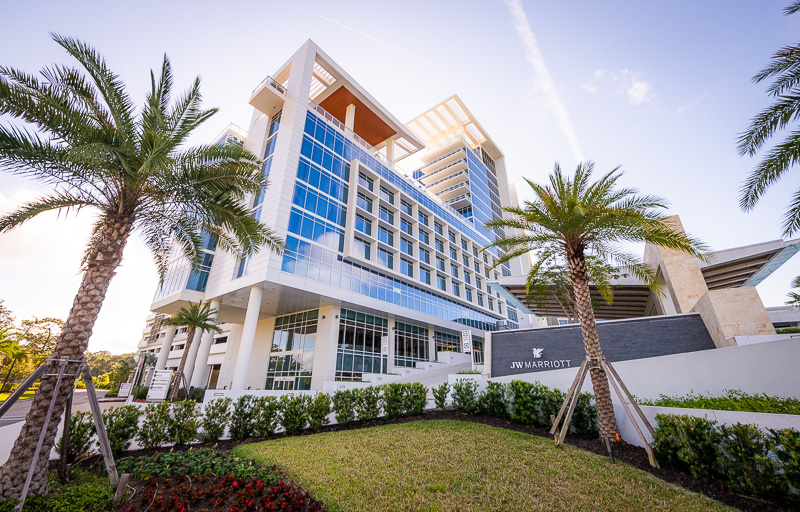 We do a lot of Marriott stays, and this was a first for us–as were a number of other changes. Notably, Marriott eliminated its "Make A Green Choice" program, which gave Bonvoy members the option to receive 500 points for each day they declined housekeeping.
We were big fans of this, and always took advantage. We're not trying to single out that brand as some sort of anti-Marriott agenda; they're not the only chained brand hotel to quietly do away with its incentives for declining housekeeping. My guess is that hoteliers realized they could get away with cutting that bonus under the guise of health safety.
Similarly, Walt Disney World had been offering gift cards as part of the "Service Your Way" program for those who declined housekeeping at select resorts. This did not return when the resorts reopened, presumably removed with the same underlying motivations as other hotel operators.
Disney's "Service Your Way" offer started a few years ago. It was one of the rare perks that got better as time went on, as Disney increased the dollar amount to entice more guests to decline housekeeping. We also always took advantage of this, and there were some occasions–like when booked in tandem with Free Dining–where it felt like one of those "there's gotta be a catch?!" things. Disney was practically paying us to stay there.
Of course, there was a catch and none of these hoteliers were offering points or cashback for their purported reasons of environmentality or customizable service. Its motivations were purely economic, just like a lot of recent changes that offer coincidental environmental or other benefits.
While I cannot speak to Marriott or chains in other markets around the country, Walt Disney World's motivation was staffing shortages. Even from 2017 through early 2020, the company was having tremendous difficulties hiring and retaining housekeepers. College Program participants were offered incentives to change roles, there were multiple job fairs, hiring bonuses, and wage increases–but the shortages persisted.
As you're undoubtedly aware if you're read this blog at all, staffing shortages for many roles have only gotten worse in the last year, and housekeepers are one specific role that is always advertised for job fairs and hiring bonuses. Right now, there are open positions on Disney Careers with a starting rate of $17 per hour and a $1,000 new hire bonus.
I won't pretend to understand all of the nuances of the labor market for housekeepers in Central Florida, but I'd hazard a guess that there are a couple key factors at play.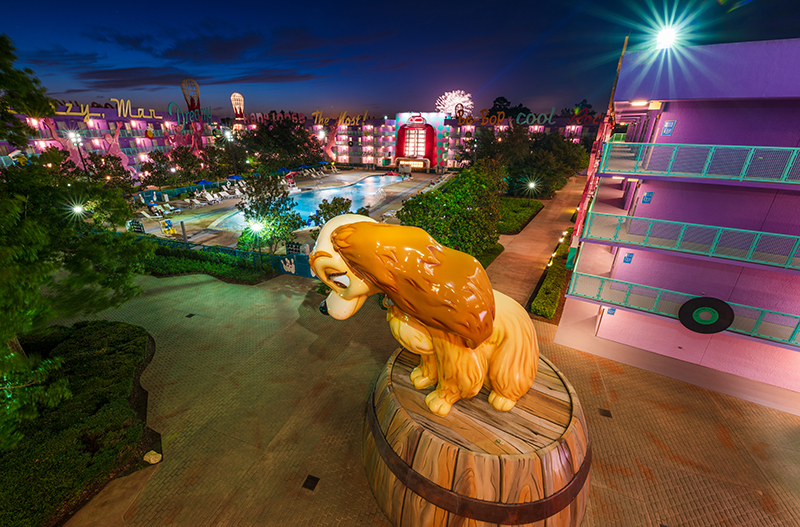 First, immigration to the United States has slowed down in the last 5 years, plummeting in the last two. This alone leaves the country with a shortfall of over 2 million workers. This is of particular relevance for housekeeping roles, as they were disproportionately filled by immigrants. (It's this could soon improve, as the backlog of immigrant visas is finally starting to be processed.)
The reasons for the current labor shortages are multifaceted. They have been further exacerbated by the United States having an aging population, and many baby boomers have left the labor force entirely in the last 2 years. All of this makes the housekeeper shortage one that higher wages alone cannot resolve.
Second, development around Central Florida has exploded during that same span of time. I'm not going to crunch the numbers on how many hotel rooms have been added to the Orlando market during that time, but it's easily tens of thousands.
Hotels aren't the only thing that has been built. Residential construction has also exploded, with huge swaths of undeveloped land now filled by seas of subdivisions. With more homes comes more demand for maids and residential home cleaners. In my cursory research, it appears those positions pay more than Disney. I'm also going to go out on a limb and guess they're lower stress.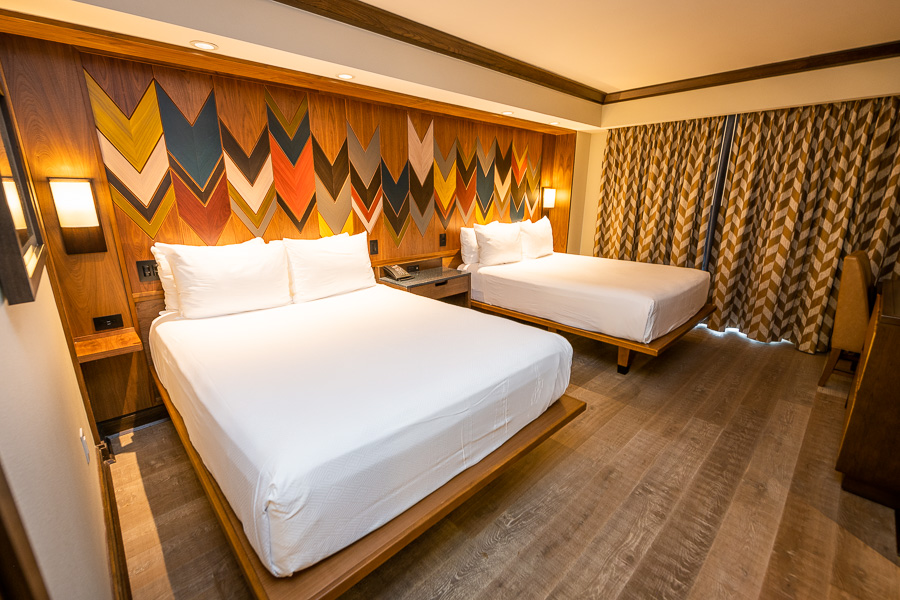 Ultimately, all of this is why I'm skeptical that housekeeping will ever return to its pre-closure normal. Not just at Walt Disney World, but for the U.S. hotel industry as a whole. While I don't necessarily think Walt Disney World's current "modified" Mousekeeping service will become permanent, I do think it'll necessarily be scaled back in some way in light of all of the above.
One expectation is that the degree of service will vary with occupancy and load levels. Guests who travel during the off-season or stay at unpopular hotels are probably more likely to encounter full and regular housekeeping. It's also possible that housekeeping upon request becomes the industry standard going forward. However, the days of consistent and unsolicited housekeeping–or an economic incentive for declining it–are probably gone for good.
Finally, it's possible that Walt Disney World will institute more changes, and Mousekeeping service becomes a way of segmenting among the various tiers of resorts. Which is to say that it won't be offered on a daily basis at Value or Moderate Resorts, but perhaps will be the standard at Deluxe Resorts and other luxury hotels. This would be a way of addressing housekeeper shortages and also guest demand for daily room cleaning. Probably not a popular way, but one that could make sense to the company if these shortages persist.
Planning a Walt Disney World trip? Learn about hotels on our Walt Disney World Hotels Reviews page. For where to eat, read our Walt Disney World Restaurant Reviews. To save money on tickets or determine which type to buy, read our Tips for Saving Money on Walt Disney World Tickets post. Our What to Pack for Disney Trips post takes a unique look at clever items to take. For what to do and when to do it, our Walt Disney World Ride Guides will help. For comprehensive advice, the best place to start is our Walt Disney World Trip Planning Guide for everything you need to know!
YOUR THOUGHTS
Do you expect full normal housekeeping to return? Think this is another cost-cutting measure by Walt Disney World, or agree that there are externalities that'll make it difficult to restore housekeeping? What have been your recent experiences with housekeeping at Walt Disney World–and beyond? Would the reinstatement of regular Mousekeeping make you more likely to book an on-site Walt Disney World resort stay? Any questions we can help you answer? Hearing your feedback—even when you disagree with us—is both interesting to us and helpful to other readers, so please share your thoughts below in the comments!