To avoid crowds, there are good times to visit Tokyo Disneyland & DisneySea, and bad times to visit this year and in 2023. Some days have low wait times, while others have 45 minute waits for popcorn. Additionally, extremes in weather, plus seasonal entertainment are important factors to consider when planning your Japan trip. (Updated October 1, 2022.)
In our latest update to this guide to the best times to visit Tokyo Disneyland and DisneySea, we're mostly looking forward to 2023. The good news is that you won't have to wait until next year, because Japan Will Reopen to Individual Tourists in October 2022! This marks the first time in over 2 years that Japan will allow unguided tourists into the country, and is a big deal for the country's attempts to revive its battered tourism industry.
In theory, that could mean a huge surge of pent-up demand in late 2022 and early 2023 that results in sky-high crowds as people who have been shut out of Japan for the last two years make up for lost time. Fans of Walt Disney World and Disneyland might fear this, as it's exactly the scenario that has been playing out in the U.S. parks. While these fears are reasonable, we view this as highly unlikely for reasons we'll discuss here.
First, there's the reality that very few people take last-minute international trips. While Japan is reopening in time for one of the country's busiest travel seasons of the year, this is happening with less than two-months' notice. The lag between booking and traveling is larger for international travel than domestic destinations.
Outside of hardcore Japanophiles, most people won't be booking Japan trips for 2022 at all. Normal travelers are not anxiously awaiting this news; most have already booked their fall travel plans to other destinations. Not only that, but many have already booked Spring 2023, too.
Second, there's the past profile of visitors to Japan, which skews strongly towards other countries in Asia. Tokyo Disney Resort won't see visitors from China anytime this year, and even the first half of 2023 is unlikely.
This is due to strict antivirus restrictions by Beijing, which still has a zero-COVID policy. When that country's leader, Winnie the Pooh, will relax his zero-COVID policy is anyone's guess, but there are no signs of that happening soon. Even when it does, there will be the same lag for Chinese tourists between the policy change, booking of trips, and actually traveling.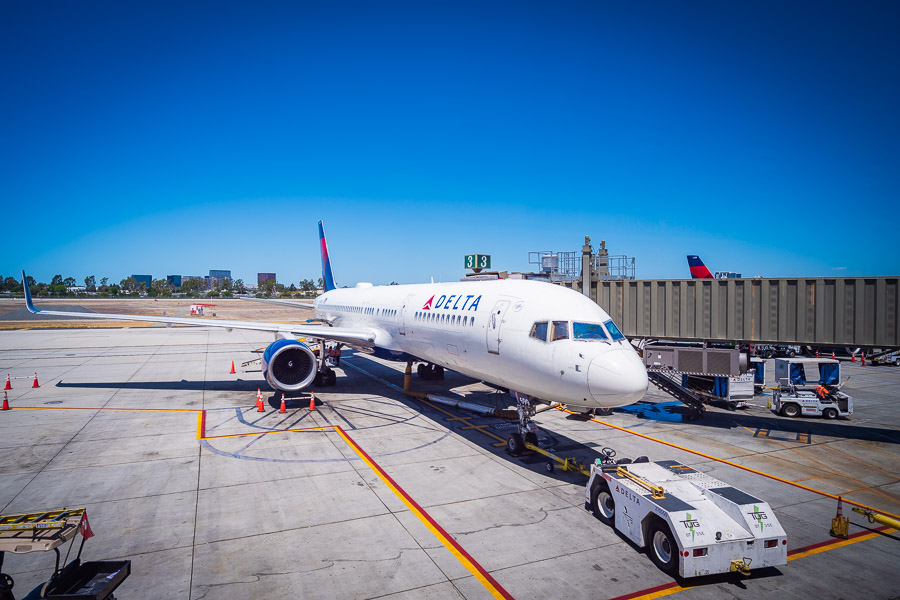 Third, there's an actually limitation on inbound international visitors beyond the theoretical: flights.
Due to Japan's prolonged closure, many international carriers have reallocated their planes to other routes. While JAL and ANA have plans to scale up quickly, other carriers are a totally different story. In short, the number of visitors will be constrained by available flights, if not by demand. (We still think bookings will be the actual limited factor–not flights!)
Finally, there's the big one: guest demographics at Tokyo Disney Resort.
While all of the above will have a significant impact on crowds throughout Japan, not all places see the same volume of international tourists. If this were a post about Kyoto, international visitors would be much more relevant. However, international visitors accounted for 9.6% of all guests at Tokyo Disney Resort in 2019. While that was the fastest-growing demographic, it was still a small percentage of all park attendees.
The flip side is that over 90% of Tokyo Disney Resort's attendance is made up of domestic visitors from within Japan.
Percentage-wise, this increased in the last two years (due to the border closure) while the raw number of attendance plummeted due to health safety measures, attendance limits, entertainment reductions, cancellation of seasonal events, and other cutbacks.
In short, Tokyo Disney Resort has primed itself for a pent-up demand situation among Japanese visitors. This could be even more significant than those at Walt Disney World and Disneyland, as the Tokyo parks have had a longer stretch of modified and limited operations than the U.S. parks.
The bigger impact on the crowd situation won't be the return of international visitors. It'll be in bringing back multi-day tickets and Annual Passes, the full restoration of entertainment, operating hours, and seasonal events. That will result in a resurgence of locals, just as it did in California at Disneyland.
When all of this will start to occur is anyone's guess, but it seems likely by November 11, 2022. That's when the new "Believe! Sea of Dreams" nighttime spectacular debuts at Tokyo DisneySea, and it's also shortly after the start of Christmas in both parks.
There's also Tokyo Disneyland's 40th Anniversary and opening of Fantasy Springs at Tokyo DisneySea on the horizon, among other additions discussed in What's New & Next at Tokyo Disneyland & DisneySea in 2023-2024.
With that rather significant preface out of the way, we'll do our best to predict crowd trends here based on past precedent in a normal year. All things being equal, these general patterns should repeat themselves again in 2023 and beyond.
Narrowing things down to the season during which you want to visit is a crucial first step from our perspective. This isn't California or even Florida. The differences between January and April, for example, are significant. In January, you will certainly find cold weather and might even be greeted by snow in different parts of Japan, including Tokyo Disneyland. In April, weather is mild, the cherry blossoms start blooming, and the parks are celebrating spring.
To that end, let's start by taking a month-by-month look at what you can encounter in terms of seasonal offerings, crowds, and weather. Note that it's unclear what the events lineup will look like in 2023–many of these seasonal events are likely to change in name or substance.
January
Seasonal Event: Totally Minnie Mouse at Tokyo Disneyland
Seasonal Event: Duffy's Heartwarming Days & Pixar Playtime at Tokyo DisneySea
Weather: 35-50° F with mostly sunny days and little precipitation.
Crowds: Low after New Year's week.
February
Seasonal Event: Totally Minnie Mouse at Tokyo Disneyland
Seasonal Event: Duffy's Heartwarming Days & Pixar Playtime at Tokyo DisneySea
Weather: 35-50° F with mostly sunny days and little precipitation.
Crowds: Low to moderate, increasing towards the end of the month.
March
Special Event: Totally Minnie Mouse at Tokyo Disneyland
Seasonal Event: Duffy's Heartwarming Days & Pixar Playtime at Tokyo DisneySea
Seasonal Event: Disney's Easter at only Tokyo DisneySea
Weather: 40-55° F with mostly sunny days and light precipitation.
Crowds: Moderate crowds the entire month getting worse towards the end of the month, both in Tokyo Disneyland and Japan in general (blossom season).
April
Seasonal Event: Disney's Easter at only Tokyo DisneySea
Weather: 50-65° F with moderate sunny days and light precipitation
Crowds: Low outside of potential holidays at the end of the month (avoid days around Golden Week).
May
Seasonal Event: Disney's Easter at only Tokyo DisneySea
Weather: 60-75° F with moderate sunny days and light precipitation.
Crowds: Low after Golden Week travel concludes.
June
Special Event: Duffy Sunny Fun & Disney's Easter at only Tokyo DisneySea
Weather: 65-75° F with some sunny days and moderate precipitation.
Crowds: Low.
July
Seasonal Event: Duffy Sunny Fun & Pirates Summer in Tokyo DisneySea
Weather: 75-85° F with some sunny days, some precipitation, and high humidity.
Crowds: Moderate until the last week, which is heavy.
August
Seasonal Event: Duffy Sunny Fun & Pirates Summer in Tokyo DisneySea
Weather: 75-90° F with moderate sunny days, light precipitation, and high humidity.
Crowds: Heavy.
September
Special Event: Halloween in both parks
Weather: 70-80° F with moderate sunny days and some precipitation.
Crowds: Low at the beginning of the month, increasing to heavy at the end.
October
Special Event: Halloween in both parks
Weather: 60-70° F with moderate sunny days and light precipitation.
Crowds: Heavy.
November
Special Event: Christmas in both parks
Weather: 50-65° F with mostly sunny days and light precipitation.
Crowds: Moderate.
December
Special Event: Christmas in both parks
Weather: 40-55° F with mostly sunny days and light precipitation.
Crowds: Low until Christmas week; heavy thereafter.
Note that this month by month look is a high level overview, and makes generalizations about crowds and weather. For exact dates of Tokyo Disney Resort seasonal events, consult their official monthly calendar.
In addition to the events on this calendar and that official one, Tokyo Disneyland has opened its massive expansion that includes the new Enchanted Tale of Beauty and the Beast attraction and the indoor Fantasyland Forest Theatre. In Toontown, the new Disney Character greeting facility Minnie's Style Studio is also open, and the Happy Ride with Baymax has debuted in Tomorrowland.
In terms of weather, it gets cold in the winter and then increasingly warmer until peaking during the spring months. Late-June through early-August are the worst times to visit from a weather perspective terms of both precipitation and debilitating humidity.
Pre-closure, we visited during several times of year. Most noteworthy for the purposes of this post was our summer visit. While we enjoyed the summer festivities, the weather bordered on miserable. Japan's sweltering temperatures made world news due to temperatures over 100F and a record-breaking heat wave that has killed dozens. Obviously, temperatures this intense are not normal for the summer in Japan, but this type of weather is possible, and that's something to consider when planning.
Around September, the weather starts to cool again in the fall leading to colder weather again in the winter. From September through November, things are generally pleasant. December through February are once again "weather wild cards" with freezing temperatures and even snow possible. If you're averse to cold weather, you should avoid these months.
Weather once again becomes more temperate in the spring, with April and May being quite nice. Our calendar above covers in-park crowds, and indicates that April is generally low season for Tokyo Disney Resort. Note that April is cherry blossom season in Japan, so you are likely to encounter heavier crowds outside the parks during peak sakura times. (Ditto that with mid to late November and fall colors season.)
As for crowds, you definitely want to consult something more precise than our overview. Japanese national holidays and to a lesser extent national holidays in China and South Korea (the largest demographics of overseas visitors to Japan) can have impact crowds on certain dates, and crowds can turn on a dime from being light to heavy when school is out of session.
For a bit more precision, we recommend consulting Crowd Calendars for Tokyo Disneyland and DisneySea. These are incredibly great resources for choosing which days to visit the parks once you've narrowed down your rough travel dates based upon the season or special events you want to experience. There's a lot of info in the crowd calendars, and they have never steered us wrong.
One thing to note is that crowds fluctuate more at Tokyo Disneyland and DisneySea more than any other parks in the world. We've been on "low" days in the middle of the weeks that are lighter than mid-January at Disneyland, and we've been on weekends that feel like New Year's Eve in Magic Kingdom.
A lot of people of apprehensive about visiting Tokyo Disneyland due to photos that circulate of humongous lines to get into the park and crazy congestion, and while the former is true every day (the Japanese like to show up early!) the latter is only true on the busiest days of the year. I want to underscore this because the perception of crowds in these parks has taken on a life of its own and is, frankly, overblown.
With that said, it is very important to choose your travel dates wisely to avoid weekends and holidays, otherwise you risk being caught in one of these 'crazy congestion' times. Our 3 favorite times to visit the parks are mid-May, early to mid-September, and early-November.
If you go in mid-May, you avoid the the Golden Week crowds, get better weather than earlier in the year, and will be able to see Disney's Easter, which is awesome. In our experience, this is the sweet spot in terms of weather, crowds, and seasonal events.
If you visit in early to mid-September, you'll be able again have milder weather and you will beat the Halloween crowds (which get bad!) while still being able to enjoy the Halloween festivities.
We've dubbed going for the last two days of Halloween and the first week of Christmas as "HalloXmas at Tokyo Disney Resort." This is our absolute favorite time of the year to go thanks to seasonal offerings. Note that Halloween itself is bad crowd-wise, but the following days are light. Weather should be temperate throughout the trip, but you might need a light jacket.
We love Tokyo Disney Resort, but we think it would be sort of extreme (and not EXTREME! in a good way, like chugging a bunch of Mountain Dew and hanging out with Chuck Norris) to visit Japan without seeing other parts of Japan, so you should definitely consult a calendar of happenings around the country before finalizing your dates.
As noted above, cherry blossom and fall colors seasons are going to be busy throughout the country. This is particularly true in Kyoto, Mt. Fuji, and other areas known for seasonal beauty. If you're just visiting only Tokyo on your first trip to Japan, this shouldn't be as much of a concern.
Once you've determined what time of year you want to visit, it's important to plan the particular days you will be visiting. The most important takeaway you can glean from this article is do not visit Tokyo Disneyland or DisneySea on weekends. That's really important, so let me reiterate with some dramatic emphasis: DO NOT VISIT TOKYO DISNEY RESORT ON WEEKENDS!!!
This is true no matter what time of year you visit, even during the lowest seasons, weekend crowds are bad. Like Times Square on New Year's Eve (minus the B.O. and vomit) bad. This is because Tokyo Disneyland and DisneySea are locals parks more than even Disneyland in California, meaning they get crowded with Annual Passholders on the weekends when they are off school and work.
Saturday is the absolute worst day of the week, with Sunday a close second (until around 5 p.m. when locals start heading home). Friday is the third worst day, especially in the afternoon and evening, as people head to the parks to kick off their weekends.
In terms of the rest of the week, we can't really say we've noticed a significant difference among Monday, Tuesday, Wednesday, or Thursday, save for Monday arguably being slightly busier with a few locals doing long weekends and tourists kicking off the start of their vacation head to the parks. This difference is negligible at best, and we would not recommend avoiding Monday as a result.
One final thing to consider is the strength of the yen as compared to the dollar. The yen is hovering around its weakest levels since 1998, with the Japanese currency falling about 25% year-to-date. The strength of the dollar means greater purchasing power when traveling abroad, and to Japan in particular.
The Bank of Japan has intervened by selling dollar-denominated assets to buy the yen in an effort to prop-up the Japanese currency's free-fall, but that hasn't done much. The Bank of Japan has reaffirmed a commitment to ultralow monetary policy, whereas the U.S. Federal Reserve and other central banks in the West have hiked interest rates repeatedly–and have signaled intent to continue doing so through 2023. These divergent approaches will mean the effects of the yen intervention might be limited, unless the BOJ changes its dovish stance. Consult conversion charts while planning your trip to Tokyo Disney Resort to see where things stand prior to your visit, but you should have more purchasing power when it comes to airfare, hotels, park tickets, and outfits for your Duffy plush–you know, all of the essentials.
Planning a trip to Tokyo Disney Resort? For comprehensive advice, the best place to start is our Tokyo Disneyland & DisneySea Trip Planning Guide! For more specifics, our TDR Hotel Rankings & Reviews page covers accommodations. Our Restaurant Reviews detail where to dine & snack. To save money on tickets or determine which type to buy, read our Tips for Saving Money post. Our What to Pack for Disney post takes a unique look at clever items to take. Venturing elsewhere in Japan? Consult our Ultimate Guide to Kyoto, Japan and City Guide to Tokyo, Japan.
Your Thoughts
If you've been to Tokyo Disneyland or Tokyo DisneySea, what did you think were the best or worst times to visit? Thinking about visiting at any particular times of year? Other thoughts on avoiding crowds at Tokyo Disneyland? Share your thoughts or questions in the comments below!