Epcot's Candlelight Processional is held in November and December at Walt Disney World. One of the biggest questions is whether it'll be performed in 2021. Here, we'll answer that, cover whether the dining package is worth the money, offer details about the choir, orchestra & narrators, and review this Christmas-time show. (Updated August 28, 2021.)
For those unfamiliar with it, Candlelight Processional at Walt Disney World is the telling of the Christmas story by a celebrity narrator with music sung by a mass choir and performed by a 50-piece live orchestra. It's one component of the Epcot International Festival of the Holidays, which also includes the World Showcase Storytellers and Holiday Kitchen food booths.
Last year, Walt Disney World cancelled Candlelight Processional due to physical distancing requirements, capacity constraints, and in an effort to avoid events or entertainment that would cause congestion. That announcement occurred in early September. As of late August 2021, Walt Disney World still has not made a final decision on Candlelight Processional for the 2021 Epcot International Festival of the Holidays. Here's what we know so far…
In an earlier incarnation of this post, when things were looking good and so much normalcy returning to Walt Disney World–several months before the performances would begin–we said it was highly likely that circumstances would allow for Candlelight Processional to occur. The crowds it'll draw, close contact, and singing should not be serious concerns by late November 2021.
Of course, a lot has changed since then. First, Disney announced its holiday lineup and didn't mention Candlelight Processional. (See 2021 Christmas at Walt Disney World Dates & Details: What's Coming & Cancelled for details.) This wasn't a huge surprise, both because more could be revealed later and given that Walt Disney World's 50th Anniversary would be the primary focus of the last three months of the year.
Second, after months of low case numbers, Florida has seen a spike this month. On its face, it would seem that this would reduce the likelihood of Candlelight Processional occurring. However, Walt Disney World hasn't really slowed reopening plans. To the contrary, entertainment and restaurants continue to return, self-service buffets are back, the first Club Level has reopened, finger scanning is back at the turnstiles, and more. Suffice to say, Walt Disney World seems to be "full steam ahead" on reopening plans.
What the rising case numbers have caused is a deluge of vacation cancellations between now and the end of the year. This is already reflected in park attendance and hotel occupancy numbers, but the decline is expected to last through December. (The last 3 months of the year are still expected to be incredibly busy, just not quite as bad as previously forecast.)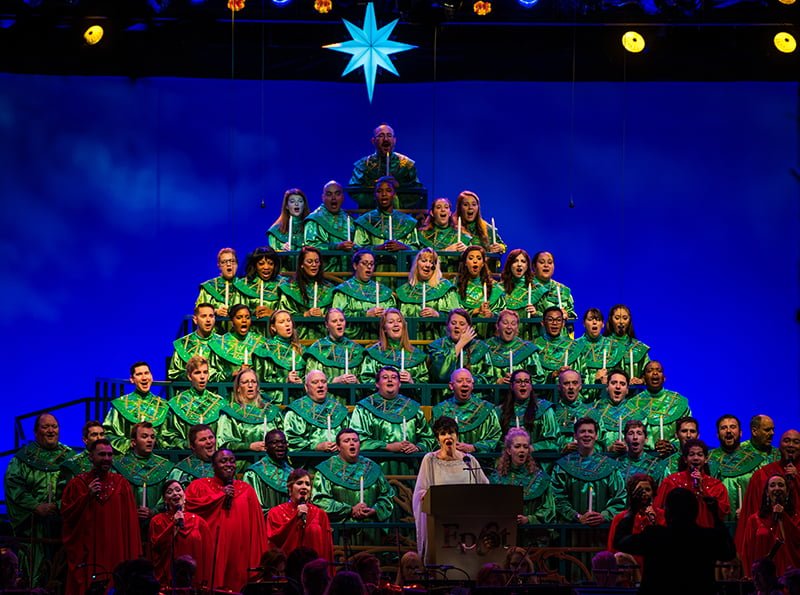 This has left Walt Disney World leadership scrambling to find options to boost revenue and attendance. Enter Candlelight Processional. Last week, an email went out to all former and future Cast Choir participants. This was meant to "explore" what it would take to bring back the Candlelight Processional in a way that is mindful of the current environment.
Basically, the correspondence was testing the waters, reaching out as a first step in gauging interest and planning for the possible return of the 2021 Candlelight Processional. Once the level of interest and availability among the Cast Choir is known, Walt Disney World will make a final decision about the show.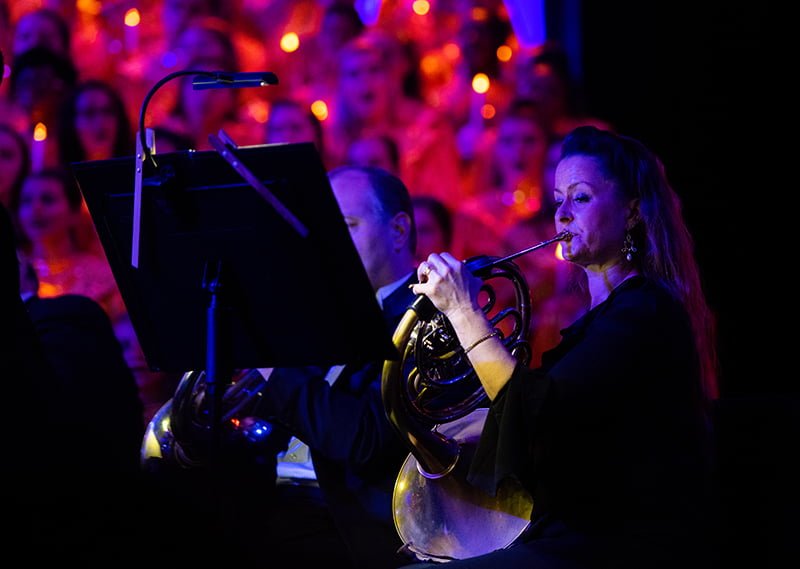 From what we've heard, if Candlelight Processional does happen, it'll be a modified and scaled back version of the full show. Think "A Taste of Candlelight Processional at Epcot." (Well, wrong sense, but you get the idea!) There almost certainly won't be student choirs, and the narrators likely won't be the typical celebrities for most or all of Candlelight Processional's run.
Of course, that's if Candlelight Processional happens at all in 2021. Walt Disney World could determine there isn't enough time to pull it off, perhaps there won't be sufficient interest among members of the Cast Choir, or maybe Disney will decide Harmonious and Remy's Ratatouille Adventure are sufficient draws for Epcot this Christmas.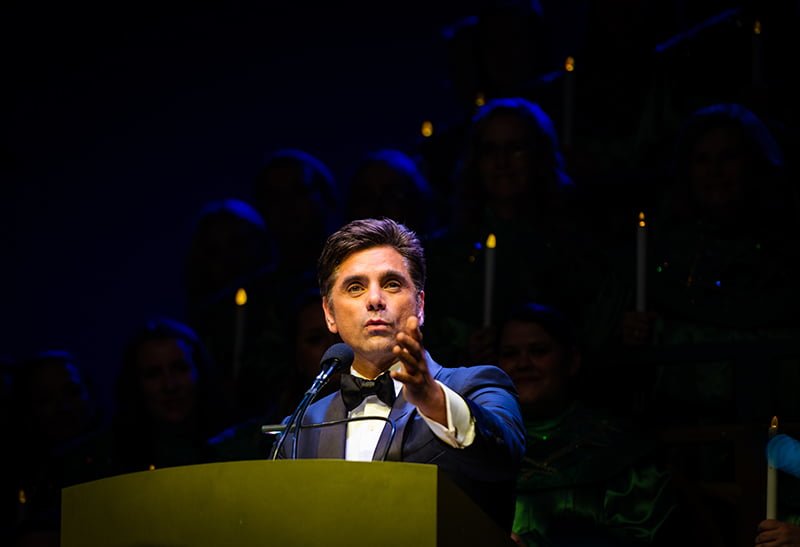 Ultimately, we remain somewhat optimistic that Candlelight Processional will happen in 2021 (there's a lot I don't know, but I'd put the odds at about 60/40). Not only is it a Christmas-time tradition at Walt Disney World, but it's incredibly lucrative for the company. Expensive dining packages often sell out, and the festivities draw many guests to Epcot each holiday season.
With that said, our expectation is that details and dining packages for the 2021 Candlelight Processional are released much later than normal this year. Don't be surprised if Walt Disney World is silent on specifics until mid-September 2021. Everything is much more last minute this year than normal, for reasons that should be obvious. Don't be alarmed by that!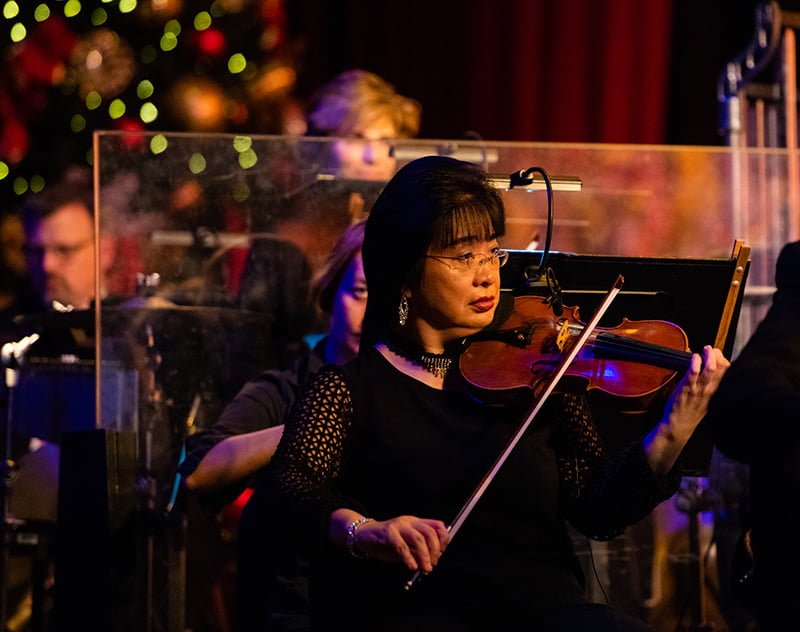 If 2021 Candlelight Processional occurs, it will almost certainly start November 26, 2021 and continue until December 30, 2021. Normally, there would be three performances per night, likely occurring at 5 pm, 6:45 pm, and 8:15 pm.
These "predictions" are easy to make because Candlelight Processional has consistently followed this same pattern–starting the Friday after Thanksgiving and ending the day before New Year's Eve for years. For 2021, there's the possibility it'll begin later and have one fewer performance per night.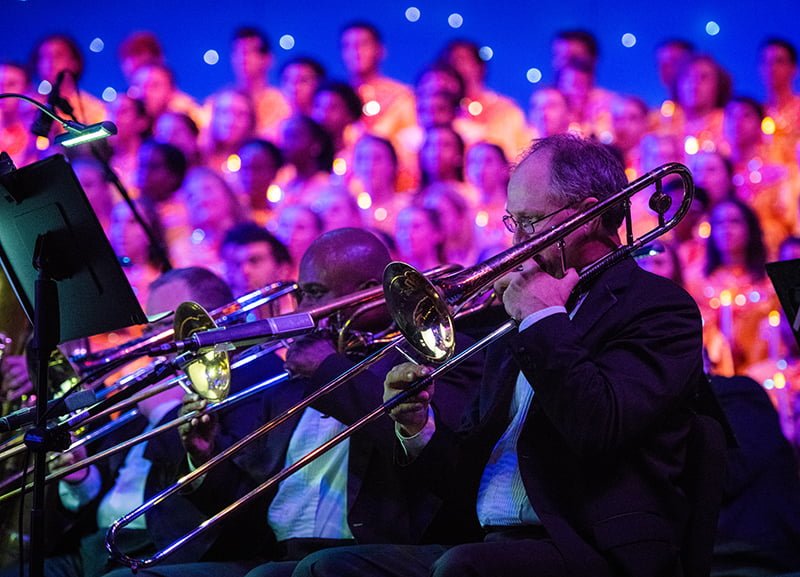 Now let's turn to basic info about Candlelight Processional! The performances are held in the America Gardens Theatre across from the American Adventure in World Showcase. There's a reason one of the most popular events of the Christmas season at Walt Disney World is the Candlelight Processional at Epcot: it's a beautiful show that many guests find to be a moving and spiritual experience.
Calling Candlelight Processional one of the most popular events is no exaggeration–long lines plus expensive dinner packages have sort of contributed to us being "over" Candlelight Processional. We have really enjoyed it in the past, but it's something that is a huge hassle if you don't have a dining package or don't mind watching from outside the theater.
For reference, here was the narrator schedule for Candlelight Processional at Epcot the last time it was held:
November 29 to December 1: Ming-Na Wen
December 2-5: Neil Patrick Harris
December 6-7: Whoopi Goldberg
December 8-10: Isabella Rossellini
December 11-12: Chita Rivera
December 13-15: Gary Sinise
December 16-18: Pat Sajak
December 19-21: Warwick Davis
December 22-24: Steven Curtis Chapman
December 25-26: Edward James Olmos
December 27-28: Marlee Matlin
December 29-30: Lisa Ling
If you're wondering whether it might be worth doing plus some ideas for making the most of the Candlelight Processional Experience, we have some tips & tricks and a review in this post…
Tips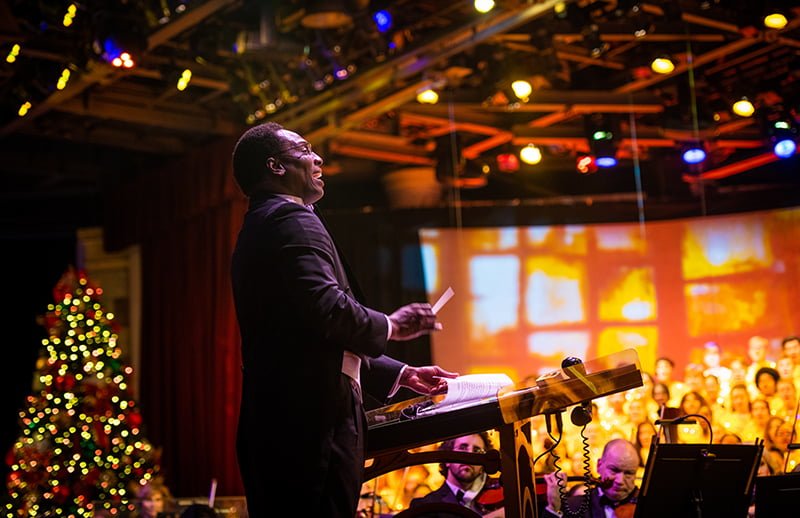 Make sure you monitor the schedule to make sure your chosen performer is still set for the date you're attending as your trip draws closer, as some narrators have changed as celebrities become tied up with other commitments.
While the America Gardens Theater where Candlelight Processional is held can seat over 1,000 guests per performance, between 50% and 75% of these seats are reserved for guests who purchase dinner packages. All of these dinner package guests are guaranteed seats in one of the three nightly Candlelight Processional performances.
Bookings for Candlelight Processional Dining Packages typically open several months before the performances. Breakfast dining packages are typically offered for Candlelight Processional, in addition to 2 new restaurants (outside of Epcot) also offering dining packages. More dining package availability will likely bump that number up above 75% in terms of reserved seats.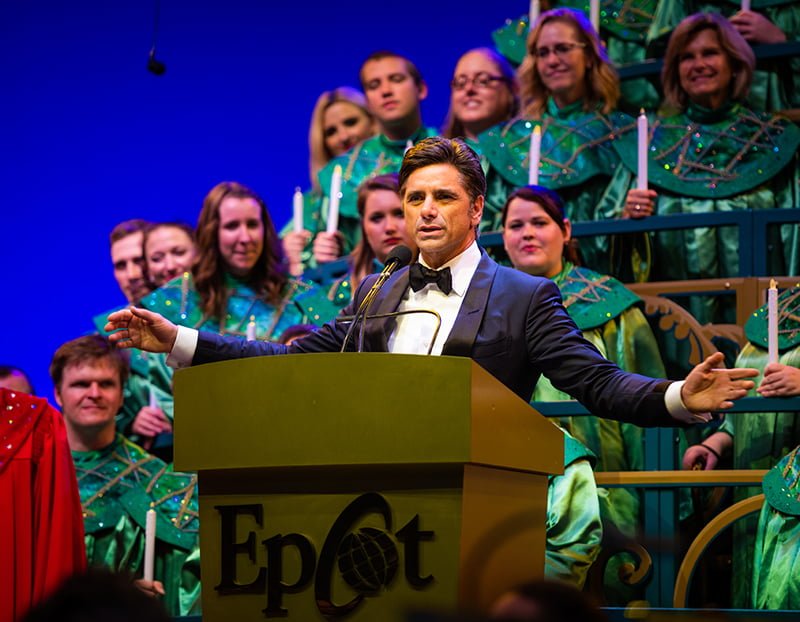 This means that the standby line for most performances gets super long. Ridiculously long. So long that if you're a tourist or visiting on vacation, you should get a lunch or dinner package for the Candlelight Processional, especially when a popular narrator is presenting. When Neil Patrick Harris last presented, we saw people lining up for the 5 p.m. performance of Candlelight Processional around noon!
The dinner packages include a meal consisting of an appetizer, entree, dessert, and non-alcoholic beverage (or full buffet "experience," where applicable) and reserved seating at one performance of Candlelight Processional. For what you get, the dining package is not that expensive (or at least the cost is not badly inflated).
Your time on vacation is definitely worth the price. I know the three hours or so of waiting in line that we've saved by purchasing the dining package has been well worth it–to us at least!
If you elect not to do the dinner package and don't want to wait hours in line, you have a couple of options. First, show up to the standby line ~15 minutes before the last show of the night starts. Depending upon the popularity of the narrator and how busy Epcot is that evening, sometimes this last showing will still have seating. If not, at least you didn't waste a ton of time standing in line.
In many scenarios, that strategy will work just fine. You may not have the best seats, but you'll still be able to see the show and have a seat. If the theatre is already full, we recommend trying to watch from the walkway behind the America Gardens Theatre.
Cast Members will manage crowd flow back here in the walkway, but you can simply stand behind the theater (not in the walkway) and watch the show. This is actually a really good view for Candlelight Processional. Think of it as sitting (well, standing) in the balcony of the America Garden Theatre.
While we strongly recommend the dining package for those wanting good, guaranteed seats, if you're on a tight budget or Candlelight Processional is not as much of a "must-do," we think those strategies are good alternatives to save a bit of money, which can be spent on other holiday entertainment at Walt Disney World.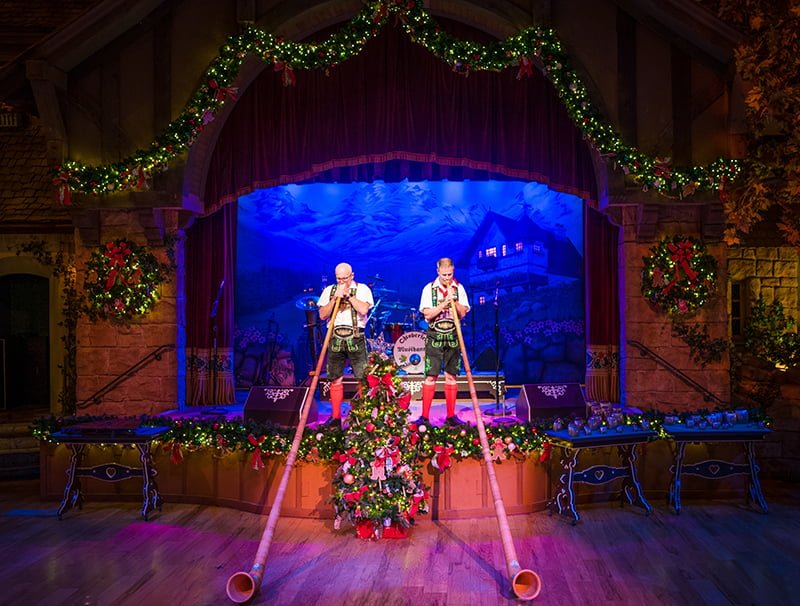 The following are the locations participating in the dining package for the Candlelight Processional. As you can see, our recommendations are for Biergarten or Via Napoli. 

Akershus Royal Banquet Hall – Norway
Ale & Compass – Yacht Club Resort (outside of Epcot)
Biergarten – Germany (Our Pick for Value/Christmas Ambiance)
Chefs de France – France
Coral Reef– The Seas
Garden Grill – The Land
La Hacienda de San Angel – Mexico
Nine Dragons Restaurant – China
Restaurant Marrakesh – Morocco
Rose and Crown – UK
San Angel Inn – Mexico
Teppan Edo and Tokyo Dining – Japan
Trattoria Al Forno – BoardWalk (outside of Epcot)
Tutto Italia – Italy
Via Napoli – Italy (Our Pick for Value/Quality)
For more information and our thoughts on these restaurants, check out our Walt Disney World Restaurant Reviews.
The last year it was held, Candlelight Dining Packages for breakfast started at $40 plus tax per person for adults and $23 plus tax per child, ages 3-9. Candlelight Dining Packages for lunch and dinner started at $52 plus tax per person for adults and $19 plus tax per child. Note that those are the starting prices. Expect those prices to increase for 2021!
Actual prices vary, with the most expensive option being dinner at La Hacienda de San Angel, which is $85 per adult. Click here to book the Candlelight Processional dining package, or you can call 407-WDW-DINE (407-939-3463).
In addition to favoring certain restaurants, we also prefer certain narrators (and some, like Neil Patrick Harris, are much more popular in general). We note below some of the more popular narrators among Disney guests.
Review
A lot of people absolutely love the Candlelight Processional at Walt Disney World. We like it quite a bit, but we aren't absolutely gung-ho, call Disney Dining the very first day the packages go on sale, crazy about it like some people. It's very beautiful, but definitely not the highlight of our trip.
Our favorite narrator for Candlelight Processional is Neil Patrick Harris. We've seen him a couple of times, and as NPH fans, we enjoyed this. I cannot say he really invigorated the show–it's pretty solemn irrespective of host–but it was cool to see him.
A few years ago, we booked the package, but it was mostly to see John O'Hurley, or J. Petermann, as fellow Seinfeld fans may know him. More recently, we went to see Whoopi Goldberg, because seating was included with our D23 Magic & Merriment event package. Whoopi Goldberg was okay, but on the "cool scale" she just doesn't stack up to NPH or J. Petermann for us.
Overall, Candlelight Processional, at the bare minimum, has "do it at least once" status. Some people love it to the point that it's their favorite Christmas offering at Walt Disney World. Others find it too dry and slow, and are not moved by the story. I don't think it's quite fair to compare Candlelight Processional to a Christmas Eve church service, and I think there's a good chance that even those who are not religious will enjoy it.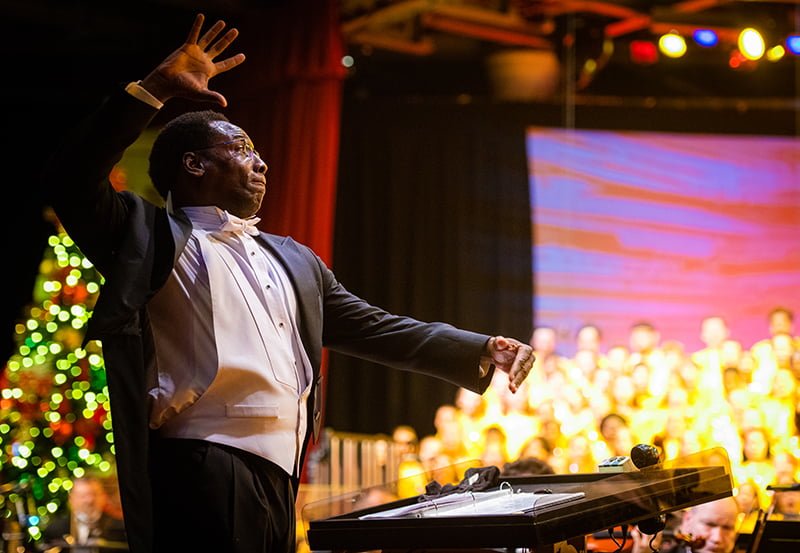 You really don't know until you try it–and in order to try it, you really should book one of the dinner packages. With that said, if your budget doesn't allow for both Candlelight Processional and Mickey's Very Merry Christmas Party, I'd recommend the Christmas Party over the Candlelight Processional Dinner Packages without hesitation.
For comprehensive tips for planning your Christmas-time trip to Walt Disney World, check out our Ultimate Guide to Christmas at Walt Disney World. Additionally, you can download our free eBook, Vacation Kingdom at Christmas, which offers tips for visiting Walt Disney World during the holiday season. This eBook is 75+ pages, with 100+ photos, and tons of great recommendations & information! For more details on how to get this totally-free ebook, click here.
Planning a Walt Disney World trip? Learn about hotels on our Walt Disney World Hotels Reviews page. For where to eat, read our Walt Disney World Restaurant Reviews. To save money on tickets or determine which type to buy, read our Tips for Saving Money on Walt Disney World Tickets post. Our What to Pack for Disney Trips post takes a unique look at clever items to take. For what to do and when to do it, our Walt Disney World Ride Guides will help. For comprehensive advice, the best place to start is our Walt Disney World Trip Planning Guide for everything you need to know!
Your Thoughts
Are you a fan of Candlelight Processional? Which narrator have you seen for Candlelight Processional? Do you usually book the dining package or wait in line? Do you have any strategy for seeing Candlelight Processional without waiting in line? Do you agree or disagree with our advice? Any questions we can help you answer? Hearing your feedback—even when you disagree with us—is both interesting to us and helpful to other readers, so please share your thoughts below in the comments!