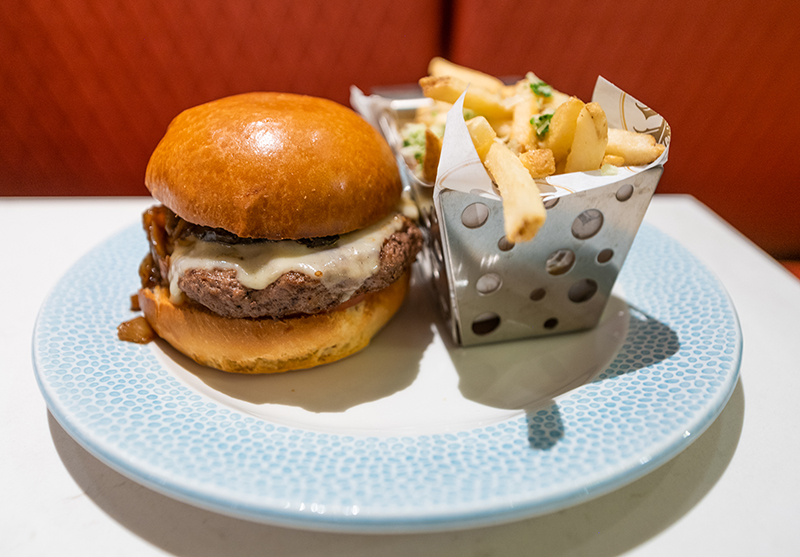 Looking for the best burgers at Walt Disney World? This list shares our favorite all-beef patties in the theme parks, resort hotels, and at Disney Springs. There are even a couple plant-based Impossible and Beyond Burger options for vegetarians! (Updated January 4, 2021.)
Burgers are my passion and my calling (or so I'd like to think). If allowed to do so, I would eat them 4 meals per day. My life's goal is for the staff at In-N-Out Burger to greet me by name, as if I'm Norm entering Cheers. Suffice to say, I have a lot of experience with burgers at Walt Disney World. I've had some great burgers there and some bad ones (and then there's the short-lived Cosmic Ray's Pizza Burger, which I just barely survived consuming), and this has been an "in progress" post for ages now.
That remains the case to this day with our 2022 update, the first time this list has been refreshed in a few years. Honestly, there are still some burgers I need to taste test (again) for the sake of research (looking at you, Main Street Burger at Plaza Restaurant and Lobster Thermidor Burger at Grand Floridian!). Just as Disneyland will never be completed, this list of the best burgers at Walt Disney World never be finished…
Be confident that I will not rest on my burger-consuming laurels now that this post is published. I will leave no menu unturned in my consumption of burgers–all in the name of science, research, and the future of mankind. If a new burger appears on a menu at Walt Disney World, I will be there to try it, reporting back to you on the quality of each specimen.
Note that this list contains both table service and counter service burgers from around Walt Disney World. The table service options are almost universally better on a strict quality scale, but accounting for value, some counter service choices are worthy inclusions on the list.
They say everyone was put on earth for a purpose, and if that's true, I'd like to think mine was "eating burgers." It's tough work, but someone has to do it…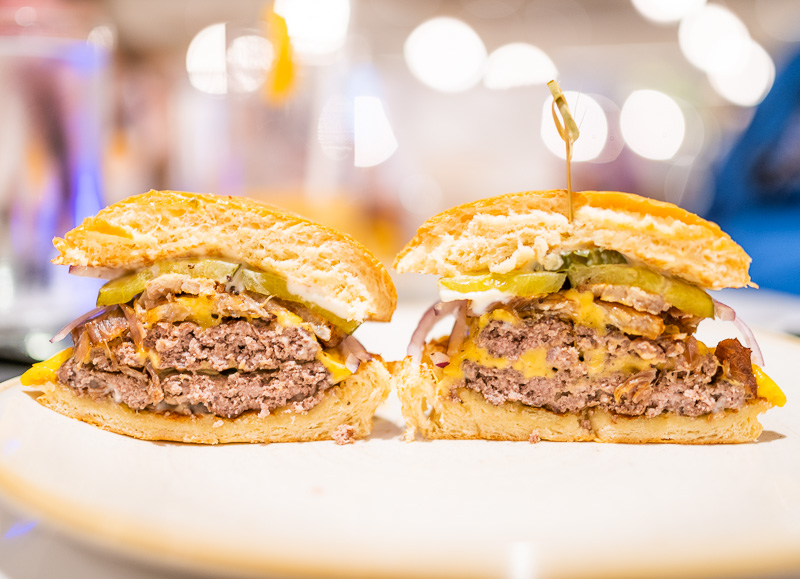 Steakhouse 71 Stack Burger – A new restaurant debuting at Contemporary Resort for Walt Disney World's 50th Anniversary, the Stack Burger features a Signature Blend of Beef, American Cheese, Lemon Aïoli, Red Onion, House-made Pickles on a Brioche Bun, topped with Pork Belly.
Walt Disney World fans are known to have recency bias, and this newcomer is already being hailed as Walt Disney World's best burger by many fans. It's an unquestionably excellent burger, but I wouldn't go that far. The Steakhouse 71 Stack Burger is a greasy diner burger, perfected. I'd liken it to a higher end version of Shack Shake's ShackBurger, but with the amount of cheese you'd get at In-N-Out plus pork belly to top it all off. In case you haven't had any of those options, that's very high praise. It's just not "very best burger at Walt Disney World" levels of praise.
Bison Bacon Cheeseburger – If you asked me to name my favorite burger at Walt Disney World right now off the top of my head, the Bison Bacon Cheeseburger at Geyser Point Bar & Grill would be my instant response. I'm not 100% sure it's the absolute best (extensive research will be undertaken to conclusively determine whether that's the case), but Wilderness Lodge is our favorite resort and we eat here a lot.
There's a lot going on here, but none of the ingredients are out of place. To the contrary, this is a symphony of flavors. Everything adds something, be it in terms of texture (onion straws) or flavor (aioli). The Marionberry BBQ sauce is the highlight in this regard, and made the dish more like something you'd find in the Pacific Northwest. Some will claim that bison is too lean to produce a truly great burger, but I'm guessing those people have never tried this. It's neither overly lean nor does it have a gamey flavor–it's perfect in every way.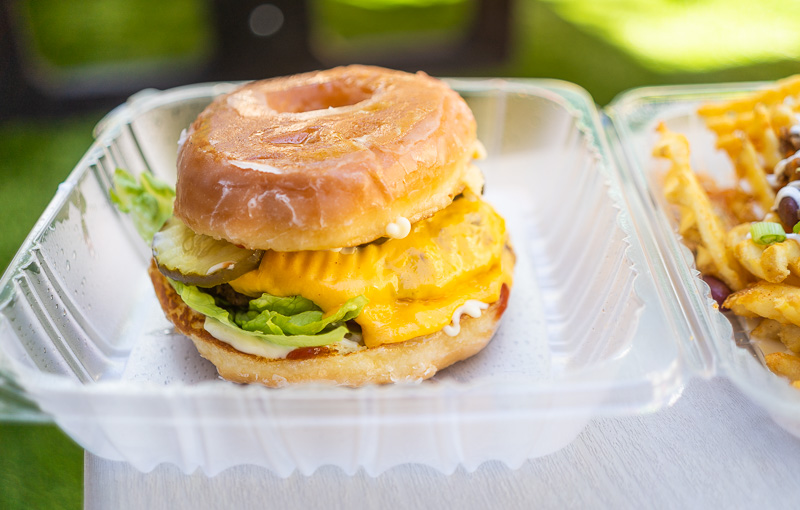 The Donut Burger – Our first of many options at Disney Springs, this one is available at Everglazed, which is otherwise a donut and coffee shop. The Donut Burger features two patties, American Cheese, Ketchup, Mayo, Lettuce, Tomato and B&B Pickles.
You might be weary of ordering a burger at a doughnut shop, but this is fantastic. We feared that this would be an unmitigated disaster of clashing flavors and over-the-top decadence, but it works. It really works! Against all odds, the sweetness of the doughnut melds beautifully with the patties and toppings and coalesces into one fantastic burger.
STK Burgers – Located at Disney Springs, STK (sound out the name instead of spelling it…) is a steakhouse that also happens to serve some of the best burgers at Walt Disney World.
We're particularly partial to the Linz Angus Burger for lunch, but the Wagyu Burger is also fantastic. A thick and juicy patty that's a tad fatty (I normally order burgers medium-rare, but think this one is better medium because of the fat) and incredibly filling.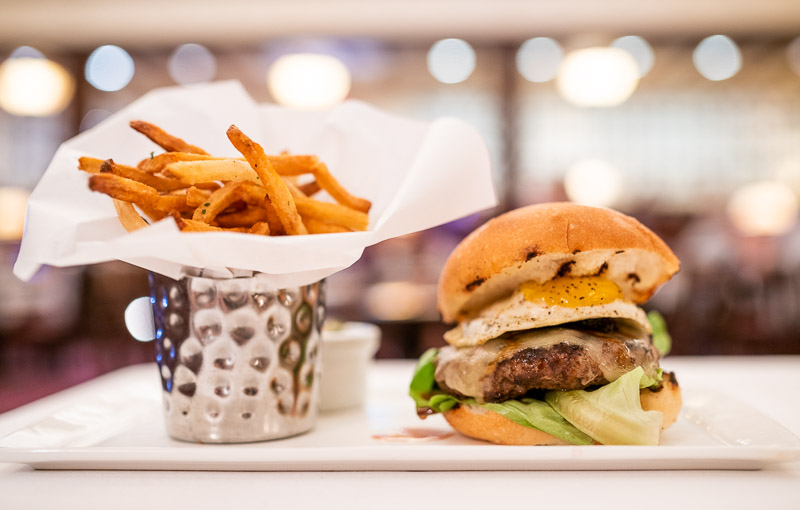 The Brown Derby Signature Burger – Fittingly, this is served at Disney's Hollywood Studios' Signature Restaurant and is its Signature Burger, topped with Bacon Jam, Cheddar, Fried Egg, Russian Dressing, and served with Hand-cut Fries.
The semi-sweet and savory flavors here are superb, the meat is high quality and perfectly-prepared, the bun is super-soft (and capable of soaking up the egg), and the dressing brings it all together. My only complaint here is the size, which is smaller than the other top contenders on this list. Then again, Hollywood Brown Derby is a Signature Restaurant, which usually means smaller portions.
Three Bridges Signature Burger – The eponymous burger at Coronado Springs' fantastic over-the-water bar and grill is another gem. The Three Bridges Signature Burger is topped with crispy potatoes, Manchego cheese, roasted garlic-lemon aioli, arugula, and tomato.
Cooked to a perfect medium-rare, this is juicy and delicious. The biggest challenge is deciding between this, the lamb, and steak!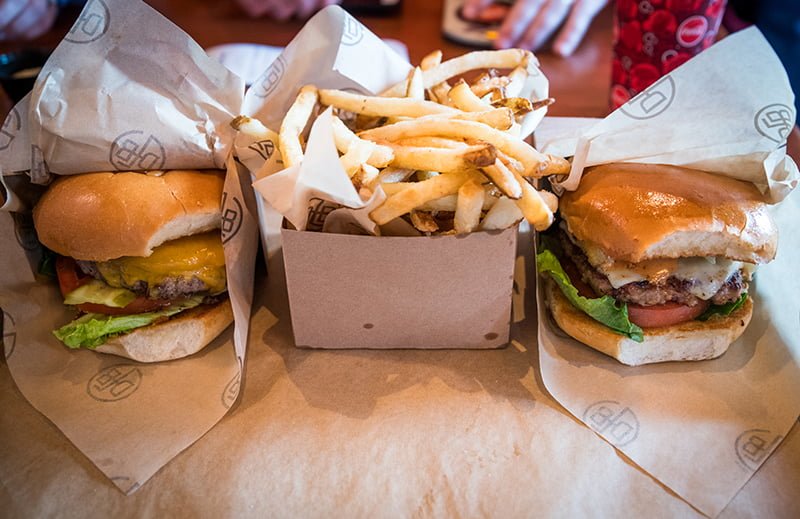 D-Luxe Burger – This is the Walt Disney World burger spot, with a solid lineup from start to finish. Usually, I'll order their seasonal specialty for the sake of trying something new. If I had to pick a favorite beyond that, it would be Southern Classic Burger, which is topped with a fried green tomato, pimento cheese, bacon, and lettuce. The pimento cheese and fried green tomato add excellent texture and round out the flavor on an already great beef patty–it all just wows. I'm also a fan of the the El Diablo Burger.
There's also something to be said with keeping it simple and letting the high-quality beef patty speak for itself with the Classic Cheeseburger. Whatever you do, be sure to order fries and try the various dipping sauces. They're addictively delicious!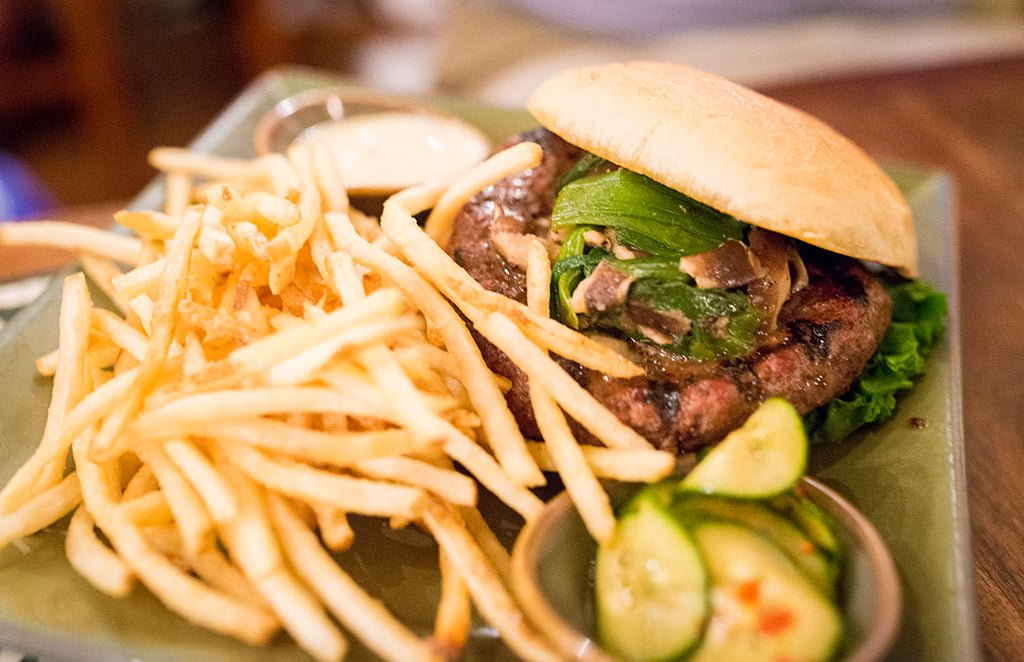 Kobe Beef Burger – This option at the underrated Yak & Yeti Restaurant in Disney's Animal Kingdom is one pricey burger, but it's made of Kobe beef, and I'm pretty sure Kobe means "expensive" in Japanese.
Now, something tells me that a burger made by a Landry's restaurant is probably Faux-be beef since only scarce amounts of real Kobe are actually available in the United States, but that doesn't change the fact that this is easily one of the best (if not the best) burgers at Walt Disney World.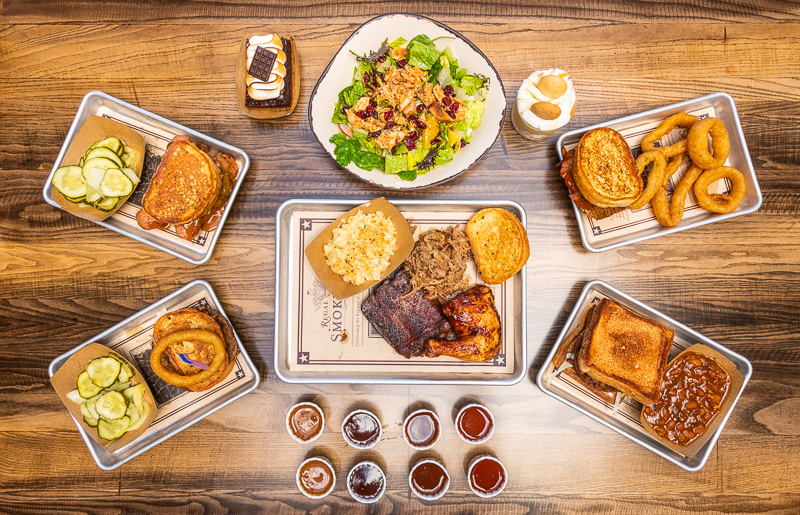 Regal Eagle Smokehouse – This newer restaurant in Epcot's American Adventure pavilion is a salute to all foods, but mostly barbecue meats.
Both the plant-based BBQ Jackfruit Burger and its regular counterpart (both are pictured on the left side of the above photo) are very good. They're not revolutionary, but they're currently the best counter service burgers in any of the Walt Disney World theme parks.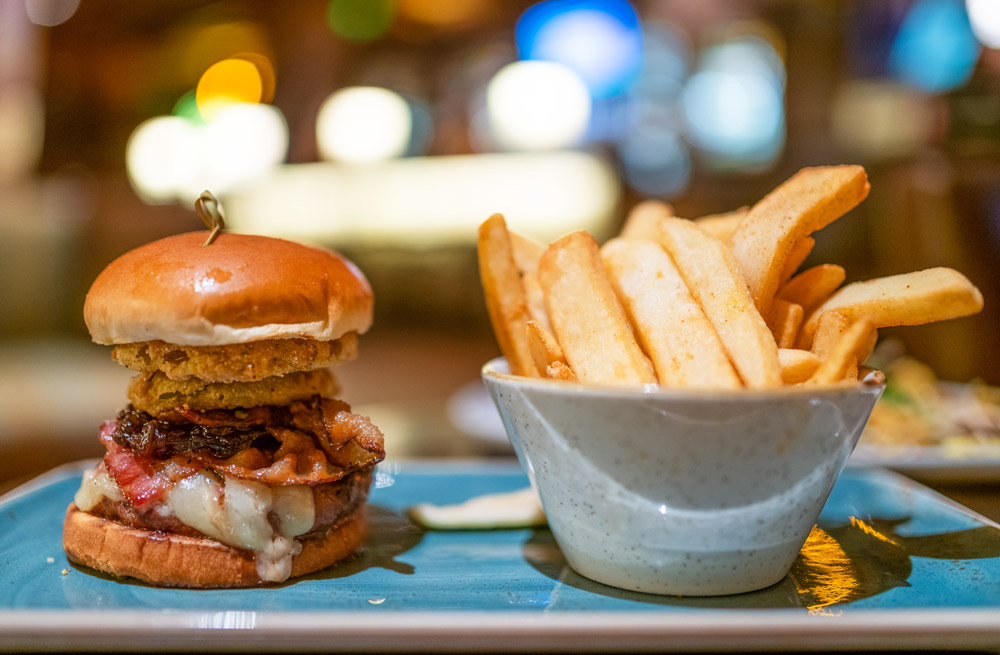 Braai Burger – This hidden gem is the "best Walt Disney World burger you've never heard of." Available at Animal Kingdom Lodge, of all places, in the Victoria Falls Lounge.
The Braai Burger is cooked on a wood-fired grill, and has a lovely smokey flavor as a result. The patty is topped with Black Diamond Cheddar, Applewood Bacon, Fried Green Tomatoes, and Red Onion Marmalade. It pairs perfectly, but as you can imagine based upon its height in the photo above, the Braai Burger can be very messy. Totally worth it.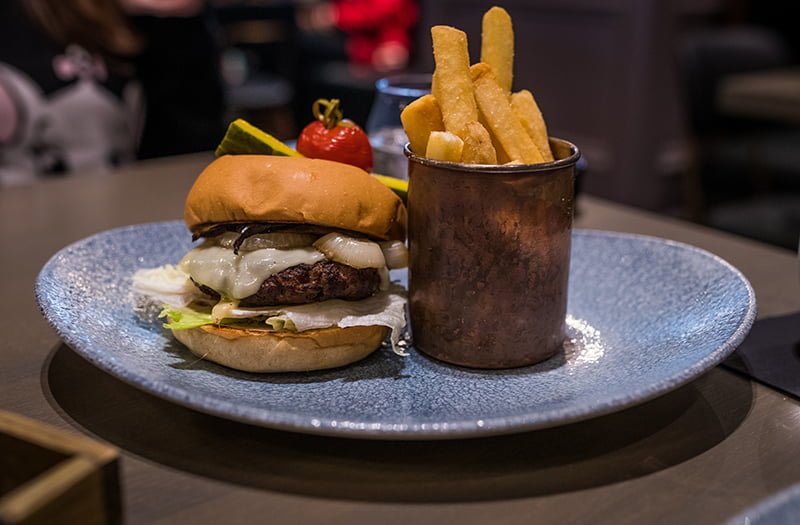 Yacht & Beach Club Burgers – Few experiences at Walt Disney World top grabbing a seat at the counter in Beaches & Cream, enjoying a burger and sundae, and then recovering from my food coma by floating around in the Storm-Along Bay lazy river for an hour or so.
The same could be said for the burgers at Ale & Compass Restaurant and Crew's Cup Lounge. Personally, I prefer the latter (when open), and think the quality is just a tad higher at those two locations than Beaches & Cream.
Bronto or Megasaurus Burger – It's a huge disappointment that this burger served at T-Rex Cafe isn't made of actual dinosaur, but until science gets its act together and clones dinosaurs, I guess we'll have to settle for beef.
I can't penalize T-Rex Cafe for the shortcomings of science, though, and this burger deserves accolades for being surprisingly good. It's not the leanest burger ever, but it tastes fresh and is plenty juicy, making it a great, safe option at T-Rex Cafe. (Note that these are the same thing, the Megasaurus Burger is simply "Mammoth-sized.")
Spicy Jackfruit-Carnitas Burger – Served in the Centertown Market Food Court at Caribbean Beach Resort, this plant-based "burger" is topped with spicy jackfruit, bbq mushrooms, cabbage slaw, and chipotle mayonnaise.
Juicy, lightly spiced, and full of meaty flavor, this burger was good enough to trick me (it's a Beyond Meat patty, for those curious). I could've done without the abundance of slaw, but everything else worked together flawlessly. It's truly incredible the strides Walt Disney World's vegetarian cuisine has made in only a few years–I remember when this stuff bordered on inedible, and now it's among menu highlights.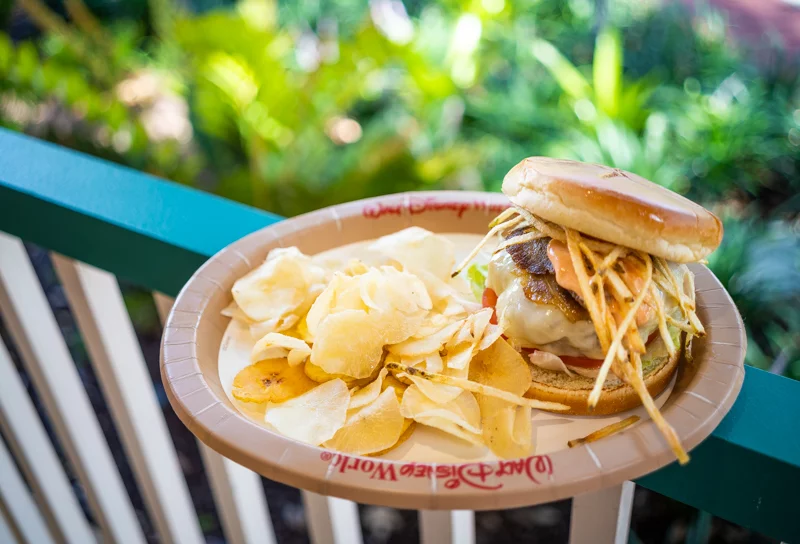 Caribbean Beef and Chorizo Blend Burger – Also at Caribbean Beach Resort is one of the best counter service burgers in all of Walt Disney World. This one is found at Spyglass Grill, and consists of a 6 oz Chorizo Burger patty topped with crispy pork, provolone cheese, pink sauce, crisp potato straws, iceberg lettuce, and tomato on a brioche bun.
This burger scores very high marks and rivals the best counter service burgers at Walt Disney World, including the highly-regarded D-Luxe Burger at Disney Springs. It's definitely better than Jackfruit-Carnitas Burger, but not by nearly the margin you'd expect. If you're ordering a burger, go for one of these two options.
Azteca Burger – El Mercado de Coronado Food Court, formerly known as Pepper Market is one of those love it or hate it restaurants. I happen to love it. There are a lot of great menu items here, and this burger is high up that list.
It's a fitting gourmet burger for this location, topped with fried onions, fried jalapeños, guacamole, chipotle aïoli and pepper jack cheese. The Garlic Parmesan Fries that accompany it are icing on the cake. Oh, but if the BBQ Ribs are available when you visit, get those instead. Carnivore Rule #37: Burgers are great, but ribs are better.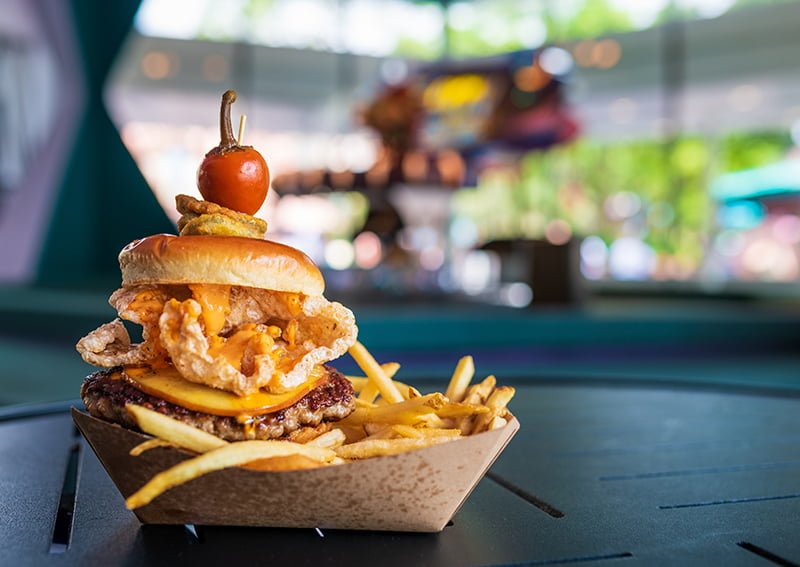 Ultimately, there are dozens of delicious burgers at Walt Disney World, and I'll continue to sample them all–for very important research. However, that covers it–for now–when it comes to my favorite burgers at Walt Disney World. Hundreds have entered (my stomach), few have emerged to take their place on this honorable list.
In Memoriam: Le Cellier Burger and Pork Belly Burger at Cosmic Ray's Starlight Cafe. This post is dedicated to your juicy deliciousness; you were both taken from us too soon.
Planning a Walt Disney World trip? Learn about hotels on our Walt Disney World Hotels Reviews page. For where to eat, read our Walt Disney World Restaurant Reviews. To save money on tickets or determine which type to buy, read our Tips for Saving Money on Walt Disney World Tickets post. Our What to Pack for Disney Trips post takes a unique look at clever items to take. For what to do and when to do it, our Walt Disney World Ride Guides will help. For comprehensive advice, the best place to start is our Walt Disney World Trip Planning Guide for everything you need to know!
YOUR THOUGHTS…
Now, the question I have for you, carnivorous readers, what other burgers at Walt Disney World should I try? Have you consumed a delicious burger at Walt Disney World? What's your favorite burger at WDW? Any burgers you recommend avoiding? Do you agree or disagree with my best burger picks? Any questions we can help you answer? Hearing your feedback—even when you disagree with us—is both interesting to us and helpful to other readers, so please share your thoughts below in the comments!