"When will Walt Disney World Annual Pass sales resume?" is a common reader questions as of early 2022…yet again. Many WDW fans are itching to buy passes, especially new Floridians or those who planned on giving the gift of APs last Christmas. We'll share the company's official position and speculate as to when APs might return…again. (Updated January 4, 2022.)
As you likely recall, Walt Disney World suspended sales of all Annual Passes during its closure last year. However, the Annual Pass program at Walt Disney World did not end when the parks reopened nor were outstanding APs terminated. Many APs proactively cancelled their passes and requested refunds. That happened after significant backlash from APs over Walt Disney World continuing to charge Passholders monthly payments despite the parks being closed.
Upon reopening, sales of new Annual Passes were "paused" while renewals were allowed. New purchases for ex-Annual Passholders who cancelled during the closure and children who "aged into" Annual Passes were also allowed. Much of this was done on a case-by-case basis, with the Guest Services 'Welcome Center' in Disney Springs having a ton of discretion over sales.
More recently, Walt Disney World resumed Annual Pass sales last fall with new names, higher prices, restrictions, and other details. In so doing, the company dropped the straightforward precious-metal tier names in favor of a nonsensical hierarchy of fictional characters and concepts. Unfortunately, we should not expect the new names to be "undone" when APs return.
Back when the new Annual Passes were announced, Walt Disney World stated: "Please note as we continue to manage attendance to provide a great experience for everyone, at any time, Annual Passes may be unavailable for purchase."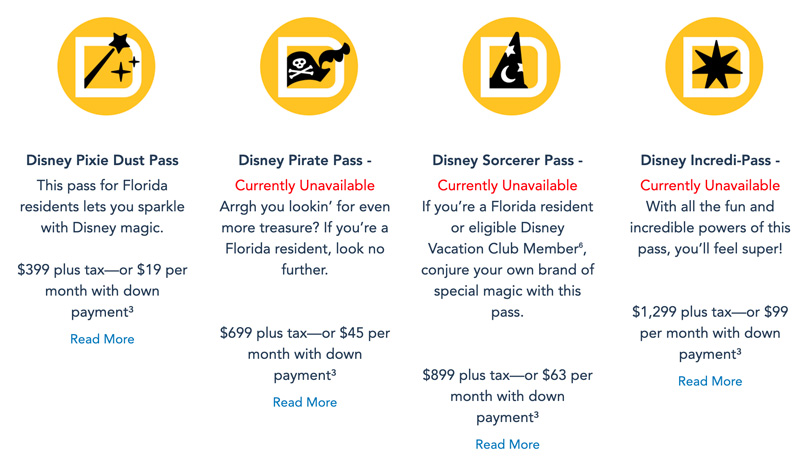 Let's start with the latest update on the Annual Pass saga, as of January 2022. Right now, sales of Walt Disney World's three most expensive Annual Passes are all currently paused. This means that the Disney Pirate Pass, Sorcerer Pass, and Incredi-Pass are all unavailable for purchase and have been since shortly before last Thanksgiving.
Only the lowest-level Disney Pixie Dust Pass, which is available exclusively to Florida residents and valid only on weekdays, remains available for new sales as of January 2022.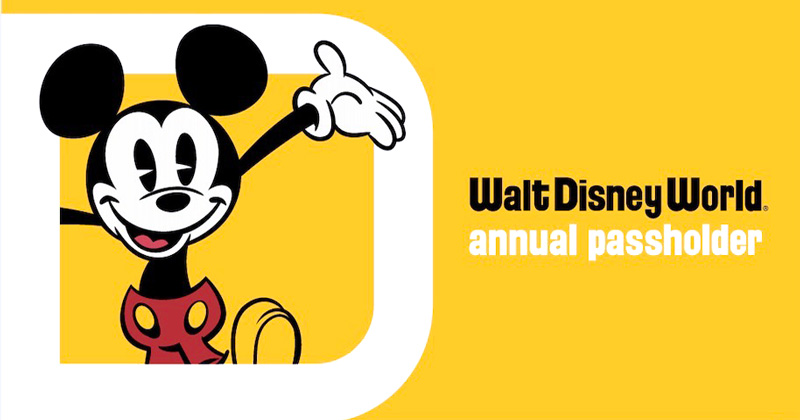 Per Walt Disney World's Know Before You Go page: "We are pausing new sales of select Annual Passes. All current Passholders can renew into any of our four pass types – at their renewal rate – and continue to visit using their pass. We will continue to evaluate the return of new sales for these passes. Please check back for the latest updates."
A Walt Disney World spokesperson stated that the decision to suspend Annual Pass sales was made while the company monitors attendance at the theme parks, and AP sales are expected to resume "sometime in 2022." Of course, the entire year is a rather open-ended "timeframe," so let's try to narrow that down a little bit…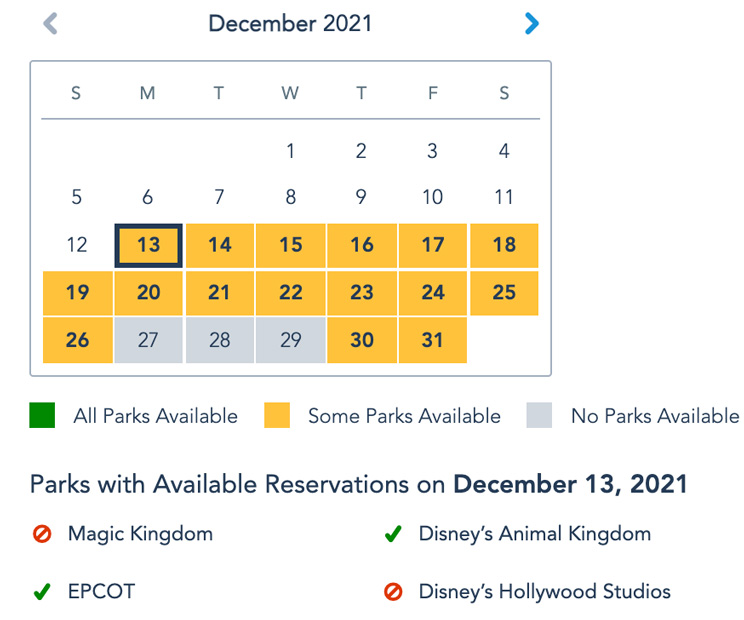 By Disney's own admission, the decision to suspend new AP sales occurred due to anticipated crowds at Walt Disney World during the holiday season. While the holiday season is ostensibly over with the ringing in of 2022, the parks typically experience elevated crowd levels until local schools go back into session and the Walt Disney World Marathon concludes.
For its part, Walt Disney World was correct in projecting heavy crowds. We won't rehash all of that, but our crowd reports showed peak season crowds throughout most of the last two months, with the worst wait times of the entire year occurring the week of Thanksgiving. While crowds relented to a slight degree thereafter, it was likely only due to Disney reducing Park Pass reservation availability. If organic demand were allowed to play out, attendance would've been even higher. The lack of Disney Park Pass availability for much of the Christmas season is what kept crowds from being worse.
With the holiday season now in the rearview mirror, the Disney Park Pass system should soon become less strained. While crowds are currently still bad, that's due to the aforementioned winter breaks for local schools and the upcoming Walt Disney World Marathon.
As you can see from the Disney Park Pass reservation calendar, all dates are green after this week. It's likely that some of those dates–especially this weekend–will turn yellow as people make last-minute plans, but it'll be nothing like this holiday season. That should continue to be the case throughout this coming winter, regardless of whether it proves to be as busy as predicted in our 2022 Walt Disney World Crowd Calendars.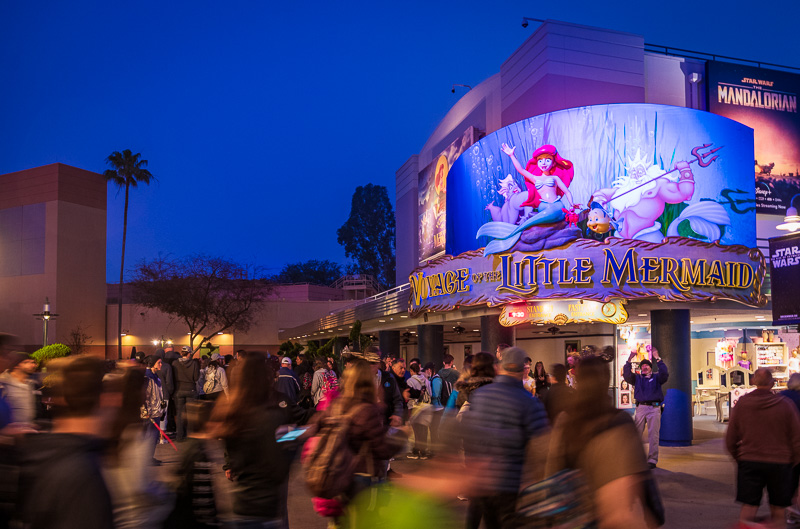 Diminished reservation availability has been exacerbated by the fact that Walt Disney World still isn't operating at 100%. As you're also undoubtedly aware, a number of stage shows are still dark, atmospheric entertainment still isn't back, and not every venue in the park (dining, in particular) is fully efficient due to staffing shortages.
During its most recent earnings call, the company acknowledged that Walt Disney World is still operating with undisclosed capacity caps in place, not for the sake of safety but due to a lack of staffing and other resources. Suffice to say, the self-imposed limitations on attendance impact Annual Passes, too.
The upcoming sea of green for reservations in the coming months is significant. Disney Park Pass availability is a necessary prerequisite to resuming Annual Passes (again).
As we've noted before, Annual Passholders are advantageous to Walt Disney World, but not in a constrained capacity environment at the expense of tourists. Statistically speaking, per visit spending is significantly higher among resort guests and day ticket holders than APs. It thus made sense that Walt Disney World would want to prioritize those demographics and not fill the parks with Annual Passholders at the expense of more lucrative vacationers during the busy holiday season.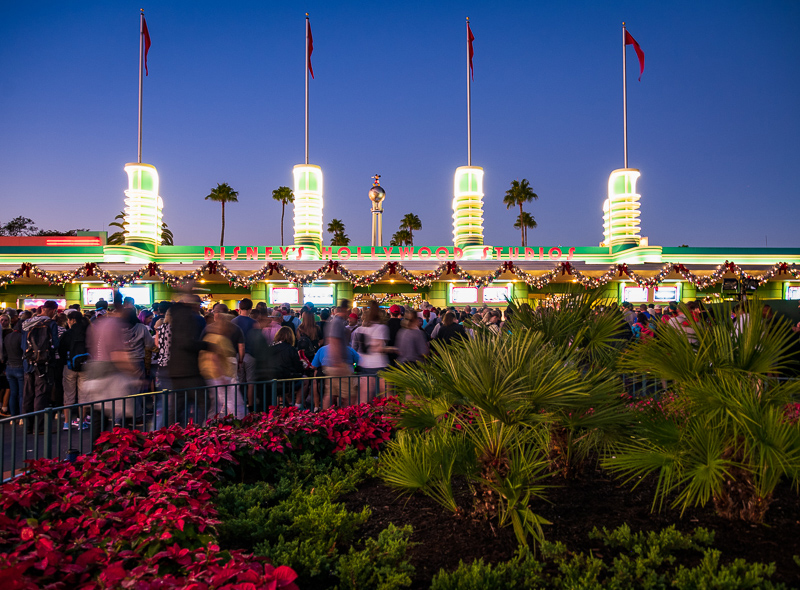 Consequently, we expect one of two things to occur. The first possibility is that Annual Pass sales resume once the holiday crowds subside, schools go back into session, snowbirds start arriving in Florida, and after the Walt Disney World Marathon concludes.
It's anyone's guess as to how long Walt Disney World will wait until after all of those things occur to assess demand, reservation availability, staffing, etc. Disney could be satisfied with available bandwidth and opt to resume Annual Pass sales as early as January 10, 2022. Or, the company could wait for a couple weeks longer just to be sure it's out of the woods with reservation availability. Getting through the popular Presidents' Day long weekend might be pragmatic.
Alternatively, Walt Disney World might opt to wait much longer, looking forward to Spring Break and Easter 2022 and wanting to avoid a repeat of issues and reservation unavailability from the holiday season.
For Disney, the downside of this would be reduced revenue from new AP sales at a time when the parks have surplus capacity. The potential upside would be not having to suspend regular ticket sales again during spring when vacation travel starts heating up again. Again, per visit spending is significantly higher among tourists, so there's a tremendous opportunity cost in allocating reservations to APs in a fully booked environment.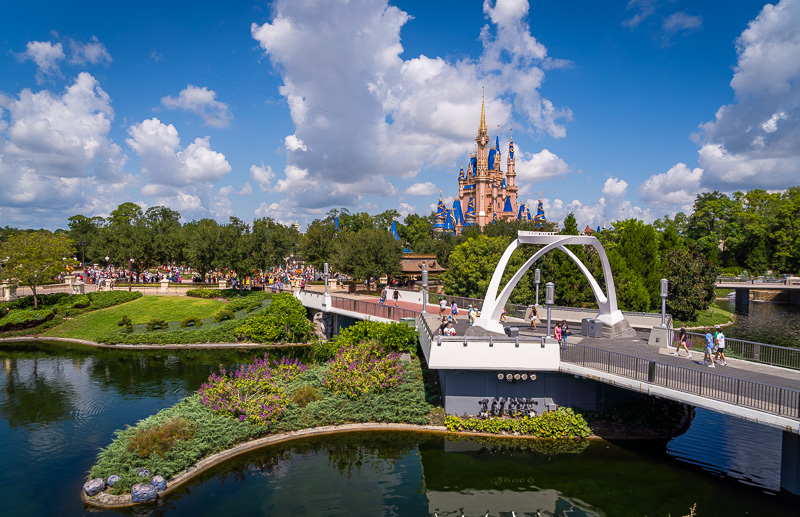 The question thus becomes, will Spring Break and Easter 2022 be fully booked environments?
It's difficult to say. Walt Disney World has already announced the return of more entertainment, and hiring continues to fill positions where the parks are short-staffed. As things continue to normalize–the labor market, household savings, and labor shortages–there could be less of an issue with reservations being unavailable. Then again, we wrote the same thing last fall, foolishly believing that the Disney Park Pass system would be a formality for all but a handful of peak dates per year.
Another wildcard that's worth mentioning is that Walt Disney World has often increased Annual Pass prices in February.
Given how well passes sold before the pause, Disney might reach the conclusion that they were underpriced and bring them back with higher price points at a time coinciding with other increases. Interestingly, the page with AP options still lists prices for the temporarily unavailable ones–if those prices mysteriously disappear, it's probably because they're going to be quietly adjusted upwards.
One unfortunate reality reinforced by this is that demand for Walt Disney World is fairly insatiable right now. Attendance, hotel occupancy, and guest spending have not been impeded in the slightest by the range of unpopular decisions, cutbacks, or price increases.
Many fans–us included–keep waiting for some of Walt Disney World's decisions to come around and "bite them" with consumers. At least in the short term, there are no signs of that happening. Long term is a potentially different story, but with all of this success and strong sales in spite of everything, we may be waiting a while. Then again, things can change in a hurry, and last year was a time of unprecedented consumer spending across the board that seems unsustainable in 2022.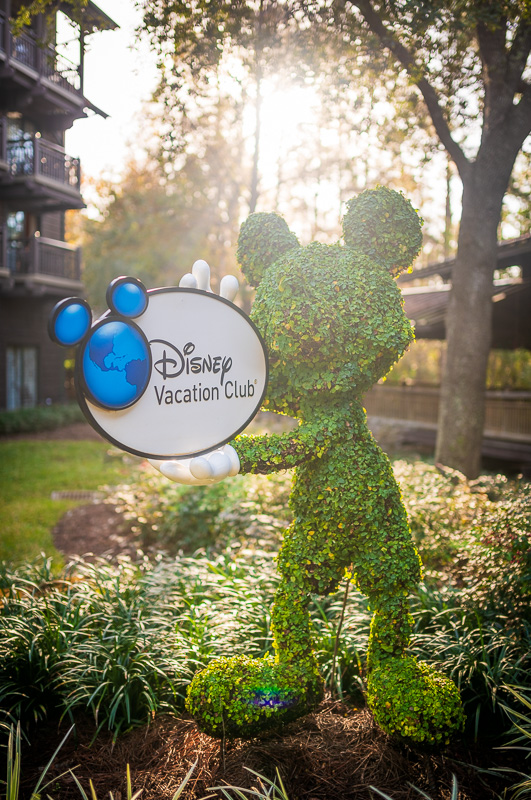 In any case, it's safe to say that Annual Passes will return at some point in 2022, and will not be retired entirely. Walt Disney World APs have never presented the same issues as at Disneyland, for relatively straightforward reasons. Beyond double the parks, there are significantly fewer Annual Passholders at Walt Disney World. And many of them aren't local, anyway. Disney Vacation Club members and New Yorkers who come down three times per year and book hotels every time are much more valuable to the company than Disneyland locals who drop-in for a few hours and don't even eat dinner in the park.
With that said, I'd stop short of saying that Walt Disney World "needs" Annual Passholders. They're an asset at times, helpful in guaranteeing attendance (and revenue) during slow stretches. However, that's not always the case.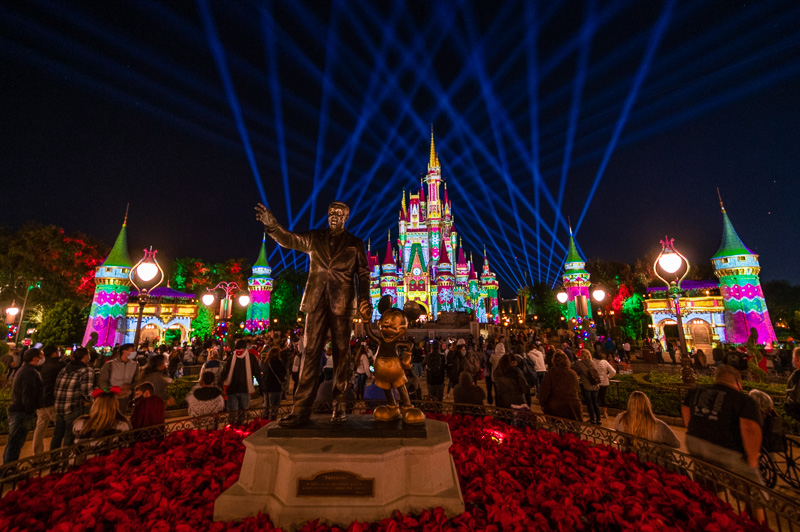 There are some times when Annual Passholders can compound tourist-driven crowd problems beyond the aforementioned spring break example. In the past several years, we've seen Walt Disney World introduce more blockouts and raise prices on most Annual Passes–sometimes by hundreds of dollars at a time. There's a reason for that.
There have been a lot of headlines recently about homebuyers "fleeing to Florida," but this phenomenon is nothing new. Back when Annual Pass prices increased two years ago in February and the June before that, we mentioned the ongoing population explosion in Central Florida. Even then, several cities in the Orlando metro area were among the fastest growing in the United States. Many of these new Florida residents are (and were) people leaving the Northeast and Midwest.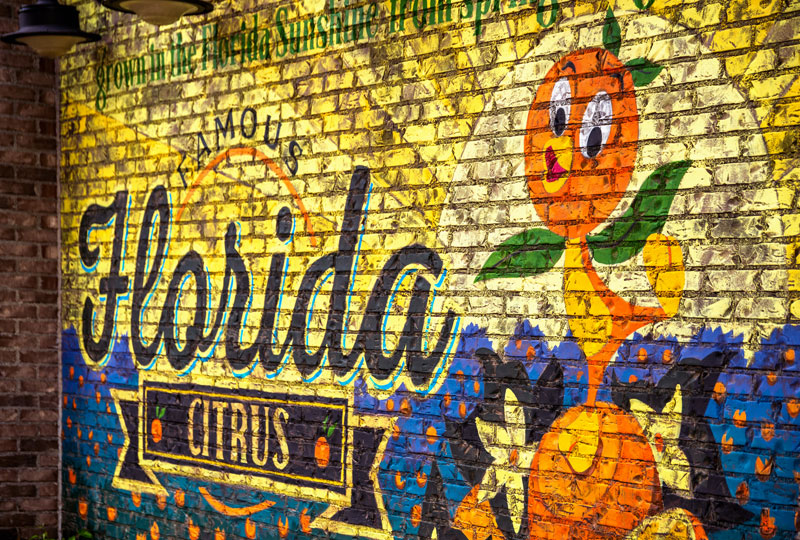 Our commentary at the time was this: "If new home prices and construction around Walt Disney World are any indication, these transplants are also on the more affluent end of the spectrum. (Behind Magic Kingdom, there's been a proliferation of subdivisions with no end in sight–most of these have homes starting at over $300,000 and ranging up to $800,000.)"
Those price points now seem quaint (add another couple hundred thousand dollars on), but the sentiment still rings true. And this was long before "Zoom Towns" had entered our collective vernacular. If you've seen any of those 'fleeing to Florida' stories in the news, you're undoubtedly aware that this trend has only accelerated in the last year. In fact, many of you who have been asking when Walt Disney World will resume AP sales are fresh transplants from the Midwest or Northeast.
The point with that tangent is that it wouldn't surprise me in the least if Walt Disney World used the phased reopening as a soft reset on Annual Passes. Cull the herd of some older Annual Passes that allow less-restricted access and introduce more dynamic Annual Passes that allow the company to manage attendance and prioritize non-regulars.
Parks Chairman Josh D'Amaro has mentioned how Walt Disney World wants to leverage technology to "choreograph" the guest experience and requiring reservations for APs, as unpopular as they may be with passholders, is one way to accomplish that.
Ultimately, our prediction is that Walt Disney World quietly resumes at least some Annual Pass sales in late January or early February 2022. While waiting until after Easter is another option, I would bet against that–it just doesn't seem likely that the holiday season capacity woes will persist for that long, meaning there shouldn't be as much of an opportunity cost to Annual Passes.
Of course, that's just our guess from the outside looking in. I never would've predicted this happening back when Annual Pass sales resumed early last fall, as it seemed the worst of the reservation availability problems were already in the rearview mirror at that point. Then again, it would seem that Walt Disney World also did not predict those problems, as if they did, they wouldn't have resumed AP sales in the first place!
Planning a Walt Disney World trip? Learn about hotels on our Walt Disney World Hotels Reviews page. For where to eat, read our Walt Disney World Restaurant Reviews. To save money on tickets or determine which type to buy, read our Tips for Saving Money on Walt Disney World Tickets post. Our What to Pack for Disney Trips post takes a unique look at clever items to take. For what to do and when to do it, our Walt Disney World Ride Guides will help. For comprehensive advice, the best place to start is our Walt Disney World Trip Planning Guide for everything you need to know!
YOUR THOUGHTS
When do you expect Walt Disney World to resume new Annual Pass sales? Think sometime in January or February 2022 is a safe bet, or will Walt Disney World be more cautious this time, ensuring there's ample Spring Break capacity for more lucrative tourists? Would you purchase a Walt Disney World AP right now? Any questions we can help you answer? Hearing your feedback—even when you disagree with us—is both interesting to us and helpful to other readers, so please share your thoughts below in the comments!