Walt Disney World's 50th Anniversary is October 1, 2021. That's the start of the World's Most Magical Celebration, an 18 month special event featuring new rides, entertainment, character costumes, merchandise, and more at Magic Kingdom, Epcot, Hollywood Studios, Animal Kingdom, and the resort hotels. This preview covers everything we know about the festivities, plus predicted crowd levels, rumored additions, and more. (Updated June 10, 2021.)
Before we get started, it's worth noting that there's still uncertainty and fluidity to plans for Walt Disney World's 50th Anniversary and the World's Most Magical Celebration. The reasons for this should be obvious, but Walt Disney World is still in the process of resuming normalcy, with the relaxation of face mask and physical distancing rules, plus the gradual reopening and return of restaurants, resorts, stage shows, and more.
Consequently, many planned additions for the start of Walt Disney World's 50th Anniversary have been postponed, with other details not quite ready for official announcement just yet. Thus far, Walt Disney World has shared one "big" preview of its 50th Anniversary celebration on ABC's Good Morning America, with details about new projection mapping, character costumes, Cinderella Castle overlay, and more. We'll cover all of that, plus details about new attractions, entertainment, and other enhancements that are likely during the World's Most Magical Celebration…
The World's Most Magical Celebration will kick off on October 1, 2021 and last for 18 months. The 50th anniversary event will be celebrated at all four Walt Disney World theme parks throughout 2021 and 2022. As always, special events are subject to extension "by popular guest demand," but for now, the World's Most Magical Celebration for the 50th Anniversary of Walt Disney World is scheduled to end April 1, 2023.
Walt Disney World's Most Magical Celebration will include new entertainment activities and attractions, and to mark the festivities, Magic Kingdom's iconic Cinderella Castle will be transformed with new sparkling embellishments. In addition, icons in the four Walt Disney World theme parks: Magic Kingdom, Animal Kingdom, EPCOT, and Hollywood Studios will transform into "Beacons of Magic" by coming to life with their own magical glow.
Beacons of Magic – Park Icon Projections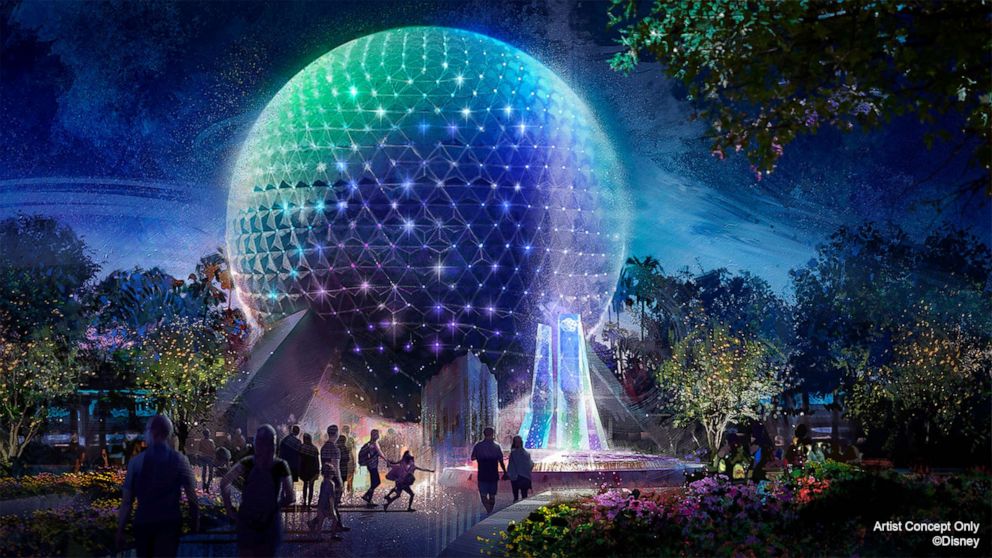 At EPCOT, new lights will shine across the reflective panels of Spaceship Earth, connecting to one another and resembling stars in a nighttime sky.
This permanent new lighting on Spaceship Earth will continue beyond "The World's Most Magical Celebration" as a defining feature of the reimagined EPCOT.
Above, you can see special new touches coming to life on the Hollywood Tower Hotel at Disney's Hollywood Studios. This will be awash in a brilliance evoking the golden age of cinema.
During the Christmas season, there has been a projection mapping show called Sunset Seasons Greetings on the Tower of Terror that plays continually throughout the night, and does a good job of attracting guests to this area of the park. It wouldn't be surprising to see something similar for the World's Most Magical Celebration (albeit obviously not themed to the holidays).
A warm light will emanates from the Tree of Life at Disney's Animal Kingdom as magical fireflies gather to usher in the magic of nature.
As with the Tower of Terror, the Tree of Life has a projection mapping show during other times of the year. Expect something similar to the normal "Awakenings" that are performed throughout the night, but with a 50th Anniversary twist.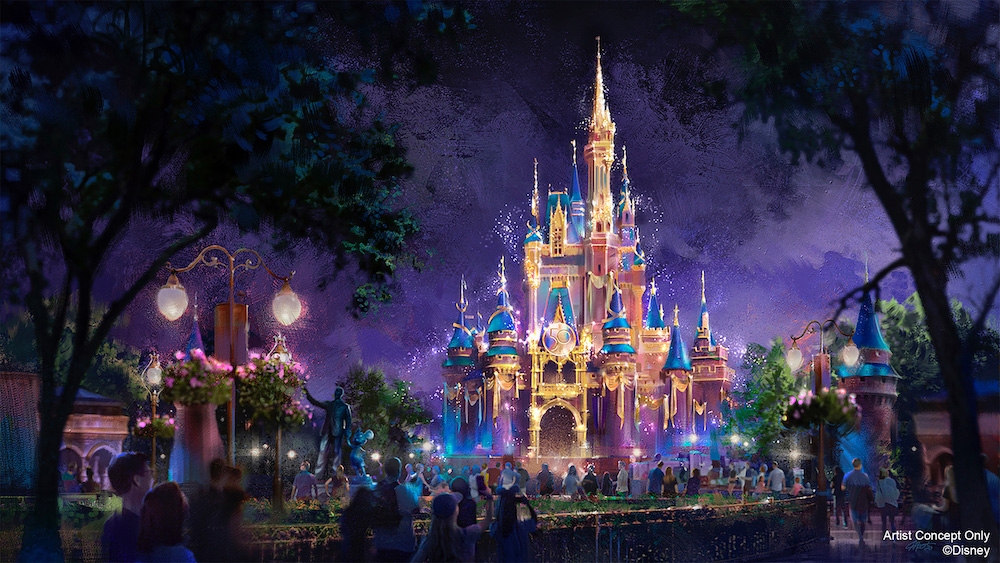 While the other park icons are receiving animated enhancements via projection mapping and nighttime lighting, Cinderella Castle at Magic Kingdom Park will also add to its Royal Makeover from last year with physical adornments.
In addition to this, it's rumored that the buildings of Main Street USA will receive a projection mapping show for Magic Kingdom's 50th Anniversary.
Cinderella Castle 50th Anniversary Decor
Speaking of Cinderella Castle, the Magic Kingdom park iconi will feature blue bunting, golden swirls, and a 50th anniversary crest as part of its festive new look for the World's Most Magical Celebration.
Minus the crest, this overlay is now installed on Cinderella Castle. So if you're visiting ahead of Walt Disney World's 50th Anniversary this summer, you'll see the new look!
Above is an artist rendering of how Cinderella Castle will look once the overlay is finished.
Again, the only remaining detail to be added at this point is the 50th Anniversary crest. Expect that to be a last-minute addition in late September 2021.
EARidescence Character Costumes & Merchandise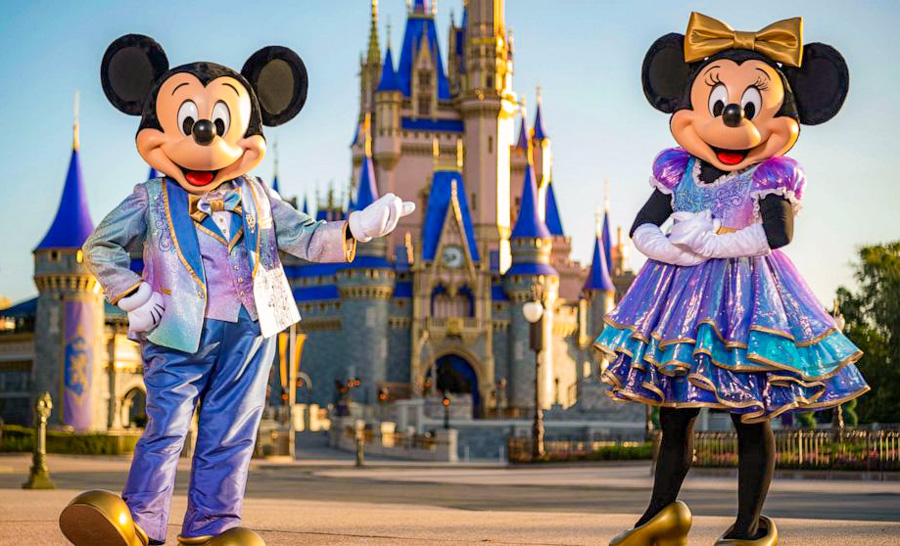 This milestone is such a big deal, Walt Disney World has coined a new word – "EARidescence" – to describe what you'll see when you visit. Mickey Mouse and Minnie Mouse will have sparkling new looks for the World's Most Magical Celebration.
As hosts of the event, they'll be dressed for the occasion in custom-made fashions of EARidescent fabric. Highlights of these celebratory designs include beautifully embroidered impressions of Cinderella Castle backed by fireworks, as well as a brocade in multi-toned, EARidescent fabric – all punctuated with pops of gold.
Naturally, a variety of merchandise will be sold in this EARidescent color trend style, so guests can match Minnie and Mickey Mouse. Beyond merchandise, expect there to be EARidescent cupcakes, balloons, and all sorts of other offerings during Walt Disney World's 50th Anniversary.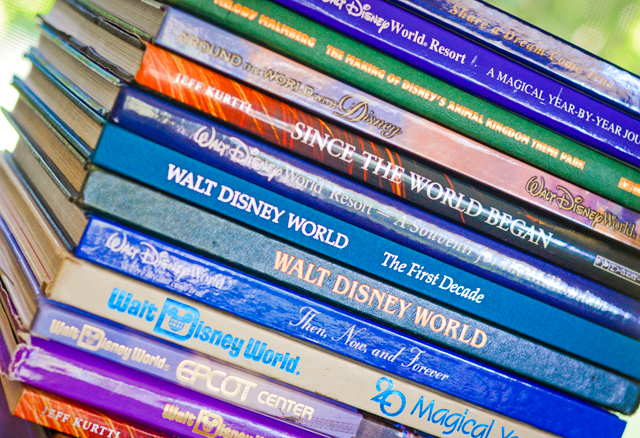 One specific souvenir about which we're super excited is Walt Disney World: A Portrait of the First Half Century. The Walt Disney World 50th Anniversary coffee table book is now available for pre-order via Amazon (with price-match guarantee) and will be released on September 28, 2021.
As huge collectors with a massive library of Walt Disney World books, we are ecstatic about this. Since the World Began: Walt Disney World's First 25 Years is still one of favorite titles, and we're hoping this lives up to that legacy. We have every reason to believe it will–Disney Editions Deluxe has really upped its book game in the last ~5 years.
New Attractions & Entertainment
At the last two D23 Expos, Disney announced a number of new attractions that would debut "in time for the 50th anniversary of Walt Disney World Resort in 2021." Keep in mind, these Expos were 2 and 4 years ago–long before things went bonkers and theme parks closed for several months.
Currently, the only one of those attractions officially announced as debuting in 2021 is Remy's Ratatouille Adventure at Epcot. In fact, most of the planned 2021 additions are at Epcot. While debut dates are not yet official, the new Harmonious Nighttime Spectacular and Space 220 Restaurant are both expected to debut this fall. Additionally, the 2021 Epcot International Food & Wine Festival will kick into high gear on October 1, 2021 as a number of booths open on that date.
Other planned 2021 opening dates are entirely off the table. Although Walt Disney World has not officially confirmed as much, Guardians of the Galaxy Cosmic Rewind at Epcot and TRON Lightcycle Run at Magic Kingdom will not open in 2021. Our expectation is that one or both of these headliner attractions will launch in mid-2022, with the other debuting in early 2023.
Drawing out these openings and scattering out additions during the World's Most Magical Celebration makes sense from a practical perspective. It gives Walt Disney World the chance to do something of a soft reset about halfway through the 50th Anniversary, "amping up" the festivities with new attractions and entertainment. This would entice fans who already experienced the first half of the celebration to plan return trips, and will also lure new guests to Florida.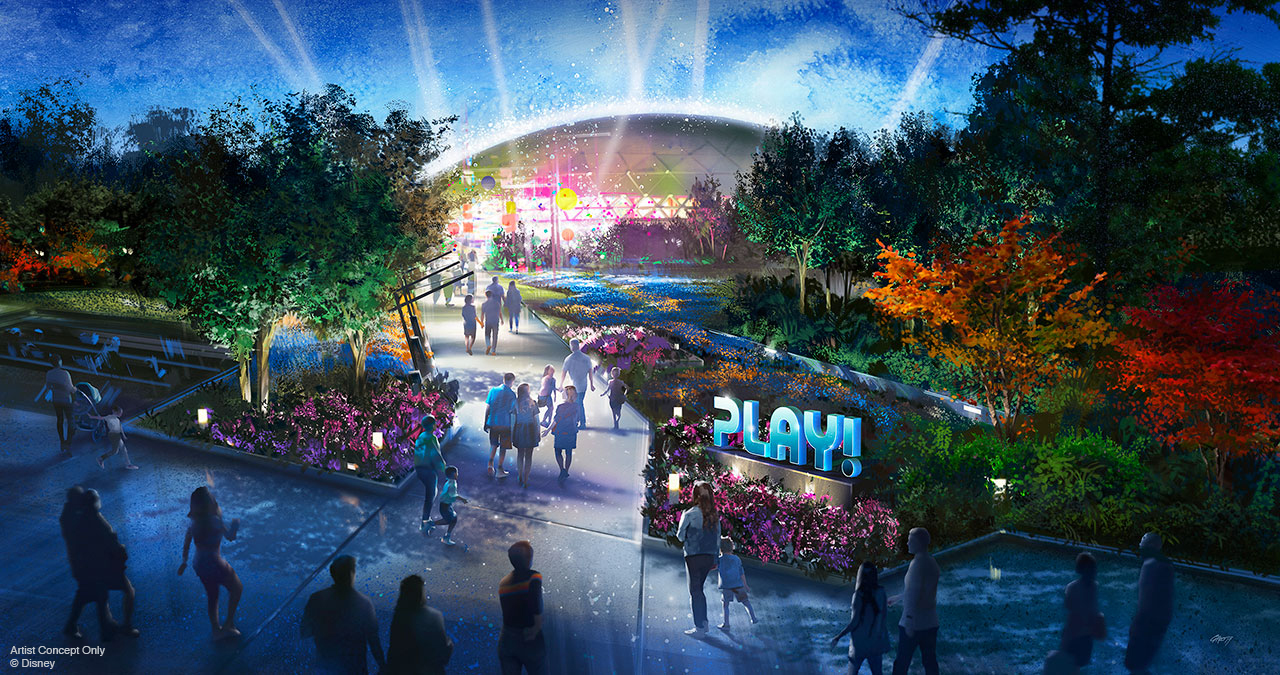 There's also uncertainty around other upcoming additions. The Play Pavilion at EPCOT was previously announced for 2021, but Disney has been silent as to its status for a while. The Play Pavilion could debut this year, but its interactivity casts uncertainty on that. Same goes for the DuckTales World Showcase Adventure.
Another interactive experience, Moana's Journey of Water, is likely to arrive in late 2022. Similar timelines for all three would make sense. In fact, there are several lower-profile additions on the horizon for Walt Disney World that could open towards the end of this year or be pushed into 2022 as circumstances dictate. There are also a lot of other additions on the horizon that won't be part of the celebration. See our What's New & Next at Walt Disney World in 2021 & Beyond for a full rundown.
WDW 50th Anniversary Commentary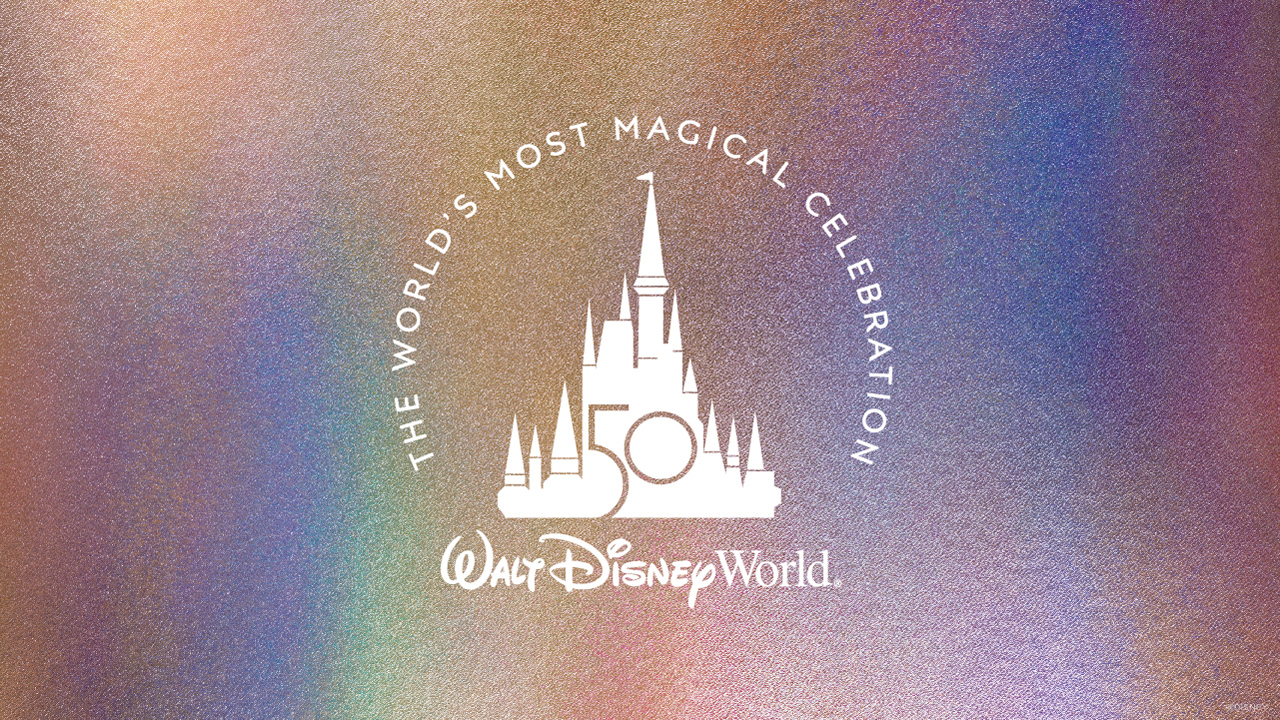 Once again, it's not yet possible for Walt Disney World to know with complete certainty what will be practical and possible by October 2021. Accordingly, the announcements to date have been deliberately constrained to only the "sure things" that the company is confident will be feasible by then.
Nevertheless, now comes the part where we overanalyze a few seconds of substance with hundreds of words of commentary and speculation. We know better, but we can't help ourselves…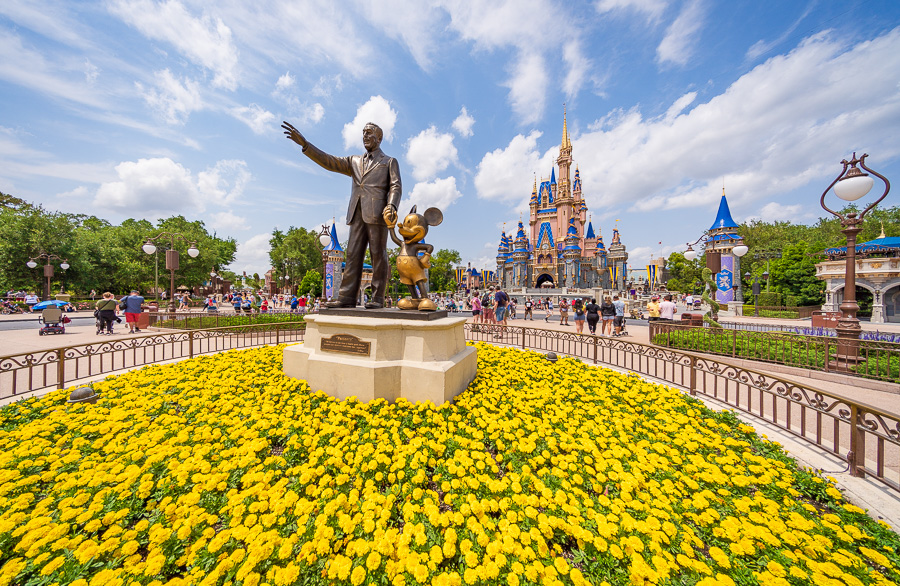 One popular topic of fan conversation will undoubtedly be Cinderella Castle's special decor for the anniversary, featuring its blue turrets topped with gold swirls and more. It's likely that the current construction in front of the castle and the coffer dams in the moat are related to these 50th Anniversary enhancements.
This celebratory overlay will likely be divisive, just like last year's Royal Makeover that formed the foundation for this (which I admittedly do not care for), the 'Happiest Celebration on Earth' gold detailing before that, or the infamous Castle Cake before that.
Cinderella Castle's 25th Anniversary cake was derided among many fans as the Pepto Bismol Castle. I was 10 years old when I first saw the Castle Cake, and I absolutely loved it. Even today, I remain nostalgic for the Castle Cake as a short-lived overlay for Walt Disney World's 25th Anniversary.
The Happiest Celebration on Earth marked our first trip back to Walt Disney World as adults, and our first together. It was before we became very serious Disney fans, and we also liked those golden adornments and "pixie dust" encircling the turrets.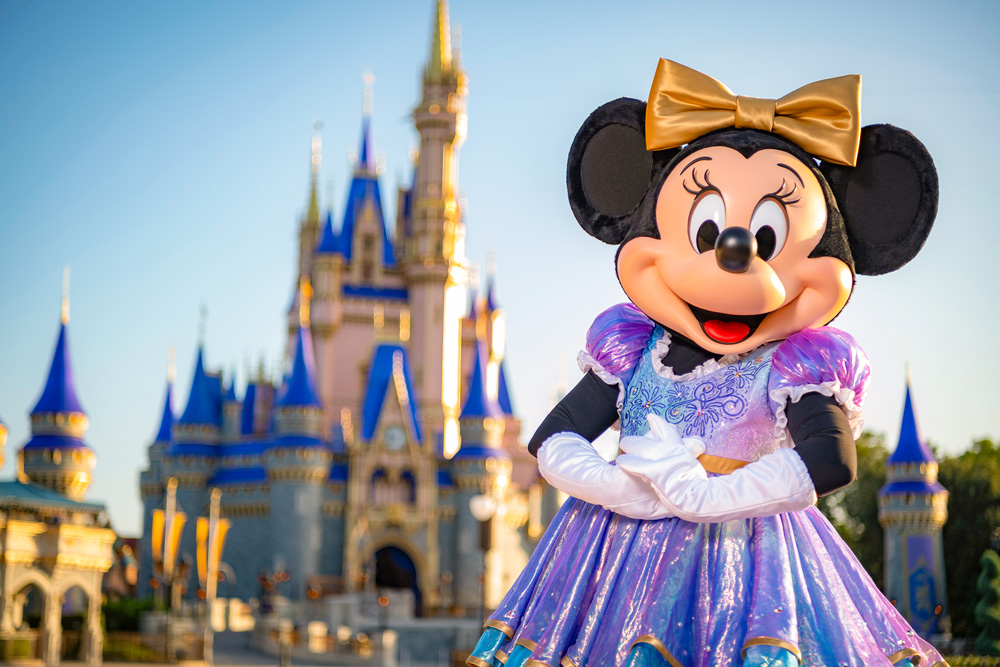 This isn't our attempt to publicly proclaim our poor taste. Rather, illustrating that perhaps kids and casual guests view these things from a different perspective. It's also possible that some appreciate the novelty or celebratory quality of anniversary overlays.
I will fully admit that I still fall into the latter category. So long as it's temporary, I'm on board with pretty much any anniversary enhancements to Cinderella Castle. The concept art for the 50th Anniversary looks regal and relatively tasteful, and I'm excited for it.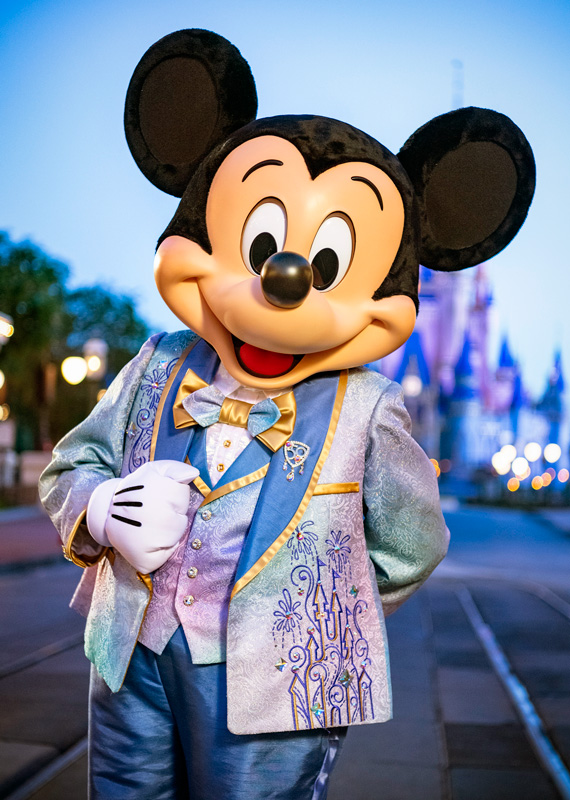 Then there are the character costumes. I'm no fashion blogger, which is patently obvious from every picture ever posted of me on this site. Accordingly, critiquing style is pretty far beyond the scope of my expertise. When it comes to costumes, I like stuff that's elaborate and grandiose–like top hats, coat tails, and even bedazzled accessories.
Basically, I just like Mickey Mouse and friends to look fancy in their fun threads. I think these outfits accomplish that, and I'm also a fan of the color scheme, which echoes Cinderella Castle's new look. Again, I'm excited to see these in person.
Then there are the Walt Disney World 50th Anniversary rumors.
For the last few years, there have been rumblings of Magic Kingdom receiving new 50th Anniversary fireworks, daytime parade, stage show, and light parade. Understandably, nothing has been announced yet on that front.
It also should go without saying, but it's been a rough year, and projects that were previously planned for development last year might've been paused or cancelled. So anything that was rumored before March of last year might've gotten the axe, or might be running behind in its development timeline.
Nevertheless, our expectation is that Magic Kingdom will receive a limited engagement nighttime spectacular in honor of the 50th Anniversary, after which Happily Ever After will return in 2023. This is not official and should be treated as rumor until (or if) officially announced by Walt Disney World. One way or another, there will be fireworks at Walt Disney World on October 1, 2021.
Another popular rumor concerns Magic Kingdom receiving Paint the Night, the light parade created for Disneyland's 60th Anniversary. If the plan were to bring that from California to Florida, it would need to happen very soon, as refurbishing floats and costumes, plus hiring and training performers takes time. At this point, Paint the Night on October 1, 2021 seems unlikely.
However, the absence of a night parade in 2021 doesn't mean they won't debut at some point during the celebration–just that there's not sufficient certainty as to if/when they'll be able to roll out. Again, we expect a "soft reboot" of the World's Most Magical Celebration in mid-2022. Debuting new rides and entertainment then makes sense.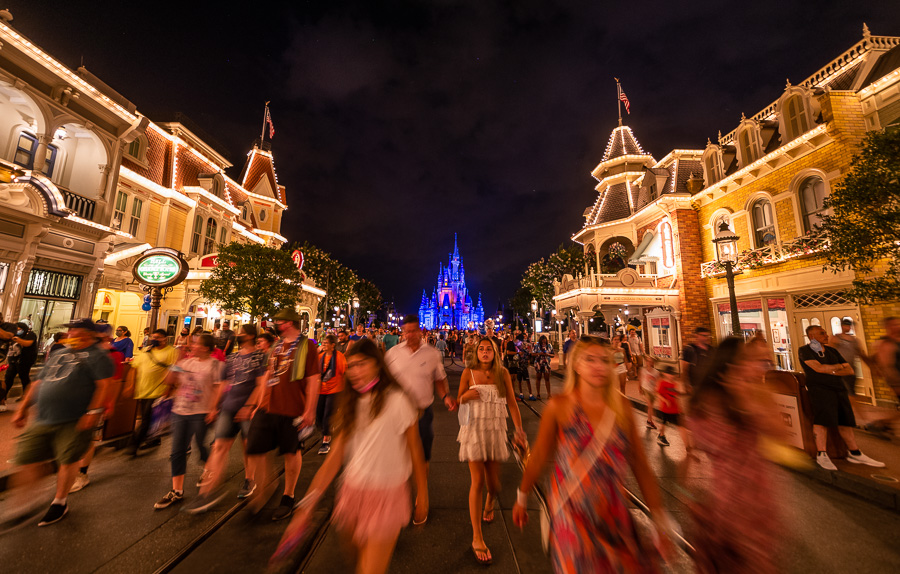 Finally, there's the issue of crowd levels. For the first three months of the World's Most Magical Celebration, expect them to be varying degrees of very high. On-site hotel rooms are already sold out for parts of October through December 2021 (see What's Up with Sold Out Hotels at Walt Disney World?) and Park Pass reservations for some dates are already booking up.
The forecast of heavy crowds is partly due to the anniversary celebration, partly due to the relaxation of health protocol, and partly due to the pent-up demand and phenomenon of "revenge travel" at Walt Disney World. All of that could create a perfect storm for big crowds.
If you're looking for the best times to visit during the 50th Anniversary, see our "Now v. Normal? 2021 v. 2022 at Walt Disney World." That offers 4 specific weeks to visit in late 2021 and early 2022. Additionally, for those visiting in the fall, the Disney After Hours Boo Bash is a Halloween-themed event that promises low crowds and short waits. It's pricey, but potentially worth it given the likelihood of heavy attendance during daytime hours.
For more in-depth crowd analysis beyond that, see our 2021-2022 Best & Worst Months to Visit Walt Disney World and/or our 2021 Crowd Calendars for Walt Disney World. Here's hoping there's plenty of new entertainment, attractions, and other offerings to help offset those crowds and make Walt Disney World's 50th Anniversary a momentous and memorable event!
Ultimately, we hope this offered a fun preview of everything that's coming for Walt Disney World's 50th Anniversary. Or at least, everything we know about so far. Notwithstanding our over-analysis, a lot still remains to be seen as to what debuts for the celebration–and when. Even though there's been cause for optimism in recent months, there's still a lot of uncertainty, and what will be possible by October 1, 2021 is not 100% clear.
In other words, think of this more as a "save the date" or vague teaser trailer about Walt Disney World's "Most Magical Celebration" with some of what you can expect to enjoy during the event. It showcases some of what's definitely coming for the celebration, but is definitely not an exhaustive preview of everything that will debut during the multi-year event. In the end, we're just happy to see something–it's a relief that Disney hasn't forgotten about the big event, and doesn't plan on glossing over it in light of the circumstances of the last year.
Planning a Walt Disney World trip? Learn about hotels on our Walt Disney World Hotels Reviews page. For where to eat, read our Walt Disney World Restaurant Reviews. To save money on tickets or determine which type to buy, read our Tips for Saving Money on Walt Disney World Tickets post. Our What to Pack for Disney Trips post takes a unique look at clever items to take. For what to do and when to do it, our Walt Disney World Ride Guides will help. For comprehensive advice, the best place to start is our Walt Disney World Trip Planning Guide for everything you need to know!
YOUR THOUGHTS
What do you think of the Cinderella Castle overlay, celebratory character costumes, or icon projections? Are you considering a trip for Walt Disney World's 50th Anniversary? What are your expectations in terms of new attractions, entertainment, merchandise, food, and other aspects of the celebration? Think Disney has any surprises for the anniversary up its sleeves? Do you agree or disagree with our assessment of Walt Disney World's 50th Anniversary celebration? Any questions we can help you answer? Hearing your feedback—even when you disagree with us—is both interesting to us and helpful to other readers, so please share your thoughts below in the comments!