New Year's Eve 2021 will be one of the busiest days of the year at Disneyland and Disney California Adventure, as guests crowd the parks to ring in 2022. This guide shares our tips & tricks for enjoying the NYE parties in the parks, watching the fireworks, and avoiding the pitfalls.
Let's start on that last note. Even with most Magic Key Passholders blocked and park reservations in place, both Disneyland and Disney California Adventure will see their highest attendance of the year on NYE. It can be a pretty unpleasant experience, but if you follow our tips (which focus mostly on New Year's Eve, but can be applied to the week between Christmas and New Year's, too), you can make lemonade out of lemons.
Our first tip is that if you live in Southern California, do something other than visiting Disneyland. There are so many better days to visit, and unless you don't get the SyFy Channel (and thus can't watch the Twilight Zone Marathon), there's at least one better thing to do. We're betting that there are probably "a few" other things to do in Los Angeles and Orange County for New Year's Eve, too…
If you really want to see the fireworks, our recommendation would be to see them from somewhere outside the park and to use park admission another day. Normally, the Esplanade between the parks is a popular spot for this, but even it will be over-crowded on New Year's Eve. Instead, we'd recommend watching from the Mickey & Friends Parking Structure, or Downtown Disney (Catal Restaurant has a great viewing terrace).
If you're an out-of-town tourist and are sort of "stuck" with visiting Disneyland for New Year's Eve (or are finding this post via Google on New Year's Eve from Disneyland as you wonder "what have I gotten myself into?!") then we have a few things you should know and tips that can help…
Crowds
Let's start with the good news, which is that this guide to New Year's Eve at Disneyland is written for a "normal" year, and 2021 is anything but normal. Most notably, Disneyland and Disney California Adventure have park reservation systems in place that limit attendance. Reservations to ring in 2022 at Disneyland Resort's theme parks have been fully booked for a while.
Before you get too excited, this is not to say that Disneyland will have low crowds on December 31, 2021 because of the attendance limits. We've been on several fully booked days during this Christmas season, and the crowds have been heavy–just not New Year's Eve heavy.
Forecasting crowds for New Year's Eve 2021 is almost impossible because there are a lot of unknowns. Did Disneyland release more reservations with the expectation that some am arrivals would leave early? Did they release fewer with the expectation that people would Park Hop from DCA? Speaking of which, will there be meaningful limits on Park Hopping? Does Disneyland want to avoid the appearance of overcrowding?
We can't answer any of those questions. Our expectation is that Disneyland crowds on New Year's Eve will be 10/10, but not as bad as a normal NYE. Typically, New Year's Eve is the busiest day of the year at Disneyland. This year, it might rank #12 out of 365. Still enough to score a 10/10 on the crowd calendar, but comparatively less busy than normal for that specific day of the year.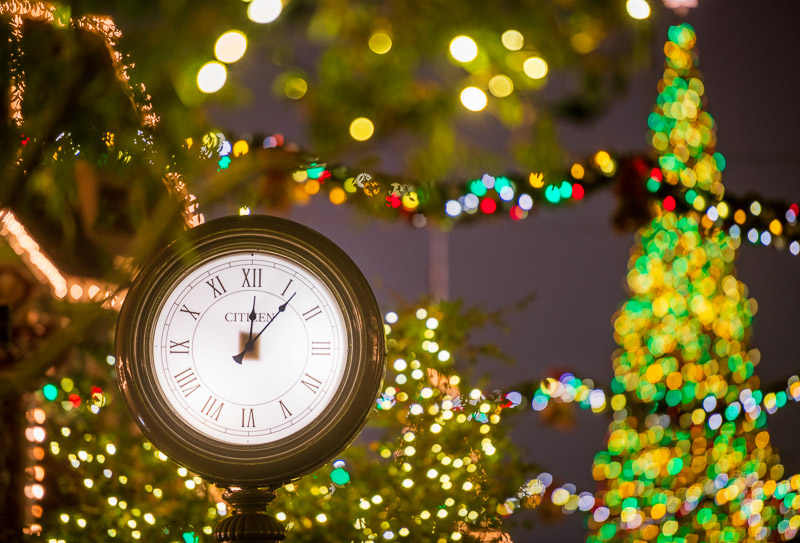 Regardless, if you're visiting Disneyland on New Year's Eve, you need to brace yourself for the reality of the crowds. You will encounter congestion that makes driving the 101 during rush hour feel liberating by comparison. Just navigating normal walkways will test your patience, and that's before you even get to the lines for attractions, restaurants, and even restrooms.
We aren't kidding about that. Restroom lines are common on New Year's Eve, and don't be surprised to wait 20 minutes or more for them. Even before you get into the parks, the line to get into the parking structure and then through security checkpoints will be pretty miserable. Oh, all of that's even assuming you can get in to begin. On New Year's Eve, the parks (primarily Disneyland) closing to capacity earlier in the day is not uncommon.
If all of this sounds scary…that's sort of the point. The idea here is to convince you (if it's not too late) to visit Disneyland some other day. We are not exaggerating any of this, and while you can still have an enjoyable time, the odds of a bad experience or meltdown are exacerbated on New Year's Eve. Moreover, if avoiding crowds is your paramount concern, you should be avoiding the weeks around the holidays, not reading this guide.
With that said, if you do want to avoid crowds–to the extent that can be done–here are a few tips. First, arrive early and stay late. Plan on getting to the security checkpoints an hour before the parks open, so you can be through security and among the first guests to get inside Disneyland or Disney California Adventure. Security will get backed up later in the day.
Crowds are always lightest in the morning, getting progressively worse as the day wears on. Having an efficient itinerary that prioritizes popular attractions first is key, and we recommend following our 1-Day Disneyland or 1-Day Disney California Adventure Plan for this.
Additionally, we'd recommend learning about the relatively new Genie+ system if you haven't already. You'll definitely want to use that on NYE and the week that follows in early 2022 while local schools are still out, as it'll significantly improve your visit to the parks. See our Guide to Genie+ and Lightning Lanes at Disneyland for more info, strategy, etc.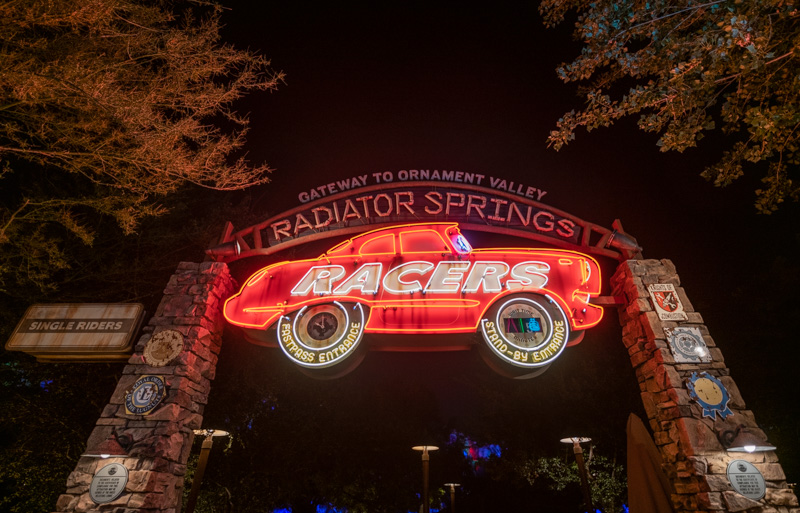 On New Year's Eve, it will be a "successful" day if you can accomplish one-third of what's on those plans at Disneyland. In DCA, you'll be able to accomplish far more. Arriving early and knocking out as much as possible before 10 a.m. will at least start the day out on the right foot.
For the best of both worlds, use a Park Hopper ticket and start out at Disneyland before park hopping over to DCA around 10 or 11 a.m. Disney California Adventure will be far less busy throughout the entire day. Just don't expect to be able to get back into Disneyland–it's likely to close to capacity (it's highly unlikely that DCA will close to capacity this year).
Our standard tips for avoiding crowds at Disneyland apply equally here, and we'd recommend focusing your attention on the less popular attractions and shows in both parks. Space Mountain and Radiator Springs Racers will be there in 2022, and will have shorter waits by a matter of hours. Expecting to do every popular attraction is not just a poor idea, it's literally impossible.
Additionally, we'd recommend eating at off-hours, when restaurants first open or between 2 and 4 p.m. to avoid the rush dining periods, which can mean long lines at restaurants, and minimal empty tables.
You also might want to look at our list of the Top 10 Restrooms at Disneyland, and seek out ones that are off the beaten path. Seriously. This can save you 10-15 minutes in line for a restroom each time…
Entertainment
This post has been a lot of doom and gloom up until now, but finally, we have a silver lining! Because the crowd levels are so high and wait times for everything are so long, there is a ton of extra atmospheric entertainment in the parks for New Year's Eve. The highlight is the Fantasy in the Sky New Year's Eve fireworks at Disneyland and the World of Color "Fountains and Fireworks" Countdown to midnight (note: World of Color Countdown is not occurring for New Year's Eve 2021), but there's plenty even before then.
Several "New Year's Eve Countdown Celebrations" dance parties occur around Disneyland Park. For New Year's Eve 2021, they'll be located in front of "it's a small world," Rivers of America, Sleeping Beauty Castle, and in Tomorrowland. The festivities start at 7:30 pm with "it's a small world," followed by Sleeping Beauty Castle at 8 pm, and at 8:30 pm in Tomorrowland and Rivers of America. These dance parties run until 1 am or 1:30, except the one at Sleeping Beauty Castle, which stops at midnight.
Over at Disney California Adventure, the "New Year's Eve Countdown Celebration" dance parties are listed on the schedule as occurring in Paradise Garden and Hollywood Land at "12:00 am, 9:00 pm." Our guess is that this is an error, and it's meant to say 9 pm until 12 am.
Party favors are also distributed in both parks. This might sound like a fun bonus if you're reading this sitting in the comfort and solitude of your own home, but once you're there, you'll realize it's a particularly cruel form of torture, likely concocted by the same masterminds who devised Gitmo. Think about it: tens of thousands of people…crammed into a tight space…many of whom are inebriated…all with noisemakers.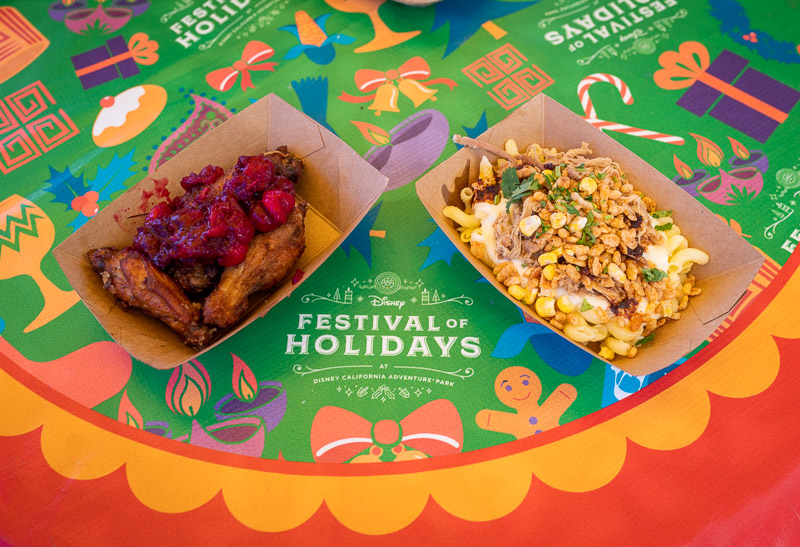 Even before the dance parties begin, you can expect more atmospheric entertainment and live music in the parks than on a normal day. This is particularly true at Disney California Adventure, where the live performances for Festival of Holidays will still be going strong, and will provide music in all corners of the park. (This is another reason why we recommend DCA below for New Year's Eve.)
Finally, if you're into "adult" entertainment, Disney California Adventure is your default option as alcohol is not served in Disneyland. If this is your idea of a good time on New Year's Eve, read our Disneyland Resort Bar Crawl Guide, for recommendations on where to grab drinks and enjoy the ambiance. Disney California Adventure has several stops on this crawl.
There are also recommendations in that guide in the hotels and Downtown Disney outside of the parks. Leaving and getting back in can be a hassle during the week between Christmas and New Year's, and downright impossible on New Year's Eve if the parks hit capacity. (Disneyland is much more likely to hit capacity–and often does so by noon.)
A final note with regard to drinking–if your plan is to rely upon Uber, be warned that surge pricing can be really high. Last year, I saw it get above 5x (I wasn't actively looking for a ride, just checking out of curiosity) in Orange County.
Which Park for the Night?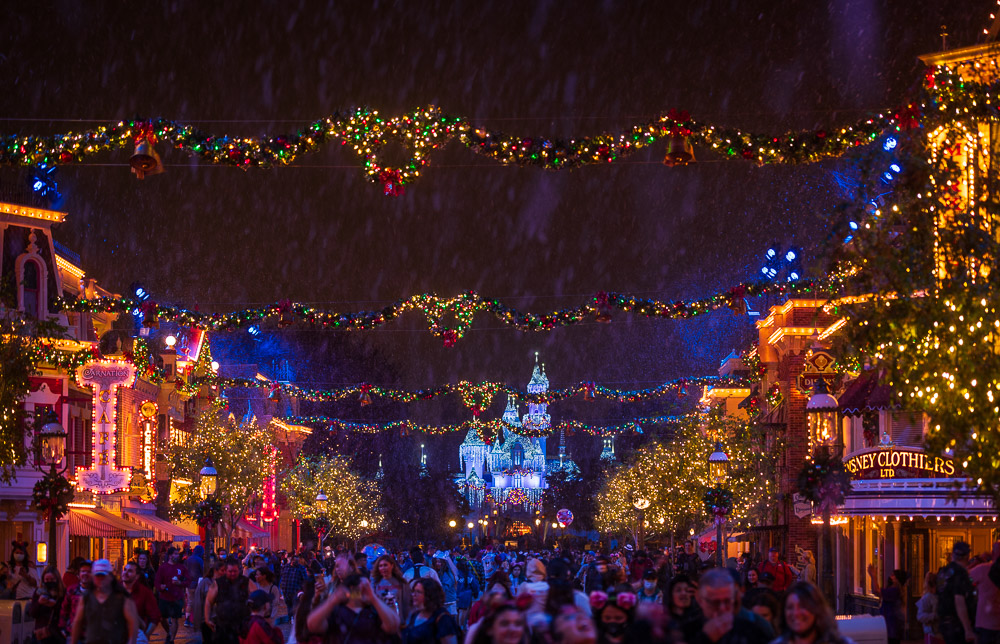 It remains to be seen whether the parks will close to capacity in the evening this year, or if the aggressive blockout schedule is enough to lower crowd levels (my bet is that it will not hit capacity for that reason), but regardless, it's wise to choose a park in the early evening and stick with that. My choice for that would be Disney California Adventure.
A lot of people head to Disneyland for the experience of ringing in the New Year in front of Sleeping Beauty Castle, as I guess it's one of those romanticized things like celebrating in Times Square. Just like being in Times Square (which looks miserable on television), reality does not match the vision. If you choose to be in front of the castle, you'll need to stake out a spot hours in advance (people start staking out the benches in the Hub at around noon), and will be packed in like sardines. It's not pleasant.
Then there's the issue of leaving after the fireworks are over. If you've ever experienced post-fireworks crowd flow during a busy evening at Disneyland, multiply that by about 10. The reason this is so much worse is because of higher crowds and also because about half of that crowd is trying to head deeper into the park (Disneyland doesn't close after the fireworks) and the other half are heading towards the exit. This results in gridlock. If you're lucky, you can get from the Hub to the park exit in about 40 minutes.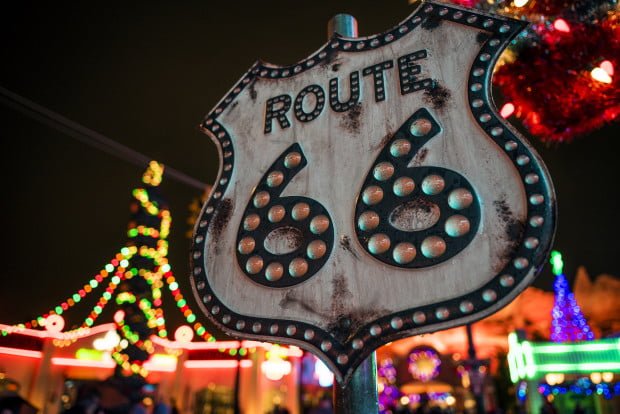 DCA is going to be less crowded than Disneyland. Not only is it going to be less-crowded but it's also built to handle crowds much better with wider walkways and more breathing room, generally. (Remember, Disney California Adventure was built nearly 50 years after Disneyland!)
We've done Disney California Adventure on New Year's Eve several times, and it has always felt less crowded than a random summer weekday. At worst, the park has been moderately crowded, and the only real exception to this was World of Color: Countdown.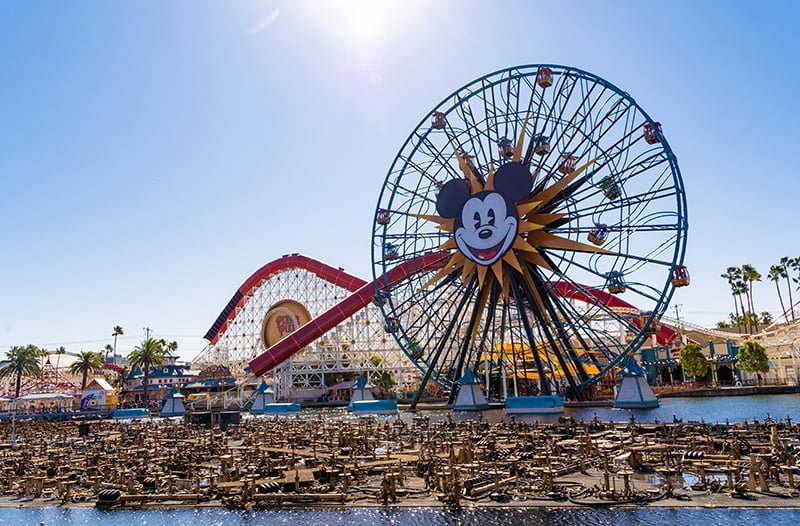 However, New Year's Eve 2021 will be different in a couple of ways. For one thing, there will be no World of Color: Countdown since that show is still being refurbished. That in isolation would suggest that even more people will pack into Disneyland. However, park reservations and attendance limits mean attendance might be more evenly distributed, especially if Park Hopping limitations are in place.
As this scenario is totally unprecedented, it's impossible to say how it'll play out until the dust settles and 2022 arrives. Our semi-informed expectation (based on recent precedent during the busy holiday season) is that there will be minimal restrictions on Park Hopping. Most Magic Key Passholders and ticket holders with the Park Hopper option will bounce to Disneyland by early afternoon, emptying out DCA. Even in a worst case scenario, it's possible that Disney California Adventure will be busier than past New Year's Eves due to the caps and reservation system, but still not remotely on par with Disneyland or a peak date outside of NYE.
In a normal year, there are other considerations that come into play for us recommending Disney California Adventure. The first is that you can see Disneyland's fireworks from Disney California Adventure, but you cannot see World of Color: Countdown from Disneyland. This gives you the opportunity to enjoy both main pieces of New Year's Eve entertainment if you're in Disney California Adventure.
Equally as important, World of Color does not get cancelled due to winds and Disneyland's fireworks do–pretty regularly. It would stink to camp out for the Disneyland New Year's Eve Fantasy in the Sky fireworks only to hear the "due to winds at high elevations…" message, cancelling the fireworks. That stupid wind balloon above the park is one of my least-favorite sights at Disneyland.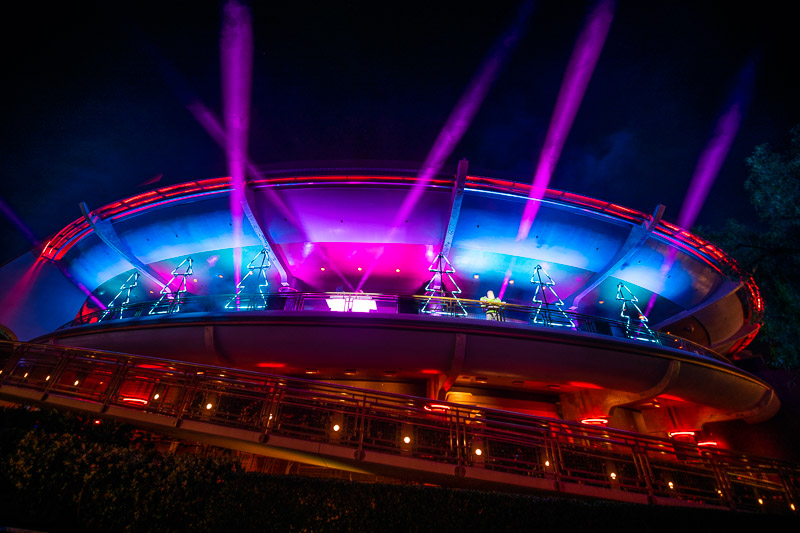 Most people are probably going to disregard this and do Disneyland anyway (just like they'll disregard this post and assume crowds won't be that bad to begin with), but I'd (again) caution you against letting the romanticized notion of ringing in the New Year in front of Sleeping Beauty Castle cloud your judgment. There's nothing even remotely romantic about that experience.
With all of that said, we can see the appeal of wanting to be in Disneyland or Disney California Adventure to ring in the New Year. While we obviously don't recommend doing Disneyland, it can be a fun experience (or good test of your patience?) so long as you know what you're getting yourself into and prepare accordingly. Hopefully these tips help you devise a strategy for New Year's Eve at Disneyland…or at least mentally prepare for the chaos.
Planning a Southern California vacation? For park admission deals, read Tips for Saving Money on Disneyland Tickets. Learn about on-site and off-site hotels in our Anaheim Hotel Reviews & Rankings. For where to eat, check out our Disneyland Restaurant Reviews. For unique ideas of things that'll improve your trip, check out What to Pack for Disney. For comprehensive advice, consult our Disneyland Vacation Planning Guide. Finally, for guides beyond Disney, check out our Southern California Itineraries for day trips to Los Angeles, Laguna Beach, and tons of other places!
Your Thoughts
Have you done New Year's Eve at Disneyland or DCA? What did you think of the crowds? Any survival tips? Do you agree or disagree with our assessment of New Year's Eve at Disneyland? Any questions? Hearing feedback about your experiences is both interesting to us and helpful to other readers, so please share your thoughts or questions below in the comments!