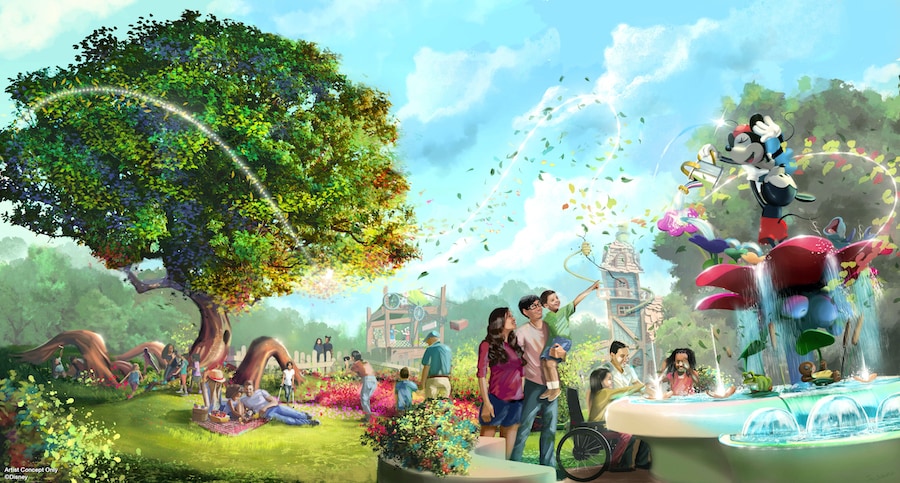 New & reimagined rides, restaurants, lands, hotels, and more are coming soon to Disneyland and Disney California Adventure in 2022 and 2023. This offers info on what's new and next, opening dates, construction progress, expansion plans, and more. (Updated January 13, 2022.)
The big story at Disneyland Resort in 2022 is less about new things and more about returning things. After reopening from the year-plus closure last spring, the parks have gradually been restoring stage shows, nighttime spectaculars, and other entertainment. It has been a slow and gradual process, but much more is slated to return in Spring 2022.
In addition to this, more special events are returning with Disneyland After Dark parties in 2022! These Star Wars, Villains, and Sweethearts Nites will come back, with these limited-time, after-hours events occurring sporadically between February and May 2022. Those separately-ticketed parties cost over $100 each and only occur a few nights–meaning the audience is limited–so we're not going to fixate on them.
Now let's move on to what's new and what's next at Disneyland Resort, and near the resort in Anaheim…
What's New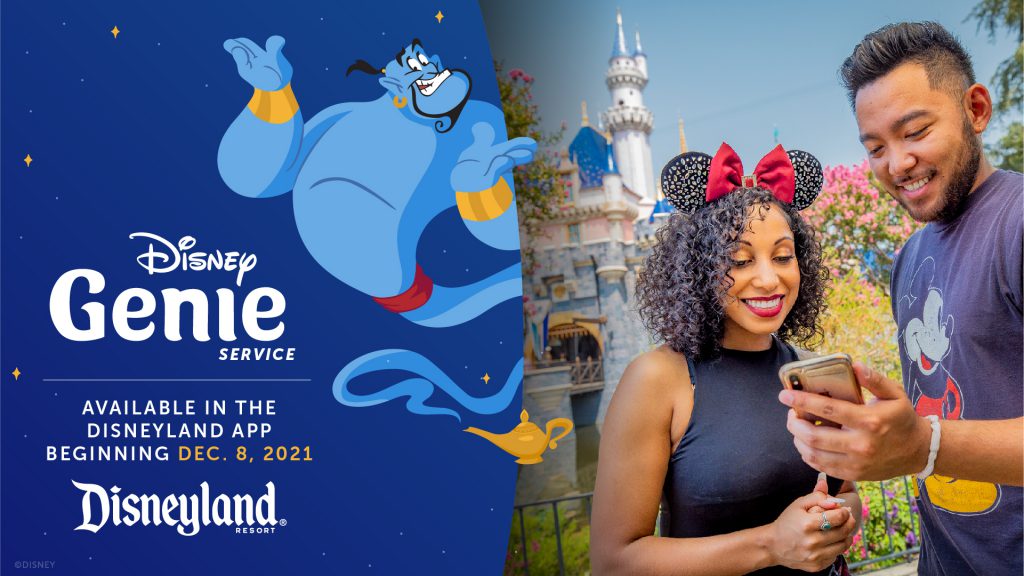 Genie+ and Lightning Lanes – The first significant change is the launch of the new Genie system with paid-line skipping service that replaced free paper FastPass and paid MaxPass.
Everything you NEED to know, including ride priorities, where it's NOT necessary to buy Genie+ or Lightning Lanes, and much more is covered in our Guide to Genie+ and Lightning Lanes at Disneyland and DCA.
Avengers Campus – This Marvel-themed land is the biggest recent addition at Disney California Adventure. The first phase opened last summer, with Avengers Campus debuting WEB Slingers: A Spider-Man Adventure, an interactive attraction featuring Spider-Man. The other highlight is Pym Test Kitchen, a restaurant with small and large food.
Beyond that, Avengers Campus showcases a variety of character meet & greets, including Black Widow, Ant-Man and The Wasp, Doctor Strange, the Guardians of the Galaxy, Super Heroes from Wakanda and Asgard, and Iron Man.
Previously, the flagship Quinjet attraction of Avengers Campus was supposed to debut in phase 2. However, Disney has been silent about this attraction for over a year, and purposefully avoided mentioning it when Avengers Campus opened. The best case scenario is this attraction opens in 2025. The worst case is that it's cancelled entirely. Construction has not begun on the ride itself, so either option is on the table.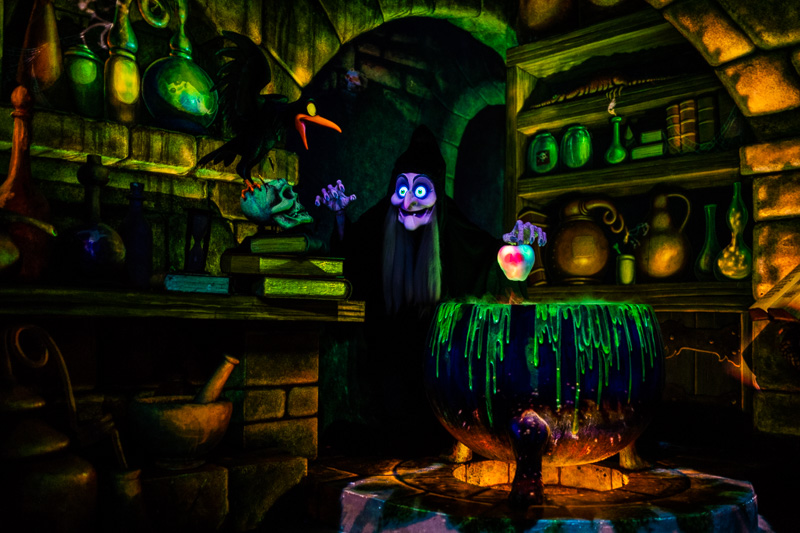 Snow White's Enchanted Wish -The iconic Fantasyland attraction, Snow White's Scary Adventures, has been updated inside and out and work on the overhaul is now finished.
New scenes including a vignette showing Snow White in a beautiful forest setting waking up from her deep sleep. A new finale has also been added, featuring Snow White as she's reunited with her animal friends and a shimmering castle is visible in the distance.
Haunted Mansion Enhancements – These upgrades actually happened following the attraction's closure early last year to uninstall the Haunted Mansion Holiday decor. Outside, new details now adorn the site for dearly departed pets, representing their stories from beyond the grave.
Inside, a few dastardly design embellishments have been made along the portrait hallway, including the return of a familiar face. One of the Mansion's original portraits known as "April to December" once again graces the hallway.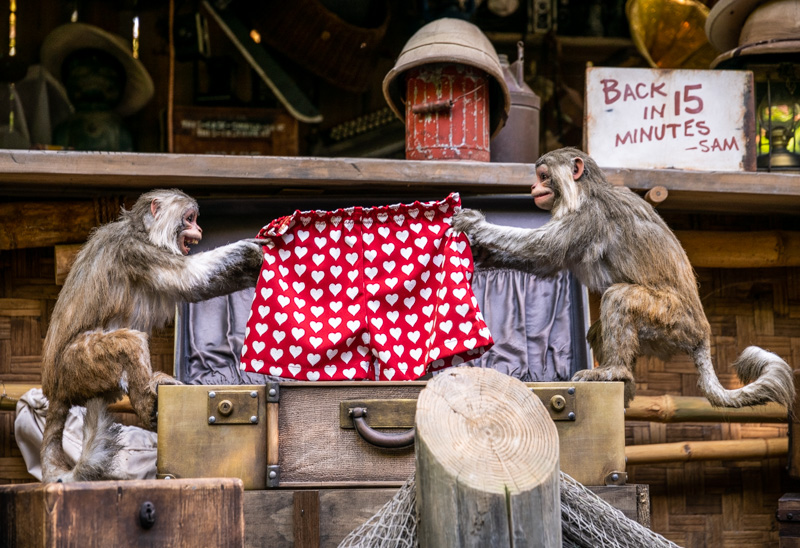 Jungle Cruise Reimagining – This Adventureland fan favorite has new characters, a continuous storyline, changes to show scenes, and more. These "new adventures" stay true to the Jungle Cruise experience fans know and love, while adding more inclusivity, humor, wildlife, and skipper heart.
At least, that's how Disney has promoted the reimagining of Jungle Cruise. In actuality, some problematic scenes and characters were removed and a lot of monkeys were added. The rest is just noise that the vast majority of guests will not even notice.
JW Marriott, Anaheim Resort – The first of two new AAA Four-Diamond hotels opening in Anaheim last year and this year, joining the Grand Californian and Disneyland Hotel as the city's only other luxury hotels with the same rating.
Located at the Anaheim GardenWalk, the JW Marriott Anaheim Resort has a convenient location within walking distance of Disneyland and Disney California Adventure. After years of stagnation, GardenWalk is now and up and coming dining, entertainment, and shopping complex (Disney should've bought it when they had the chance). This luxury hotel is a Marriott Bonvoy Category 7 property.
Westin Anaheim Resort – If you're a Marriott Bonvoy member or fan of luxury hotels, we have some good news for you…the Westin Anaheim is now open, with an excellent location directly behind Pixar Pier, offering great views into Disney California Adventure.
The Westin Anaheim Resort takes over the former grounds of the Anabella Hotel adjacent to the Anaheim Convention Center and within a short walk of Downtown Disney. This newly-constructed property is fairly massive, with 618 guest rooms aimed at appealing to conventioneers and tourists alike. The Westin Anaheim is the city's fourth AAA Four-Diamond hotel, and is a Marriott Bonvoy Category 5 hotel.
Magic Happens Parade (Temporary Hiatus) – Disneyland debuted the new Magic Happens daytime parade about two weeks before the park closed (we never got to see it). The parade features an energetic score including music from Frozen 2 and other films, and a new theme song co-composed by singer-songwriter Todrick Hall.
Unfortunately, the Magic Happens Parade has not returned since Disneyland reopened. Its performers were laid off and there is no clear timeframe as to when they'll be recalled and the parade will resume. It hasn't been mentioned in any of Disneyland's other announcements for this year. It's highly unlikely that Magic Happens is gone for good, so our guess is that it comes back in Summer 2022.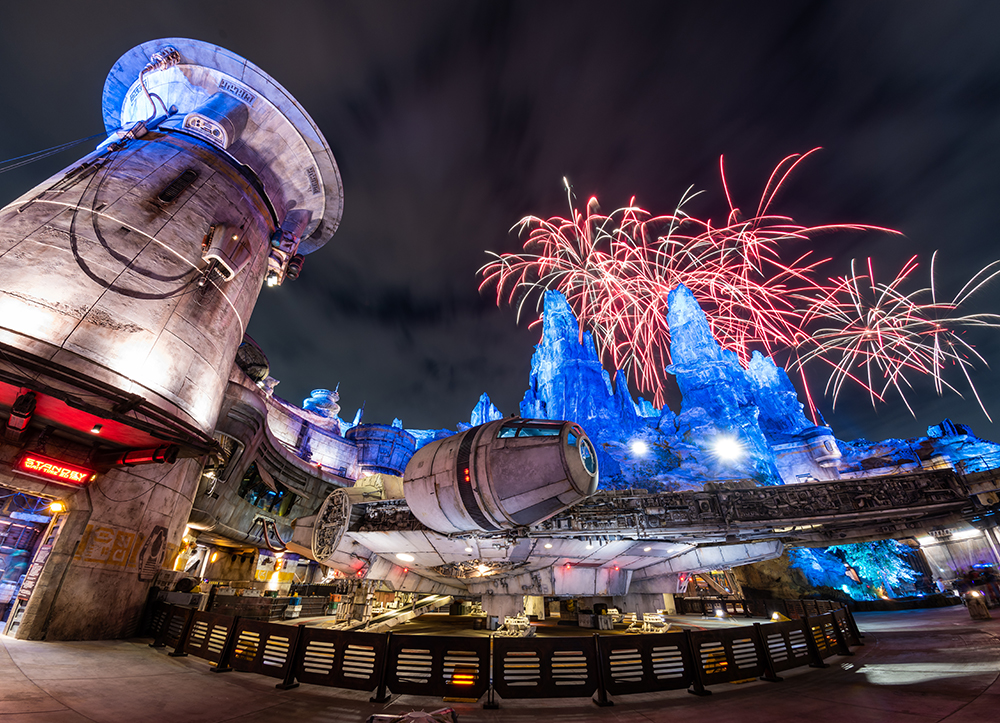 Star Wars: Galaxy's Edge – The largest addition to Disneyland in several decades (literally), Star Wars land occupies a massive portion of Disneyland, and feels almost like a separate park. While the initial reaction was mixed and didn't drive attendance in the way expected, we are big fans of Star Wars: Galaxy's Edge.
It's not perfect, but it's an incredibly ambitious land unlike anything else at Disneyland. The highlight of this land is Star Wars: Rise of the Resistance, which is the best new attraction at Disneyland in decades, and one of Imagineering's best-ever accomplishments.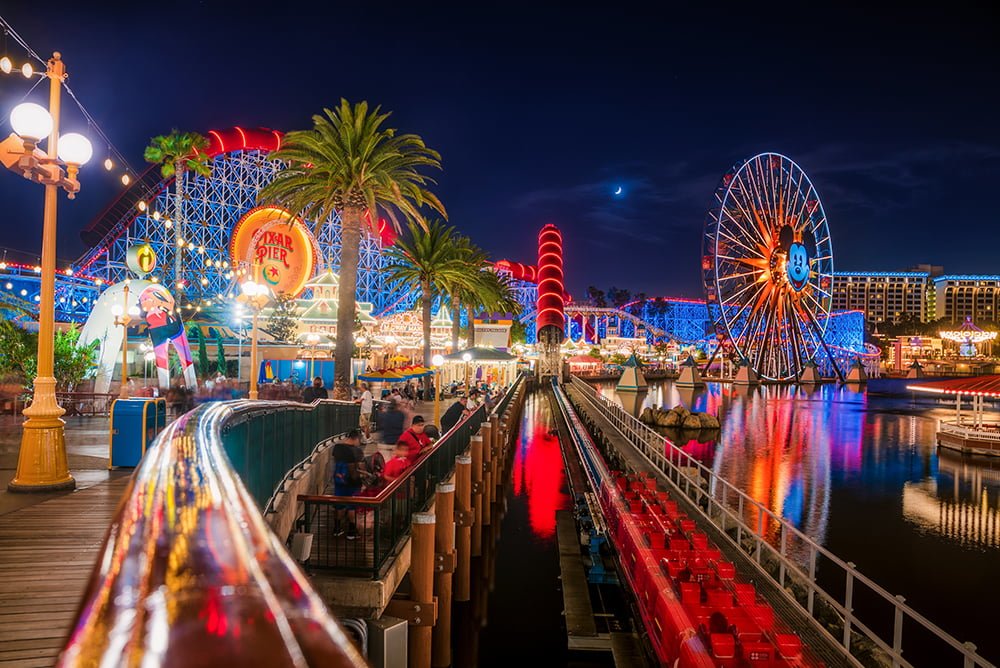 Pixar Pier – Most of Pixar Pier opened a couple of years ago as a makeover of Paradise Pier. The Pixar rebranding was (and is) half-baked in a number of ways, thematically incoherent, and not really offering anything new of substance. The one bright spot is Lamplight Lounge, which is a refresh of Cove Bar.
Last year, Jessie's Critter Carousel and Inside Out Emotion Whirlwind both opened in Pixar Pier. These are both overlays of previous attractions at Disney California Adventure, so not really net gains.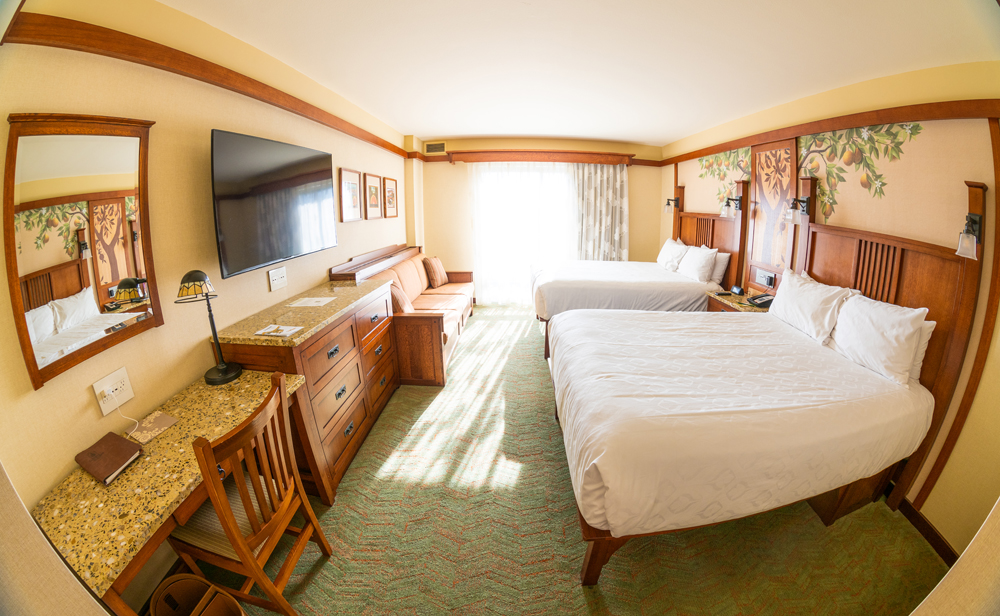 Grand Californian Refresh – We'd stop short of calling it a reimagining, but the Disney's Grand Californian Hotel & Spa has seen a slew of upgrades in the last couple of years. The brand-new GCH Craftsman Bar opened to rave reviews (including ours) and the new-look GCH Craftsman Grill debuted an exceptional new menu. Additionally, Disney Princess Breakfast Adventures started at Napa Rose.
Other enhancements were made around the lobby and elsewhere, with work in progress on a new spa (which technically should be in the 'coming soon' section, I guess). Finally, the guest rooms were entirely redesigned, something we cover in our Photo & Video Tour: New Rooms at Disney's Grand Californian Hotel post.
What's Coming in 2022 & 2023
MagicBand+ and Hey Disney – Disney's next generation wearable, the MagicBand+, will make its debut at Disneyland Resort in Early 2022. The new iteration will feature interactive elements that guests can use all around the Disneyland Resort.
After years of being available at Walt Disney World, this will mark the first time the popular MagicBands will be available at Disneyland Resort. The MagicBand+ promises to enhance the guest experience with hands-free convenience and interactive elements that engage with nighttime spectaculars and other park features in fun new ways.
The "Hey, Disney!" voice assistant will work alongside Alexa on Amazon Echo devices and also will begin rolling out to guest rooms across the Hotels of the Disneyland Resort. It's always possible that one or both releases are delayed from "Early 2022," as supply chain issues continue to cause merchandise shortages and product release delays throughout Disneyland Resort.
Returning Nighttime Spectaculars – Disneyland Resort will once again resume fan favorite nighttime spectaculars,  beginning in Spring 2022. These include the Main Street Electrical Parade, Fantasmic, World of Color, and the Disneyland Forever fireworks spectacular.
Specific dates have not yet been revealed for any of these nighttime spectaculars, but our expectation is that they'll be staggered, with return dates starting in late February 2022 and continuing through May 2022.
DCA Festivals – Disneyland has announced that Lunar New Year will return to Disney California Adventure from January 21 through February 13, 2022. This event celebrates traditions of Chinese, Korean and Vietnamese cultures. The festival is filled with multicultural performances, special activities, culinary delights, beautiful décor, celebratory merchandise, and more.
Following that, the Disney California Adventure Food & Wine Festival will return March 4 to April 26, 2022. At the DCA Food & Wine Festival, guests will be able to explore California regions and neighborhoods in a number of ways, including food, fun entertainment, event merchandise, and more.
Downtown Disney Revitalization – Downtown Disney District continues its evolution as a premiere venue for innovative shopping, dining and entertainment experiences. A slew of new restaurants and retail have opened in the last few years. Standouts include Salt & Straw (the best ice cream at Disneyland Resort) and Black Tap Craft Burgers & Shakes.
While Downtown Disney did suffer a setback and misstep with the premature closing of several venues for Disneyland's cancelled luxury hotel project, the gains more than offset the loses. Fortunately, a version of that project is back on track and work has started as of January 2022.
Continuing the momentum, this multi-year project will transform the former AMC Theatres building and adjacent area into a stunning new lifestyle space. Drawing inspiration from Southern California mid-century modern architecture, the area will be a beautiful blend of vibrant color palettes, multicultural design elements and patterns, an open lawn for relaxation and future events, and an even broader collection of dining and shopping.
Disneyland Hotel DVC – Disney will be building a 350-room Disney Vacation Club tower as part of Disneyland Hotel to debut in 2023 or 2024.
The new 12-story Disneyland Hotel DVC tower would be located between Goofy's Kitchen and the Frontierland Tower. The DVC villas building will somewhat mirror the existing 1955 design of the other Disneyland Hotel towers. Those are styled after Adventureland, Fantasyland, and Frontierland.
Mickey & Minnie's Runaway Railway – In 2023, Disneyland will open the first major Mickey Mouse attraction as an expansion to Toontown (since this is a backstage expansion, construction doesn't impact guests). Mickey & Minnie's Runaway Railway puts guests inside the wacky and unpredictable world of Disney Channel's "Mickey Mouse" cartoon shorts.
Guests board a train with Goofy as the engineer and jump into the cartoon world with a zany, out-of-control adventure. Mickey & Minnie's Runaway Railway will use state-of-the-art technologies and dazzling visual effects to transform the cartoon world into an incredible and immersive multidimensional experience. This same ride debuted at Disney's Hollywood Studios last year, and it'll be a cute addition to Toontown.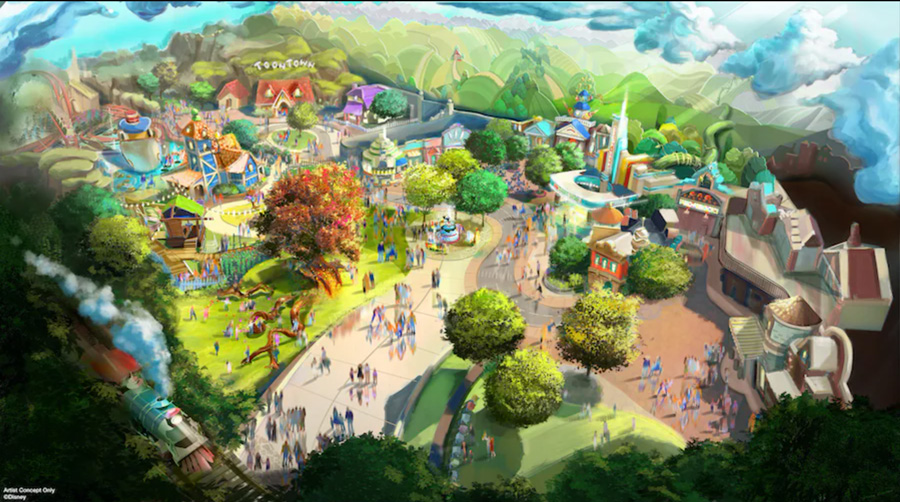 Toontown Reimagining – An ambitious reimagining of Mickey's Toontown will debut in early 2023, alongside Mickey & Minnie's Runaway Railway. The beloved land will transform into a vibrant symphony of sights, sounds, and sensations. Focusing on today's families with young children, Mickey's Toontown will feature new play experiences, as well as open, grassy play spaces for everyone to unplug. The land will have landscaping for both spontaneous family play and parental relaxation.
One of the new areas coming to Mickey's Toontown will be CenTOONial Park, the first space guests will see when they enter. This natural space will be anchored by two interactive play experiences. At the center of CenTOONial Park will be a fountain with water tables for playing and having a sensory experience. At night, the fountain will be brought to life in a unique spectacle.
A nearby dreaming tree will be inspired by the tree a young Walt Disney would daydream under in his hometown. Sculpted tree roots will provide an opportunity for children to play, crawl and explore, and undulating topography will offer rolling hills and a place to sit and dream. Mickey's Toontown will close in March 2022 to begin creating these all-new experiences.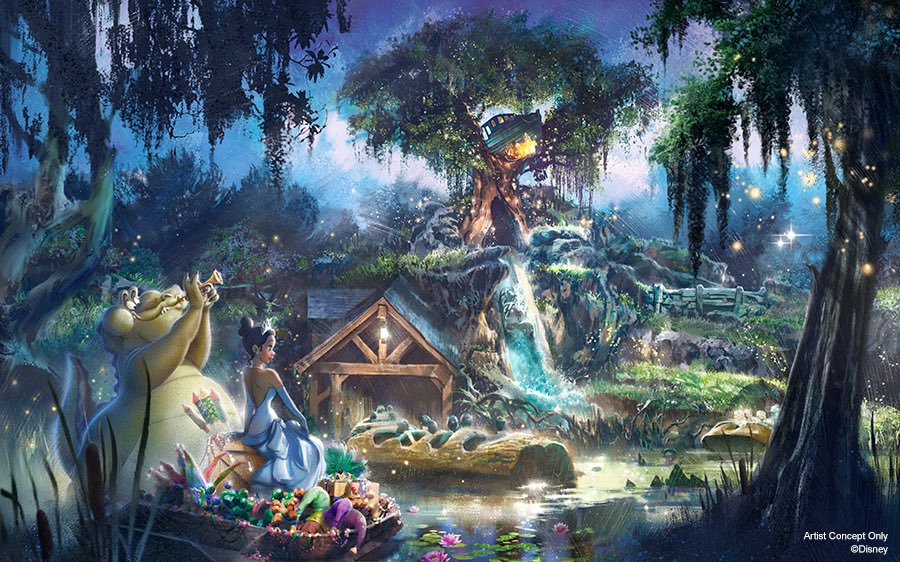 Splash Mountain Reimagining – Another project on the horizon…at some point…is the Princess and the Frog reimagining of Splash Mountain. It's unclear when this work will begin and end. The project is not very far along–conceptual design work is underway and Imagineers will soon be able to conduct preliminary reviews and develop a timeline for when the transformation can start to take shape.
We doubt that Splash Mountain will close before late 2022 or early 2023 at Disneyland. It's entirely plausible that Disneyland's overhaul starts first, conceivably finishing prior to work on the Magic Kingdom incarnation even beginning. As with any project that has yet to begin work despite being announced years ago, outright cancellation is also a possibility. (In this case, we doubt that.)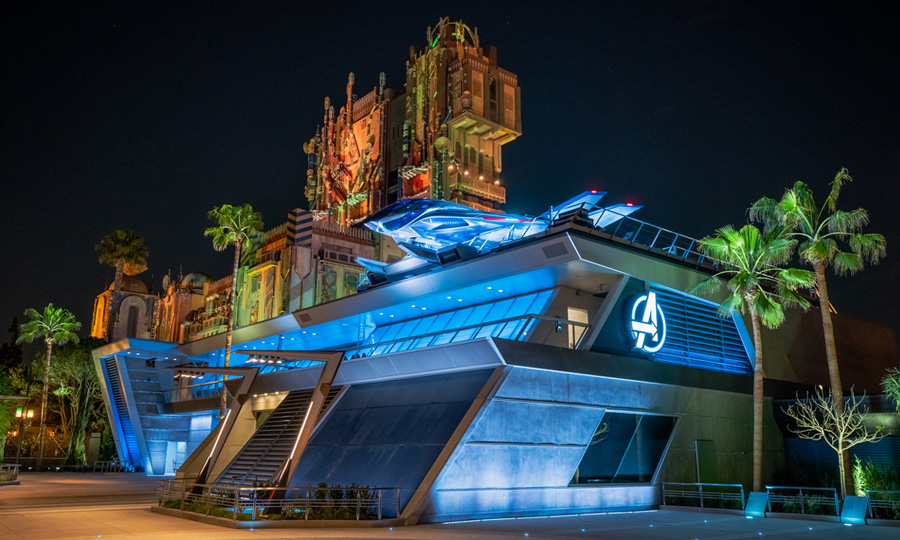 Avengers Campus Phase 2 – As mentioned above, this will be a brand-new E-Ticket attraction where guests will step on board a Quinjet and fly alongside the Avengers in an epic adventure to Wakanda and beyond. Guests will team up alongside the Avengers in a battle to save the world from one of the most powerful villains they have ever faced.
There's no official indication as to when Avengers Headquarters will open, but our suspicion is 2025. (If the project is not cancelled.) Even though the facade is finished, construction on the actual attraction has yet to begin, and Disney has indicated that Imagineers are still conceiving of an all-new innovative ride system for this Avengers E-Ticket. As we've noted before, Disney's phase two projects have a propensity to get cancelled…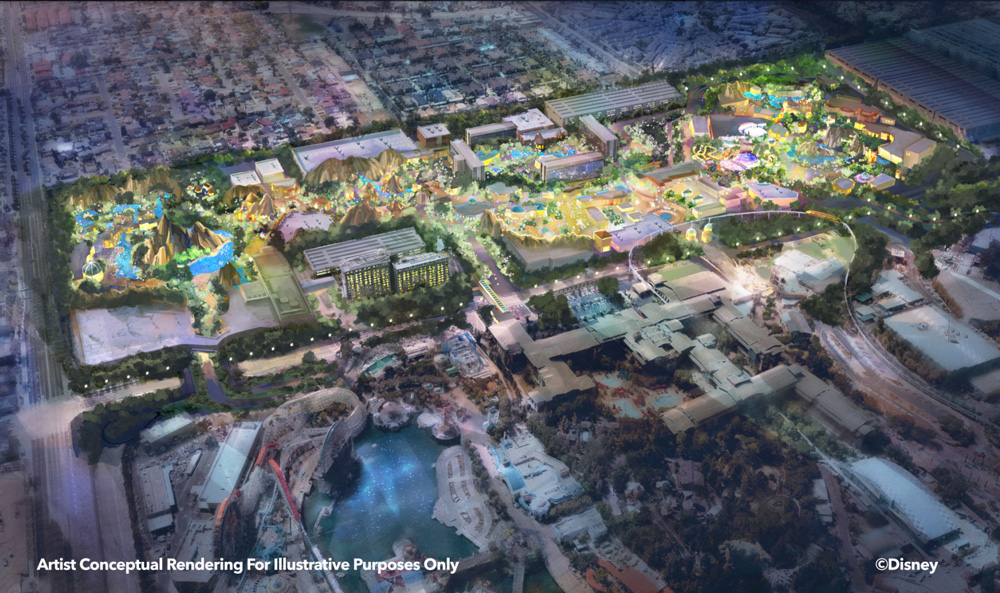 DisneylandForward – Speaking of things getting cancelled, the last project to showcase is DisneylandForward. Actually, both the words "cancelled" and "project" are misnomers here, as there are no concrete details to this proposal so there's nothing that can actually get cancelled.
The possibilities of DisneylandForward are really exciting. However, it's really all about paving the way for future developments of an uncertain nature by giving Disney more autonomy over land use by relaxing the DRSP. Disney is essentially saying, "give us authority to build whatever we want, then we'll tell you what, if anything, we're going to build."
Planning a Southern California vacation? For park admission deals, read Tips for Saving Money on Disneyland Tickets. Learn about on-site and off-site hotels in our Anaheim Hotel Reviews & Rankings. For where to eat, check out our Disneyland Restaurant Reviews. For unique ideas of things that'll improve your trip, check out What to Pack for Disney. For comprehensive advice, consult our Disneyland Vacation Planning Guide. Finally, for guides beyond Disney, check out our Southern California Itineraries for day trips to Los Angeles, Laguna Beach, and tons of other places!
Your Thoughts
Which additions at Disneyland and Disney California Adventure are you most excited to experience? Are you delaying your next trip to maximize seeing 'new stuff' or moving it forward to see these new attractions, lands, and restaurants? Anything you're not looking forward to? Do you agree or disagree with our assessments? Any questions? Hearing your feedback—even when you disagree with us—is both interesting to us and helpful to other readers, so please share your thoughts below in the comments!